In 2022, TWM interviewed tissue mill executives in Italy, France, Türkiye, Thailand, Mexico, and Poland and Romania for the magazine's Country Reports. Here, we revisit a selection of the leading companies to see what has changed.
---
AKTÜL KAGIT
Private label key growth, drive for exports, high-quality product capacity up by 50%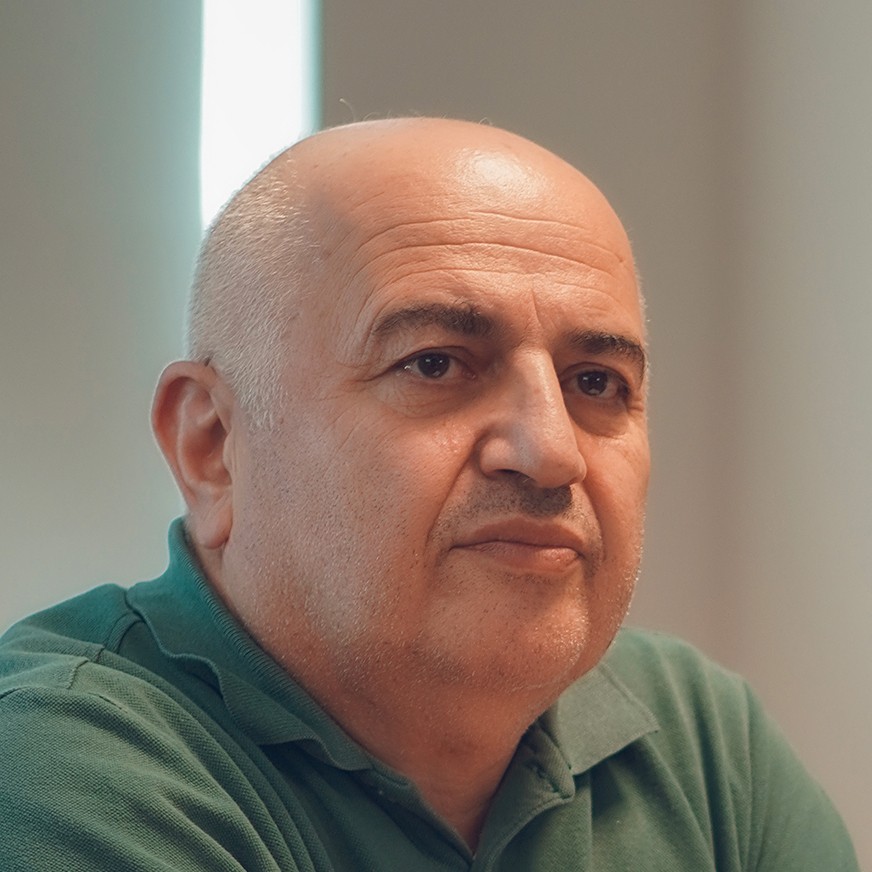 When TWM interviewed Aktül Kagıt Factory Director Ziya Karadeniz in October 2022 for the magazine's Türkiye Country Report, the company had announced investment plans that aimed to boost production capacity to 210,000tpy and converting capacity to 160,000tpy.
Private label products were a key growth sector for the company as Türkiye's consumers move more and more into the market. "We are seeing a steady and substantial demand for private label products locally," he said at the time.
The growth of the tissue paper market following the outbreak of Covid-19 had "continued to regress to pre-pandemic levels with price increases in 2022". "Private label products have increased their share in the total market. In a period of high price increase, households are repeatedly preferring to market brand products in every category," he adds.
Now in June 2023, all the investments have been started up and are in full operating capacity.
TM3 – a 70,000tpy, Valmet-supplied 5.6m-wide Advantage DCT 200 line which was planned to start-up at the company's Pamukova, Sakarya Province in Q4 2022 – is now successfully up and running. The move has boosted the company's production capacity of high-quality facial, handkerchief, toilet, and towel grades by 50%.
The new converting lines have also been successfully commissioned and started up.
Export potential – which at the time of the initial interview was a key reason behind the investment – is now even more vital, as Türkiye's tissue market experiences overcapacity.
In 2022, the company had invested in a new converting facility in the Mersin Tarsus Industrial Zone to help boost production for overseas markets. Karadeniz says the location continues to be "a crucial area" for international trade: "East, West, South, North axis Asia-Europe, or the Africa-Europe-Asia line, meaning the area is one of Türkiye's most important gateways to business."
Now in 2023, he notes that "in this period when competition is very tough, many manufacturers are trying to find more space in the market with lower cost products. As a result of this, excess capacity is tried to be elevated as export."
He adds: "Rising inflation and a weakening of the lira has been driving up the average unit price of many essential products in the market. This had forced consumers to priorities their expenditure resulting in declining demand for several tissue products.
"In the last few years following the increasing levels of paper production capacity in Türkiye, searching for new markets in exports has begun."
---
ESSEL CELLULOSE AND PAPER INDUSTRY
Six napkin machines start-up to meet increased demand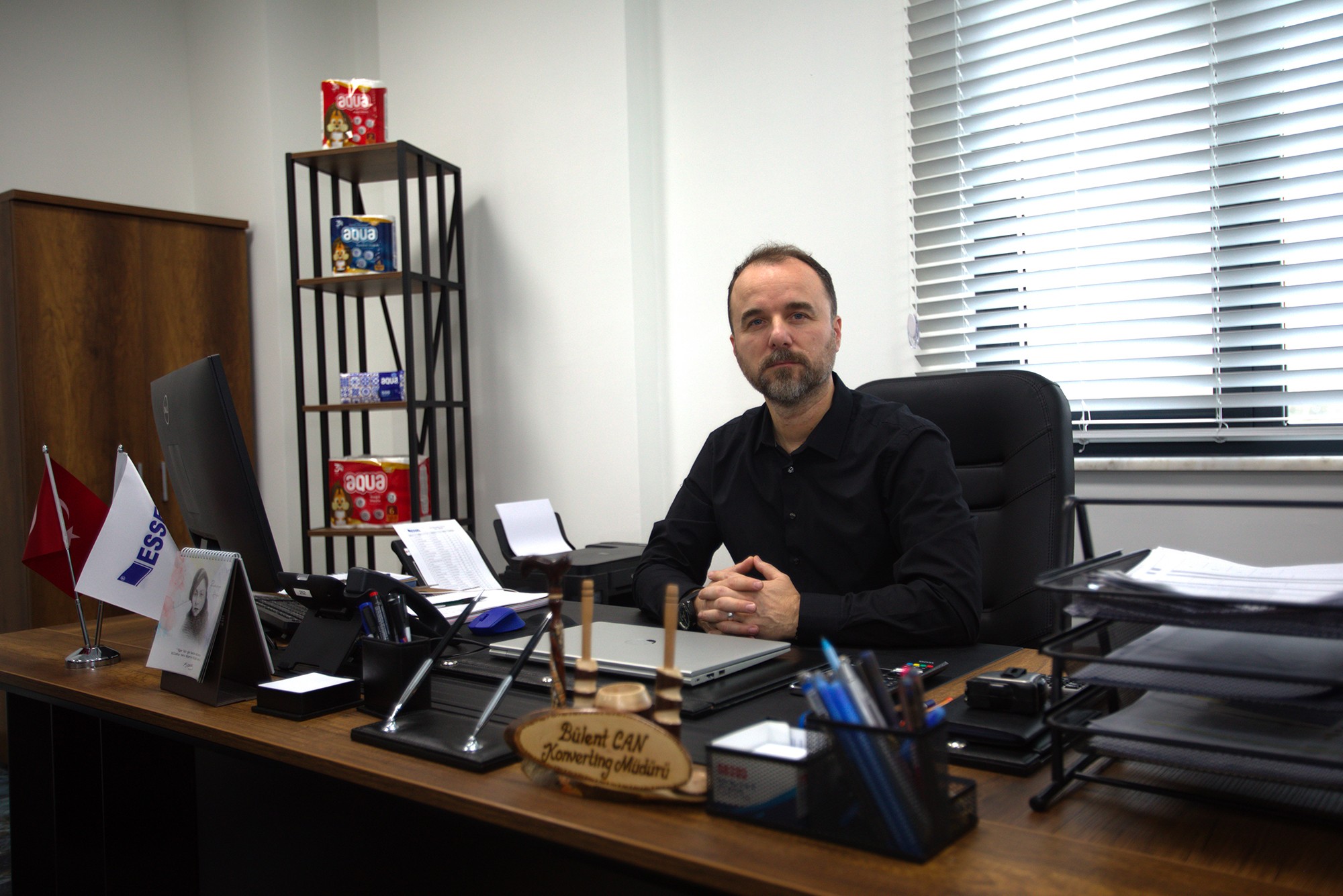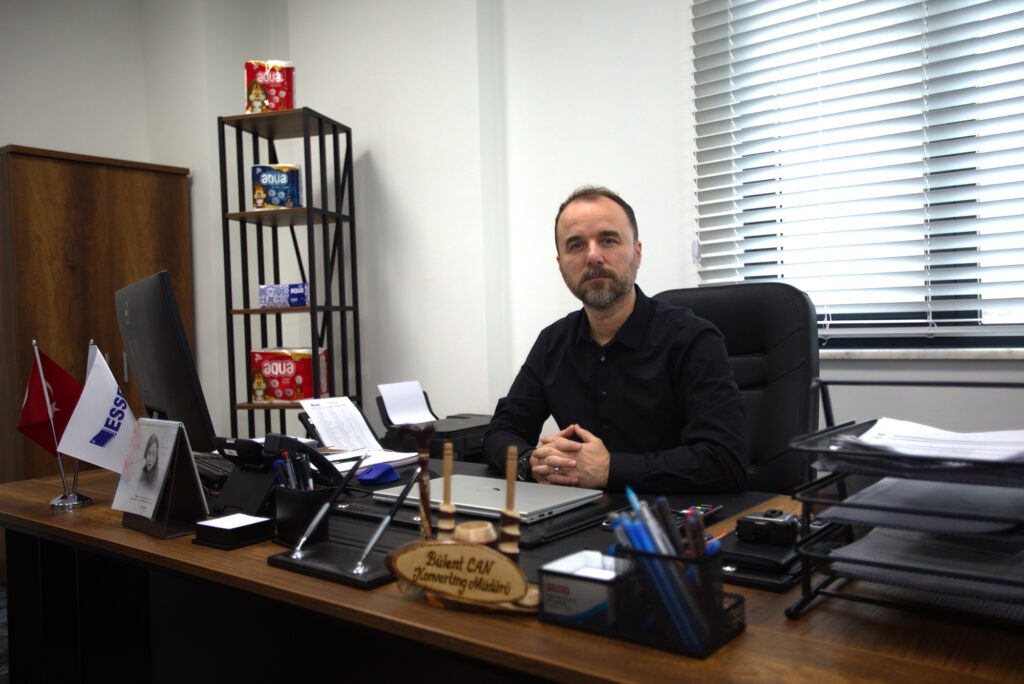 Essel Cellulose and Paper Industry has been very busy since our last interview. Speaking from his office in Izmit, Türkiye, Bülent Can, Converting Manager, details how plans have evolved and mean the business is now primed to install six napkin machines at its facility in Çaycuma, Zonguldak. Starting up in the next week or two, the investment is a result of increased consumer demand for the company's napkin products. A 4,000m2 closed warehouse is also being built at the site.
"As Essel, with the awareness of our responsibility towards the environment and society, we pay attention to sustainability in our production and business processes, to protect nature and to create value for people," he explains. "We act with the aim of being socially, economically and environmentally-sustainable, and providing quality tissue products to Türkiye and the global market."
He says the company sources 100% pure cellulose, which it uses as raw material from sustainably managed, FSC-certified industrial forests, in order to contribute to the protection of nature: "But we also support sustainability through our new investments in our most advanced and high-tech factories in Turkiye. In this context, since our last meeting, we have commissioned our treatment plant and state-of-the-art recycling (deinking) station that supports zero waste production in our Çaycuma facility. This is Türkiye's newest and highest quality deinking system."
The deinking system uses 100% recycled paper for zero-touch production, and it is then taken directly to the consumer. "Our treatment plant performs both organic and chemical treatment and is the first and largest treatment facility in the Çaycuma Organized Industrial Zone. This is a treatment plant to ensure that the water from our deinking system is discharged in accordance with the regulations of the Ministry of Environment. We designed it to reuse more than 60% of water and have made an investment of around €1.5m for this treatment system alone."
As for tissue consumption in Türkiye's market, Essel is increasing its contracts with chain stores in the local market so that it can reach out to more consumers. "We will thus reach national and various other channels through this strategy. In addition, there has been a new organisational restructuring related to sales at the company and we have begun to establish regional dealerships. Regional sales managers have come onboard, and this move has accelerated sales. We have started to grow in the market with a professional sales team."
Although he believes that market conditions "do not look very promising at the moment due to difficulties such as inflation, high energy prices and costs, increases in container prices and foreign exchange", he says that from the perspective of Essel, the company is seeing "significant opportunities" with its state-of-the-art production facilities.
"We have a strong ability to reach customers under all market conditions through our new investments including our deinking stations, our product innovations, the logistical advantages of our investment regions, and the increase in consumer awareness orienting them towards quality products as well as the overall increase in our sales."
---
PEHART GROUP
Plans for investment in factories, converting lines, technologies… and an entry into AfH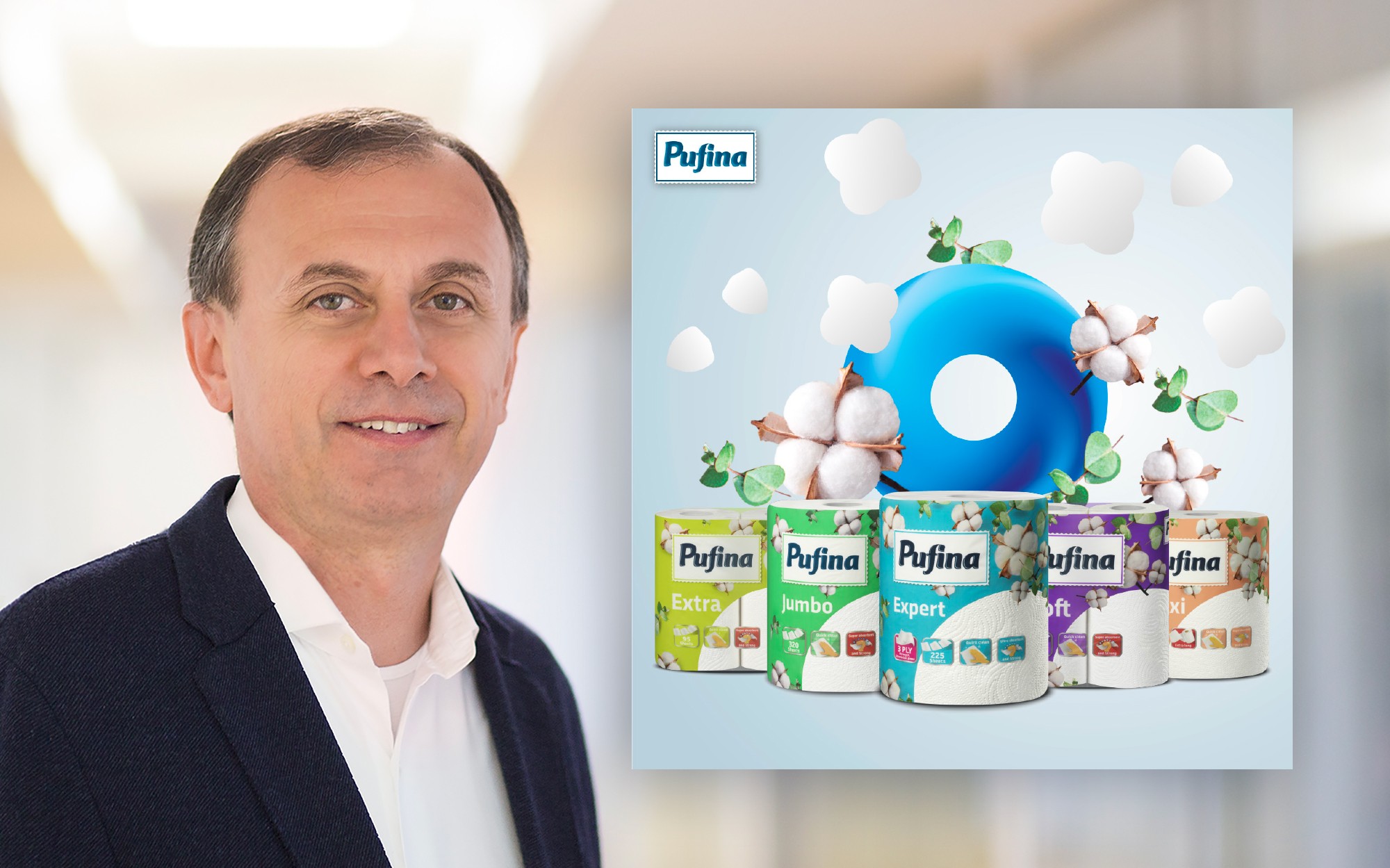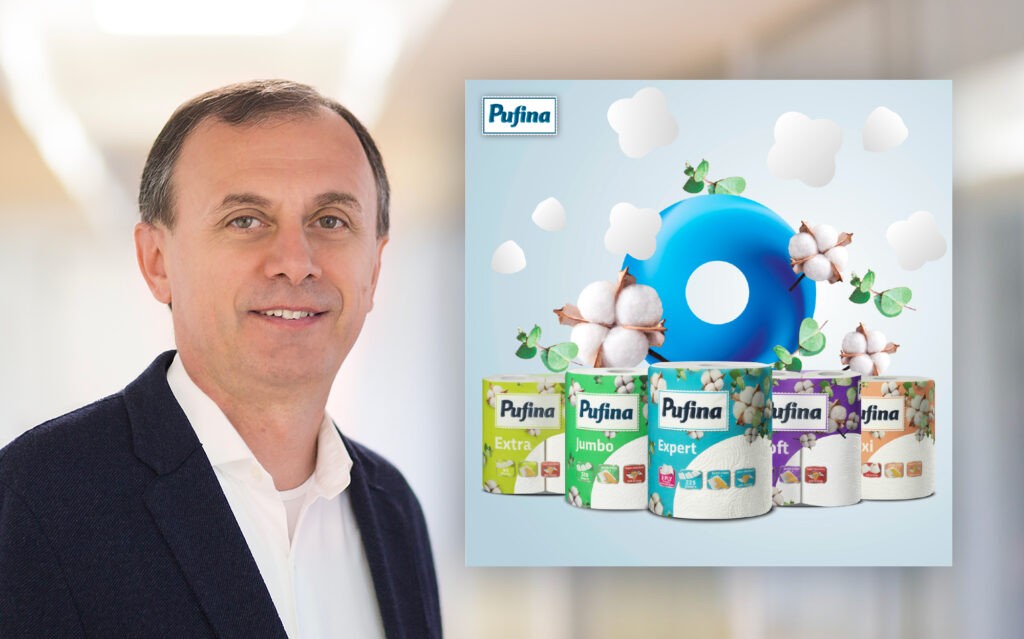 At the time of last year's interview, Transylvania, Romania-based Pehart Group's extensive investment programme was targeting home growth – the Romanian market was "clearly growing in both volume and value" – as well as international expansion.
General Manager Gabriel Stanciu had elaborated on the company's twofold business strategy; to increase production capacity in the local market by strengthening its high-quality brands, and expanding its presence abroad. Plans to continue investing had been announced along with machinery investments, green energy, and diversifying its product portfolio, investing in more production lines.
Now in 2023, he says that over the course of the past year, the company has continued its investment plans, focusing on energy-efficient equipment, green energy solutions and the development of production capacity as well as portfolio diversification.
Its strategy is to invest over €20m this year in a new converting line for AfH products and also in modernising its tissue machines in order to reduce energy consumption and thus increase energy efficiency. It will also strengthen its efforts to optimise all its production machinery to reduce energy consumption, and at the same time the company intends to develop its production capacities, allowing it to increase export volumes.
In the local market, during the last two years there have been several challenges as a result of the region's political context, and the current macro-economic environment that is bringing a lot of volatility to the market.
He says the war in Ukraine and high cost increases for energy, gas and raw materials have been partially transferred in the product prices on shelf. Last year's spike in inflation had "a direct effect on raw material costs. As a result, we are very attentive to the optimisation of energy consumption and to finding effective solutions in the supply of raw materials." he says.
On the other hand, in terms of consumer behaviour, Romanian customers are being more careful with their daily expenses, trying to find the best offer and the best price-quality products. The business is seeing a shift towards private label products and promotional offers. "Still, the Romanian consumers are appreciating the quality of branded products, and this is the most important differentiator for the company's brands," Stanciu adds.
The towel and toilet paper markets are increasing in value, but less in volume, yet they are still by far the biggest two segments in the tissue market in Romania. Last year the company launched the Pufina wet paper products. "This is a niche segment in the local market, but it is growing, and people are appreciating the products, as for better cleaning and hygiene."
There are also plans for further growth. The business has plans to invest further in its factories, with new converting lines, new technologies for reducing energy consumption and increasing sustainability. But for now, it is in discussion for next year when it hopes to get the green light.
Importantly, for 2023 the business intends to enter the AfH market, to continue investments in energy efficiencies, and to increase export volumes.
As for the rest of the year and 2024, the most important challenge is the political situation in the region, which Stanciu says may continue to impact the energy and raw material costs.
"As for opportunities, we are looking at developing new markets segments such as AfH and expending our operations internationally, by promoting our brand in the neighbouring countries. We have already started to sell Pufina in Serbia, Moldova, Albania and Bulgaria, and we have ambitious plans for export."
---
VELVET CARE
The Polish market leader targets 2025 turnover to reach PLN2bn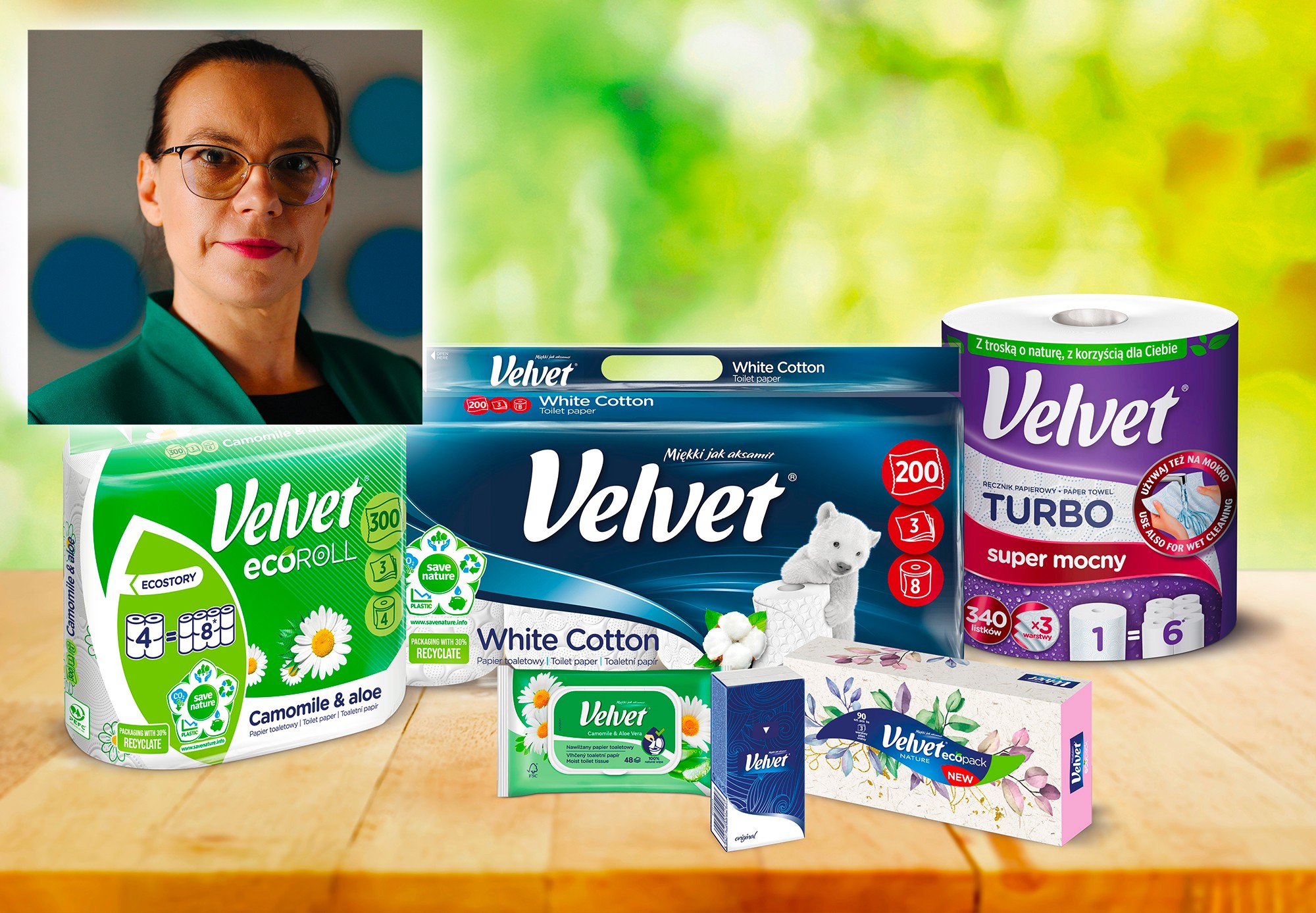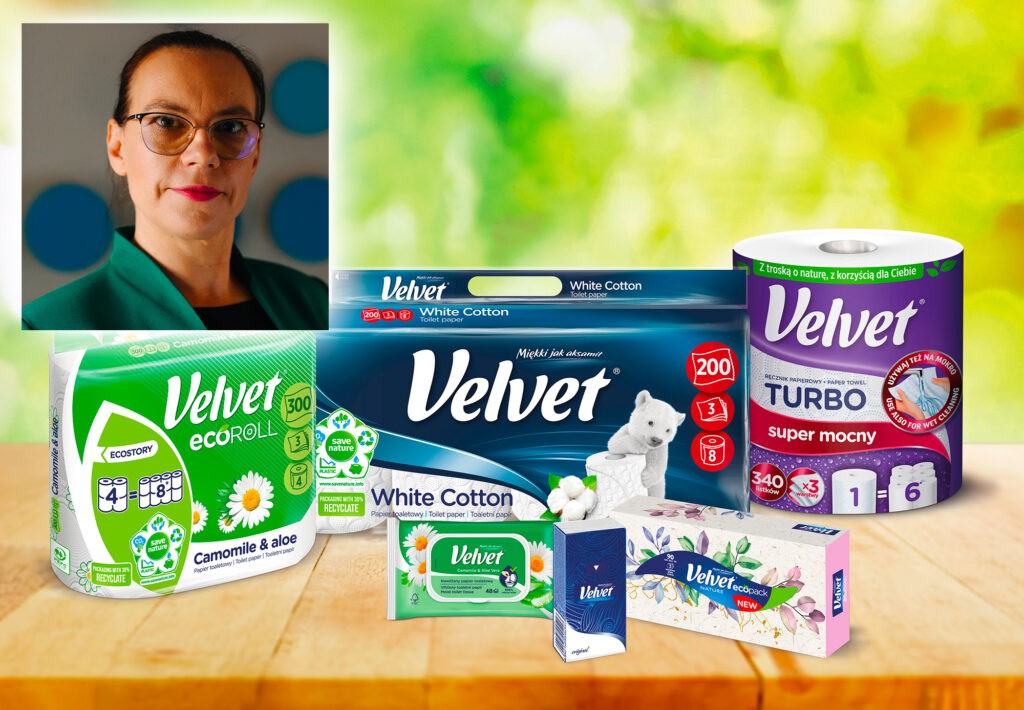 In June 2022, Polish tissue manufacturer Velvet Care had highlighted "dynamic post-pandemic growth" when it was interviewed for TWM's Poland and Romania special report. The company had achieved a series of firsts in production capacity, workforce levels, turnover, quality, and its Eco Agenda 2025. From the company's Klucze-based tissue plant. Production and Technical Director Wanda Ciesielczuk had discussed the start-up of TM8, as well as the "balancing of converting and manufacturing capacity."
In 2022, she said the plan was to grow organically, especially in the converting area, and in the second half of 2022 the company was busy starting up new lines for rolled and folded products.
The continuous investment and expansion are reflective of the company's ever-evolving 125 historic years of production. TWM first visited the company in Klucze, located an hour's drive north-west from Kraków, in 2019. At that time, Ciesielczuk had recently overseen the start-up of the company's 5.56m Valmet-supplied TM in March 2018, and now latterly the start-up of TM8, the site's second Valmet-supplied Advantage DCT line. TM8 added more than 60% production capacity boosting total capacity to 150,000tpy at an operating speed of 2,200m/min. It also has a converting capacity of 160,000tpy, producing high-quality tissue on 17 converting lines (eight rolled lines and nine folded lines).
Annual growth figures in 2019 were at 20%, and still in 2023 she says the company is the "indisputable leader" in the Polish tissue market. A further investment was on the cards in January 2023. Velvet Care announced it had signed a preliminary agreement to purchase 100% of shares in family-owned Polish tissue converting company Almus. Almus manufactures toilet paper, paper towel and professional products at its plant in Słomniki, Małopolska Province, where it houses five processing lines with a capacity of 60,000tpy. It also supplies products sold under private labels by commercial brands in Poland and abroad and is a manufacturer of paper products under the Almusso brand. Velvet Care is awaiting approval of the acquisition from Poland's competition regulator.
Artur Pielak, President of Velvet Care, says the move was consistent with Velvet Care's business development plans. "The acquisition of Almus is a strategic decision that will reinforce our position as a leader in the paper industry in the Central Europe region," he says. "Following the historic moment in 2022 – namely when the threshold of PLN1bn turnover was exceeded, once we have incorporated Almus into the structure of the Velvet CARE Group – the management board is ready to designate new ambitious goals."
The company has also announced another milestone that it plans to accomplish by 2025 – to reach a turnover on the level of PLN2bn. Procuring new clients in Poland and abroad was a way to reach the target.
After finalisation and merger of the companies, the Velvet Care Group – which currently consists of Velvet Care and the Czech company Moracell – will increase its processing capacity by almost 40% to 250,000tpy. It will then have 23 processing lines, three paper machines and five warehouses located in three production plants in Klucze, Słomniki and Žabčice (Czech Republic). In the future, the company said it is planning to further develop its business at the markets in its region and continue to work on strategic acquisitions.
---
FÁBRICA DE PAPEL SAN FRANCISCO
Adding tissue and AfH capacity with demand "much higher than we expected."
From his base in Mexicalli, the capital city of the Mexican state of Baja California, Fábrica de Papel San Francisco's (PSF) Sales & Marketing Director Juan José Mubarak Helú Villavicencio laid out an impressive growth strategy in his 2022 interview for TWM's Mexico Country Report.
Controlled capacity to meet demand, growing through a substantial move into private label and a returning tourist sector were the key opportunities for sales growth – which at the time he forecast at 5% or more in tonnage sales.
A time of caution and restraint brought about by the pandemic had created impact – because of the pandemic, the business had had to be conservative about its growth rate, especially in the AfH market. "During 2020, the AfH market decreased around 3.8%. But in 2021, this market has grown back by around 13.7%," he said in April 2022.
Private label was also growing: "Generally, we are seeing the private label sector growing faster than regular brands in Mexico, mainly because the trend to offer products with the brand of the retailer generates synergies in cost distribution, price point and exhibitions that contribute to the preference of the consumer."
Now in 2023 for our Barometer interview, he explains that the company has added tissue and AfH capacity at its plant in Monterrey, Nuevo León, northeast Mexico. The aim of the investment is to supply an increase in demand for these products in the region, which is "much higher than we expected."
At its El Salto (Guadalajara) plant, a Multifold Towel machine for the central part of Mexico's AfH market has recently started up. Most substantially, the business is building TM9, a 30,000tpy Advantage DCT 100TS tissue machine at the Mexicali site. It is the sixth Valmet-supplied tissue line to be started up PSF. Operations will start up in the summer of 2024 and once up and running will fulfil the company's need for new capacity for standard tissue products.
As for tissue growth in the local market, the retail market is experiencing slow growth at below 2%, but the AfH market "is in good shape right now." He adds that the AfH market is getting a lot of new business as US plants are relocated from Asia to Mexico.
For 2023 and 2024, one of the biggest challenges for PSF is in logistics/distribution. This he says is because of the fast growth in the northeast part of Mexico, where currently the transportation cost is getting higher because the growing demand and the company's margins have been affected more than it had expected.
PSF is focused to continue its growth in the southern part of México, as that area is the geographic area where it has its lowest market share. Export to America is an important part of its main opportunities for 2024.
---
MP HYGIÈNE
Pioneering high speed TM to be operation Q2 2024
In the last Country Report of 2022, Marc Miribel, President and Chief Executive of French AfH leader MP hygiène, discussed at length how the start-up of the company's new AHEAD 2.2 tissue machine will mean its CO2 footprint will be one of the lowest in the world.
Now, he says the business is still aligned with the investment plan. The site is currently under construction and getting ready to welcome both the stock preparation unit and the second mill. The end products, on-site warehousing facility has been completely stopped and moved to the company's new logistics site with a capacity of more than 13,000 m2.
He says that in France, when compared with 2022, the paper wiping market has been tightening a little due to a drop in demand, particularly in the consumer market. This trend does not impact the company directly since it does not sell to consumers, but Miribel says the company remains attentive to it. Before starting any further new projects, the business is looking forward to the new machine start-up that will be operational Q2 2024. "This project represents a total investment of more than €60m and requires large-scale work by all the MP hygiene's teams as well as the external companies that accompany us," he says.
"For the rest of 2023 and 2024, the paper industries and in particular the tissue industry will have to face new regulations pushing us to adapt in order to avoid "penalties" on our products in the future. Once again, the issues of sustainable development and ecology must be an integral part of our strategy in order to adapt to both the law and market trends."