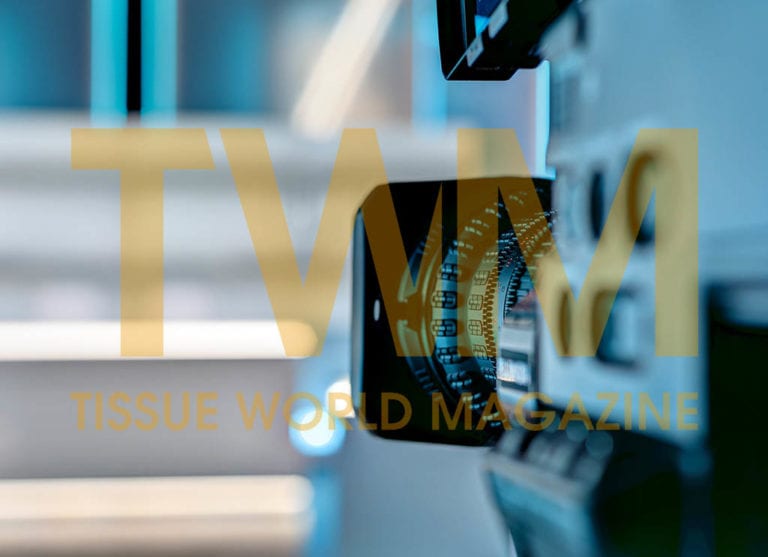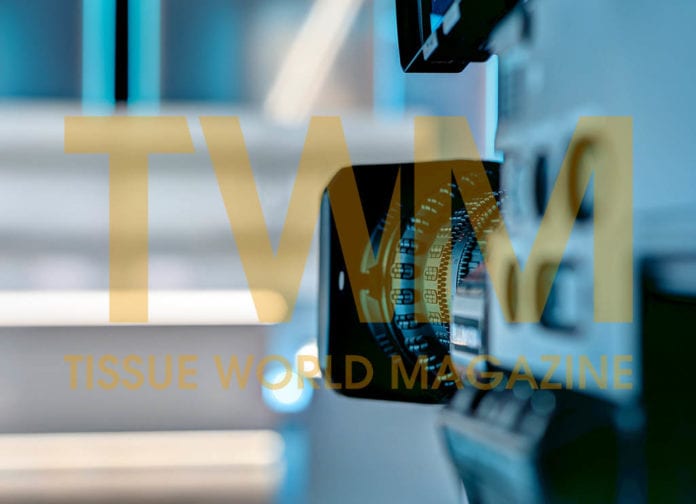 By Tissue World magazine editor Helen Morris
In 2014, TWM visited a number of mills from around the world – from Argentina, Mexico, Benelux, Italy, East China and Russia – for the magazine's Country Reports. Here, we revisit a selection to see what has changed.
ARGENTINA
Celulosa Argentina
Despite the economic crisis which impacted Argentina in 2000, when TWM met high quality BEK pulp producers Celulosa Argentina at the end of 2013, the company was moving into the tissue sector as a result of the rapid growth seen in the market.
Its motivation was simple: tissue in the region was emerging more and more as a recession-proof market. Coupled with the fact that Celulosa Argentina was the only producer of high quality BEK pulp in Argentina (giving the business key logistical synergies throughout the country and into neighbouring markets), the move made good business sense.
In April 2015, it was reported that Celulosa Argentina had started production on its new 30,000tpy tissue PM at Capitán Bermúdez. The Voith-supplied tissue line has a wire width of 2,760mm and runs at 1,800m/min, producing 15-21 g/m² basis weight toilet tissue and kitchen roll from virgin fibre.
Papelera San Andrés de Giles (PSAG)
Based in Papelera, on the 18 May 2015 the family-run mill started up its new Tango converting line, installed in response to the opportunities seen in the local tissue market.
Andrés Gagliardi, who heads up the sales department and is the grandson of the company's joint founder José Sassone, says the technology, JOI 012, is the first ever embosser to feature a steel marrying roll instead of the industry standard rubber roll. It will produce new products for the business, a kitchen towel and toilet tissue. "We're also doing four-colour printing with the Futura line," he says. "We're seeing an increase in demand for 2-ply products, simply because people have more money now and are beginning to consume different sorts of products."
The site now manufactures 18,000tpy of toilet paper and napkins, has its own brand, sells to the AfH market and also produces private label products for companies such as Walmart and Carrefour.
Another growth area is environmental products: "It's one of the main reasons there's growth here," he adds.
The business is still on the lookout for a third napkin line and plans to make the investment by 2015.
"We are seeing a big increase in demand for napkin products in Argentina," Schiaffino says. "This demand has mostly come from some tissue production leaving the market here."
MEXICO
Fabrica de Papel San Francisco (Fapsa)
With the great potential for growth in the Mexican tissue market, coupled with the country's geographical access to the tissue giant on its shoulders as well as the dynamic potential of South America, it was no surprise when the world's first Advantage NTT tissue line was started up by a Mexican company.
The start up of the line at Fabrica de Papel San Francisco (Fapsa)'s site – located on the Mexican/US border – boosted the company's premium export drive to the USA.
As TWM was going to print, the world's second NTT line, a 2.6m wide Metso-supplied machine, was in the start-up process at fellow Latin American company, Chile's Forestal y Papelera Concepción. The new line will add another 30,000tpy of bathroom tissue, napkin and towel grades to the company's existing production.
Since Fapsa's start-up, Dario Palma y Meza Espinoza, director of operations at the family-owned business, tells TWM: "We are very happy with the development of the NTT machine into our production strategy, both in structured and conventional paper. In conventional mode, we have achieved a production of 180 metric tonnes in 24 hours, certainly an outstanding level and most probably a world record for a 2.6m wide tissue machine".
The company now produces 167,000tpy and the new tissue machine joins four others: PM1 (1968 Manchester), PM3 (1999 Voith), PM4 (2004 Metso) and PM5 (2009 Metso). It has 11 bath and towel converting lines, three from PCMC Italy and eight from Perini plus several napkin and folded towel machines, mostly from Bretting.
Fapsa has a market share of 11% in the Mexican tissue market and Palma y Meza says any further growth will be organic. Growth in the private label and retailer brand sectors will also be key drivers for the business.
SCA Mexico
When TWM met SCA plant director Roberto Deleón at the company's impressive site in Sahagun City, he made it evident that there was "plenty of room for expansion" over the 1,003,000 m2 plot of land. At the time of visiting in February 2014 the site was new, having started production four years earlier as part of a US$210m investment. A further US$10m had since been invested to create a new distribution centre that Deleón says enables the company to be "more efficient in cost and prepare for market needs".
The company's target regions are across Mexico and Latin America – markets where the middle class is growing steadily and increasingly have access to disposable incomes. Deleón says Mexico is still seeing big growth in terms of tissue use, which is keeping pace with the growing Mexican population, that is increasing 1.2% year on year.
AfH is still one of the most important sectors as the country continues to see a big increase in tourism.
Within this market environment the site and business is pioneering: "With our efforts here, we are working to become a global benchmark in terms of efficiency with our paper machine and converting facilities," he says. "Competition here is tough. We have all of the big players here. And a lot of new capacity is being introduced. So we're building brands and innovating."
SCA started business in Mexico 35 years ago and now has five plants in the country, three tissue mills and two hygiene mills that employ 2,600 people. The business claims the number two consumer tissue spot in the Mexican market, which has almost all of the key players in competition; SCA and Kimberly-Clark claiming the first and second spot.
The Sahagún site has one PM, a Metso-supplied machine that produces 60,000tpy. There are four converting lines from Perini and KPL at the site. Some 85% is used in the domestic market while 15% is sent to Central America, all of which is finished product.
BENELUX
Van Houtum
In April 2014, Van Houtum was targeting itself as a small niche player looking for an opportunity to grow. Managing Director Bas Gehlen says the plan for the company, which at the time was exporting finished product to 25 countries and with annual turnover of €65m, was looking to grow step by step.
Just over a year later, and Van Houtum has taken yet another step. It has signed a ten-year purchase contract with a Dutch supplier of elephant grass (miscanthus giganteus). Van Houtum's process technologists have been able to make cellulose from the elephant grass and that means they can make hygienic paper from it. Furthermore, the company ran trials with processing drink cartons. Gehlen adds that re-cycling drink cartons deliver good usable fibres that are ideally suited for the production processes. And in addition, the other waste substances that are generated, aluminium and plastic, can be reused very easily by third parties. The company has also just signed for the investment in a stock preparation line, which will be operational early next year.
"Using local waste flows as raw materials for our production helps building a circular economy," Gehlen says. "We predict a significant reduction in the availability of recovered paper in the longer term so we continue to look actively for alternatives."
In January, the company also announced it has signed up Toscotec to deliver a dry end rebuild of its PM 4 tissue machine in Swalmen, The Netherlands. The start-up of the rebuilt machine is scheduled for the third quarter of 2015. The purpose of the rebuilding is to implement machine efficiency, reliability and safety in operations. Toscotec's delivery includes a new reel TT Reel-P that will replace completely the existing old one. The new machine parts will be designed for an operative speed up to 1,800mpm with a paper width of 2,600mm.
Gehlen emphasised the company is seeing a lot of potential all over Europe. It now produces products for toilet areas such as washing solutions that include tissue dispensers, an area he adds is thriving as more and more businesses start to care about their bathroom area.
The 200-staffed plant now manufactures 45,000tpy and has an annual turnover of €65m.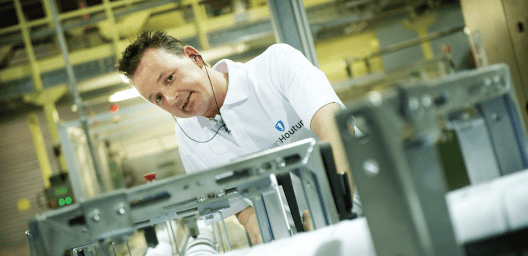 ITALY
Sofidel
At Sofidel's Delicarta paper mill in Italy, the main investment made since TWM's visit has been the start up of a new wastewater treatment plant. It reduces the amount of clean water extracted from the groundwater table and makes it possible to recover up to 75% of wastewater, saving 350,000 m3 fresh water annually.
The process involves three phases: In the first phase the wastewater undergoes a biological process. In the second, for the solid-liquid separation, it undergoes a ultrafiltration section (this treatment takes the name of the MBR -Membrane Biological Reactor). The third and last phase, aiming at eliminating the remaining salt fraction, consists of a reverse osmosis system.
Sofidel says that the overall investment for the implementation of the project – the first in the paper tissue sector – was €3 million.
'The wastewater treatment plant makes it possible to recover up to 75% of wastewater, saving 350,000m3 of fresh water annually.'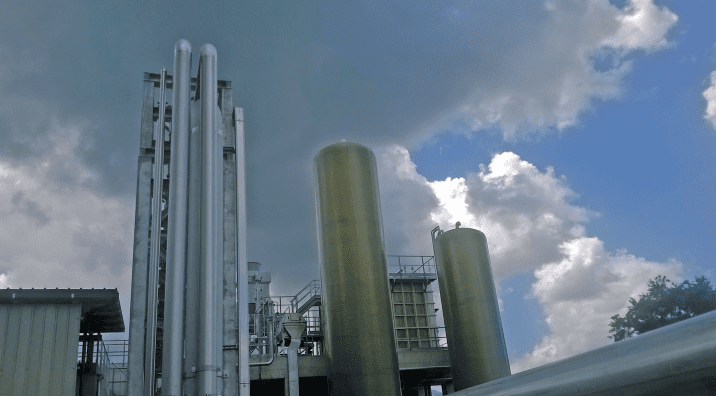 WEPA LUCCA
As of 1 February 2015, WEPA Italia managing director Bernhard Gross tells TWM that the company now owns the property of its Lucca converting operation at Salanetti, Capannori. "With more than 40,000sqm of modern industrial buildings and extensive grounds, this acquisition can support future growth plans of Wepa Italia," he says.
Furthermore, after major upgrades to the Cassino factory's infrastructure, it now shows up in line with the company's corporate design. "Further investments will focus on converting and are foreseen in the course of this year," he adds.
When TWM met Gross at the company's Capannori-based site in Lucca in 2014, Gross was just six months into the job. Prior to his joining, the company had restructured significantly. The ongoing investments and prioritisation of the company's three Italian tissue sites (Salanetti in Capannori, Fossa Ralletta, and Cassino), shows Gross's commitment to growing WEPA's presence in the Italian marketplace.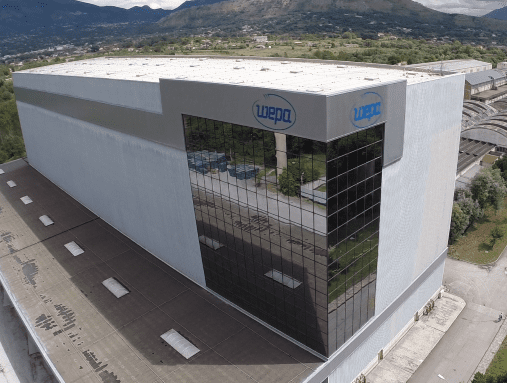 EAST CHINA
Hebei Yihoucheng (YHC)
When TWM met Hebei Yihoucheng at the company's mill in Baoding, Hebei, a two-hour drive from Beijing, it had just recently moved into the tissue market in May 2014 with the start up of 25,000tpy Andritz-supplied PM1. A second 25,000tpy tissue PM was expected to start up in 2015 while PM3 and PM4 were planned to come on stream in the next four years as part of a 2bn RMB investment that aims to produce 200,000tpy once completed.
General manager Tian Yuwei epitomised China's economic drive with advanced technology in place and planned, a top class targeted product, and a strategy aimed at changing the tissue culture across a vast region of the country. Its strategy was to take a large portion of the facial tissue market in northern China. The site is located over 600 (Chinese mu) acres – and there is plenty of room for expansion.
In June 2015, the company's expansion plans are well on the way: TM2 has been ordered and expected start-up is at the beginning of 2016. The new investment of TM3 is also in the pipeline. Yuwei told TWM: "For the local competition there are many small tissue mills but the paper quality from YHC is the best. We are also seeing new demands for tissue projects that need thicker paper, for example hand towels."
"There are many small tissue mills but the paper quality from YHC is the best. We are also seeing new demands for tissue projects that need thicker paper, for example hand towels."
Hebei Yihoucheng general manager Tian Yuwei
RUSSIA
Pulp Invest
The staggering growth potential of the Russian tissue market shows no sign of slowing down. When TWM went there at the end of 2014, the tissue mills visited were discussing tissue growth at the impressive and continuous rate of 20-25% per year.
Pulp Invest, which we visited in Kazan, the capital and largest city in the Republic of Tatarstan, said this potential was evident in the increase in demand for high-quality toilet rolls, kitchen towels and napkins in the local region. The company had recently invested in an Andritz-supplied PrimeLineCOMPACT II tissue machine to meet this expected demand. Recent increases in disposable incomes had seen consumers trading up and starting to use new tissue products.
This gap in the marketplace was recognised by Pulp Invest when it formed in 2012, and with the start up of the Andritz line in May 2015, it is targeting the private label and own brand markets.
Chairman of the board Stanislav Averyanov told TWM: "The start-up took much longer than expected. So now we just are making our first steps in selling the product. At this stage it's too early to talk about new markets, further investments, etc."
The machine has a design speed of 1,700m/min and a width of 2.8m and the Yankee is manufactured entirely of steel and has a diameter of 3.6m. At full capacity it will produce 30,000tpy of high-quality toilet rolls, kitchen towels and napkins, which will then be converted into rolled products. Converting takes place on site on an Amica line supplied by PCMC and an Omet line.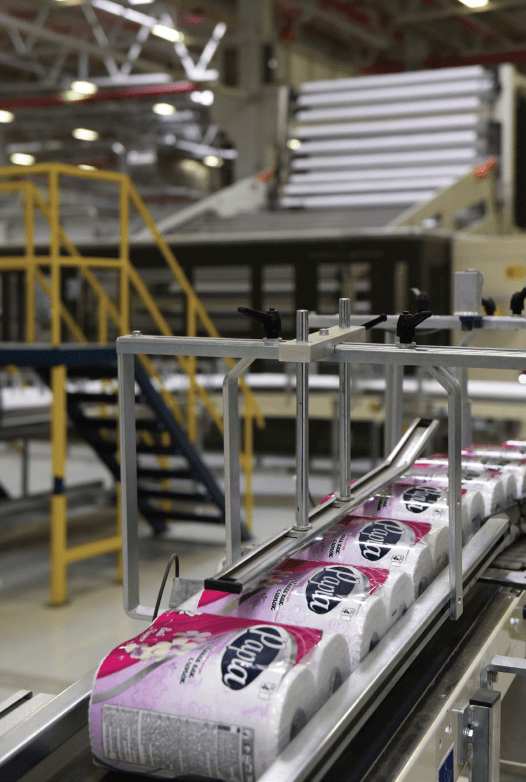 Hayat Kimya
Walking around Hayat Kimya's impressive tissue site in Alabuga, Tatarstan, was a unique experience for TWM. It was not just the scale of the operation – easily pulling its weight in Russia's second largest industrial complex, and area that housed the country's finest and most ambitious companies. It was also the timescale that paper group director Lütfi Aydin and plant director Ergan Gungelen were operating under.
The challenge, crucially, was for production on the 5.6m Valmet-supplied Advantage DCT 200 TS TM to start before the winter set in, when staff could face working in temperatures as low as -30 degrees and six months of snow.
During our visit at the end of 2014, the Russian site was looking very near to completion. It was made official on 13 December 2014 when the company started up the tissue machine, and the Perini-supplied converting line was started up in January, 2015.
Aydin told TWM: "From February on, we have started to run the tissue machine and the converting machines 24 hours a day (three shifts). Fortunately, we have achieved our targets regarding quality and runnability. We launched our products in the Russian market in April and we have been continuing to put our highly qualified products onto the shelves in the markets and shopping centres. We are happy with our operation at Alabuga. We hope that we will have a good market share shortly in the Russian Market."
Dynamic economic growth in Russia coupled with massive consumer markets and a unique geographical position had led the Turkish tissue giant – already the largest tissue manufacturer in Eastern Europe and the Middle East – to take advantage of opportunities in near-neighbour Russia. Higher quality soft, coloured and perfumed tissue products are its key strategy in a rapidly changing market.
As Russia's middle class continues to get stronger, Aydin adds the company will increase its presence in the country and look to sell more and more into the Moscow and St Petersburg markets. And his parting comment, when TWM was leaving the site, was the potential to invest in another paper mill in Russia within five years.
'The challenge was for production on Hayat Kimya's 5.6m Valmet-supplied TM to start before the winter set in, when staff could face working in temperatures as low as -30 degrees and six months of snow.'
Elsewhere, Hayat Kimya has also expanded its Mersin mill in Turkey. Aydin says: "Before starting up our tissue machine, in February 2015 we sent jumbo rolls to our Mersin mill to convert them on the converting machines to produce toilet rolls, kitchen towels and napkin. Having started up the tissue machine on March 17, we have started to run the whole mill three-shift from April onwards. We now have a tissue production capacity of 210,000tpy, which means the biggest capacity in Turkey, Middle East and Western Europa, excluding Russia."
At the company's Yeniköy mill in Turkey, a big overhaul and modification on PM1 is planned. The existing cogeneration hood will be replaced with a state of art hood similar to the ones running in Russia and Mersin. A Visco Nip will also be installed instead of suction press roll. At the company's Egyptian mill, the business has already finished its project and is still purchasing machinery and equipment. The erection is planned for early 2016.
Watch this space.