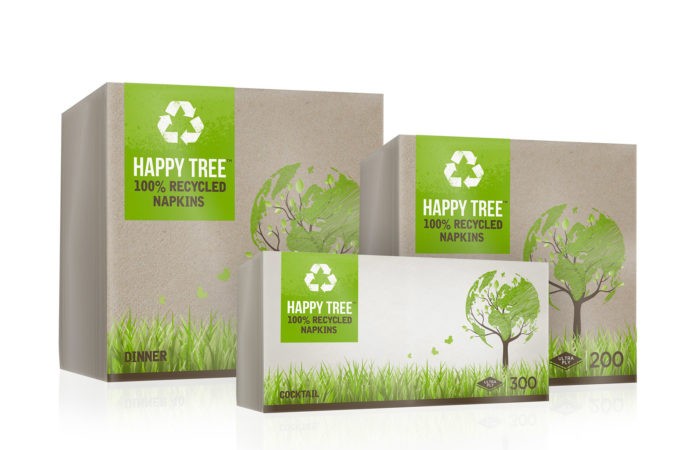 ARMINDO MARQUE, PARTNER AND TECHNICAL DIRECTOR, POPPIES EUROPE
Integrated producer: Lucart offers a complete set of solutions that it says guarantee the highest level of hygiene
TWM/1: What machinery investments have you made in the past year and why?
"With the continued trend in the UK for sustainable products we have seen a continued rise in demand for our 'eco' range of disposables. As such we have developed a new brand 'happy tree' which we offer in a full range made from 100% recycled unbleached tissue. This has led us to invest in another high output napkin production line form Omet coupled with a Multipack wrapper. We have now 17 of those lines.
"In our hygiene section we have revamped the end of lines with new energy efficiency wrappers supplied by IFP. And for our tabletop side, due to winning new 'retail' business we have recently taken delivery of a large format RCM table cover machine."
TWM/2: How has your local tissue market changed/developed in the past year?
"Pre Covid the market was good, the demand was strong, and we have had an excellent market penetration with several new brands aimed at different segment of the napkin market (happy tree, cloud9, Popin).
"Nevertheless, we could already see some signs of the hospitality market toughening up, especially in the Casual dining dominated by big chains of restaurants. Private equity has led the fast development of the sector for many years with a characteristic high leverage debt structure format.
"So when the margins have been squeezed by a post-Brexit increase in labour cost and a jump on business rates the sector tanked and their tissue demand started to shift. Covid-19 has precipitated this restructuration with large and famous restaurant chains having to size down or disappear but the root causes were already there."
TWM/3: What key challenges has your company experienced in 2020/2020, and how have you responded?
"Covid-19 has overshadowed all the other usual challenges of our industry. The AfH market dramatically changed in March with the mandatory closure of the hospitality industry in the UK due to the pandemic.
"We had our eyes on the rest of Europe and we were bracing for impact. Lock down! Demand for the normal standard range we offered stopped overnight! After the initial craze for the hygiene products (toilet tissue and towel) when we pumped has much tissue as we could to meet the orders our operation slowed down to almost idle.
"We had to review our operation develop new products and adapt to the situation. Now those restrictions have lifted and we are seeing a surge in demand and expect to be back at normal levels within 12 months."
TWM/4: And the key opportunities?
"There are always opportunities even when you are faced with falling demand. Poppies has diversified and entered new markets for example we now produce disposable salon and spa towels as these have become a requirement. The new norm brings new demands with it.
"Companies that can focus on new product development and have flexibility within their manufacturing will be able to grab the opportunities that present themselves over the coming months."