By Svetlana Uduslivaia, head of tissue and hygiene industry at Euromonitor International
The global retail tissue market continued to show a healthy growth in 2014, achieving US$77bn in sales (2014 constant value, US fixed exchange rate). Not surprisingly, developing markets led the growth, with China – now outselling the US in retail tissue volume – adding another US$572m in sales between 2013 and 2014. On the other hand, the developed markets of North America and Western Europe continued to show signs of maturity and slow growth. In volume terms, the global retail tissue market increased by 3% in 2014, over 2013.
Chronicles of regional developments
Favourable demographic trends, rising incomes, improved infrastructure, and product innovation ensured strong positive consumer demand for tissue products in the developing markets. Diversity of cultures, traditions, and politics also played a part in 2014 performance.
In the collage of Latin American markets, Venezuela stands out as having seen one the biggest jumps in retail sales of tissue in 2014, recording a 12% growth in volume terms. However, the government actions and a rise of a black market were the contributing factors in such a stellar performance. Consumer fear of product shortages amidst ineffective government policies inflated the demand and encouraged local "bachaqueros" to purchase in bulk in legal channels for re-sale at a premium on the black market.
Brazil
Already the fourth largest tissue market globally by value and volume, Brazil continued its positive trend. Over the past few years, Brazilian retail tissue became more sophisticated offering added value to consumers. Rising income levels afforded consumers the possibility to choose from a wider range of products and to opt for increased quality, comfort and practicality. Household penetration of products considered to be superfluous by many Brazilians, such as napkins and kitchen towels, is increasing, and these are more frequently found in consumers' shopping baskets.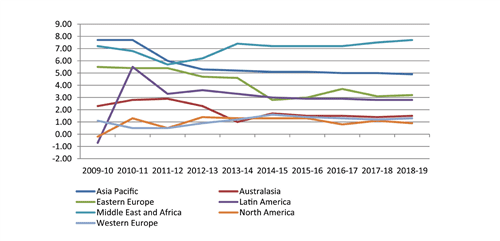 Asia, Middle East and Africa
Asian markets, the Middle East and Africa continued to witness growth in 2014, supported by rising incomes as well as expanded product availability and affordability. However, this growth was not without hiccups. China for instance, while maintaining a positive growth trajectory, faced the issue of oversupply due to rapid expansion of domestic production. Subsequently, 2014 saw the Chinese government take actions to curb production and to implement stricter environmental standards, which led to the closure of a number of mills and further market consolidation in the country.
Developed world
The developed world continued to grapple with market saturation, further exacerbated by slow population growth. These tendencies resulted in only modest increases seen in North America and Western Europe in 2014, both regions recording only 1% increase in volume of retail tissue. Adding value and developing premium quality products have become an important strategy for growth in mature markets.
Modern versus traditional retail channels
While modern grocery retailers account for a larger portion of the retail tissue distribution in developed markets and have been capturing a bigger share of sales in many developing countries, traditional small retailers/small independent grocers remain a key distribution channel across a large number of developing markets.
For instance, in India, independent small grocers accounted for close to 63% value share of retail tissue sales in 2014. In Bolivia, traditional grocery retailers still accounted for as much as 75% value share of retail distribution in 2014. In Nigeria, the share of traditional grocery retailer stands at 72%.
'Retail tissue will continue to see healthy growth ahead… but some of the roaring engines of that growth like China and Brazil are expected to show signs of slowdown.'
Understanding the role of traditional retailers, their supply chain, their capabilities and preferences and their customer base is an integral part of any successful strategy aimed at boosting sales and household penetration beyond mid-to-high income consumer base of major urban areas.
Lack of modern retailers in rural areas and by contrast proximity of small independents to consumers' homes and neighbourhoods, personal relationship established with the owners of the stores (and a result often informal credit granted to customers of long-standing), competitive prices and smaller packaging to meet tight weekly budgets, are among the factors that work in favour of small retailers. Many of them have also been investing in improved store interior and product selection to ensure long-term survival in the face of expanding modern retail.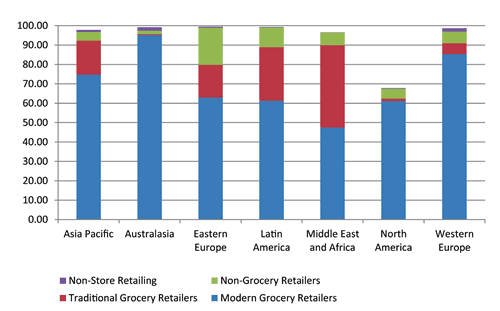 Growth ahead
Retail tissue will continue to see healthy growth ahead, with developing markets as main engines of growth. However, some of the previously roaring engines are expected to show signs of slowdown, including key markets like China and Brazil.
A number of key items will remain on the agenda of the tissue industry, namely: production oversupply and further market consolidation, search for alternative resources and "green" options to compliment or replace wood pulp and compensate for expected dwindling supply of recycled fibre, developing wider range of affordable products and packaging sizes to drive household penetration in developing markets and product sophistication to drive revenues in slow moving developed markets.
The global tissue marketplace is a good place to be and diversity of consumption patterns across markets provides a good ground for growth opportunities ahead.
However, the market comes with its share of risks and challenges. Assessing carefully and realistically current state and future potential in each market, understanding local needs and priorities, understanding local retail distribution patterns (including traditional retail) will help to ensure long-term success.