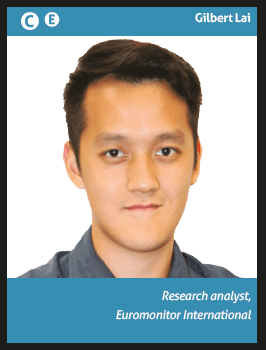 With lower tissue consumption per capita than its neighbouring countries in 2017, Thailand still has much room for growth to fulfil its potential. Demand for retail and AfH tissue is set to rise due to various factors such as increasing private consumption, urbanisation and government initiatives to boost tourism. Furthermore, strong  value growth for retail tissue is also expected, driven by increasing disposable incomes and premiumisation.
Positive outlook expected for the economy 
Public investments stimulated real GDP growth at 3.9% in 2017, which led to consumers enjoying higher disposable incomes that grew at an average annual rate of 2.8% and ensured that the unemployment rate remained low at 1.2%. The higher consumer confidence coupled with the urbanisation trend in Thailand resulted in an increase in private consumption by 3.5% in real terms. As city-dwellers generally have more sophisticated tastes and look for premium products to improve their overall quality of life, they are keen to invest in premium tissue products given that the additional values justify their higher price tags. Some instances of those values include perceived higher quality, thicker and tougher tissue fibre in order to provide added convenience to their busier urban lifestyles.
Retail tissue volume growth in Thailand  hit 4% in 2017 as a result of the growing economy and urbanisation, since tissue products are widely available and are relatively more affordable in the richer urban areas. Toilet paper is by far the most popular tissue product, accounting for 76% of the total retail tissue volume in 2017. Within households in Thailand, toilet paper is used not just for bathroom trips, but also serves multi-purpose roles such as facial and surface cleaning due to cost savings and convenience. Consumers in Thailand are price-conscious especially for high-usage tissue products, justifying toilet paper's dominance in retail volume. This is also evident where leading brands such as Scott, Cellox and Zilk compete mainly on price and promotions, seeking to offer products of reasonable quality at competitive prices to attract low and middle income consumers.
On the other hand, retail paper towels is the smallest category, with just 3% of retail volume sales due to being a relatively new product for Thai consumers. The category only saw the entrance of brands such as Smart-R and Pinn Tissue in recent years. Although still regarded as optional, paper towels are increasingly being used by urban consumers, as they are touted to be thick and highly absorbent to effectively clean up surfaces and soak up oil during food preparations. In light of healthy living trends and busier schedules of city-
dwellers, these additional benefits are valued by the time-strapped consumers. Hence, growth potential of paper towels is expected to be high, provided that manufacturers are able to communicate those benefits well.
With higher disposable income in urban areas and the premiumisation trend, value growth of retail tissue in Thailand reached 5% in 2017. These trends present opportunities for facial tissue, which is perceived as a premium product for the higher income group. For example, consumers in Thailand provide guests with boxed facial tissues that are more presentable compared to toilet paper. In addition, boxed facial tissues are also frequently used in offices and cars. In an attempt to attract younger consumers and encourage the habit of using facial tissues, Smart-R targeted younger consumers with licensed characters such as Hello Kitty on its boxed facial tissue. Hence, we can expect greater variety of tissue products with different properties such as scent, thickness and material, as manufacturers try to gain larger market shares.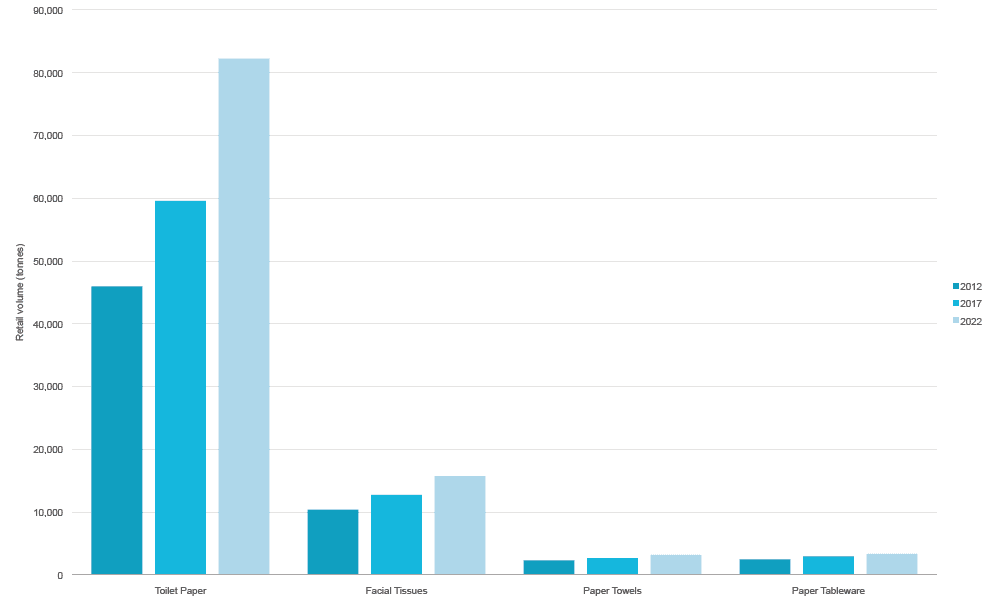 Government's pro-tourism policies boost demand for AfH tissue
The most important drivers of growth in demand for AfH tissue are the increasing numbers of tourists in the country, including both foreign visitors and domestic travellers, as well as strong growth in consumer spending through the retail and consumer food service industries. The Thai government's focus on stimulating economic development through tourism has seen widespread construction of new hotels, shopping centres and entertainment facilities. In 2017, the total number of visitor arrivals to Thailand and real value of tourist receipts rose by 9% and 8%, respectively. In order to present a premium positioning to tourists and local consumers, horeca establishments are investing in higher quality AfH tissue products such as napkins and wipers, bearing their own printed labels. Affected by rising production costs and premiumisation, AfH tissue products are expected to see an increase in unit prices.
Within the retail tissue landscape, Thailand has relatively low tissue  consumption at 1.1kg per capita in 2017, compared to Malaysia and Vietnam's retail tissue consumption rate of 1.7kg per capita and 1.4kg per capita, respectively. With an estimated unmet potential in retail of over 156,000 tonnes, the different variants of tissue products remain far from maturity due to low penetration among low-income communities, especially in rural areas. Rural areas throughout the region maintain more traditional habits of using water and washable cloths as they are cheaper compared to tissue products. In addition, rural areas are also harder to reach through mass media outlets as sales are generated mainly through local convenience stores and small independent grocers. Thus, the low penetration rates of tissue products among the low-income communities and rural areas present strong growth opportunities for manufacturers, given the right promotion and pricing strategy.
As illustrated by Euromonitor International's Industry Forecast Model, retail tissue is expected to record a volume CAGR of 6% with three main growth drivers. First, GDP per capita is expected to continue growing, which will result in higher disposable incomes for consumers and a greater willingness to invest in tissue products that can improve their daily lives. Second, competitive pricing,  discounts and promotions from retailers will continue to encourage volume growth, albeit having a drag on value growth. One key area that is likely to be a key site of innovation during the forecast period is the introduction of more ecological and organic products that are gentle to the skin. For example, Pinn Tissue focuses on promoting its unbleached and eco- friendly tissue to serve the needs of the
environmentally-conscious consumers in Thailand. Although still considered niche products in Thailand, increasing awareness of environmental issues and the type of products that consumers apply on their skin is likely to create higher demand over the forecast period. Lastly, manufacturers should promote and educate consumers on the functional benefits of their tissue products such as increased convenience, better hygiene practices, and the ease of use compared to traditional methods.