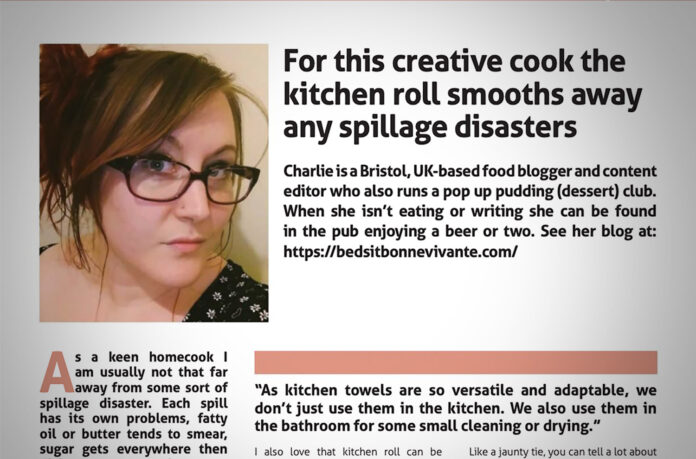 Charlie is a Bristol, UK-based food blogger and content editor who also runs a pop up pudding (dessert) club. When she isn't eating or writing she can be found in the pub enjoying a beer or two.
As a keen homecook I am usually not that far away from some sort of spillage disaster. Each spill has its own problems, fatty oil or butter tends to smear, sugar gets everywhere then disintegrates to grainy paste when you try and wipe it up with anything wet, and liquid takes more absorption power than you ever realise.
To combat all of this, kitchen roll is always on hand in my house. I have never been keen using a sponge on my surfaces due to the sort of nasties that might be lurking on it so, a few sheets and a decent kitchen cleaner is all I need to return my kitchen to a decent state after throwing food around in another creative whirlwind.
I always look out for recycled paper with the highest sheet count so my money goes further (I spill a lot!) and my conscience is clear when I use it.
I also love that kitchen roll can be compostable, unlike the kitchen (and bathroom) wet wipes that clog water pipes and sewers. I am happy to throw used paper in the bin and not worry about impacting the environment negatively.
As a food blogger, I also take photos of my cooking successes (and sometimes failures!) and that all important smarten up before I whip out the camera phone is easily done with a sheet of wet towel.
Napkins also serve a double purpose, they can make a photo pop when arranged under a dish or cutlery, and provide a great makeshift notepad when dining out for a restaurant review (or something to doodle on if your date is incredibly boring!)
Like a jaunty tie, you can tell a lot about someone by their paper napkins… life is far too short for white or black if you ask me. My household also goes through plenty of toilet roll; while wet wipes provide a feeling of freshness, due to the ambiguity of whether these are actually flushable and if they're causing problems with the water sewerage systems down the line, I don't use them that frequently.
To counteract this I like to spend a bit extra on very nice toilet paper. I just came back from Canada and was dismayed at how thin and sad the toilet paper was there and was grateful to come home to the sort of paper that is high quality and that feels almost like a duvet. As for my kitchen, I like a paper that is the thickest I can find and that's been infused with balms and oils to make it as luxurious as possible.
Like the planet, we only get one chance at this so we should try and look after it and ourselves as much as we can! Luckily I have access to the paper products I need to do both.