The wonderfully modernised Miami Beach Convention Center was the fitting setting for Tissue World's double celebration – our 25th Silver Jubilee anniversary as the global industry's leading tradeshow, and the opening of North America's largest tissue exhibition and conference … the 9th edition in the US.
More than 200 exhibitors and a total of 1,687 participants from 69 countries met in Miami in March. The tradeshow floor spanned an impressive 125,000-square-feet and the new-look conference hosted 307 delegates in a variety of talks and deep-dive sessions of targeted intelligence gathering aimed at navigating the challenges of the year to come. Some 53 expert speakers from across tissue's value and supply chains shared industry insights and expert knowledge.
The theme was crucial to every business looking to boost margins – "When Best in Class isn't good enough: Identifying hidden dynamics to optimise business performance."
Key topics included business drivers such as shifts in global trade, big-data integration, economic and population trends. Delegates also had the chance to arm themselves with Tissue World Magazine's state of-the-nation "Focus Report: USA" supplement, an in-depth analysis of economic, M&A, demographic, cultural, political and energy trends in the North American tissue market.
Miami was a truly global affair: companies attended from Brazil, Canada, China, the Czech Republic, Finland, Germany, India, Indonesia, Israel, Italy, South Korea, Lebanon, Mexico, Portugal, Republic of Serbia, Spain, Sweden, Taiwan, Turkey, the United Kingdom and the United States.
Representatives from an impressive range of companies showcased their latest products and technologies.
Our gala dinner at the grand Temple House was held in conjuncture with the announcement of the prestigious TWM Mill Awards. Now TW moves on; Miami 2018 was just one important part of Tissue World's global reach. Twenty-five years on from our launch our portfolio of trade shows and conferences embraces the Americas, Europe, the Middle East and Asia.
Our leading independent publication Tissue World Magazine and Focus Reports are a vital part of connecting people across the world … a trade show in print and online.
It was a special event in Miami – a great start to a unique year for TW and our industry friends across the world. For those who couldn't be there, and for those who could, over the next few pages TWM carries an extensive summary of key issues.
ESSITY, CASCADES PRO AND RESOLUTE TAKE HOME TWM MILL AWARDS; BBA BIOTECH NAMED MOST SUSTAINABLE EXHIBITOR
Tissue World has awarded Essity, Cascades Pro, Resolute and BBA Biotech with a variety of prestigious awards during Tissue World Miami 2018.
Announced at TW's gala dinner, the winner of the Best Tissue Marketing Strategy category was awarded to Essity, while Cascades Pro was the runner-up.
Resolute Forest Products won the award for the Most Energy-Aware Mill Award. Essity gained the Marketing Strategy Award for its communication programme in support of the rollout of its Tork PeakServe towel dispenser that is designed to meet the needs of high-traffic washrooms.
The company analysed the needs of consumers through market research; starting from customer insights instead of technological and production capacities, and using primarily online and digital channels, it took a long-standing product — the hand towel — and gave it a new angle with added customer benefits, using the latest technology.
Cascades Pro took the first runner-up award in the marketing strategy category for its rebranding effort that created a new company name and tagline. From Cascades Tissue Group, the company rebranded to Cascades Pro. The winning marketing one-liner was "All clean. All good." ("Tout beau. Tout proper.").
The rebranding effort was anchored by a redesigned website and marketing video that demonstrated the company's commitment to helping people feel good with proven hygiene solutions.
Resolute Forest Products – Calhoun pulp, paper and tissue operations – was recognised by the Mill Awards judging team for its significant investments in green technologies and for moving from coal to natural gas power. Since 2015, the company has invested over $400,000 in a continuous pulp digester and wood chip processing equipment at its Calhoun operations which resulted in resulted in significant energy improvements and efficiencies.
Resolute has saved 1.15 million GJ — equivalent to the amount of electricity used by 36,000 homes in a year. The mill has also achieved a 73% reduction in emissions since 2000 — a full 8% more than its projected goal of 65% fewer emissions.
The Sustainability Award went to BBA Biotech for having the most eco-friendly booth at TW Miami.
Exhibitors were polled to see how well they incorporated sustainability best practices into the design and transport of their stand before, during and after the event. The judges assessed the approach exhibitors took to eliminating, reducing, reusing and recycling stand material, collaterals, energy, waste, transport and food.
BBA Biotech designed their booth to be reusable and adaptable for future exhibitions. The design also emphasised lightweight materials to reduce the carbon imprint of transport. Magnetic and metal structures were employed to eliminate using tape and adhesives to erect the stand, and the company reuses the booth furniture, transporting it to different shows.
As much as possible, BBA Biotech used materials originating from sustainable, ethical and fair-trade sources. The Italian biotechnology company has focused on bio-based applications for a decade. Judges said it promotes environmentally-friendly technologies with an array of products that provide an alternative to traditional chemistry.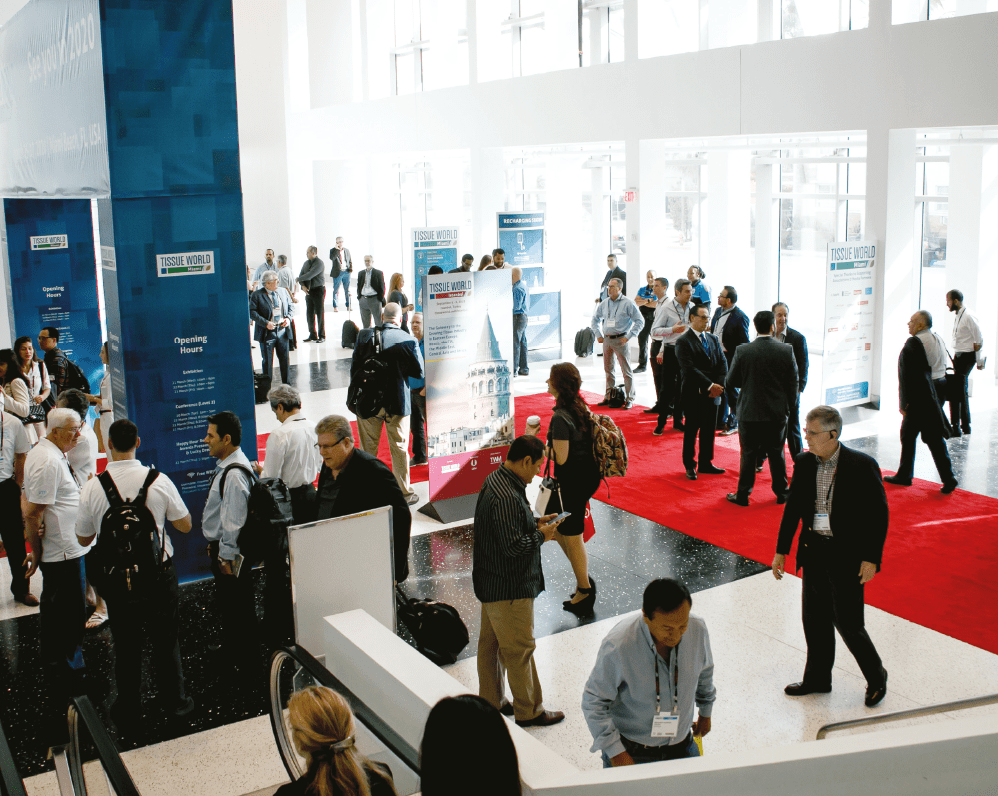 A new NAFTA – what next? B
By Suzanne Blanchet, strategic advisor, Canada
"Over the years, the Japanese have built a strong and vibrant economy, with unprecedented surpluses… They have brilliantly managed to maintain a weak Yen against a strong Dollar… and have moved Japan to the forefront of world economies."  –  Donald J. Trump, Private Citizen, said in a full-page ad in New York Times, 2 September 1987
Trump has held this view for over 30 years.
US ADMINISTRATION IS TRYING TO RESHAPE GLOBAL TRADE ~ 80% OF WORLD GDP IS ON-THE-TABLE
The North American Free Trade Agreement (NAFTA) – signed by Canada, Mexico and the United States and entered into force on 1 January 1994 in order to establish a trilateral trade bloc in North America – is currently under formal re-negotiations.
Its *US trade value (2016: two-way trade, total value of US exports and imports with all members of agreement) is $1,077bn. This is compared to the US trade value of:
• The Trans-Pacific Partnership (TPP) at $1,500bn. Status: unilateral withdrawal by US President executive order.
• The Transatlantic Trade and Investment Partnership (T-TIP) at $697bn. Status: negotiations unilaterally suspended by US.
• China: trade agreement NA. US trade value $596bn. Status: US initiated "Super 301" investigation under US trade law.
• USA: pursuing a mercantilist trade policy.
NAFTA RENEGOTIATION STATUS 
Not clear that NAFTA renegotiations will succeed as planned. Ambitious timeline; August 2017 kickoff – round I.
Negotiations round II – V. Negotiators meeting every 2-3 weeks. Trying to make progress on ~25 subjects. US proposals on certain topics acceptable to Mexico and Canada.
23-28 January 2018: Montreal, round VI. March 2018 target deadline – Mexican and US electoral processes will complicate negotiations if they extend past Q1 2018. Canada and Mexico not supportive of several US proposals including: automotive sector rules, five- year "Sunset Clause", government procurement rules and dispute settlement. US has consistently said it will cancel NAFTA if it can't get the concessions it is seeking.
WINNERS AND LOSERS IN A POST- NAFTA WORLD 
Winning and losing sectors will depend on trade imbalances and difference between NAFTA and WTO tariff levels.
WHAT CAN FIRMS DO? 
US:
• US has been the largest net importer of goods since 1975, with a goods trade deficit of US$753bn in 2016
• China accounted for US$347bn or  ~46% of the overall trade deficit in 2016, followed by Japan (9%) and Germany (9%)
• At US$11bn, Canada constituted only 1.5% of the total trade deficit in 2016, which has narrowed overtime from 8-9% levels in 2007 and 2008
• China is the largest trade partner with total goods trade of $579bn in 2016
• Canada and Mexico, the NAFTA countries, are the second and third largest trade partners with total trade of US$545bn and US$525bn, respectively.
Canada: 
• Canada has been a net importer of goods since 2009
• During 2006 to 2008, it was a net exporter of goods, with a positive goods trade balance of over US$38bn annually
• In 2009, its trade balance turned negative to ~US$5bn, and since then, Canada has only posted a positive trade balance once in 2014 (US$13bn)
• Canada's international trade is largely dependent on US, which accounts for over 60% of the total goods trade in the last 10 years
• Over the past few years, the US/ Canada commercial balance has not  been as much in Canada's favour than what the US claims today.
Canada is the US's second largest goods trading partner with US$544bn in total goods trade during 2016.
US: Tissue Products Market Overview
Converted products exported by the US (2012 to 2016) –
Global Exports:
Total 2,962,000 tonnes
Exports to Canada:
Total 1,971,000 tonnes.
Converted products imported by the US (2012 to 2016) –
Global Imports:
Total 4,601,000 tonnes
Imports from Canada:
Total 1,926,000 tonnes.
The US is a net importer of tissue products, however, Canada's exports contribution has fallen over time.
NAFTA LAST SIX MONTHS 
Tariff + compensatory rights on softwood lumber
Compensatory rights on newspapers
Tariff on steel and aluminium (Canada + Mexico temporary exempted)
Gary Cohn, Trump's economic advisor, resigned 7 March 2018.
Consequences on population: housing prices are going up, car and machinery prices will increase, costs are up for the American average-class population.
Consequences on business: 2x increase in operating expenditure of transacting across border, 72-hour outage of information backbone, zero cross-border travel for one week, double commuting
time (and/or cost) for transportation of goods (sea, air, ground, train).
Geopolitically … uncertainty.
China's industrial strategy – outlook and implications?
By Rodger Baker, vice president of strategic analysis, Stratfor USA
WHAT IS XI'S "CHINA DREAM"?
• Moderately prosperous society by 2021
• Modern socialist country by 2049
CHINA'S PROVINCIAL GDP PER CAPITA
The country's 23 provinces boast vastly different levels of economic output and living standards. The central government hopes to correct some of these disparities in order to ensure political stability.
Chinese commodity consumption and production – China's sheer size has massive repercussions that trigger often unintentional, but no less important, effects on other nations, whether consumers or producers.
Its special economic zones – when China launched its "reform and opening" policies in 1978, it established four special economic zones in Fujian and Guangdong provinces. The zones offered the dual advantages of shifting industrial production to the coast and facilitating deeper trade ties with Taiwan, Macau and Hong Kong, three territories that China wanted to bring back under its control.
China's Belt and Road initiative: the massive connectivity initiative, first unveiled in 2013, combines China's long-standing visions for the Maritime Silk Road and Silk Road Economic Belt, targeting 64 countries and 15 Chinese provinces for transportation, energy and trade projects.
THE GROWING MOUNTAIN OF CHINESE DEBT
Increasing corporate debt in China in the past few years has been fuelled by a turn toward domestic investment, especially in its construction sector.
Consumer tissue in North America: operating in the market ruled by fundamentals
By Svetlana Uduslivaia, head of tissue & hygiene research, Euromonitor International

MARKET OVERVIEW AND GROWTH DRIVERS:
Global tissue consumption: total tissue volume, retail and AfH, '000 tonnes, 2012-2017:
Asia Pacific: 9,608 – 12,381, Australasia:0,375 – 0,403, Eastern Europe: 1,341 – 1,637, Latin, America: 3,171 – 3,442, Middle East and Africa: 1,472 – 1,819, North America: 7,463 – 7,526, Western Europe: 6,144 – 6,428.
North American total tissue growth: 119,000 tonnes of additional tissue volume projected to be sold over 2017-2022
INCOME TRENDS AND PRICING PRESSURES
Per capita income in the US up from US$34,528 in 2007 to US$45,587 in 2017. Some 65% of US adults fall into the income bracket of under US$50,000.
PRICING PRESSURE AND RETAIL COMPETITION
US households top motivation for shopping online. Free shipping, best price and flexible ordering: key drivers of shift to online retail. High income households don't mind bargains either: US households with incomes $150,000 plus are the top motivators for online shopping: time savings, free shipping, flexible ordering, best price. Innovation to drive value growth. Offer tangible benefit; real solutions.
HOW FAR CAN PRIVATE LABEL (PL) GO?
Private label growth and rise of discounters in North America. 2012 volume share 23% – 2017 volume share 26%.
Private label in Western Europe: retail tissue, % private label value share, 2017: Western Europe: 56% value share. Germany: 75% value share.
Private label in the US – now and into the future? US retail tissue, % value share by company, 2017: P&G 33%,  K-C 20%, GP 18%, others 4%, Private Label 26%.
Doubling share of PL in the US in the conditions of market saturation and slow population growth would mean a dramatic decline of branded products. Is this realistic?
POPULATION TRENDS AND CONSUMER DEMAND
Market maturity: Per capita volume consumption of consumer tissue (retail) in 2017: North America – 13.1kg. World – 3.1kg.
Very slow population growth in the USA.
Immigration changes population dynamic: shopping preferences of Hispanic consumer in the US.
Hispanic/Latino respondents – intended change of habits in the next 12 months. Saving money was a priority. Hispanic consumers also expect to buy more private label and visit discounters more.
Millennials in the US: willingness to pay more for high quality vs increase in visits to discounters. Key: high quality products, multi-functional, strong or well-known brand.
At the same time, 26% of Millennials plan to increase spending on private label and 37% – to increase visits to discount stores
SLOW RETAIL BUT OPPORTUNITIES IN AFH TISSUE: TOURISM IN  NORTH AMERICA
Increase in domestic trips 2017-2022: +118m. Increase in international arrivals 2017-2022: +14m.
Increase in number of luxury/mid- market hotels 2017-2022: +4,069. Increase in number of budget/unrated hotels 2017-2022: +1,228.
Supply side dynamics: challenges through changing supply patterns
By Esko Uutela, principal, RISI, Germany
GLOBAL SYNOPSIS: WORLD TISSUE CONSUMPTION BY REGION
Market is dynamic: China has passed Western Europe in market size, while Asia Far East is — and Eastern Europe soon will be — larger than Japan. China has been the largest producer country since 2015.
Global Consumption: 36.4 Million Tonnes (2016): North America – 25%, China – 21.3% , Western Europe – 18.3%, Latin America – 11.1%, Asia Far East – 6%, Japan – 5.5%, Eastern, Europe – 5.4%, North and Middle East – 4%, Africa – 2.1%, Oceania – 1.2%.
Growth in the global tissue market: Relatively stable growth until the Great Recession in 2009, recent years strong.
Volume growth of tissue consumption 2006-2016: China accounted for 41% of growth, North and Latin America share second place, emerging markets accounting for an increasing share of the market growth.
LONG-TERM GROWTH TRENDS IN THE GLOBAL TISSUE MARKET 
• International trade in tissue shows higher growth rate than tissue consumption, a clear sign of business globalisation. Parent roll trade has accelerated in recent years. }
• World's top tissue producers – recent major investments in Indonesia and Turkey have meant the two countries have entered into the top producer list. In order: China, USA, Japan, Italy, Germany, Brazil, Mexico, Indonesia, France, Turkey.
• The top 10 global tissue suppliers based on capacity, 2006 and 2016: North American companies clearly dominated the global tissue supply 10 years ago, but Essity is now the largest supplier.
• 2006 in order; K-C, G-P, SCA, P&G, Metsä Tissue, Sofidel, Kruger, Cascades, APP, Kartogroup.
• 2016; Essity, K-C, APP, G-P, P&G, Hengan, Sofidel, CMPC, WEPA, Kruger.
NEW PLAYERS ENTERING THE TISSUE SECTOR: 
North America 
• Atlas Holdings – Soundview Paper and Putney acquisitions;
• Dunn Paper – Mill acquisitions from Clearwater Paper;
• Resolute Forest Products – Atlas Paper Holdings acquisition and Calhoun, Tennessee, tissue PM investment. Europe
• Abris Capital Partners – acquisitions of Pehart Tec in Romania and Velvet Care in Poland;
• The Navigator Co. – acquisition of  AMS Star Paper and forthcoming Cacia mill tissue investment in Portugal.
Latin America
• Suzano Pulp and Paper – integration of Mucuri and Imperaritz pulp mills with tissue PMs in Brazil.
Near and Middle East
• Ittihad Investments – acquisition  of Crown Paper Mill and expansion planned in the UAE.
China
• Shandong Chenming – diversification into tissue;
• Sun Paper – diversification into tissue;
• Lee & Man – diversification into tissue;
• Shanghai Taison Group – acquisition of Well Mind Paper in Chongqing and Guizhou Chitianhua;
• Max Fortune – consumer products company diversifying to tissue with Garven Sanitary Products mill but project hit with major delays.
Asia Far East
• Meghna Group – diversification into tissue in Bangladesh.
Africa
• Faderco – diversification into tissue in Algeria;
• Ethos Capital – acquisition of Nampak Tissue and renaming as Twinsaver plus forthcoming expansion investment.
ROLE OF FOREIGN TRADE IN THE NORTH AMERICAN TISSUE SUPPLY
Supply structure in the North American tissue markets, 2017
Domestic suppliers dominate, but imports from other regions are remarkably high
Total market size: 9.3m tonnes. US domestic – 81%. Imports outside North America – 7%.
Canada from the US – 4%. US from Canada – 4%. Canadian domestic – 4%.
Recent growth of US tissue imports and exports: imports are now close to one million tonnes, net imports have more than doubled since 2009 and were 443,000 tonnes in 2017.
US total tissue imports growth, 2009- 2017: Canada continues to be the main US import source for tissue, but China has jumped into second position ahead of Mexico and Indonesia, import growth accelerated recently.
US tissue imports, parent rolls vs. converted products, 2009-2017: converted product imports grown by 5.4%/a, parent roll imports by 4.2%/a.
Main US tissue import sources, 2017: China accounts for half of converted product imports while Canada, Indonesia and Mexico dominate the parent roll business.
US imports of converted tissue products from China, 2003-2017: imports have grown from less than 20,000 tonnes in 2003 to more than 300,000 tonnes in 2017 and show an explosive growth curve – but will this continue? Average growth 22.4%/a.
CHANGING SUPPLIERS POSITIONS AND NEW PLAYERS
The top six North American tissue companies based on capacity are the same as 13 years ago, only P&G has passed K-C:
2005: G-P, K-C, P&G, Cascades, SCA, Kruger, Irving, Potlatch, Cellu Tissue, Marcal Paper.
2018: G-P, P&G, K-C, Cascades, Essity, Kruger, Clearwater, First Quality tissue (FQT), Irving, Sr Paper.
Major tissue capacity changes in North America, 2018-2020
2018:
• Sofidel America, Circleville, OH, USA (2x NTT) 140,000tpy.
• Irving Consumer Products, Macon, GA, USA (TAD PM) – 64,000tpy.
• First Quality Tissue, Anderson, SC, USA (TAD PM) – 64,000tpy. = 268,000tpy.
2019-2020:
• Clearwater Paper, Shelby, NC, USA (NTT PM) – 64,000tpy.
• FQT, Lock Haven, PA, USA 64,000tpy.
• Kimberly-Clark, Fullerton, CA, USA – 60,000tpy.
• Sofidel America, Inola, OK, USA – 120,000tpy.
• Georgia-Pacific Corp., Palatka, FL, USA (TAD PM) – 72,000tpy. = 260,000tpy.
POTENTIAL PROJECTS 
• FQT, Anderson, SC, USA (ATMOS PM)? – 68,000tpy.
• Kruger Tissue, Memphis, TN or Canada (TAD PM) – 65,000tpy. • Resolute Forest Products, Calhoun, TN, USA (second NTT PM) –60,000tpy.
= 193,000tpy.
The top 10 North American tissue suppliers based on capacity, 2018 and outlook for 2020: new capacity change announcements or acquisitions are possible but based on the current outlook, FQT will climb up to the sixth rank and Sofidel be part of the top 10:
March 2018: G-P, P&G, K-C, Cascades, Essity, Kruger, Clearwater, FQT, Irving, St Paper.
Mid 2020: G-P, P&G, K-C, Cascades, Essity, FQT, Kruger, Clearwater, Irving, Sofidel.
SOFIDEL ON A STRONG EXPANSION PATH. RESOLUTE FOREST PRODUCTS A NEW PLAYER.
Technological and raw material challenges: new technologies – will they challenge conventional and TAD tissue making?
• How will new technologies find place in the tightly competed tissue market? Practically all new PMs ordered are based on either TAD or NTT technologies.
CONCLUSIONS
• The global tissue business continues to grow with steady growth rates and without any major substitution threats seen in some other paper business sectors. This situation has attracted many new investors from outside the hygiene sector.
• Imports from overseas have grown fundamentally in the past 10-15 years, with Asian companies playing the key role in the import business. But there are clouds on the skyline through new political trends with protectionism and populism becoming effective. Free trade agreements are reconsidered and this could change the current trends.
• North American tissue market is in principle rather mature, but currently surprises spectators with its dynamics through new players, technologies and product launches.
• Skyrocketing pulp prices and threatening bleached recovered paper availability are major challenges for the industry.