Tissue's global giant SCA has a new supremo. Magnus Groth talks to TWM about business strategy for China, Asia, Russia, The Americas, emerging markets, energy efficiency and the intriguing 'intelligent washroom solutions.'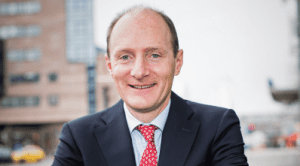 TWM1: What are the three main opportunities for SCA over the next five years?
Magnus Groth, SCA president and chief executive: "Vinda in China is very attractive for us. The company has a very strong position and a strong brand and it is a very attractive market to be in.
"SCA will also grow its AfH presence in emerging markets. While we have a 30% market share in AfH in Europe, and a 20% global market share, we are under-trading in emerging markets. We will also grow in hygiene markets and look to develop additional products such as soaps and intelligent washroom solutions.
"The third main opportunity is our incontinence brand Tena. Globally we have a 25% share of the incontinence market and we are growing that. The older generations want to live an active lifestyle and the world is ageing so this sector holds a lot of opportunities for us."
TWM2: What are the three main challenges?
Groth: "Continuing with cost efficiencies are very important. Tissue is very asset intensive and we want to keep the current momentum we have in terms of developing efficiencies. This is also an opportunity with the scale that we have in achieving efficiencies.
"Increasing pulp prices in the short term is also a big challenge for us especially with the fluctuating exchange rate with the Euro and the American dollar.
"The third challenge is that there's some markets we want to grow in. In North America for example we're number three. Overall, we're number one in AfH and number two in consumer tissue. We have a strong position in consumer tissue in Europe at 30%, Russia we're 40%, Columbia and China we're very strong and looking to grow there also."
TWM3: Are you looking to grow or acquire further in Europe? Does the industry need more consolidation?
Groth: "We have a 30% share in Europe so while there's not much opportunity for us to consolidate further there, that share gives us a strong position.
"In terms of further consolidation throughout Europe, it will happen."
TWM4: Which tissue sectors are you prioritising in Europe?
Groth: "Private label is core to us. We want to be the best at private label and branded tissue.
"We have a very strong position with the retailers. Now it's about growing the category with adjacent products such as hand sanitisers, etc."
TWM5: Where outside of Europe is a priority to grow and invest?
Groth: "North and South America. In North America, we're targeting AfH and in South America, they're still an emerging market so there's lots of potential there. We're number two in Mexico and leading in Columbia. The region is very important from a tissue perspective.
"Elsewhere, Russia is incredibly important and we are targeting the personal care category there."
TWM6: Will SCA's presence grow further organically or through acquisition in Asia?
Groth: "Through Vinda we now have a presence in a huge and growing market. We are also looking to grow in the neighbouring Asian countries.
"Depending on the opportunity, we are looking to acquire across Asia either through acquisition or through organic growth."
TWM7: SCA reported record profits in January – what's your strategy to maintain this in the long term?
Groth: "To continue to grow in emerging markets. We also need to prioritise energy efficiencies and grow faster in the premium segments. It's about price mix, volume and cost."
TWM8: How important is product innovation and environmental sustainability?
Groth: "Incredibly important. It's the only way to talk about price. If you have an important product that increases the attractiveness of the tissue category for retailers and, crucially, for the consumer, then it's a win-win situation. Innovation is key for increasing margins and growing the entire tissue category. It's our responsibility to make the tissue product attractive."