Each fibre source brings its unique challenges, and costs are likely to remain volatile. Here, Somnath Ray, Principal, AFRY Management Consulting, examines the major contenders, including wood pulp, bamboo, bagasse, RCP and straw.
The tissue segment is going through the proverbial seesaw of highs between sales and input costs.
While 2020 was characterised by strong global sales (At-Home) combined with low and mostly stable input costs, 2021 was the opposite in the form of declining or modest sales growth combined with soaring input costs.
The soaring input costs of 2021 continue, mostly due to fibre and energy costs, and are leading to a reduction in margins and more challenging times for tissue producers.
This extreme situation of rising commodity and energy costs, which has hardly been observed historically, has had a negative impact for all raw material and energy intense industries, including tissue.
It begs us to ask – is there a more sustainable approach towards these input costs? Given that the energy cost situation may remain volatile, are there any other possibilities?
In the wake of squeezed margins, tissue producers are seeing an increasing need to control cost fluctuation, and there are several routes to achieve this, of which operation optimisation and a move to alternative raw materials are two. Alternative raw materials are further elaborated and described below.
Contrary to general opinion, as of 2019/2020, wood pulp accounted for 62% of the fibre consumption for tissue paper production globally. This was dominated by BHKP, followed by BSKP and mechanical pulp.
The majority of the rest, 33%, was from recovered paper, while the last 5% was from non-wood pulp sources. The share of these fibre sources varies from one region to another where fibre availability and consumer requirements are key factors for what the outcome will be. Each fibre source brings its unique challenges. While wood fibre sources are prone to higher prices and shortages due to competing uses, recovered paper collection rate is slowing down globally due to already high collection rates in mature markets.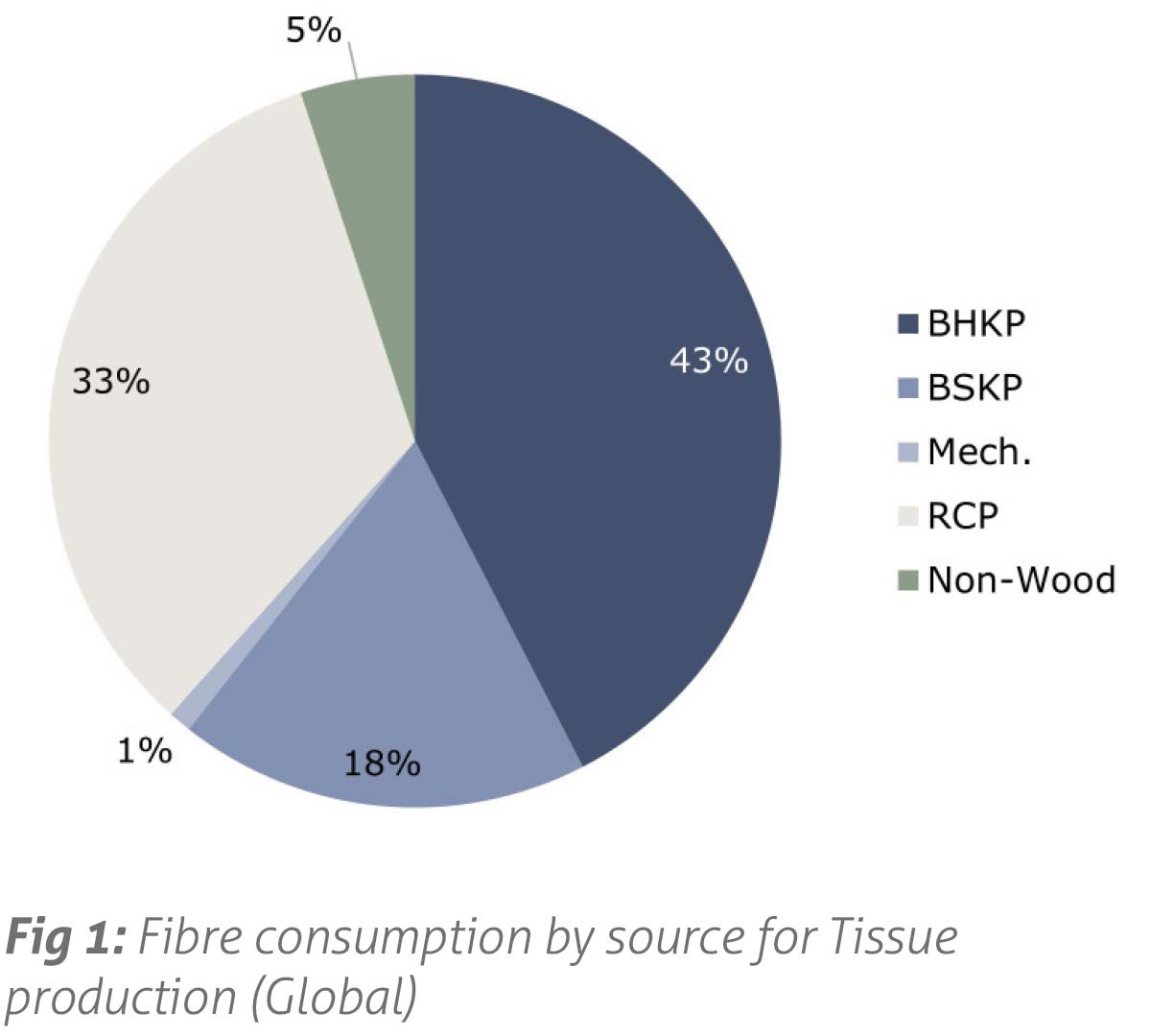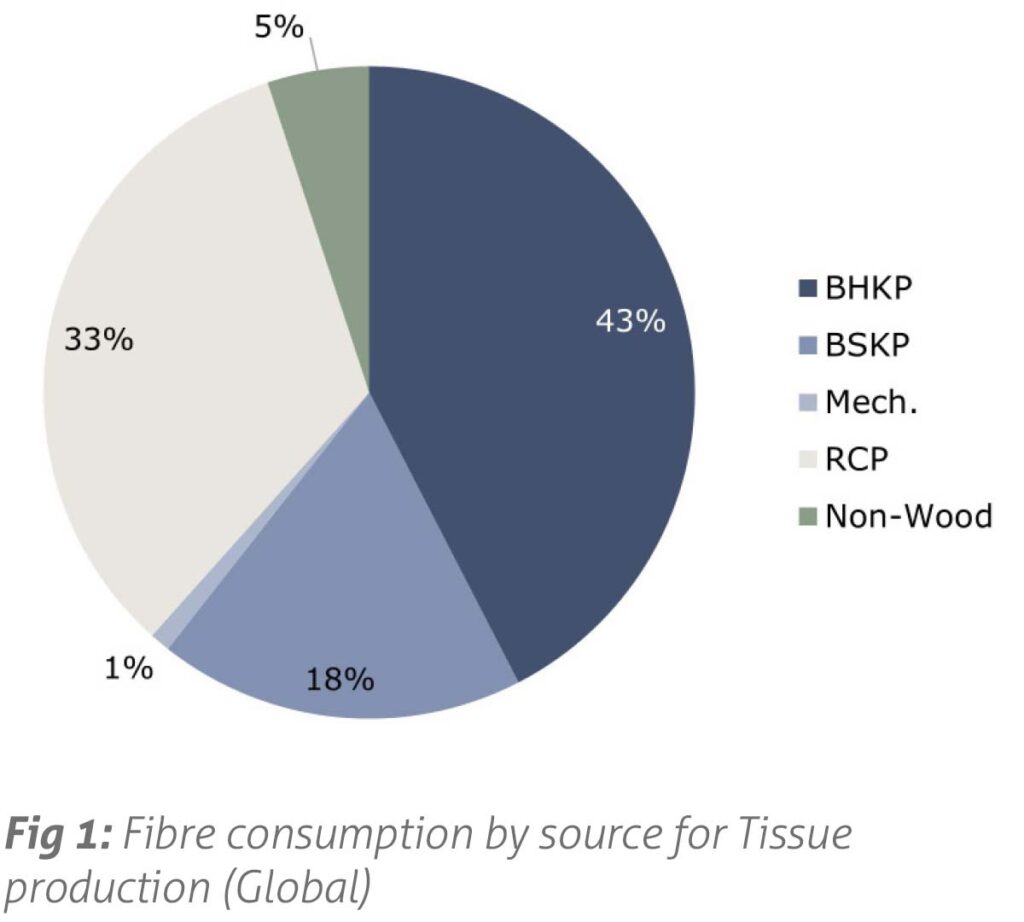 Non-wood fibre sources in the form of bamboo, bagasse, and straw, offer interesting potential compared to wood fibre and recovered paper. This is in particular due to its increasingly assumed "green appearance", but also as it opens up more options to source fibre and potentially mitigating cost fluctuations observed for the more traditional fibre sources.
However, non-wood pulp does have challenges as well, such as:
• Pollution issues and tightening environmental control;
• High capital requirements of pulp mills;
• Seasonal supply of raw materials connected with logistic and storage problems;
• Quality issues, primarily due to the high silica content;
• Lastly, and perhaps the major limitation factor, its limited supply and competition from other paper segments.
However, considering the evolving consumer requirements of using less wood fibre and also the price volatility for wood and recovered paper fibre, it is becoming increasingly more relevant for tissue producers to use new and additional fibre sources as well. This is not only to respond to consumers, but also to obtain more options and tools to optimise sourcing strategies and to mitigate fibre cost fluctuations.
In most regions, fibre cost of RCP has mostly been less than for virgin fibre. However, the competition from other paper segment and shrinking availability of traditional material (bright and sorted) limits or complicates significant increase of RCP usage. Also, the consumer requirements in certain parts of the world pose a negative impact for usage of RCP as raw material for tissue paper. These perceptions are generally related to the cleanliness and quality of the fibre, mostly seen in cases in Asia. Alternative non-wood fibres are free from these perceptions and are increasingly looked at as a source for fibre for the production of tissue paper. There are several producers that have made remarkable advances, particularly in China and South East Asia.
Among the non-wood fibre sources, bamboo, and bagasse are the key contenders for tissue paper production. Bamboo has comparable properties to softwood and hardwood fibre – high bulk, tearing strength, comparable fibre length and cellulose content. Additionally, it has a wide raw material source encompassing nearly 1,250 species and almost unrestricted harvesting time given it grows in tropics and sub-tropics. It typically grows as secondary vegetation in the forests, but can also be the dominant. Tissue paper made of bamboo is usually strong, and unbleached bamboo can also be used for tissue paper production. Global capacity is around 2.7m tons and interest from the paper sector, not only tissue, is on the rise.
Given the wood resource constraints in China and India, the abundance of bamboo provides opportunities for local industries. Mobilising more bamboo away from other substitute use and increasing capacity to supply to paper production would be very much needed. Several producers have taken initiatives in utilising this fibre source, with notable advances made in China.
Similarly, bagasse which is a by-product of sugarcane processing, is another fibre source on the rise. It presents several promising properties apart from being easily available in the tropics. Most of it is utilised as an energy source, however, diverting it for paper production offers a price competitive fibre source. The world's largest sugarcane growing regions are Brazil, other parts of South/Central America, India, China, Thailand and South Africa. Several advances have been made by tissue producers in these countries with clear success stories particularly in China and Thailand. With global capacity of 3.6tpy, this can become an increasingly used source for tissue paper production.
For example in China, at present wood pulp accounts for more than 80% of the total tissue furnish mix where supply is primarily fulfilled by imports. The usage of bamboo accounts for 12% followed by bagasse at 2% and straw at 1%. RCP paper holds a minor share at around 2%, not only due to higher demand in packaging grades but also due to bad reputation and restrictions to be utilised for some tissue paper articles. This fibre source break-up is much different from others, helping local producers to a large extend. Some producers are also notably leaders in this initiative with established strong brands already utilising alternative fibre sourcing as part of branding.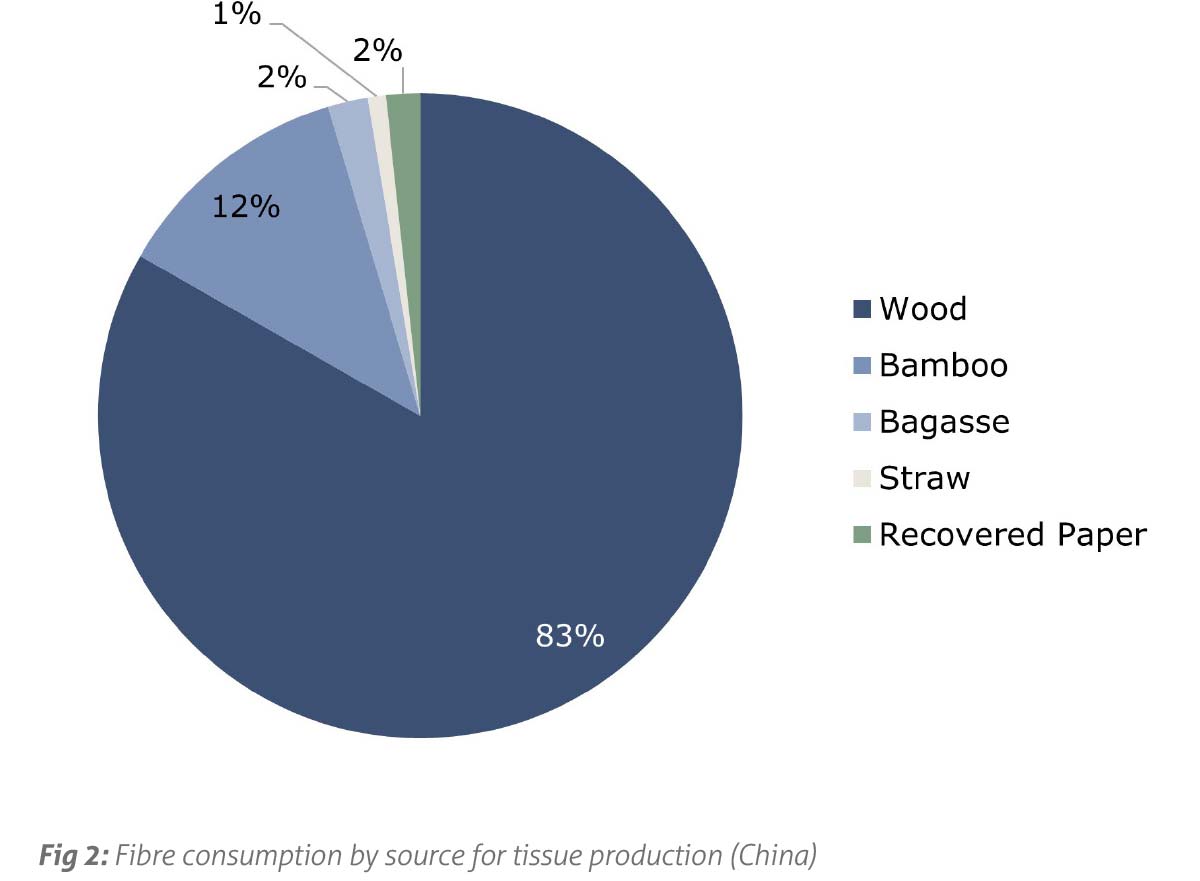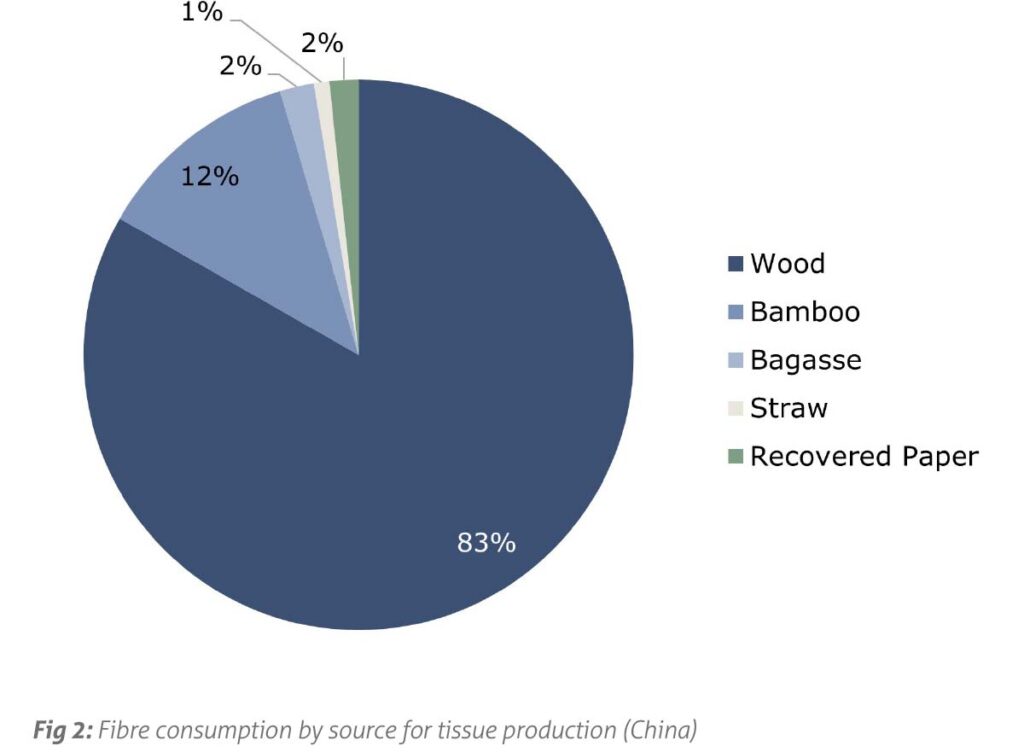 As shared earlier, all these fibre sources offer several opportunities for future considerations. Like any other commodity, all the stated fibre sources have several alternative usages, which makes their usage for tissue paper production more complicated. Pollution issues, tightening environmental control, high capital requirements of pulp mills, seasonal supply of raw materials connected with logistic and storage problems and quality issues are the key ones. This carves out more work for the tissue paper producers.
Being a more attractive buyer can be a good approach, whilst as in case of some leading producers, having their own plantation helps to secure fibre supply. The leading brands also have to continue their work towards changing consumer perceptions about certain fibre sources.
There are several opportunities in alternative fibre usage for tissue paper production, and these will gain more traction with further adoption of new technology and changing consumer requirement.