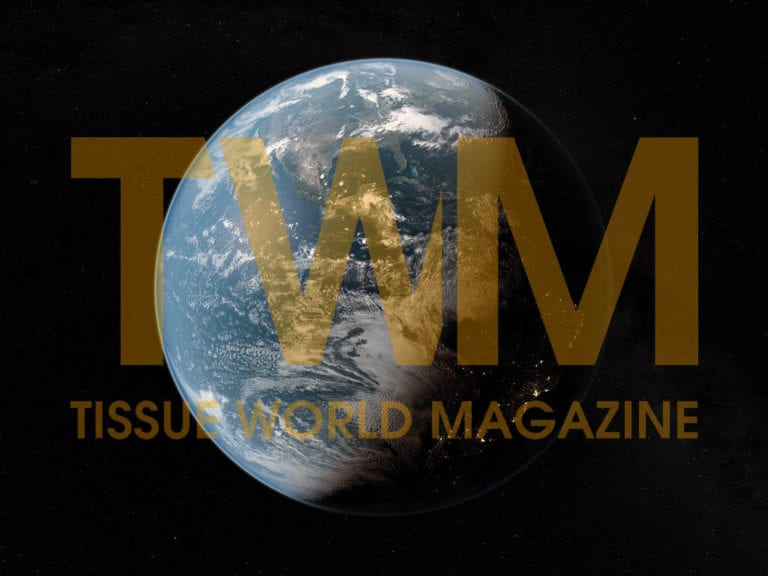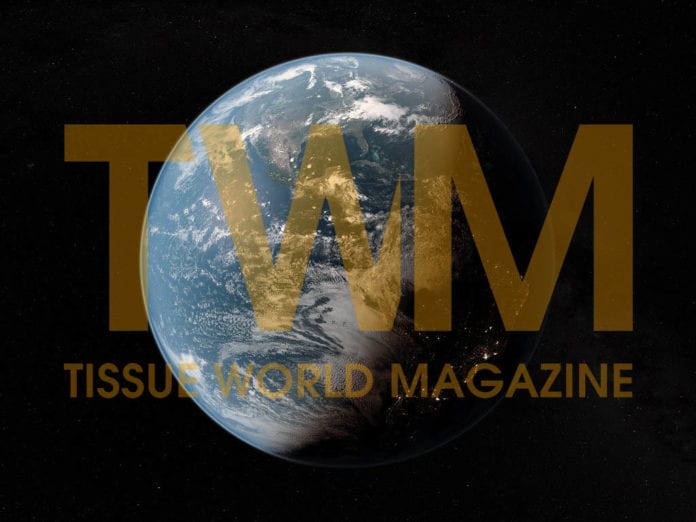 INDONESIA
PT Suparma Tbk boosts capacity
PT Suparma Tbk has started up a new tissue line at its site in Surabaya.
The Valmet-supplied Advantage DCT 100 TM increases the company's production of bathroom tissue, towel and diaper tissue for the Indonesian market by 25,000 tonnes per year. It fulfils the company's ambition to produce sustainable products of high quality in a cost-efficient way.
Edward Sopanan, PT Suparma Tbk director, said during the initial run the company managed to produce commercial grade tissue on the second day.
Valmet's delivery included a complete high-speed tissue production line featuring an Advantage DCT 100 tissue machine equipped with an OptiFlo headbox, a cast iron Yankee cylinder and an Advantage AirCap Yankee hood.
It also supplied part of the stock preparation equipment as well as basic engineering, installation services and start-up of the machine.
The new line has a width of 2.75m and an operating speed of 1,600m/min.
Raw material for the new production line is virgin fibre and recycled fibre.
PT Suparma Tbk was founded as a paper and board producer in 1976.
It established its first tissue machine in 2007 and now supplies high-quality board, laminated wrapping kraft and tissue paper for the Indonesian market as well as the Asian, Australian and African markets. The company employs 1,800 people and produces over 200,000 tonnes of paper per year.
'PT Suparma said its new TM fulfils its ambition to produce sustainable products of high quality in a cost-efficient way.'
---
MIDDLE EAST
Private equity consortium takes minority stake in Nuqul's FINE Hygienic Holding
A consortium led by Standard Chartered Private Equity (SCPE), the private equity arm of Standard Chartered Bank, has invested $175m to acquire a "significant minority stake" in FINE Hygienic Holding, a subsidiary of Jordan's Nuqul Group, according to a statement from Standard Chartered.
A majority of the investment will be used to fund the expansion of FINE's production capacity, SCPE said.
According to a spokesperson from Standard Chartered, who declined to disclose the size of the stake, the other consortium partners are "selected Asian sovereign wealth funds and prominent Gulf Cooperation Council (GCC) families."
SCPE will be granted two seats on FINE's board and will contribute to the firm's growth strategy and an eventual IPO, according to the company.
"This is SCPE's sixth investment in the Middle East and North Africa (MENA) [region], and its second investment in a Jordanian-headquartered company, [taking its] overall MENA direct investments to $560 million," the spokesperson said. The Nuqul Group declined to comment on the matter.
The Nuqul Group operates four tissue paper plants in Jordan and Egypt: the Al Keena and Al Snobar mills in Jordan have an annual capacity of 30,000 tonnes and 54,000 tonnes, respectively.
In Egypt, the company manufactures 20,000tpy and 54,000tpy of tissue paper at its Al Sindian mills. In addition, Nuqul Group has converting sites in Jordan, Saudi, UAE, Egypt and Morocco, with a total capacity of approximately 150,000tpy of tissue products.
News from RISI (www.risiinfo.com)
---
INDIA
Krishna Tissue to boost capacity
Krishna Tissue is to boost its capacity after it signed for a state-of-the-art winder supplied by A.Celli Paper.
The model AC842 paper rewinder is the main element of a new project that will produce 80-320gsm testliner products.
It will be installed at the company's Kolkata site and will have an operating speed of 2,000m/min and a 5.6m format.
The supplier added it is the first paper rewinder in India bought from a European supplier and is scheduled to be delivered by the summer 2015.
---
RUSSIA
Arkhbum Tissue Group progresses with 70,000tpy tissue PM
Russia's Arkhbum Tissue Group, managed by Arkhangelsk pulp and paper mill (APPM), is forging ahead with its plans to install a new tissue mill in Vorsino, in the Kaluga region, some 90 km southwest of Moscow.
The firm has finalised the suppliers of all equipment and machinery for the plant. Arkhbum has signed up Andritz to deliver the 200tpd tissue machine, which will use 100% virgin pulp, as well as cogeneration equipment.
Arkhbum intends to start construction work at the end of July 2015. In Q1 2017, it plans to start-up the 2.8 m wide tissue machine as well as several converting lines for the production of toilet paper, kitchen towels, tissues and napkins. The cost of this project is Euro 110m ($118m).
In 2019-2021, Arkhbum intends to further increase the plant's converting capacity by installing additional lines.
The equipment will make tissue products for the consumer as well as the hotel and foodservice (horeca) market segments.
The firm also said that it had cancelled its initial plan to build a 100tpd tissue machine which was due to come online in 2015. APPM told RISI that this decision was taken amid the rising cost of bank loans and high competition on the Russian tissue market.
Arkhangelsk PPM is part of Austria's Pulp Mill Holding (PMH). PMH also operates the Kiev paper and cardboard mill in Ukraine, which produces tissue, cartonboard and containerboard.
News from RISI (www.risiinfo.com)
---
CHINA
China's tissue market under oversupply pressure
China's tissue capacity may rise to around 10.44m tpy by the end of this year, up by 10.6% from 9.44m tpy in 2014, according to the latest statistics from the China National Household Paper Industry Association (CNHPIA).
However, overall operation rates will dip to around 76%, down from 78% in 2014, because of oversupply, CNHPIA Vice Secretary General Zhang Yulan said at the China International Disposable Paper Expo.
The association stressed the Chinese market can only handle some 500,000tpy of net new capacity each year.
However, annual increases in the past several years have surpassed that, resulting in the current overcapacity issue. And more machines are still coming online.
The CNHPIA's statistics indicated that the new PMs scheduled to start up this year and in 2016 will have a combined capacity of 3.25m tpy.
But Zhang mentioned that there will be more startup delays in the near future because of the present level of supply.
The association anticipates that the Chinese market will keep growing in the long run, as the country's tissue consumption is only 4.7kg per capita, which is only around the world's average.
Mills down: The tissue sector, which used to have very high profit margins, has drawn in a lot of investment and new players.
But the current market difficulties have forced some mills out of action.
Xiamen Xinyang Paper, a new entry into the sector, started up a 60,000tpy tissue PM in 2012 at a greenfield mill in Xiamen city, Fujian province. But the mill has been idle since the end of 2014. In Guangxi autonomous region, two regional tissue producers also shut down early this year.
Nanning Phoenix Pulp & Paper has a tissue capacity of around 75,000tpy and a bleached kraft pulp capacity of 150,000tpy at its mill in Nanning city.
Production at the mill was suspended around February. Almost at the same time, Guangxi Huamei Paper Group, which has several tissue mills with a combined capacity of around 300,000tpy in Guangxi, also halted production, reportedly because of a shortage of funds.
Projects delayed: For those tissue makers in operation, the market is tough, and a lot of new PMs are being delayed.
In 2012, Hengan International ordered eight 60,000tpy tissue PMs, and planned to increase its total tissue capacity to around 1.4m tpy by 2015. The first new PM was to be commissioned in 2013.
But last year the business rescheduled the move, planning that all the PMs will come online by next year, with two in 2014, four in 2015, and the other two in 2016. It started up one in late 2014 and one in January.
So far, the company has not announced an updated plan for the other PMs' startups, only saying that it will add new capacity based on the market situation and on its own sales performance.
A source close to the firm said that Hengan is insisting on its policy of not cutting prices, so it will study the market before firing up new PMs in view of the current serious oversupply.
According to some equipment suppliers, a lot of tissue projects have been delayed due to insufficient market demand and finance problems.
A domestic supplier explained that many small firms are trying to grow, but they are short on money in the context of the current weak national economy.
In the meantime, branding is not easy, especially for new players.
Tissue products are fast-moving goods directly targeted at consumers, which is a departure from how the sales of other paper and board grades work.
Baoding in the spotlight: Although the overall market is lackluster, some regional markets provide bright spots.
Mancheng County in Baoding city, Hebei province, is a hub for small tissue producers with a combined capacity of 700,000tpy.
Mills there are quite near to Beijing and have long been blamed for regional water and air pollution.
In late 2013, the Mancheng mills were forced to suspend production to help alleviate heavy smog in the region.
In November 2014, these tissue plants were obliged to take downtime again to ensure improved air quality during the Asia Pacific Economic Cooperation (APEC) meetings held in Beijing.
To permanently solve the air pollution issue, the local government in Mancheng is retiring small power boilers at individual mills, and it is working to introduce a central power supply system by erecting new big boilers.
In addition to the efforts by local authorities, many mills there are also upgrading their machinery to meet stricter environmental standards.
Early this year, Hebei Xuesong Paper ordered a new 21,000tpy PM after starting up an identical one last year.
Hebei Yihoucheng Paper plans to start up a 25,000tpy tissue PM this year. It fired up its first tissue PM, also with a capacity of 25,00tpy, last year.
Equipment suppliers reported that they have received some orders from other Mancheng producers as well.
One explained that mills there are eager to erect new, efficient, cleaner PMs in response to environmental legislation and perceptions. They are aware of possibly having to quit the market if they cannot manage cleaner production.
News from RISI (www.risiinfo.com)