A sustained return is not yet certain with businesses yet to recover fully from the pandemic. Liying Qian, Research Analyst, Euromonitor International*, examines short- and long-term global market trends in automation, product innovation, circular economy, CO2 emission-free production, consumer preferences and emerging growth regions.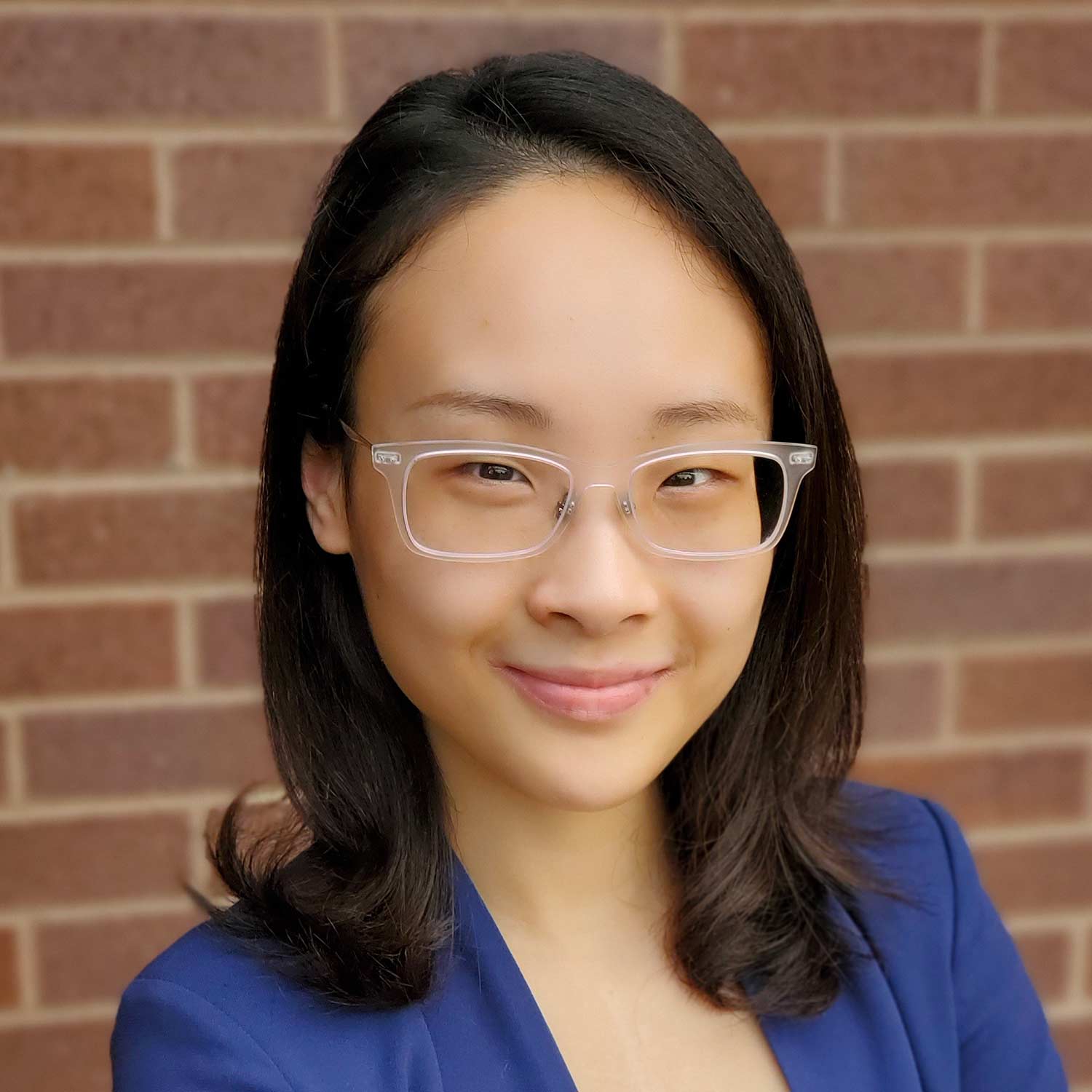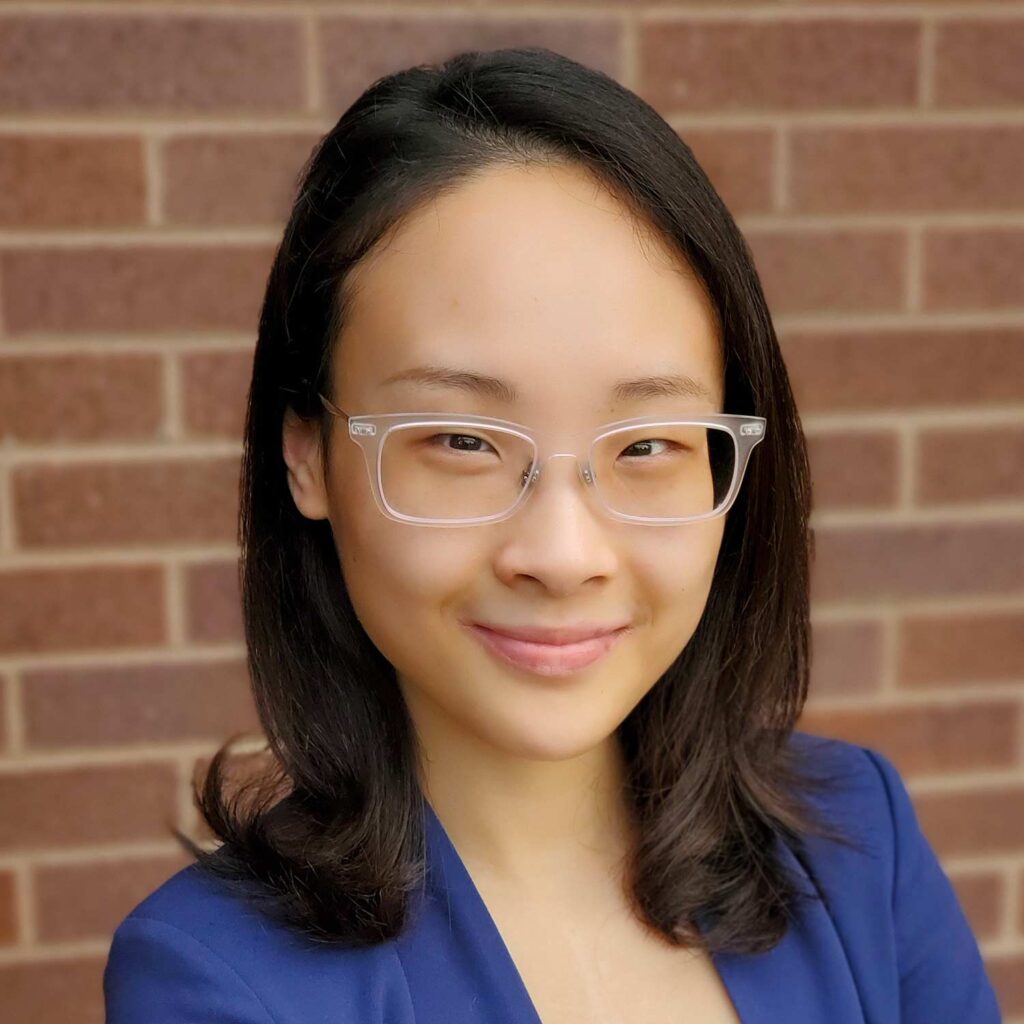 The recovery of the global $25bn msp AfH market (the figures in the report reflect data released in February 2022) brings opportunities as well as challenges. In 2021, the AfH boxed facial tissues market is worth $2.3bn msp, AfH paper tableware $6.9bn (combined napkins and tablecloths), AfH paper towels $5.8bn, AfH toilet paper $7bn, AfH wipers (paper and nonwovens) $3.1bn,.
A global recovery of AfH demand hinges on consumers' financial confidence and the health of the foodservice and hospitality industries, which are largely at the mercy of the state of virus control and any future global shocks due to new variants. In an uncertain environment, wipers (especially nonwovens) offer a great growth potential, given their cleaning and disinfecting efficiencies. Key findings are:
Heightened hygiene awareness, which will generate new user occasions and drives product improvements. Hygiene vigilance is fuelling tissue consumption and quality expectations across the globe leading to new products with better cleaning properties and an improved user experience. Rising disposable incomes, urbanisation and a health-centric lifestyle shift in emerging markets will continue to present significant opportunities for greater AfH tissue penetration.
Structural changes in business, education and foodservice have squeezed tissue demand. Pandemic-accelerated structural shifts such as remote working, e-learning and food delivery, will recast the AfH landscape, and, depending on the extent and duration of these shifts as the pandemic develops, will weigh on AfH tissue demand in at least the short term.
Touchless technology and automation place additional pressure but also continue to open up new opportunities. As new technologies emerge to fill in gaps in the new touch-free, efficiency- hungry economy, tissue needs may slide, due to the lack of human presence. However, high-tech machines and devices also generate new applications for specialised, electronics-friendly wipes.
Expectations of sustainability have ushered in heightened demand for eco-friendly products: Rising dedication to more eco-friendly lifestyles and increasingly stringent regulatory moves have brought eco concerns further into the spotlight, forcing another sustainability reckoning. While AfH products are not subject to the same degree of scrutiny confronting the retail market, a wave of green movements is already shifting the AfH landscape.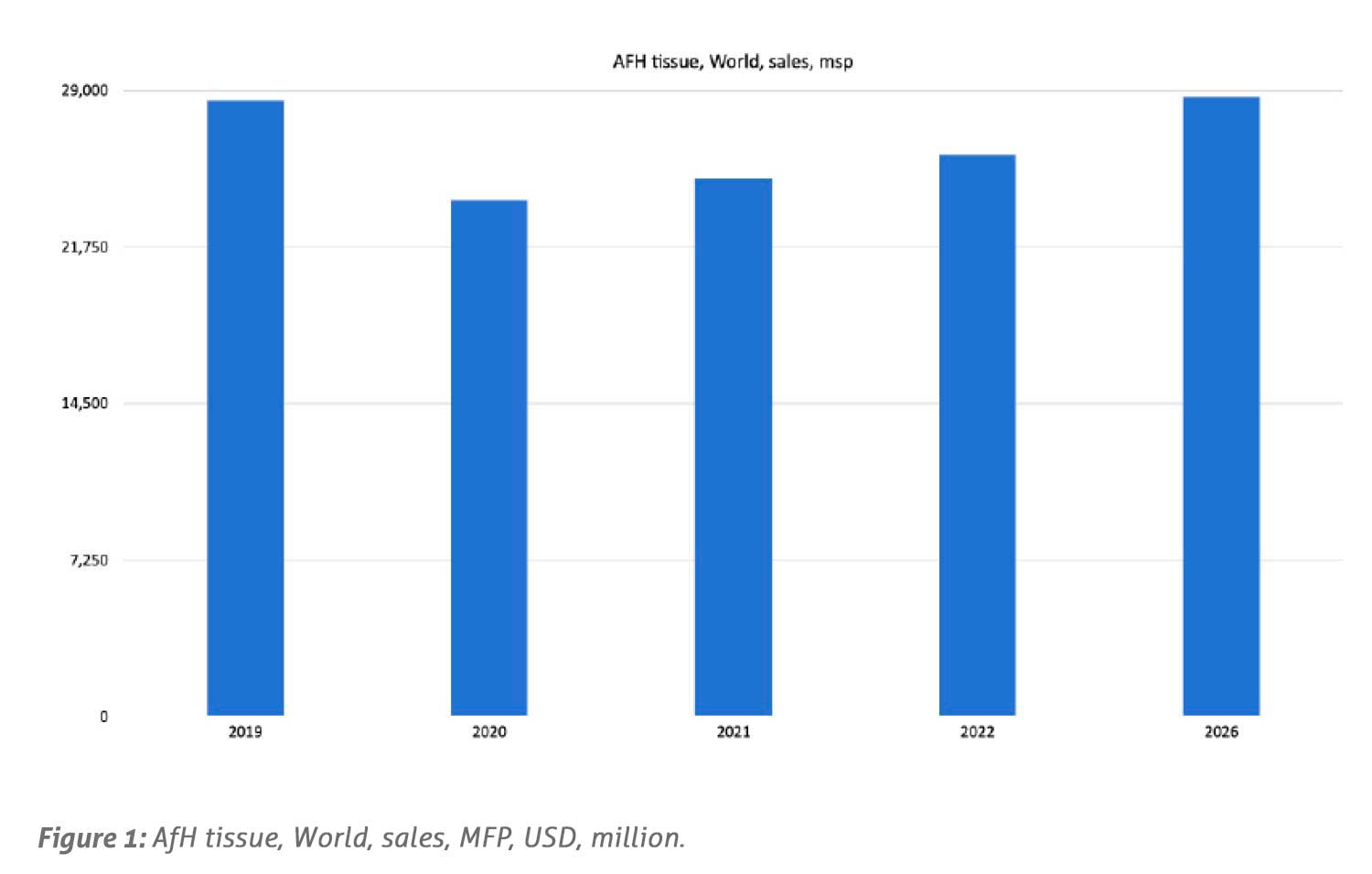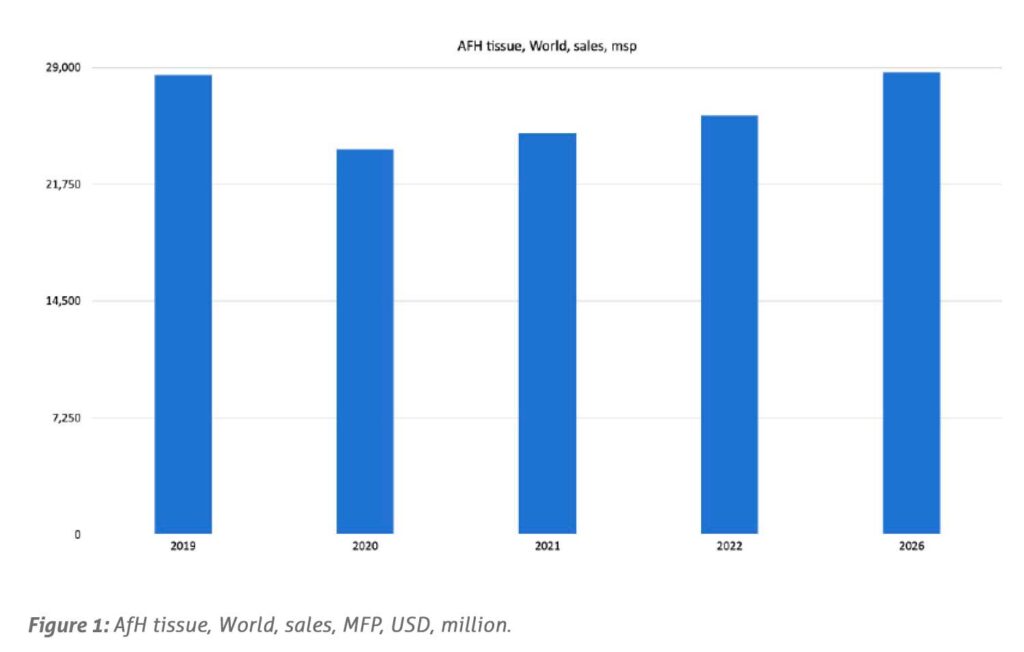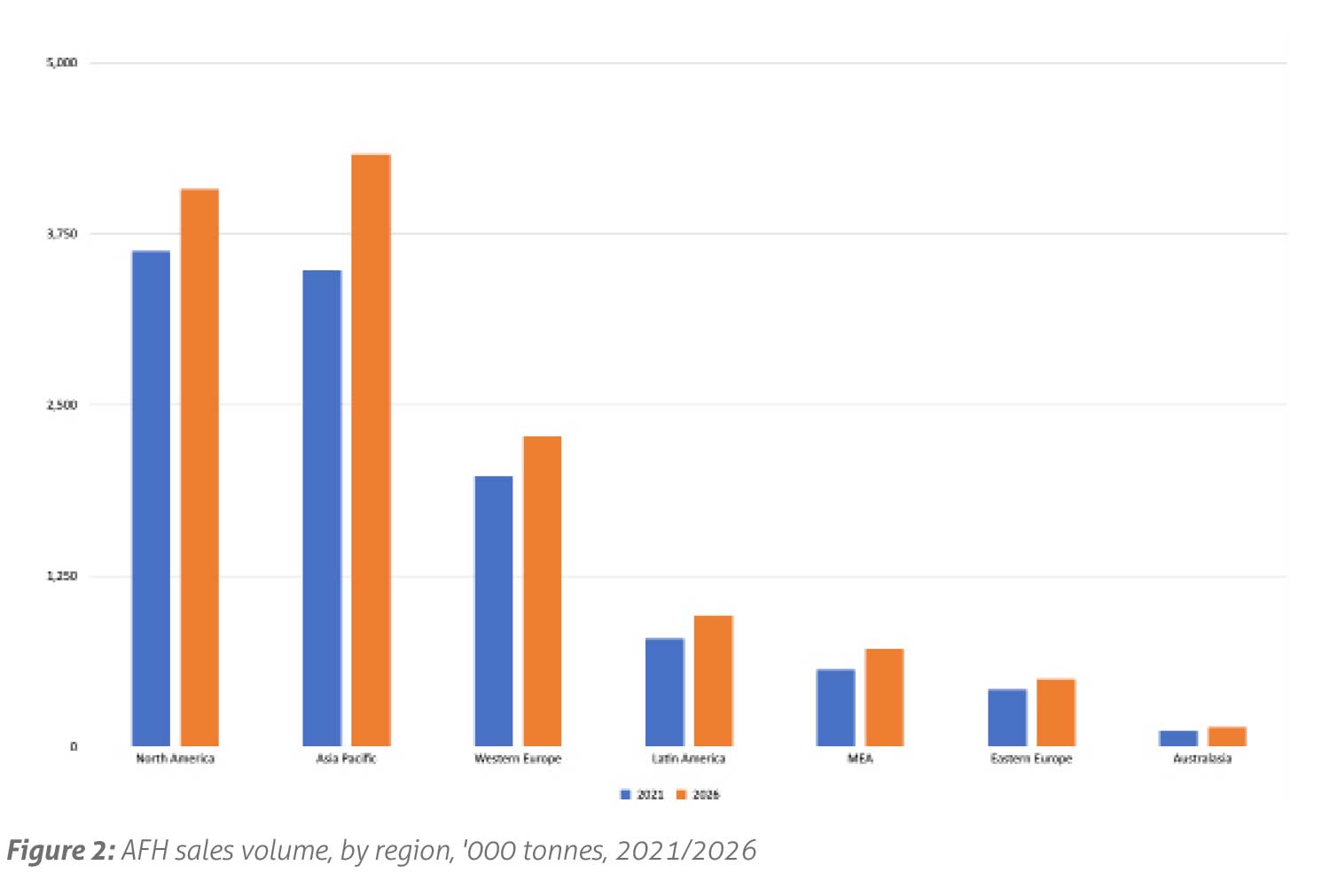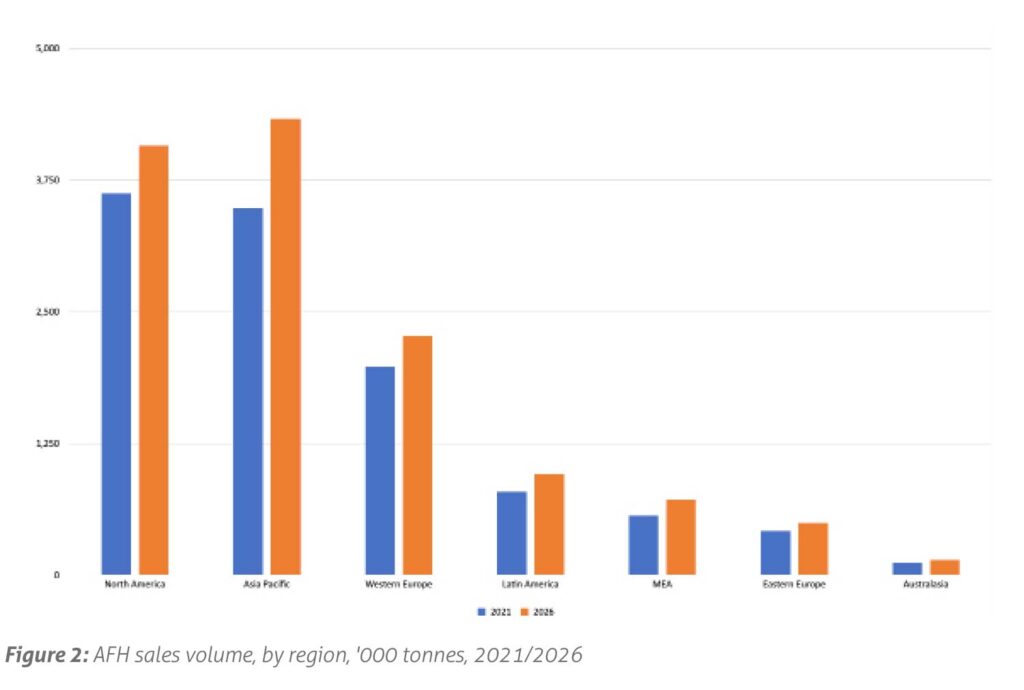 Asia Pacific and North America lead AfH tissue's path to recovery
Recovery for a beleaguered AfH tissue sector may be a lengthy process given the combination of factors affecting the AfH environment. Global volume and value sales are unlikely to surpass 2019 levels until 2025.
Asia Pacific is expected to exceed the North American AfH tissue market in volume terms, with 33% of global volume sales by 2026. North America, on the other hand, will lead value growth, generating 38% of global msp value sales by 2026.
Uneven global recovery in 2021, with China outpacing the rest: Speed of economic recovery shapes spending potential and value growth
The pace of economic activity and employment recovery goes hand-in-hand with movements in consumers' and businesses' confidence and spending, consequently shaping the value performance of AfH tissue.
Developing markets offer significant growth potential
While the largest global markets such as the US and China still make up the lion's share of the AfH tissue market, most growth opportunities still reside in smaller, less mature developing markets where a health-centric lifestyle shift, increased disposable income, rising urbanisation and improved institutional infrastructure, from hospitality and manufacturing to healthcare will continue driving category growth.
India, which has a rather low global volume share despite its substantial population, is projected to grow in volume at an 10% CAGR over 2021-2026, outperforming many of its peers.
Thailand and Indonesia are also anticipated to see strong growth speed owing to significant unmet consumption potential in institutional sales, and an expected resurgence in domestic and international tourism.
Toilet paper drives consumption, while paper towels lead recovery
Toilet paper is the largest AfH tissue category in most regions and is forecast to account for 36% of global AfH tissue volume growth over 2021-2026. Asia Pacific will generate nearly half of that increase. North America remains an exception, where paper tableware will still account for 44% of the total AfH tissue consumption in 2026 and supported by the projected recovery of foodservice and hospitality industries.
Looking ahead, the recovery of AfH tissue products will be uneven, with paper towels expected to see the most significant rebound in the coming years, benefiting from the shift away from jet air dryers to 6,000 paper towels. Paper tableware, in contrast, is expected to see only a slow recovery, as displaced demand for in-restaurant dining due to safety concerns and weakened disposable incomes is unlikely to return quickly. Additionally, changing attitudes and actions related to disposable single-use items, including paper napkins, in the context of sustainability agenda can also low down the demand for paper tableware.
Cleaning and waste efficiency at the centre of product improvements
Prior to the pandemic, Kimberly-Clark (K-C) had already been engaging in the development of new products targeting the AfH segment. One of its more recent developments was the launch of paper towels in China with patented Airflex technology, which has proved popular among luxury hotels. The new line features improved water-absorbing efficiency and helps reduce the consumption of paper towels. In Mexico, its Kleenex hand towels made using aluminium chloralhydrate tout heightened cleaning efficacy for hospitals and offices.
In Finland, Tork Hylsytön WC-paperi offers a tubeless toilet paper that is designed to generate 82% less packaging waste.
Growing eco and health awareness has also bred a slew of dispensers that eliminate wasteful wipe usage and cross-contamination. Structural and mechanical improvements in High-Tech Conversions' new GRAB-EEZ ESD Safe Cleanroom Wipe Dispenser, for example, protect wipes from the outside environment. The dispenser has its double C-folded cleanroom wipes stacked inside the unit, which dispenses one wipe at a time, preventing unintended and wasteful wipe dispensing.
Wipers forecast more moderate growth following pandemic surge
In the context of an unprecedented pandemic, wipers marked the only bright spot within AfH tissue in 2020. Increasingly stringent hygiene requirements coupled with growing awareness of wipers' cleaning efficacy and speciality applications, will drive steady growth in wipers over 2021- 2026. Latin America is forecast the fastest growth in wipers thanks to heightened cleaning expectations and growing product variety and availability.
Though the more cost-efficient dry wipes remain widely popular across institutional channels, pre-saturated wipes, especially the ones with enhanced sanitising and disinfecting features, have gained significant share. This has been seen particularly in healthcare settings due to their fast-acting and consistent performance during high-frequency cleaning.
Developed markets, such as Finland, Belgium, Austria, Canada and the US saw the largest share gain for wet wipes in the hospitals/healthcare channel in 2020. Most new launches in AfH wipers have been focused on improving cleaning capability against multiple pathogens for various user cases without harming users and the environment. For example, K-C Professional introduced Scott 24, the first pre-saturated wipes that disinfect and provide 24-hour surface sanitisation against bacteria, even after multiple touches, according to the company.
Opportunities and challenges through the lens of institutional channels
AfH tissue's 2021 $25bn value consists of: 49% Horeca, 12% Public, 24% Business/Industry, and 15% Healthcare. AfH tissue's recovery therefore largely hinges on Horeca channel spending. Despite suffering the steepest decline during the pandemic in 2020, hotels, restaurants and catering services still make up the largest share of global AfH tissue sales, particularly paper tableware and boxed facial tissues, and will remain the key engine of the market's recovery.
Most notably, emerging markets such as Indonesia, China and India, which already generate more than two thirds of AfH tissue sales via Horeca, will present further opportunities as economic recovery and infrastructure improvements draw more leisure spending from domestic and inbound travellers.
Asian consumers to increase their already high savings ratio
The global savings ratio is forecast to be 17% of disposable income in 2040, up from 16% in 2020. Asians continue to be the biggest savers, as they are habitually worried about the costs of healthcare, education and pensions. The region's savings ratio is set to rise further to 26% in 2040, from 24% in 2020.
Despite its efforts to move towards a consumption-driven economy, China will still have the highest savings ratio among the world's major economies, as Chinese consumers are expected to save 36% of their disposable income on average in 2040.
Emerging middle class and digital-enabled elderly generate new spending
In 2040, emerging and developing countries will account for more than half of global income, driven by economic growth and reduced poverty, which will result in households exiting poverty to enter the lower-middle income segment ($5,000 – $15,000) and the middle-income segment ($15,000 – $45,000), as well as gaining more discretionary spending power.
Large rural to urban flows over the last 10-15 years have swelled the size of cities and boosted income and spending. This has been particularly the case in developing economies in Africa and Asia.
In 2040, people aged 65+ will account for 14% of the global population and account for a quarter of global income. Covid-19 has fostered digital adoption among older consumers and there is now little difference in the proportion of baby boomers using digital and that among their younger cohorts in more digital-forward categories such as travel.
Young consumers have notable spending strength
Despite the financial vulnerability and price sensitivity of many, Millennials and Gen Z account for significant shares in the high-income segments. In 2020, they made up 47% of social class A – the highest income social class. However, the widening income gap between these two groups due to the pandemic means there is no "one-size-fits-all" strategy when targeting these consumers given the diversity of young consumers in terms of their income levels, degree of price sensitivity across different groups, and any shifts in spending priorities which also differ.
Population aged 65+ years dominates the top income band
In 2020, 26% of people aged 15+ globally were on an annual gross income of less than $1,500, but this proportion is set to fall to 15% by 2040, as the emerging middle classes continue to expand, especially in emerging and developing countries.
At the other end of the income spectrum, the population with an annual gross income of over $250,000 will nearly double to 45m people globally in 2040. People aged 65+ will account for 17% of this income band in 2040 (up from 15% in 2020), making older consumers the predominant group in the top income band and therefore an important target for luxury/premium businesses.
Safety, ease and authenticity remain highly favoured travel features
After the highly disruptive year of 2020, consumers in 2021 continue to prioritise relaxation as well as safe destinations that adhere to new health and safety protocols. Younger consumers – Millennials and Gen Z in particular – appear more eager to travel in the post-pandemic world.
As a symbol of the interconnected world that we live in, global migration and travel have helped boost incomes in low- and middle-income economies via remittances. Greater mobility has changed the face of economies, societies, labour and consumer markets. Immigration was the main source of population growth in developed countries between 2010 and 2020, making up 67% of population growth in these countries.
The pandemic has led to an unprecedented decline in the flow of people since 2020, slashing net migration to the US by almost half in 2021, for instance. The number of global outbound trips dipped by 73% in 2020. International travel is not expected to return to its pre-pandemic level before 2023.
Remote work practice saps business travel
Business travel is another area that will take several years to return to some form of normality, with Zoom and remote working becoming a standard feature of daily life in 2020. Across all regions there will be a strong permanent shift to working from home, especially in the advanced regions of North America and Europe.
Space reconfiguration caters to new mobile workers. Hotels' entry into the co-working market reflects a continued depression in global tourist traffic and a surge in remote work arrangements among many higher income workers, as well as the growth in casual freelance work. With more workers looking for space, there is real potential to use that traffic to drive post-work socialising and other spending on hotel properties.
Long road back for global foodservice
Besides travel and tourism, the health and prosperity of the consumer foodservice industry contributes heavily to sales of AfH tissue to the Horeca channel. The pandemic has dealt a heavy blow to consumer foodservice, especially eat-in occasions. The single biggest impact of the Covid-19 crisis on restaurant traffic has been the months-long disappearance of eat-in sales.
While full-service restaurants are set to remain the leading category for the foreseeable future, the pandemic is likely to cast a lasting pall over dine-in traffic, with a significant number of mid-priced convenience occasions likely to migrate towards delivery, takeaway and quick-service formats, as consumers remain circumspect in terms of when and where they choose to congregate.
Proliferating "delivery-first" models replace many AfH meal occasions
The contraction in global outlet numbers seen in 2020 is likely to have a long-lasting impact, particularly with closures expected to continue in 2021 in markets such as the US and the UK. As in retailing, the global restaurant industry saw a substantial surge in delivery orders during the lockdown periods in the first half of 2020, with delivery spending as a percentage of overall foodservice spending estimated to have risen in 2020 as much as it had over the previous five years.
The trends towards delivery and takeaway continues post-pandemic. Euromonitor International Voice of Consumer – Digital Consumer survey indicated that in 2021 the proportion of consumers in the US ordering delivery weekly stood at 21.5% of respondents in 2021, up from 15.5% in 2020. In the UK, the number went from 15% to 17%, and in Germany – from close to 11% in 2020 to 15% in 2021.
While some of this will inevitably pull back as the pandemic eases and lockdowns cease, Covid-19 has only accelerated what has been a decade-long shift, and consumers making hundreds more delivery orders in a year are unlikely to return completely to old habits.
Workplaces and stores reopening aids business and public recovery
Toilet paper and paper towels make up the majority of AfH tissue consumption in the business/industry and public channels, accounting for nearly half of AfH tissue sales globally. The US, projected to be the largest services market in 2030, accounts for 37% of the tissue sales derived from these two channels. China, the second largest AfH tissue market after the US, recorded the largest absolute sales gain between 2015 and 2020 via business/industry and public channels. Moving forward, supply chain localisation and rising healthcare spending will drive the manufacturing sector in both countries, contributing to the rebound in the business/industry channel. Following subsequent lockdowns in China, further challenges in the recovery of demand in the country are expected.
While the reopening of workplaces will stimulate AfH tissue's growth in 2021 and beyond, prolonged work-from-home practices and long-term strategies in automation in the business/industry sectors may still prevent tissue consumption from reaching pre-pandemic levels quickly.
Pandemic era ushers in accelerated adoption of automation
As global companies seek to enhance supply chain efficiency and agility in a safety-wary, high-cost and labour-tight environment, investment in production automation technologies, from basic self-checkout to more sophisticated robots, is forecast to accelerate over the next five years. According to the Euromonitor International Voice of the Industry Covid-19 Survey, conducted in April 2021, 34% of manufacturing companies plan to increase investment in automation tools.
Production automation will be mainly led by industries with wide product portfolios and long supply chains. Industries such as household essentials, automotive, apparel and personal accessories are forecast to be among the leaders in production automation, artificial intelligence and 3D printing.
Going forward, industries will utilise these technologies to build supply chains that are more efficient, which will allow retailers to fulfil e-commerce orders in a shorter time period. Retailers could use such technology to further boost their omni-channel presence and hyperlocal strategies. To execute these strategies, it is projected that retailers will develop micro-fulfilment centres that will reduce the reliance on a few warehouses and bring flexibility and agility to their operations. Overall, accelerated digitalisation will further boost digital trade and cross-border e-source.
E-commerce growth fuels automated fulfilment infrastructure
Grocery delivery provider Instacart's foray into warehouses in food delivery market aims to expedite the delivery process. In such fulfilment centres, with capacity for 10,000 to 50,000 items, the company will use robots to pull items from warehouse shelves rather than have workers manually do so. Partnering with technology company Fabric, the company expects to kick off early- stage concept pilots across the US and Canada over the coming year and beyond.
Electronics giant LG has launched an autonomous robot with disinfecting ultraviolet (UV-C) light for various US AfH settings such as schools, hotels, offices, restaurants and retail stores. The robot is able to move around tables, chairs and other furniture, irradiating a space's touchable surfaces in less than 30 minutes and disinfecting multiple high-touch areas on a single battery charge. Supervising staff are able to monitor progress via remote updates on smartphones or tablets.
Swiss company Tweaq released a smart self-cleaning door handle – Touch 1. Every time the door handle is used, an internal sensor sends a signal to the printed circuit board (PCB), which will then trigger a small electrical engine inside the handle to power the external magnetic ring fitted with a disinfectant-impregnated disposable sponge. The magnetic ring will then move from the handle base to the end and back to the base within three seconds to spread the disinfectant across the handle. The handle is designed to be fitted easily to any standard door.
Automation evolution increases need for specialised wipes
Though industrial cleaning agents such as wet wipes are widely used for decontaminating AfH surfaces, many contain chemicals such as bleach, which are known to either damage or prove less effective for electronics and high-tech equipment. With automation adoption on the rise, the need for specialised cleaning products, including disinfecting wipes with high-performance properties, is greater than ever.
Manufacturers have ploughed money into new products to address such needs. In early 2021, Danish industrial group Fibertex Nonwovens allocated just over DKK600m to expand its production capacity of, among others, high-performance sanitising and disinfecting wipes for healthcare/medical applications in North America and Europe. The investment includes two high-capacity state-of-the art lines based on spunlacing.
Metrex, a US infection-control products supplier for the healthcare industry, has released its new CaviWipe 2.0 surface disinfectant wipes that are effective against 42 pathogens. These multipurpose disinfectant wipes have a two-minute universal contact time for one-step cleaning and disinfection of hard, non-porous surfaces, including most medical device surfaces, in healthcare settings. Similarly, PDI, a provider of infection-prevention products for the healthcare and foodservice industries, launched Sani-Cloth Bleach Clinical Size Wipe, a 15x13cm disinfecting wipe designed for cleaning smaller medical equipment without generating unnecessary waste. Initially intended for disinfecting Covid-19 testing devices, the wipes will eventually be available for use for other healthcare purposes.
Northern Europe and Canada lead global sustainability ranking
The Environmental Sustainability Index gives an indication of a country's overall performance in environmental sustainability, highlighting regional and country-specific risks and opportunities. Canada and Northern European countries (Norway, Switzerland, Finland and Sweden) rank highest, with a strong performance in the Water, Energy, Pollution and Forest and Biodiversity pillars, ranking at the top among the 97 markets.
A number of emerging and developing countries in Asia Pacific and the Middle East and Africa show the worst overall performances, closely tied to geographical, as well as economic factors and predispositions.
Although the low ranking of some of the fastest growing major economies could be cause for concern for businesses, it also offers opportunities for corporate investment in sustainability strategies.
The circular economy is key to making sustainability affordable
Traditional supply chains are designed to be linear, from origin to consumption. However, things are changing, with companies increasingly investing in circular business models that keep products in use. Nothing is wasted – everything is shared, reused, repaired or recycled.
Circular models are both convenient and sustainable, giving consumers access to sustainable products at affordable prices, something especially relevant in price-sensitive markets in Latin America.
Circularity opens huge opportunities to reconfigure businesses of all sizes. Opportunities exist not only for big companies; in fact, the most innovative enterprises are typically start-ups.
Circularity is strongly evident in packaging preferences
Considering FMCG industries' scale and the substantial use of packaging in their businesses, it is essential for them to consider transitioning to circular solutions to remain relevant and competitive.
Consumers around the world are showing a clear preference for packaging that is better for the environment. Greener solutions such as those that are recyclable, biodegradable and refillable are rooted in Latin American consumers' minds to a greater extent than in Europe and North America. There is, however, still a gap between what consumers want and the available solutions companies are offering, so players should prioritise sustainable packaging efforts, as is already happening in Europe, to win in Latin America.
It is, perhaps, not easy to prioritise sustainability in a recovering market such as AfH tissue. However, moving towards greener solutions, given the changes in consumer behaviour, is an opportunity in a brand repositioning era.
Pro-green movements in retail offers a foretaste of AFH shift
Though health-related properties remain most emphasised in marketing for retail wipes, including personal and household surface cleaning wipes, green attributes have grown in importance in recent years. Globally, the number of online retail wipes SKUs with "environmentally friendly" and "biodegradable" product claims grew by 34% and 39%, respectively, in 2020, outstripping the 18% increase in total retail wipes SKUs online over the same period.
The expanding sustainable travel and tourism ecosystem requires all players, including AfH tissue providers, to recast value propositions. However, how to fulfil sustainability at the expense of margins remains a challenge facing all businesses.
The path to sustainable AFH tissue includes responsible material sourcing, waste-efficient manufacturing, usage optimisation, post-use recycling and composting.
Energy-efficient manufacturing curbs invisible waste
Essity's tissue production facility in Lilla Edet, Sweden, which makes Tork-branded tissue and other consumer tissue products, aims to become the world's first large-scale tissue mill with fossil CO2 emission-free production by completely replacing natural gas with biogas, which is derived from biological waste. Having run several successful shorter tests of such emission-free operation at the Lilla Edet location, the company will now be able to do so for a longer period of time, and expects to apply such capabilities to other production facilities. Its objective is to reduce greenhouse gas emissions by 25% by 2023, compared with 2016 levels.
Kimberly-Clark's 2020 investment in a high-efficiency power and steam production facility for AfH tissue in Kentucky's Daviess County also demonstrates a commitment to reducing carbon footprint.
Sofidel Group has reached an agreement to purchase green electricity produced by energy business RWE's newly constructed wind farm in Italy. The long-term power purchase agreement (PPA) took effect in early April 2021 and will run until the end of 2030. This partnership is projected to fast-track Sofidel's progress towards its climate protection target, which is to reduce emissions per tonne of paper by 40% by 2030, compared with the 2018 base year.
Waste-efficient product design and usage tracking on the rise
Kruger Products' AfH division introduced a new 2-ply Micro-Max+ Small-Core bathroom tissue line in April, which features a smaller core and over twice as much tissue paper per roll as its 2-layer White Swan bathroom tissue roll. With 850 sheets in an 85m per roll, the new tissue is ideal for high-traffic commercial spaces, such as offices, healthcare facilities and restaurants. Small-Core not only limits waste by holding more tissue, it also allows for more effective packaging, logistics and storage.
Besides product design, smart technology offers labour and waste efficiency associated with tissue consumption in the AFH environment. K-C Professional's smart rest room management system Onvation, launched in early 2021, is an internet-of-things (IoT) platform which includes sensors connected to K-C Professional Scott dispensers, along with a mobile dashboard providing real-time data that informs facility management of the usage and stock of toilet paper and paper towels. According to the business, such smart technology helps reduce product waste due to premature refills by up to 80%, and allows facility management to compare monthly and year-to-date product consumption pattern, optimising inventory planning.
Manufacturers shift focus from institutional to retail in Latin America
Latin America has been one of the regions most severely affected by the pandemic. Consumers have been forced to reconsider their primary needs and overall priorities in order to survive an exceptionally challenging period.
Consumers in Latin America are being more careful when examining the cost-value relationship of products, which is reducing brand loyalty. Private label in retail tissue was especially successful at winning market share in 2020.
K-C Professional: transitioning towards sustainable packaging
Breaking patterns in an industry traditionally dominated by plastic packaging, K-C Professional launched in 2020, through the Scott and Kleenex brands, greener institutional products in the Central America and Caribbean region. "100% recyclable packaging with at least 30% of recycled plastic" is the claim with which these products are labelled. The company plans to carry this out across its whole portfolio of products in 2021.
Recycling and waste management corporate commitments need to accelerate in order to meet sustainable goals, especially in Latin America, where only 4.5% of waste is currently recycled (according to the World Bank) and where 1kg of waste is generated per capita each day.
Forge new paths to reach consumers as spending and socialising modes shift post-pandemic
The competition between home and elsewhere is likely to intensify, with long-term shifts towards remote work, e-learning and third-party food delivery, among others, recasting the post-pandemic reality. As consumers socialise across a wider range of environments with increased flexibility and spontaneity, the ability to create data profiles that capture consumers' socialising and entertainment habits, and adjust the product mix accordingly, will prove vital for AfH businesses.
Reassessing product lifestyles, from material sourcing to after-life management, will help facilitate a more sustainable AfH environment. Going green across the supply chain is essential for businesses to secure future growth as sustainability exerts a direct and growing long-term impact on company profitability and image. Internal investments and partnerships are among the common ways to reach green targets.
Meanwhile, as the definition of sustainability expands, companies also need to place people at the core, enhancing employees' wellbeing and building human capital.
---
*Disclaimer: 2021 figures are provisional and based on part-year estimates. Any impact from currency and/or exchange rate volatility is discounted. Values are expressed in constant terms to discount the impact of inflation.
Much of the information in this briefing is of a statistical nature and, while every attempt has been made to ensure accuracy and reliability, Euromonitor International cannot be held responsible for omissions or errors. Analyses found in the briefings may not totally reflect the companies' opinions, reader discretion is advised.