The Covid-19 pandemic has accelerated the intellectualisation of tissue machinery across the world, and no more so than in China. Here, in a comprehensive report, the National Household Paper Industry Association (CNHPIA) examines that and the many other trends in the Chinese market for TWM.
In 2021 the total capacity for the Chinese tissue paper market was nearly 2.6m tonnes. While there are some projects that have been put into operation but not announced, this new total 2021 capacity figure significantly exceeds that of 2020.
A total of 62 companies in 16 provinces launched new tissue capacity, and 112 tissue machines across the country were put into operation during 2021. Located mainly in Hebei and Guangxi, these major projects of top enterprises totalled more than 880,000 tonnes of new capacity. They comprised:
• Gold Hongye Paper – Nantong, Jiangsu: 240,000tpy;
• Gold Hongye Paper – Xiaogan, Hubei: 120,000tpy;
• C&S – Xiaogan, Hubei: 100,000tpy;
• Taison Group – Suzhou, Anhui: 280,000tpy;
• Taison Group – Jiujiang, Jiangxi: 80,000tpy;
• Libang Group – Xiaogan, Hubei: 50,000tpy;
• Lee & Man – Jiujiang, Jiangxi: 54,000tpy.
In addition to the launched capacity, many new capacity expansion projects have also been signed. The planned new capacity announced by top companies such as Hengan, Vinda, C&S and Gold Hongye totalled more than three million tonnes. Moreover, companies that already have a presence in the papermaking industry chain such as Asia Symbol and Shanying International have recently announced new tissue paper projects to mark their entry into the industry.
According to the performance report for the first half of 2021 published by Hengan, Vinda and C&S, the gross profit margin or net profit of these three listed companies declined. In the first three quarters of 2021, Vinda's grow profit kept increasing, but its gross margin decreased; the net profit of C&S declined, which reflects the impacts of rising raw material price and fierce market completion on companies.
In the first half of 2021, the gross profit margin of Hengan Group's tissue paper business dropped by 5.8% to 29.2%, and its sales business revenue was 4.697bn yuan. In the same period, the gross profit margin of Vinda's tissue paper business decreased by 1.6% to 37.82%, and its business revenue was HK $7.509bn. In the first three quarters of 2021, Vinda's business revenue increased by 15.1% to HK $13.19bn.
In the first half of 2021, C&S's business revenue was about 4.248bn yuan, an increase of 17.46% over the same period last year. Net profit was about 407m yuan, a decrease of 10.06% over the same period last year. In the first three quarters of 2021, C&S' business revenue was about 6.275bn yuan, an increase of 12.95% year-on-year, and its net profit was about 484m yuan, a decrease of 27.88% over the previous year.
Market pulp prices hit a record high
According to data from Chinese customs, the price of imported market pulp rose quickly from January – July 2021. By July 2021, the average prices of imported bleached softwood pulp and hardwood pulp had risen to $923 and $690 per tonne respectively, hitting a record high since 2012 (Graph 1).
The domestic tissue paper enterprises mainly take imported pulp as raw material. The price of raw materials rose sharply in 2021, reducing the profit of domestic tissue paper enterprises, and making small and medium enterprises face more pressure of competition.
The overall price of bamboo pulp and bagasse pulp in 2021 was obviously higher than 2020.
Price of tissue parent roll varied with pulp price
In the first three quarters of 2021, the price of tissue parent rolls took on the trend of rising first and then declining. The reasons include rising price of raw materials, overcapacity and serious market competition. The rise in price of tissue parent rolls is lower than that of imported market pulp, so tissue parent roll enterprises will face much more pressure.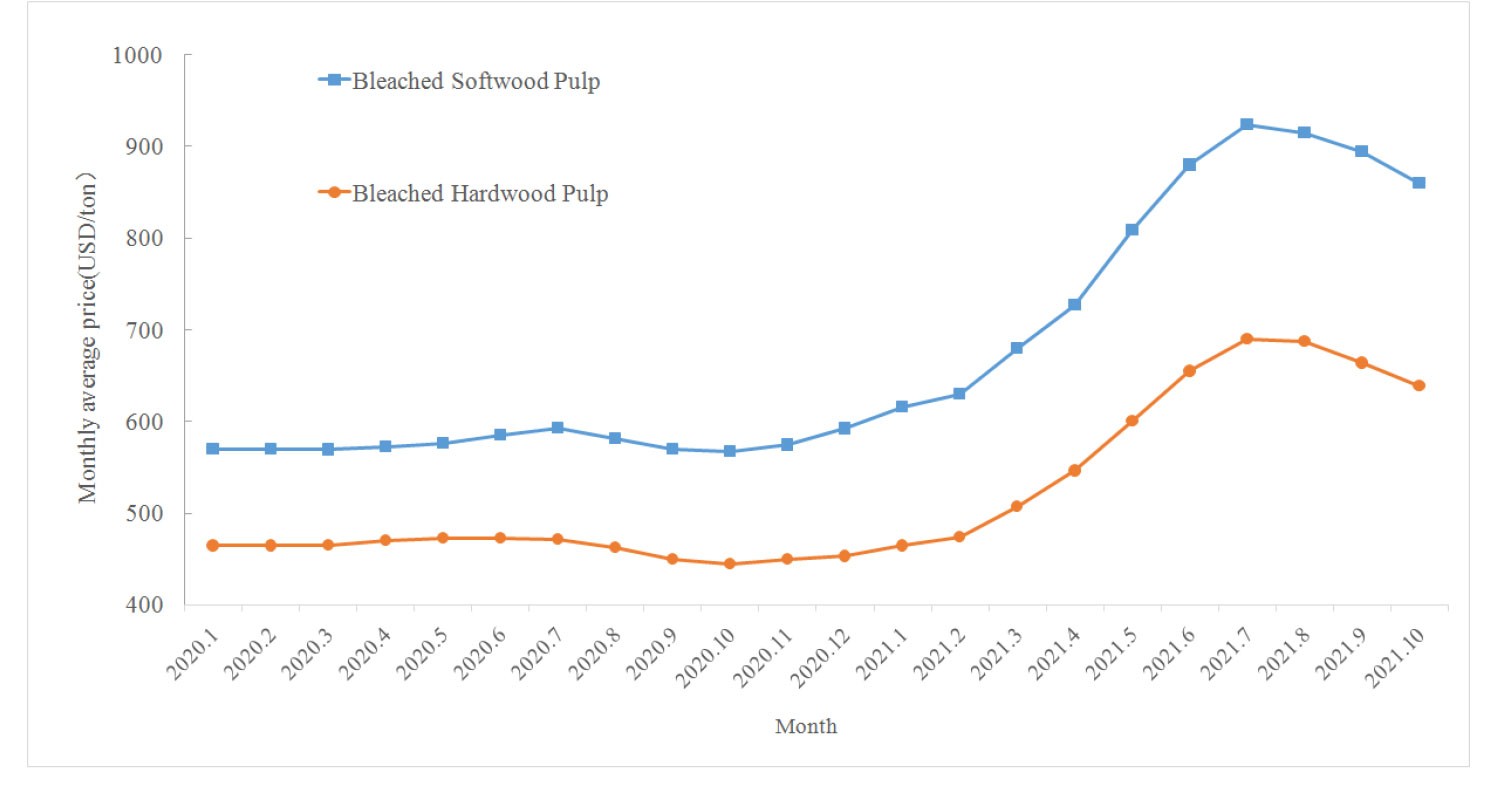 Product upgrade and innovation
Product upgrade and innovation of tissue paper enterprises have been concentrated on two aspects during 2021. The first is the combination of 'product package design' and the second, 'cultural intellectual property' to highlight brand positioning. For example, Vinda launched two new products with a space element.
And C&S introduced oil painting-effect series products, creating high-end brand positioning (Image 1).
Elsewhere, Gold Hongye's brand Breeze introduced the series themed 'Renaissance of Love for City;' to celebrate the 100th anniversary of the founding of the CPC. Breeze also introduced two-colour tissue in the Young series – this tissue adopts new packaging so that two colours of tissue can be pulled out alternately.
Botare introduced the Dongdongqiang tissue series, exploring the traditional Chinese style through blending some elements of the Tang Dynasty. Babo of Vanov launched the 'Crazy Dunhuang' series (Image 2) and 'Life in Kitchen' series products (Image 3).
Development of featured products to explore diversified competition
The second aspect of product upgrade and innovation is the development of featured products. Anti-bacteria and sterilisation tissue paper have been introduced, including:
Breeze's Lotion series facial tissue combines skin care and bacteriostatic functions, which it says reaches a 99% antibacterial effect;
Babo introduced anti-bacteria series soft tissue (Image 2). It has moisturising essence, a soft touch, and long-acting anti-bacteria effect through the complex formula of natural plant extracts;
Zhejiang Jingxing launched its sterilisation series tissue.
Differentiated goods also include high-end embossed products, including:
Tempo launched the Flash series kitchen towel (Image 4) which it said adopts new air flash technology, with stronger absorption and 3D embossing, making it more compact;
Libang Group launched its 'Featured' series of facial tissue in 2021, which adopts a four-sided embossing process;
Yusen Group launched new embossed facial tissue which it claims has a smooth and skin-friendly surface.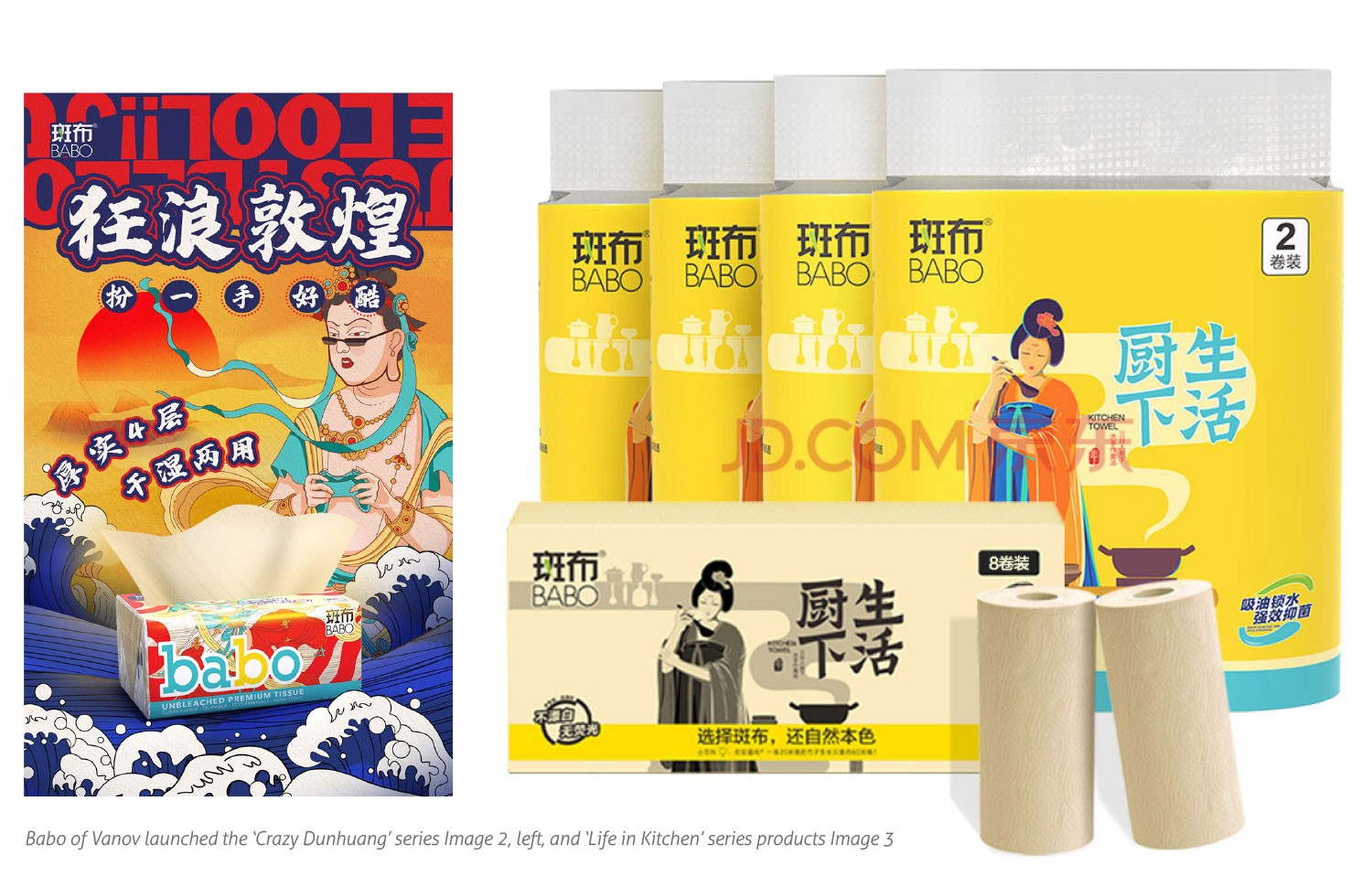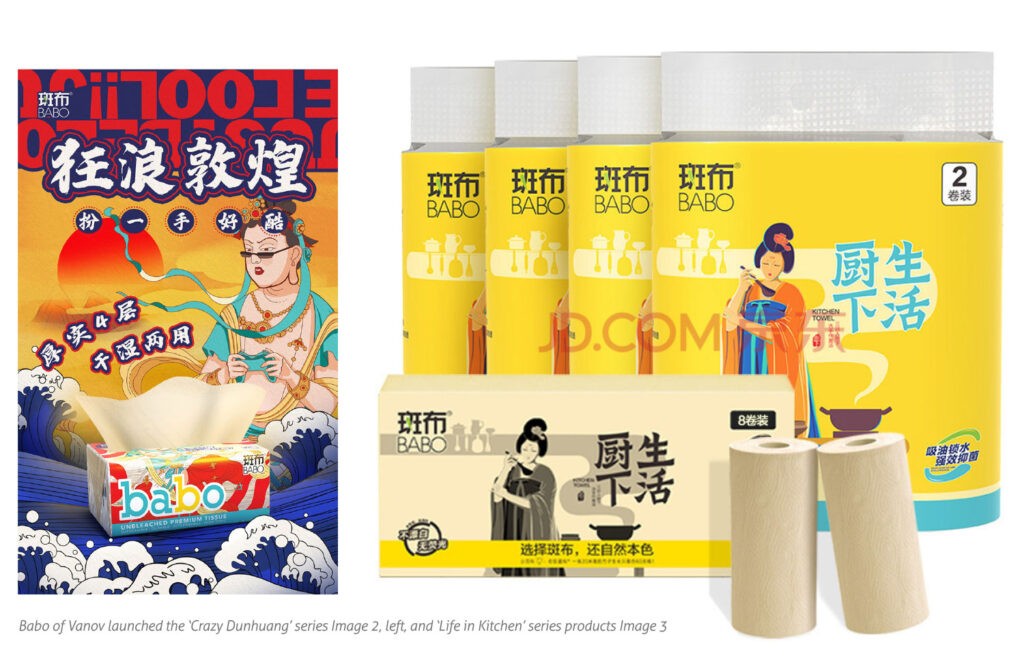 New equipment and technology
Intelligence, remote monitoring of equipment operation and remote maintenance are still the key points of high-end equipment. Furthermore, the Covid-19 pandemic accelerated the intellectualisation of equipment, remote monitoring of running conditions, remote maintenance and installation guidance, which have become the focuses of high-end equipment development.
Tissue Machine developments include:
Hengan International ordered two TAD tissue machines from Toscotec, said to bring excellent bulk, softness and water-absorbing ability to products, and giving a new impetus for the tissue machine market in China; Converting Machine developments include:
• Baosuo launched a new automatic draw-out facial tissue converting machine;
• Dechangyu launched the glueless-bonded toilet tissue converting machine;
• Korber introduced a new rewinder and embossing unit.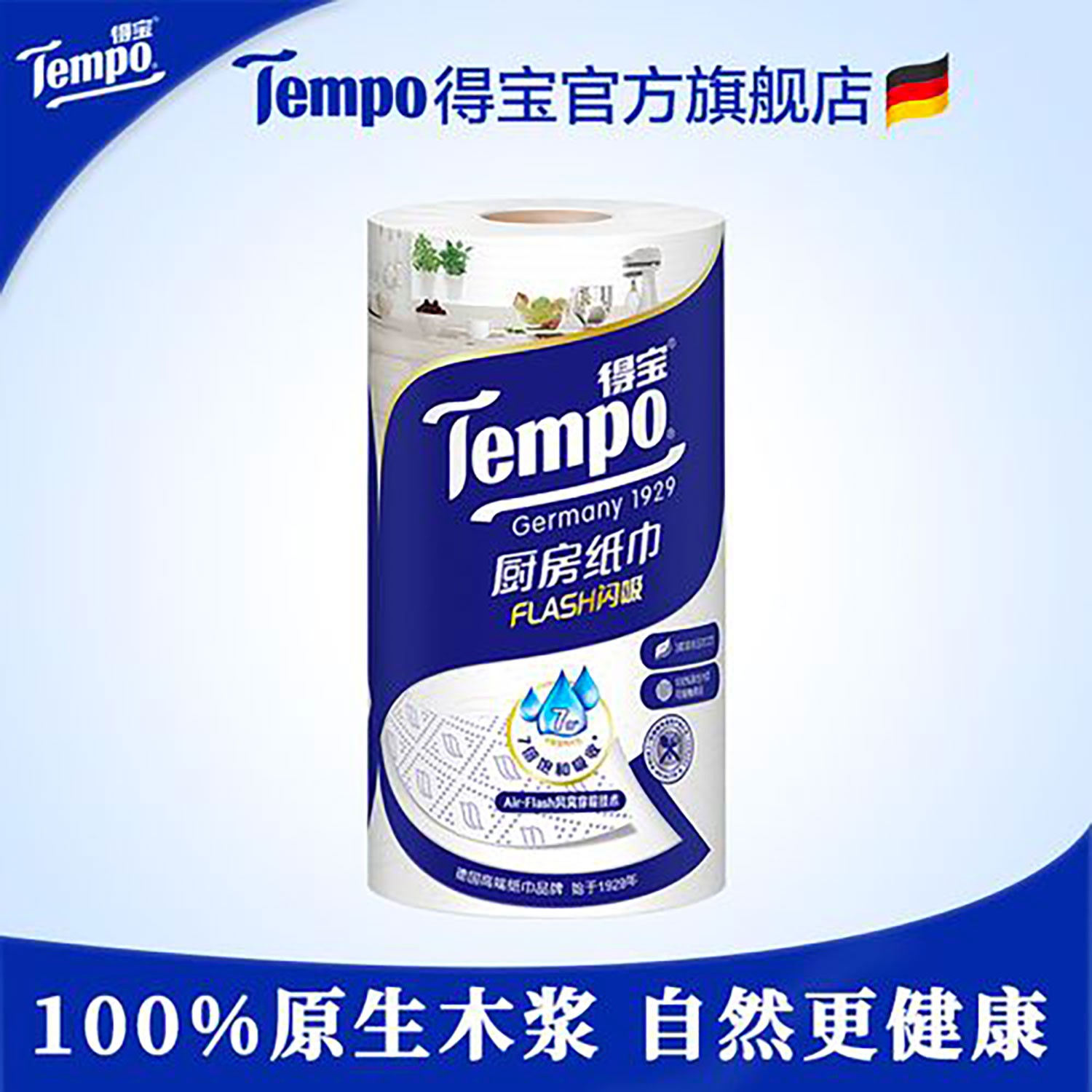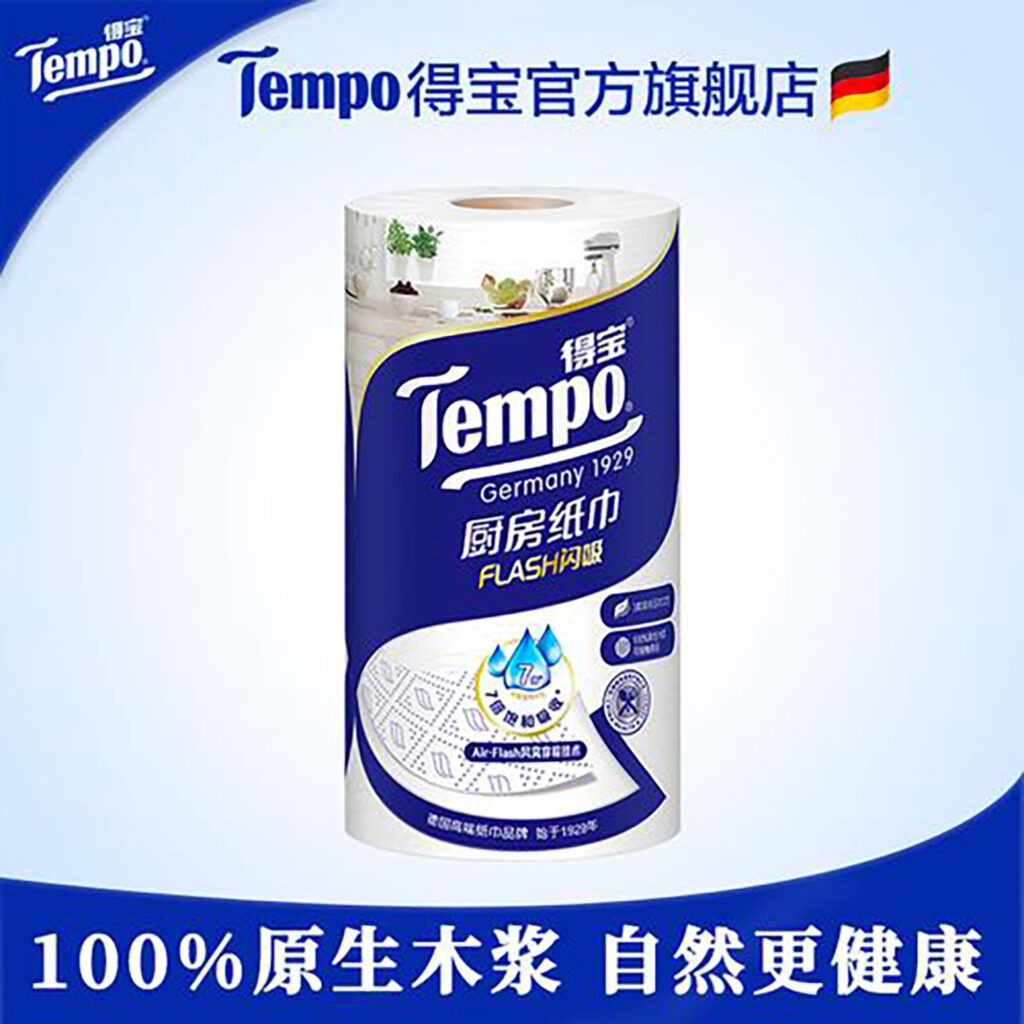 Import and export market
At present, the output and product types of the Chinese tissue paper market have satisfied domestic demands. The Chinese tissue paper industry is mainly export-oriented, and the import volume is still low and only accounts for a small proportion in the Chinese tissue market.
Figure 1 and Figure 2 show the import and export volume and value of China's tissue paper in the first three quarters from 2017 to 2021. The import volume and value of tissue paper in the first three quarters of 2021 increased. However, the total volume was still low. The import volume was around 320,300 tonnes. At present, the output and product type of the Chinese tissue paper industry has satisfied the demands of the domestic market. International trade is dominated by export, and the import volume is still low and accounts for a lower proportion in the Chinese tissue market.
Exports of Chinese tissue paper in the first three quarters of 2021
In the first three quarters of 2021, the export volume and export value of tissue paper in China showed a double-digit decline. The export volume was around 472,500 tonnes, down 30.12% and 17.8% than the first three quarters of 2020 and 2019 respectively.
Finished products had a higher proportion in exports, and exported products are gradually developing to high-end products. The average export price dropped.Seen from export value, the tissue handkerchief and facial tissue accounted for the highest ratio in the first three quarters of 2021, while toilet tissue accounted for the highest ratio in the first three quarters of 2019 and 2020. The structure of export product is gradually developing towards high-end products, but the average export price fell.
Dual-carbon target
With the China Carbon Emission Trade Exchange launched on 16 July 2021, enterprises in the tissue industry took actions one after another and began to make overall arrangement of green and high-quality development:
Hainan announced that it would try out the environmental impact assessment of carbon emissions in papermaking and other industries; Gold Hongye successfully held 'Carbon Neutrality' products seminar in Hainan on 20 May 2021 and introduced its move into carbon neutrality at the meeting;
Valmet announced its development plan of moving toward the future of carbon neutrality. The target is to reduce carbon dioxide emissions during its operation and across its supply chain by 80% and 20% respectively by 2030; Orient Champion launched new products using paper package. We believe that more and more enterprises will take part in the advancing of the Dual Carbon target.
Innovation of the marketing channel
Babo and Focus Media launched a "One Hundred Cities" strategy through strategic cooperation. Lee & Man Paper signed a strategic cooperation agreement with Yunji to launch unbleached bamboo pulp soft tissue.
Gold Hongye has achieved a strategic cooperation with Suning Carrefour, and searches for new breakthrough in sales.
C&S has signed the strategic cooperation agreement with Fenlai and realised multi-win along with the e-commerce platform based on Social Network. In cooperation with Shenzhen Tencent Computer System Co. Xiamen C&D Paper & Pulp Co. will build an internet platform for the pulp and paper industry, providing comprehensive and high-quality supply chain services for upstream and downstream enterprises in the industry.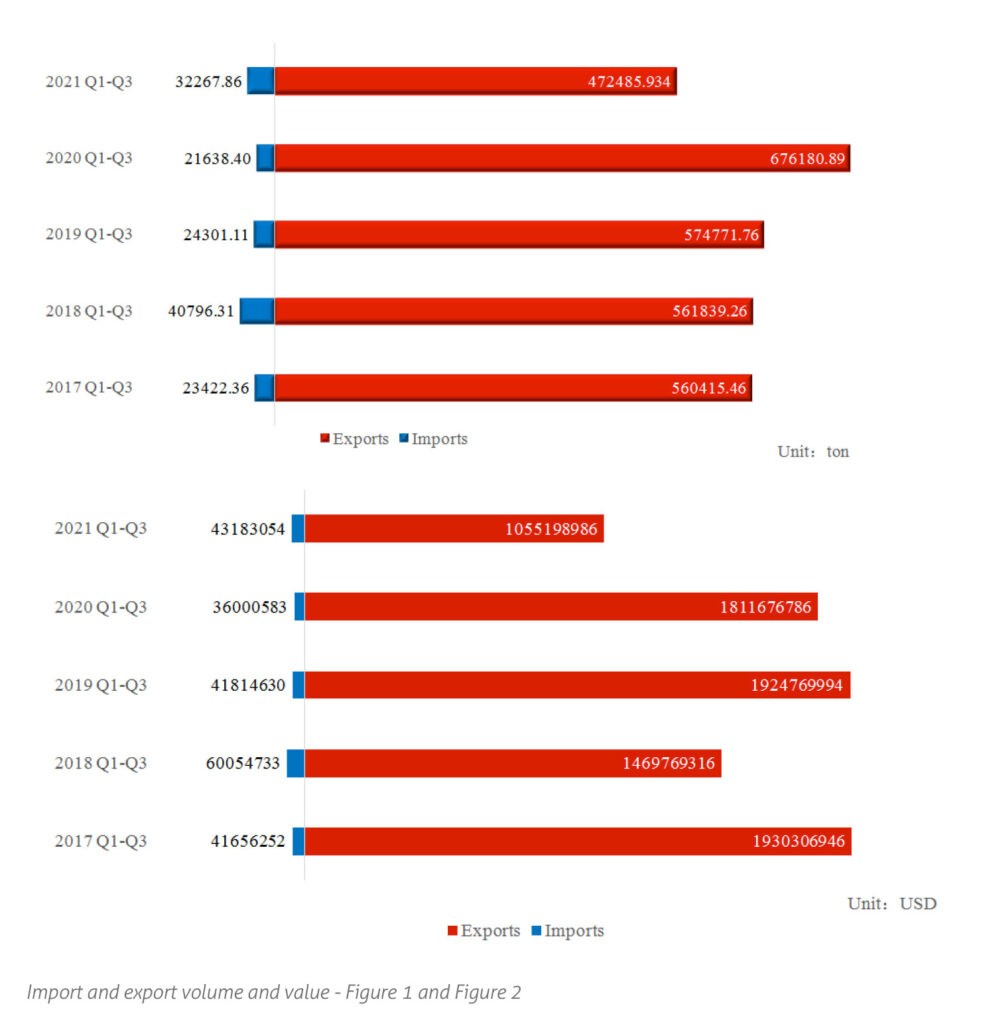 Challenges and reflections
The problem of overcapacity: The capacity that was put into operation in 2021 greatly exceeded that in 2020, and the accumulated overcapacity is growing, increasingly affecting the operating rate of the whole industry. The planned new capacity announced by the industry in 2022 and beyond exceeded nine million tonnes, so enterprises should make rational investment.
Dual-carbon target, green development: With the implementation of national development strategy of the Dual Carbon target, the pressure from electric energy, heat energy and other resources will cause a significant impact on the operation of enterprises. The realisation of low-carbon and green development is the only way to enterprise transformation.
Differentiation development
The overall development of China's tissue paper industry is relatively mature, and product structure is relatively stable. However, with the intensification of market competition, how to discover customer demands, develop differentiated products and avoid homogenous competition is one of the main problems that enterprises in the industry need to consider.
Improving the digital marketing capacity of brands
With the rapid development of the internet economy and the effect of the pandemic on people's consumption habit, the influence of new retail on product marketing has become more important. The industrial enterprises should seize the opportunity of new retail, and improve the digital marketing of brands.
Technology upgrade: In the stage of industrial transformation and upgrading, in order to complete technology upgrade, decrease cost, increase benefit and transform towards high-quality development, companies need to improve their technological innovation capacity.
Win-win cooperation: Enterprises need to make long-term plans and build long-term and stable supply chain relationships so as to better respond to future market change.