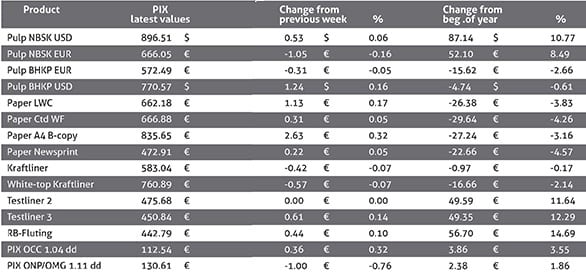 By LARS HALEN, Senior Manager, FOEX Indexes and TIMO TERAS, Managing Director, FOEX Indexes
NBSK pulp Europe
Pulp Week in London ended more or less where it started. Suppliers showed optimism over the volumes and expected the prices to continue moving up in the near-term future. Buyers were reminded of growing volumes through approaching BHKP capacity increases, releases of more market pulp from integrated producers after PM shutdowns and, possibly, dissolving pulp capacity being used to produce fluff or paper grades pulp following the anti-dumping duties decreed by the Chinese authorities on selected dissolving pulp producers. The latter may or may not be seen but the decision does make further conversions to dissolving clearly less attractive. Difficulties to raise paper prices are another hindrance to pulp price hikes, according to the buyer-side.
For the time being, at least, softwood pulp market remains firm. Euro strengthened this time by 0.2% against the USD. Our PIX NBSK pulp index moved up by 53 cents, or by 0.06%, and closed at 896.51 USD/tonne. When converting this dollar-value into euro, the strengthening of the currency against the USD meant that the benchmark retreated by 1.05 euro, or by 0.16%, and the PIX NBSKP index in Euro landed at 666.05 EUR/tonne.
'Suppliers showed optimism over the volumes and expected the prices to continue moving up in the near-term future.'
BHK pulp Europe
After high hardwood pulp shipping volumes registered in September, and a consequently large drop in BHKP producer stocks, the October data is awaited for with a particularly high interest as those numbers could well be the decisive driver in determining the direction (or flatness) of price movements in December. Exchange rate movements remain another key question mark. In Europe, some improvement in graphic and specialty paper order books in October supports purchasing volumes as consumer stocks are low but elsewhere in the world, high delivery volumes in September (104% delivery-to-capacity ratio!) could mean stocks of pulp near buyers have risen. Euro strengthened by 0.2% against the dollar from the previous week. After removing the top and bottom 10% of the quotes and with the re-strengthened Euro, the PIX BHKP index fell by 31 euro cents, or 0.05%, and closed at 572.49 EUR/tonne. The PIX BHKP index value in dollars moved up by 1.24 dollars, or by 0.16%, and settled at 770.57 USD/tonne.
All dates and figures are the most up-to-date at the time of going to press.
[box type="bio"]
FOEX
FOEX Indexes Ltd produces audited and trademarked registered PIX price indices for certain pulp, paper, tissue, packaging board, recovered paper and wood based bioenergy/biomass grades. The PIX price indices function as independent market reference prices and show the price trend of the products in question. FOEX sells the right to use the PIX indices for commercial purposes as well as weekly or monthly newsletters, a monthly market review and the PIX index histories.
Providing PIX pulp price indices to the tissue industry gives the paper producer and buyer insight in the price trends with a weekly frequency. This way companies have better tools to budget their cost or income structure and profitability, and may concentrate on their core businesses with less time spent on price negotiations.
Any commercial use requires permission with terms of use from FOEX Indexes Ltd. (www.foex.fi)
Note
PIX values, $ or € / metric tonne
[/box]