By FOEX Indexes' Lars Halén and Timo Teräs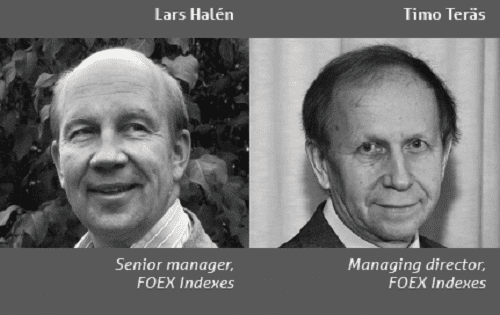 NBSK Pulp Europe
Utipulp statistics show BSKP consumption down by 1.4% from May but up by 2.3% when compared to June last year. Consumer inventories of market softwood pulp at the European paper mills are quite low and almost 7% lower than a year ago.
The re-start of Södra's Värö-mill in mid July brings additional volumes on the supply-side. The weaknesses reported from the Asian markets have not shown much in the European market but the rise of prices has stalled here as well. In fact, our PIX NBSK index moved down, even if by only 17 cents, or by 0.02%, and closed at 812.23 USD/tonne.
With a 0.67% strengthening of the US dollar against the Euro (weekly average of week 29), the index value, after conversion into Euro, moved up fairly clearly, i.e. by 4.76 euros, or by 0.65%, and the July 26 PIX NBSK index value in euro-terms ended at 736.65 EUR/tonne.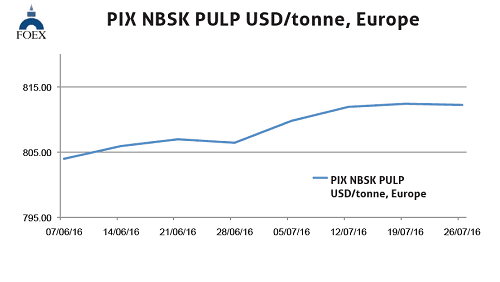 BHK Pulp Europe
In BHKP, the market remains weaker than in softwood, partly due to increased market BHKP capacity, partly to persistently high producers' stocks and partly by the declines seen in the graphic paper consumption and production which hits hardwood relatively more than softwood.
On the other hand, the demand for market pulp for tissue continues to grow and in these products BHKP represents a higher and still growing share of the total furnish, especially as the declining supply and use of white recovered paper grades is typically replaced by BHKP. After several weeks of weak BHKP pricing in China, the downward pressure has caught up with the European market as well in July, at least temporarily.
Our PIX BHKP benchmark lost more than the NBSKP index as the hardwood index headed down by 4.08 dollars/tonne, or by 0.60%, and ended at 677.25 USD/tonne. In week 28, the value of Euro weakened by 0.67% against the US dollar (weekly average). When converting the USD-value into the clearly weaker Euro, the July 26 BHKP benchmark value in Euro headed up by 42 cents, or by 0.07%, and the index in euro-terms closed at 614.23 EUR/tonne.
Paper Industry
At the time of writing these notes, the so far released data on the paper industry activity in June has been predominantly disappointing even if for instance the US manufacturing index ISM's sectorial numbers placed printing and related support industries and paper production high on the list on best industry performers.
The US packaging sector data was positive as far as box shipments and inventory positions were concerned but the box and containerboard production data was less impressive with an about 1.2% decrease, year-on-year. US boxboard was down, too, by 2% against June 2015.
Data released by PPPC over the June printing and writing paper shipments was weak in both North America and Europe. Total printing and writing paper shipments from North American sources were down by about 6%, year-on-year. Inventories moved up by 2% from end-May. The largest grade, uncoated free sheet, showed a 5% drop in shipments.
In Europe, June graphic paper shipments, including newsprint, were down by over 7%, year-on-year. Regional demand was down clearly less, or by 3.8% as the 12% retreat in exports outside the region accounted for a fair part of the fall in total shipments. These June data were worse than the cumulative performance.
The first half 2016 graphic paper total shipments were down by 5.4%, regional demand by 3.3% and exports by just over 9%. Newsprint and uncoated printing and writing paper grades show more modest declines than the coated grades. In newsprint, the estimated regional demand was actually up in June against June 2015.
About FOEX Indexes
FOEX Indexes Ltd produces audited and trade-mark registered PIX price indices for certain pulp, paper packaging board, recovered paper and wood based bioenergy/biomass grades. The PIX price indices serve the market in a number of ways. They function as independent market reference prices, showing the price trend of the products in question. FOEX sells the right to banks and financial institutions to use the PIX indices for commercial purposes, while RISI Inc. has the exclusive re-selling rights for subscriptions to the PIX data and market information. Please enquire for subscriptions at foe[email protected] or via the following link www.foex.fi/subscribe/.
Tissue papers are produced either from virgin fibre, recovered fibre and various mixes of both, depending on the end product. High quality hygiene tissue products like medical tissue products, facial tissues, table napkins or other such household and sanitary products are often made exclusively or almost exclusively from virgin fibre pulp, whereas the share of recovered fibre typically increases in tissue products for a variety of end uses outside personal hygiene, such as kitchen towels or towels for garages or other such industrial production facilities etc. Providing PIX pulp price indices gives the paper producer and buyer insight in the price trends with a weekly frequency. PIX indices are used as market reference prices e.g.
– by banks or exchanges that offer price risk management services for pulp buyers and sellers
– by buyers and sellers of pulp or paper in their normal supply contracts
– companies who want to employ an independent market reference price for internal pricing (e.g. pulp mill – paper/paperboard mill, paperboard mill – box plant) through licensing the commercial use from FOEX.
In addition, our price indices are widely used in financial analysis, market research and other such needs by all kinds of parties linked directly or indirectly to forest product or wood-based bio-energy industries.
This way the companies have better tools to budget their cost or income structure and profitability, and may concentrate on their core businesses with less time spent on price negotiations, which tend to increase in these days as the planning span narrows in the wake of the short, quarterly business cycles and, nowadays, in most cases, monthly raw material pricing decisions.