By FOEX Indexes' Lars Halén and Timo Teräs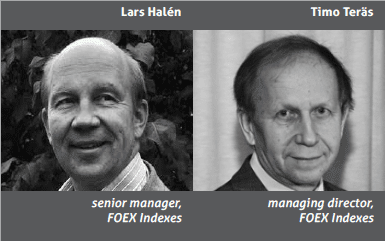 NBSK pulp Europe
When writing these notes, the only publicly available pulp data over December is by UTIPULP, providing the softwood pulp consumption and inventory numbers at consumers. BSKP consumption was down in December by -1.4%, year-on-year. Softwood kraft pulp inventories, at 19 days of consumption, were down by one day from November but up by one day against December 2014. At least two major producers have announced a price increase initiative to 810 dollars/tonne from the recently seen 790-795 dollar level.
The decline of our PIX NBSK index came to an end, at least temporarily, as the benchmark value headed this time back upwards by 1.36 dollars, or by 0.17%, and closed at 793.34 USD/tonne. The US dollar weakened against the Euro by 0.05% (weekly average of week 3-2016). With the very minor strengthening of the Euro against the US dollar, the benchmark value in euro, converted from the dollar value index with the average exchange rate of last week, moved up from last week by 92 cents, or by 0.13%, and the PIX NBSK index value in euro-terms ended up at 729.58 EUR/tonne.

BHK pulp Europe
In BHKP, production problems continue to reduce some volumes, e.g. at Lontar in Indonesia and at Guaiba's older line in Brazil. While both planned and unplanned downtime has been seen, the supply push seems to have increased in Europe, at least in the form of larger spot volumes being offered in Southern Europe.
Since the peak in late October, our index value is down by 30 dollars/tonne, but by less than 10 euros. While buyers are pushing for a bigger decline, producers are determined not to see a further retreat. Just as the softwood index, our BHKP benchmark in Europe headed this time back up on January 26, as the index value inched up by 5 US cents per tonne, or by 0.01%, and closed at 778.93 USD/tonne. In week 3-2016, the value of Euro appreciated by 0.05% against the US dollar (weekly average). When converting the USD value of the BHKP benchmark into the marginally stronger Euro, the PIX BHKP index in Euro inched down by 29 cents, or by 0.04%, and closed at 716.32 EUR/tonne.
Paper industry
The additional data received over the paper and board industry activity in Europe in November confirmed the semi-positive performance already seen in graphic paper numbers also in the other grades. For instance the WE box shipments were up in November by 3.4%, year-on-year. This was better than the cumulative gain of 2.0% over the first 11 months. Also, the production of containerboard and other case making materials was up clearly more for the month, or by 4.2%, year-on-year while the cumulative gain was somewhat less at 2.7%, according to CEPI.
For total packaging, the monthly comparison showed a solid 3.4% increase, also here better than the cumulative gain at 2.2%.
The month of November was good for tissue as well. The production of sanitary and household papers was up by 4.1% year-on-year and by 2.1% over the first 11 months. Graphic paper production fell modestly, or by -2.3% in November year-on-year.
For paper and paperboard total, production numbers were up by 1.0% for the month of November but down by -0.4%, cumulatively. Preliminary December numbers from PPPC came out positive with graphic paper demand, including newsprint, in Europe estimated up for the month by 1.2% from December 2014. Annual numbers still showed a clear -3.8% retreat with newsprint demand down by -8.1% and other printing and writing papers by -2.5%.
Paper price negotiations continue in Europe, as they do also for some grades in the US market. Our paper index values have rather come down than gone up in January. In the UK, as well as in the US, the strength of the currency has kept a heavy lid on the suppliers' price hike efforts. The falling prices of pulp and the moderate decline seen also in recovered paper prices, both in Europe and the US has also led to some price declines, mainly in the brown kraftliner and testliner grades.
FOEX Indexes Ltd produces audited and trade-mark registered PIX price indices for certain pulp, paper packaging board, recovered paper and wood based bioenergy/biomass grades. The PIX price indices serve the market in a number of ways. They function as independent market reference prices, showing the price trend of the products in question. FOEX sells the right to banks and financial institutions to use the PIX indices for commercial purposes, while RISI Inc. has the exclusive re-selling rights for subscriptions to the PIX data and market information. Please enquire for subscriptions at fo[email protected] or via the following link www.foex.fi/subscribe/
Tissue papers are produced either from virgin fibre, recovered fibre and various mixes of both, depending on the end product. High quality hygiene tissue products like medical tissue products, facial tissues, table napkins or other such household and sanitary products are often made exclusively or almost exclusively from virgin fibre pulp, whereas the share of recovered fibre typically increases in tissue products for a variety of end uses outside personal hygiene, such as kitchen towels or towels for garages or other such industrial production facilities etc. Providing PIX pulp price indices gives the paper producer and buyer insight in the price trends with a weekly frequency. PIX indices are used as market reference prices e.g.
– by banks or exchanges that offer price risk management services for pulp buyers and sellers
– by buyers and sellers of pulp or paper in their normal supply contracts
– companies who want to employ an independent market reference price for internal pricing (e.g. pulp mill – paper/paperboard mill, paperboard mill – box plant) through licensing the commercial use from FOEX.
In addition, our price indices are widely used in financial analysis, market research and other such needs by all kinds of parties linked directly or indirectly to forest product or wood-based bio-energy industries.
This way the companies have better tools to budget their cost or income structure and profitability, and may concentrate on their core businesses with less time spent on price negotiations, which tend to increase in these days as the planning span narrows in the wake of the short, quarterly business cycles and, nowadays, in most cases, monthly raw material pricing decisions.
Subscription – For access to the latest PIX Pulp and Paper index values and commentary, please subscribe to the "PIX Pulp and Paper Service" via the following link www.foex.fi/subscribe/