Italy, the European tissue hub, has seen unprecedented growth figures for a developed market. Core trends of sustainability and digitalisation allied to the strength of local production and supply will shape future competition.
Italian tissue – from pandemic to endemic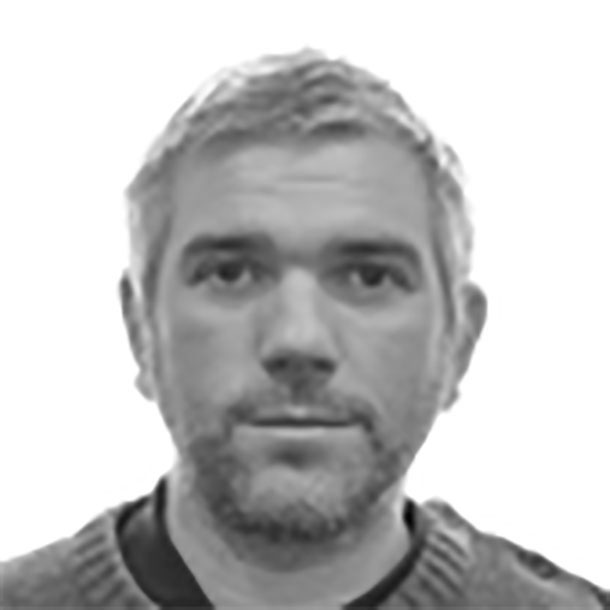 Italy remains the centre of the European tissue industry from a consumption, production, and also from a manufacturing technology standpoint. In 2021, overall tissue, both retail and AfH, expenditure at manufacturer sales price (MSP) totalled just over USD1.66bn, ranked third in the EU block only behind German and France. On average, Italian consumers spent $28 per capita on tissue products; this figure was almost equivalent to Poland but a good $4 lower than other comparable Mediterranean markets.
Although undeniably developed, there is space for the market to grow and tap into prevailing trends which are currently pervading Italian society. Nevertheless, as with other FMCG, the tissue industry will face challenges in the medium term as its products will have to justify the portion of expenditure in what are likely to be difficult times for consumers.
The impact of Covid-19
As with all other markets, the story for 2021 and into 2022 and beyond is one of the pandemic, consumer lifestyle changes and the journey to endemic coexistence with the virus. Predictably in 2020, the Italian market experienced a significant uplift due to Covid-19, a period of enforced home seclusion and a trend towards stockpiling. These core trends resulted in retail tissue volumes climbing by 3%, with toilet paper especially buoyant and growing by just shy of 4%. Although Italy was far from unique in this respect, for a developed market to grow by these numbers is unprecedented and is testament to the strength of local production and supply that the industry was able to satisfy in terms of a sudden spike in demand.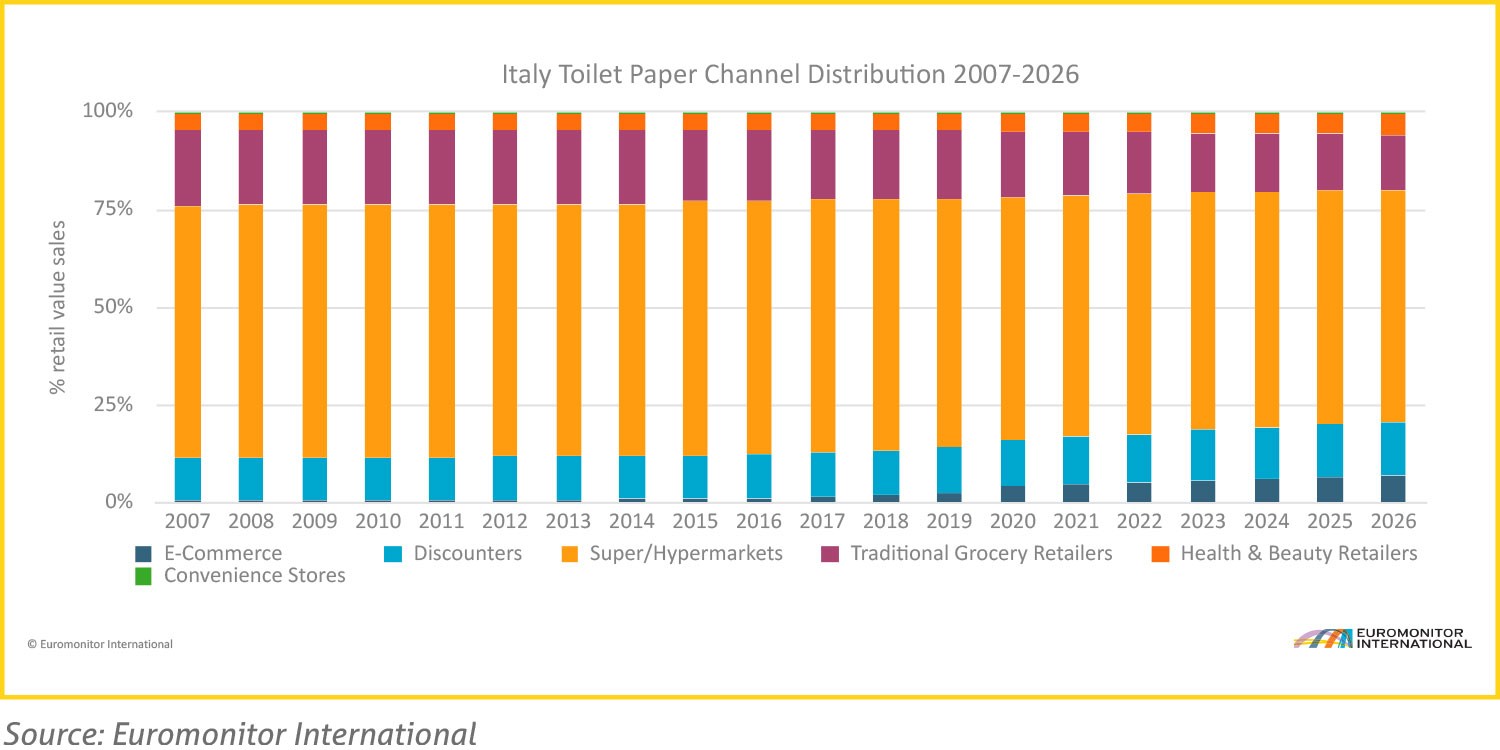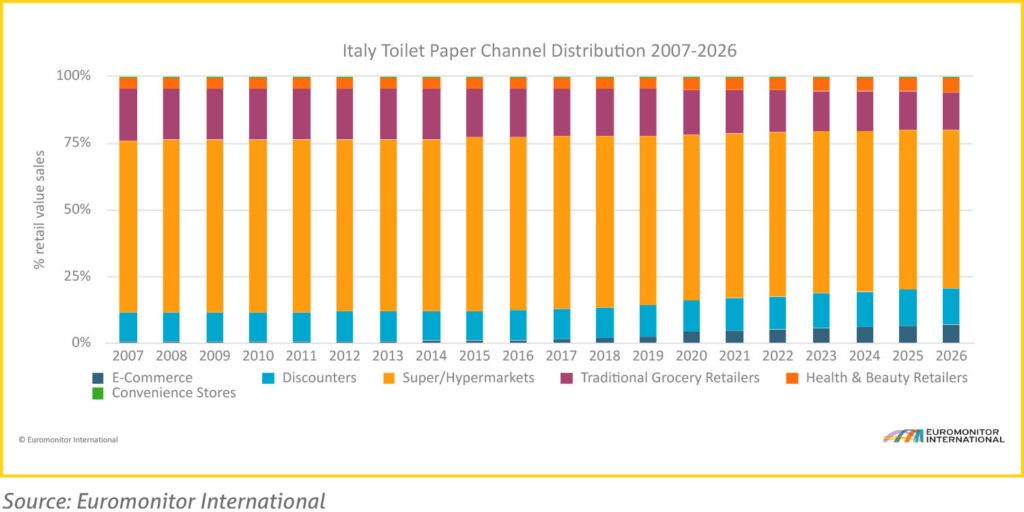 2021 bounce
The narrative of 2021 was still undeniably linked to the pandemic but there were signs that for much of the year the situation had improved and civilian life had at times returned to "normality". Like much of the continent, the first quarter of 2021 was one again characterised by restricted movement and the rollout of vaccination campaigns.
Between spring and the arrival of Omicron, life returned to some semblance of normality with the AfH sector benefiting from a return to eating out in addition to Italians choosing to holiday at home, part of the "staycation" trend which was common in Europe and set to remain a feature of the travel and hospitality industry well into 2022 and beyond.
As a result, retail tissue volumes marginally declined, by just 0.3%, over the year, dampened by a fall in toilet paper sales as consumers left their homes and services opened up significantly, while white-collar workers began to return to the office.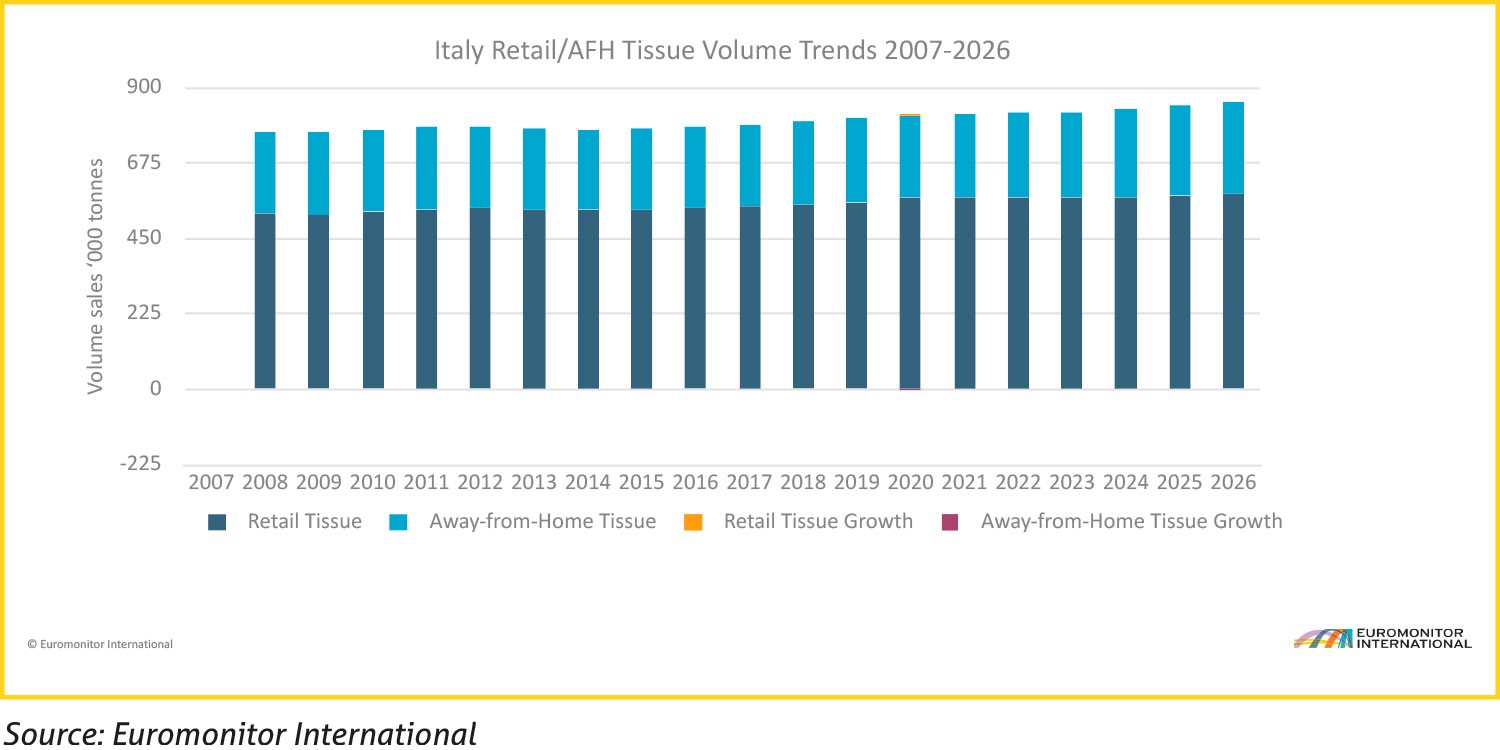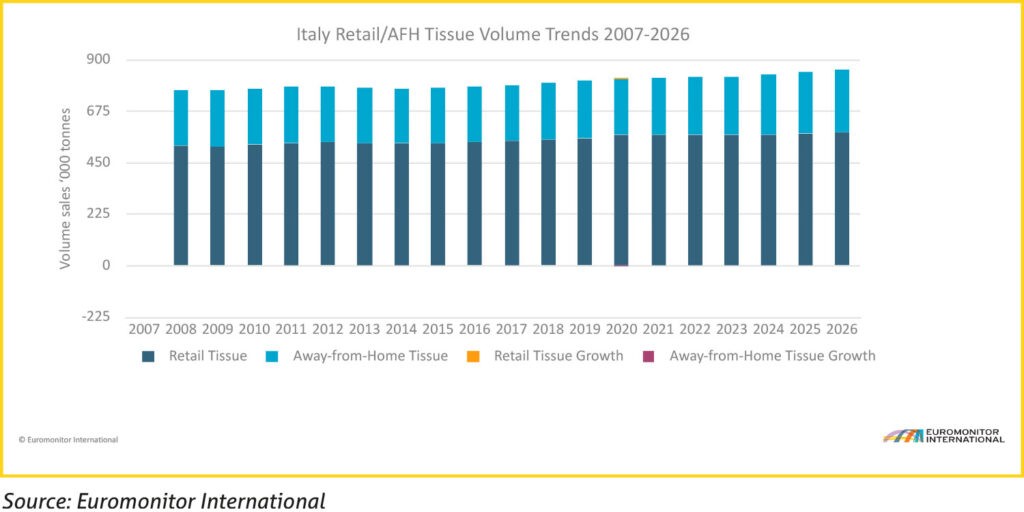 Medium-term outlook
The medium-term forecast for Italian retail tissue is one of cautious optimism, with volumes expected to record a CAGR of 0.5% over 2021-2026. The return of freedom of movement and a broader return to the office (with public workers currently the focus of attention) while reducing domestic demand will also further create opportunities for AfH options.
Nevertheless, although the home seclusion volume upturn enjoyed by tissue is expected to dissipate over time, there are threats that could undermine the dominant retail value portion of the industry.
While an unstable economy is partly to blame, there is disruption stemming from multiple sources. Already witnessed in 2021, the thorny issue of raw material and energy price inflation hit the industry, with retailers predictably against price increases while brands were keen to push them through.
In the end, most Italian retailers swallowed the increase at the expense of their own margins, but with energy and water costs predicted to increase and persist for the foreseeable future (many analysts are pointing to a two-year horizon) then the prospect of further price rises being passed onto the end consumer is incredibly likely. In a wider context, other FMCG industries are facing similar pressures, as are householders with rising utility bills and this all within an environment with possible increased taxation as the Italian government looks to control its debt levels.
From a consumer perspective, while the medium term is likely to present challenges, it is how the tissue industry re-enforces the message from the pandemic, especially around tissue products' proximity to domestic and personal hygiene.
These messages will likely live long in the mind of the consumer and this should continue to be a core message for the industry as it looks to insulate itself against competition, substitution and downtrading.
AfH competition
The Italian government has an objective; the pace of the vaccine rollout (which places Italy ahead of the majority of EU nations) and the introduction of mandatory vaccinations for the over 50s, in addition to severe social and work restrictions for those who remain unvaccinated, is designed to place Italy as one of the safest destinations in Europe.
For the AfH channel, which represents 20% of value sales, this is significant and is helping to drive a 2.5% value CAGR forecast for 2021-2026 as the country moves along the medium-term trajectory of eating out and holidaying, both locally and welcoming travellers from abroad.
Store-based retailing
The distribution of retail tissue in Italy remained dominated by store-based retailing in 2021. Among these retailers, discounters and drugstores gained consumers' preference as these outlets benefit from low price points and attractive deals. Prior to the pandemic, both channels recorded high levels of growth in Italy, with new outlets being opened and many consumers shifting their purchases from supermarkets and hypermarkets. Lower prices in discounters and a broad range of offerings in drugstores have been instrumental in the success of these retailers.
Given the likelihood of economic disruption in the post-pandemic era stemming from a combination of tissue price inflation pressures, disposable incomes being squeezed by inflation and likely higher taxation, then the discounter channel is likely to experience further expansion as consumers look to rationalise their expenditure. In 2021, there were some 5,500 discounters operating in Italy, holding 15% share of all grocery retail value sales: this figure will only increase as the channel is set to add a further 500 stores by 2026.
E-commerce growth
As with other developed markets, e-commerce also benefited from pandemic lifestyles, with retailers taking the opportunity to drive scale. This means that online is no longer niche and is set for continued growth as consumers increasingly switch their grocery shopping preferences away from traditional store environments. For example, the core toilet paper category is predicted to see value sales growing tenfold over 2016-2026, meaning that by the end of the forecast period, 8% retail value share will be held by the e-commerce channel.
This percentage tracks almost exactly against the broader share that e-commerce takes across all retail. One observation from further afield comes from China, with tissue one of the first categories to make the jump online for very similar reasons that could be facing Italian consumers in the coming years; how to access the best prices, which tends to be linked to large packs that are often inconvenient to carry around. Therefore, internet- based retail is extremely attractive in this respect.
Pack size expansion?
Considering that many tissue items are bulky, and with higher pack counts providing improved value, Italian consumers are expected to continue to buy them online and in larger quantities. Therefore, retailers are expected to follow Esselunga's example of specific online offers, such as free shipping versus purchases of specific brands.
Away from e-commerce, there are prospects in home and garden specialist retailers, as the Italian government is investing large sums in supporting consumers who want to upgrade the efficiency of their homes, meaning that the number of home projects has exploded over the past year. Where there is building work, there is mess to tidy up and there are cross merchandising wins to be had for heavy duty towels and other paper-based alternatives to plastics.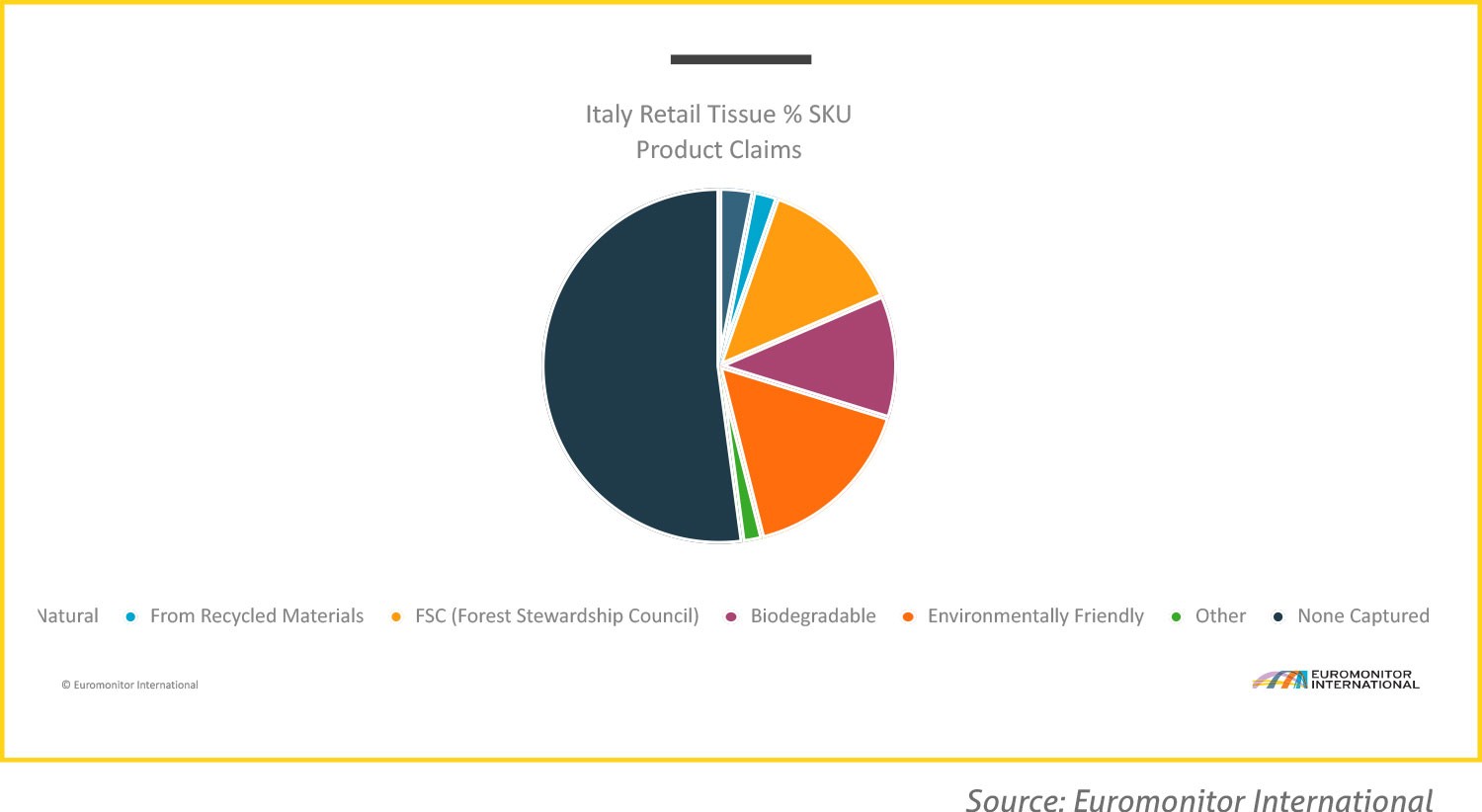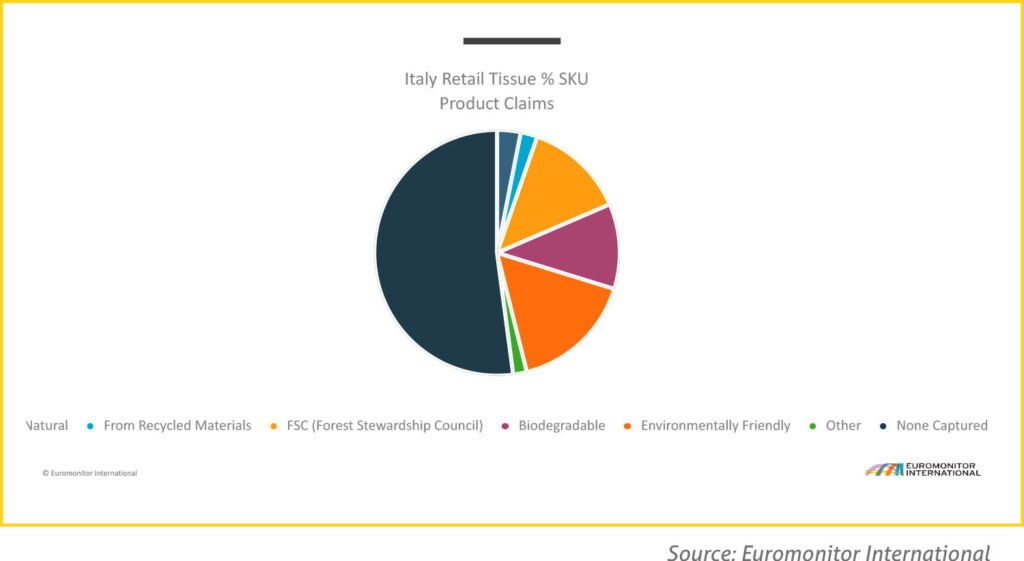 Green is the word
Recycled toilet paper will see the strongest growth rates among all retail tissue categories over the medium term. Environmental sustainability is an important factor for many Italian consumers across all classifications of retail tissue, and this trend is widely expected to grow. To date, the industry has made progress with widespread FSC certification in addition to highlighting stories around commitment to circular economy initiatives. Sustainability is no longer a "nice to have" for European brands. The scale of legislation coming from the European Commission from the EU Green Deal is truly staggering and will increasingly affect all industries over time.
Plastic is a focus, resulting in the Italian tissue industry embracing waste reduction policies around packaging. Paper packaging is therefore set to become increasingly popular, due to new technologies that allow high efficiency machine-wrapping of tissue products. Soffass for example, is leading with a pledge to eliminate half the plastics from its packaging by 2030. Therefore, environmental claims will become a dynamic area in terms of development as part of brand competition.
Conclusions
Although the path from pandemic to endemic will be far from easy, there is much to be positive about for the Italian tissue industry as it transitions to "new normal" conditions. While economic issues are bound to ask questions of expenditure priorities, this will be the same story the world over and not restricted to Italy. There is enough to suggest that a continued focus on personal and domestic hygiene will be a strong growth driver for the industry in addition to embracing the two core trends of our time; namely sustainability and digitalisation. Both challenge the industry to change, maybe more rapidly than is comfortable, but they will also be the centre of future opportunities, leading to share gain of post-pandemic expenditure.
The future shape of competition is an interesting point, not least owing to the way that national producers are set to drive AfH competition as the big European destinations jostle for position. This will not only be linked to pricing, weather, or attractions but also now an additional metric around safety. Safety will be the watchword for the post-pandemic, endemic era.