The impact of Covid-19 on market outlooks, company performance and digitalisation. Ralf Möbus, Senior Executive at StepChange Consulting, reports for TWM.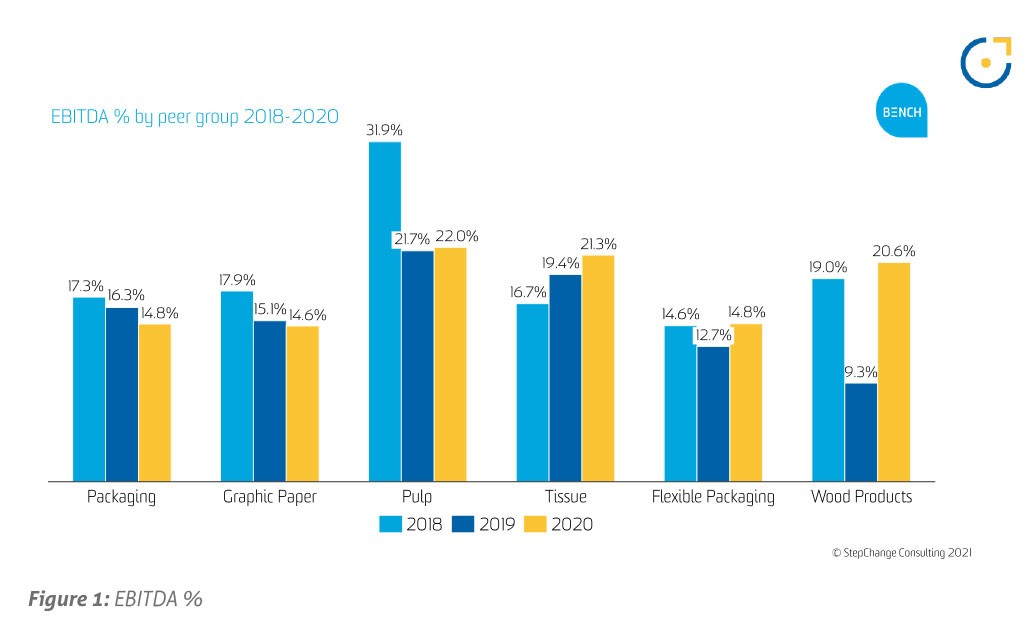 When Covid hit in early 2020, it had very different impacts on the various segments of the tissue, paper and processing industries. While the graphic segment was hit hard and demanded dropped even further, packaging benefited from the accelerated shift to e-commerce. The tissue industry was impacted by hoarding effects and a peaking demand never experienced before.
It seemed obvious that this sudden increase would not be sustainable, and levels of demand would sooner or later normalise. Losses did accumulate in the AfH segment. However, 2020 was still compensated by the positive effects of the pandemic on tissue markets overall, coupled with relatively low input costs.
According to the latest StepChange BENCH publication, a bi-annual financial benchmarking of 80+ public companies in forest industries, the tissue group experienced an increase of the weighted average EBITDA, reaching the highest value (21,3%; +0,9% from 2019) since 2016 [Figure 1]. It is interesting to note that all tissue/hygiene pure plays improved their profitability in 2020, registering a value that ranges between ~15% and 20%, outperforming the whole sector except for pulp.
The increase in profitability can be partially explained by the reduction of raw material and especially pulp costs registered in 2019 and continued in 2020.
However, since the fourth quarter of 2020, fibre and energy prices have experienced a strong increase leading to deteriorating profitability of the sector. This is particularly true since many producers have had difficulties achieving price increases.
2021 global wood, paper, packaging & tissue outlook study
In the second quarter of 2021, StepChange Consulting conducted a study to understand current market perceptions and the impact of Covid 19 on digitalisation efforts in the sector. Managers and stakeholders from tissue, paper and packaging industries were interviewed about the future outlook, and the digitalisation progress of
their companies.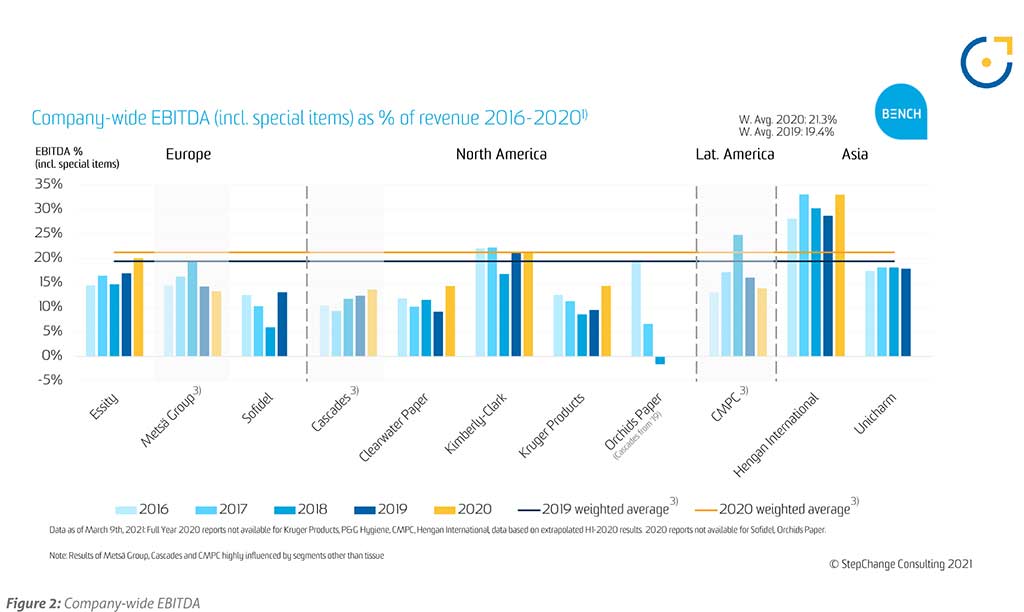 In Figure 3, most respondents clearly believe that Covid has accelerated digitalisation and has further helped to identify digital projects with value.
Market outlook: Mostly clear skies
After a year of uncertainty, companies agree on a future recovery and expansion of the overall markets. On average, in all subsegments operators expect a positive growth rate in 2021 compared to 2020 (see Figure 4). Several respondents underlined that the overall economy might stay flat in the first part of 2021 and register an acceleration in the second semester of the year. Pulp respondents were the most positive (93% of respondents). Tissue has the second lowest sentiment but still a 73-positivity rate. Printing and publishing has by far the lowest rate to positive expectations.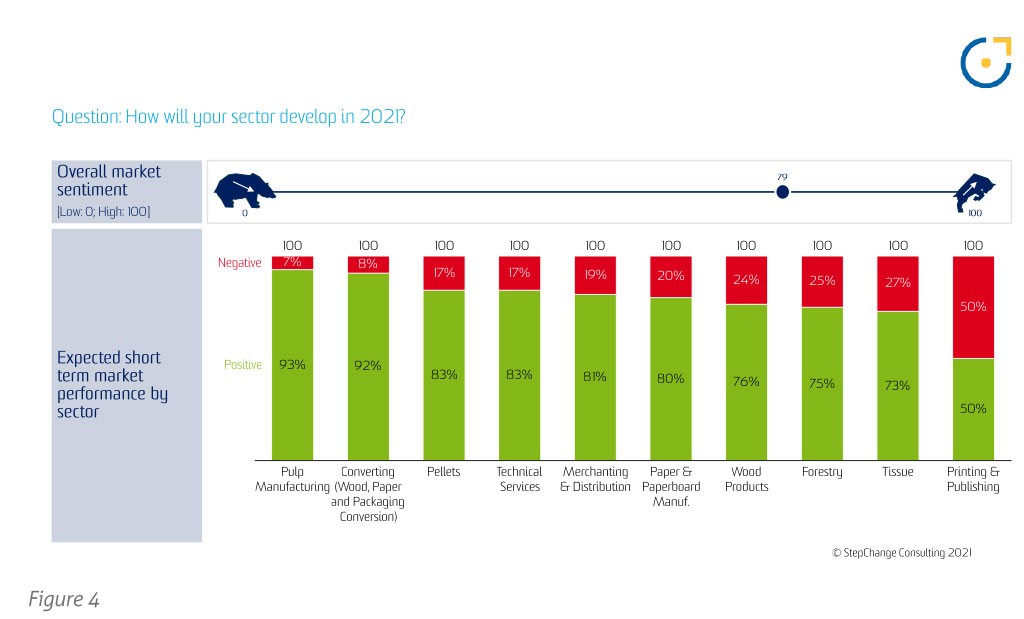 Taking a closer look on which main drivers will impact the sector in the future, digitalisation and Industry 4.0 were ranked as having the most positive potential together with expected changes in customer behaviours and environmental requirements (see Figure 5).
How digitalisation will drive future growth
The study identified pricing and margin management, product development and cost reduction as main priorities. Digitalisation has consistently moved up in the priority list of companies in these studies for the last five years. Now 46% of respondents mention it as a priority and rank it #3 on their agendas.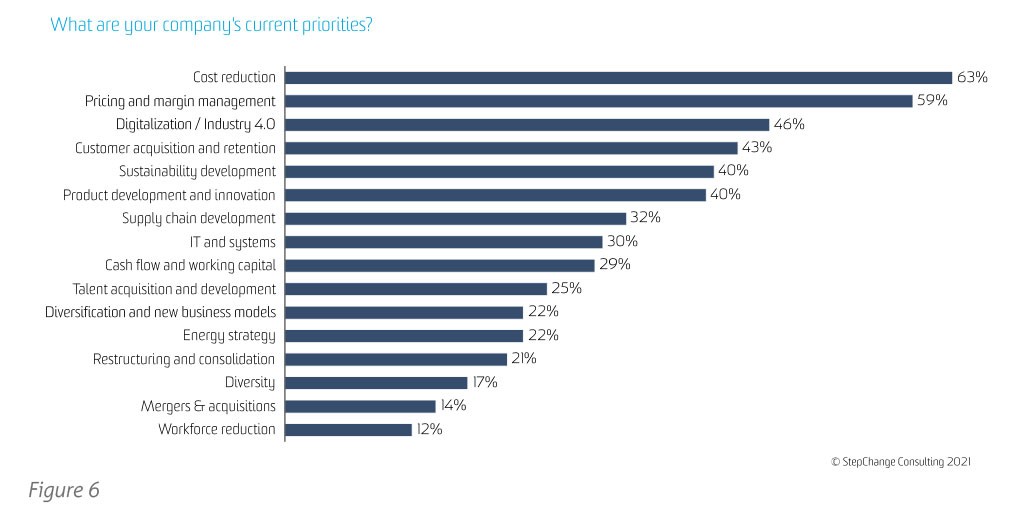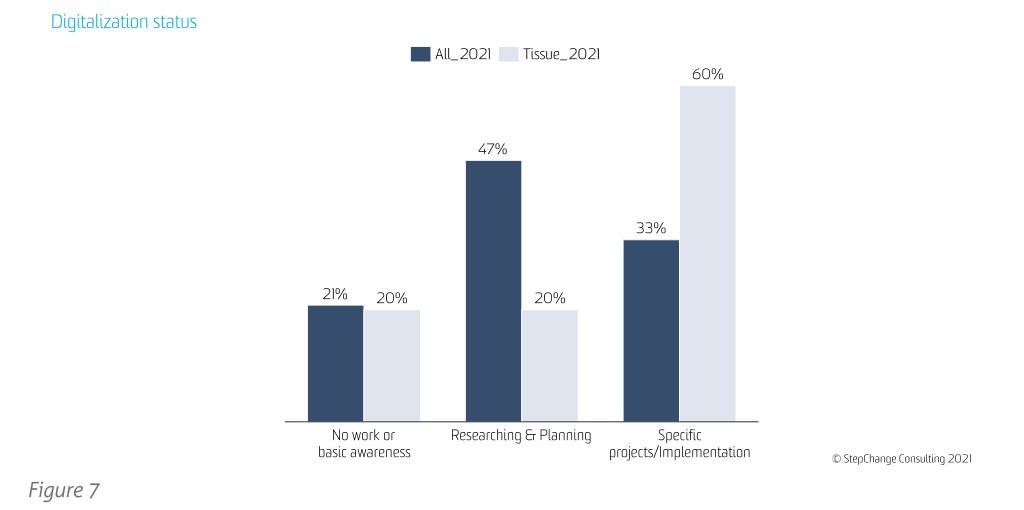 Facing business requirements accelerated by the Covid crisis, the percentage of tissue respondents that have implemented one or more digitalisation projects rose by 16 p.p. reaching 60% (see Figure 7). Now only 20% state not to have started any digitalisation efforts.
Facing business requirements accelerated by the Covid crisis, the percentage of tissue respondents that have implemented one or more digitalisation projects rose by 16 p.p. reaching 60% (see Figure 7). Now only 20% state not to have started any digitalisation efforts.
All survey participants recognise that digitalisation can bring substantial advantages along the value chain, with slightly higher benefits for those businesses positioned downstream (see Figure 8).
The main recognised benefits from digitalisation are related to reducing costs (mentioned by 67% of respondents), improving productivity (66%) and energy efficiency (34%) (see Figure 9). In addition, a digitalised company can more easily adapt its organisation to new market scenarios potentially also creating new business models (29%). This factor can be essential in a world where digitalisation is a driving force unseen before.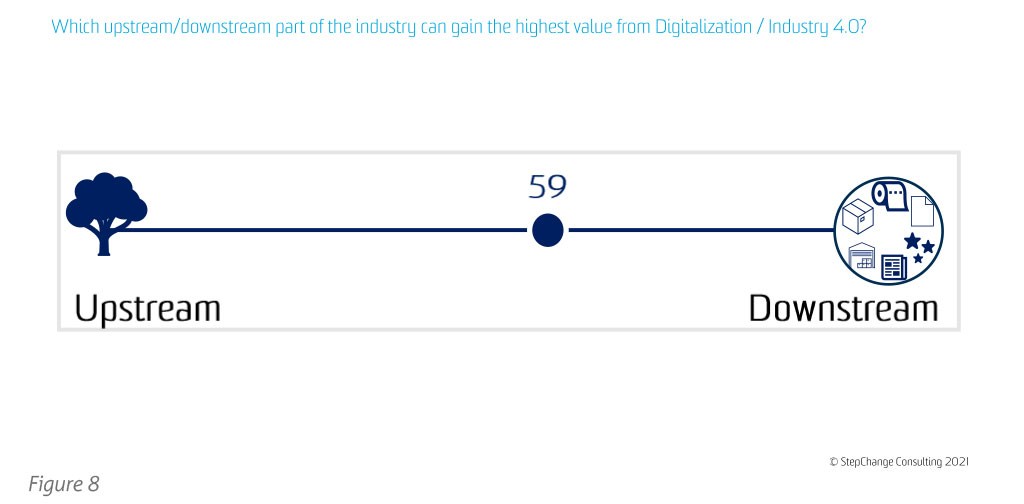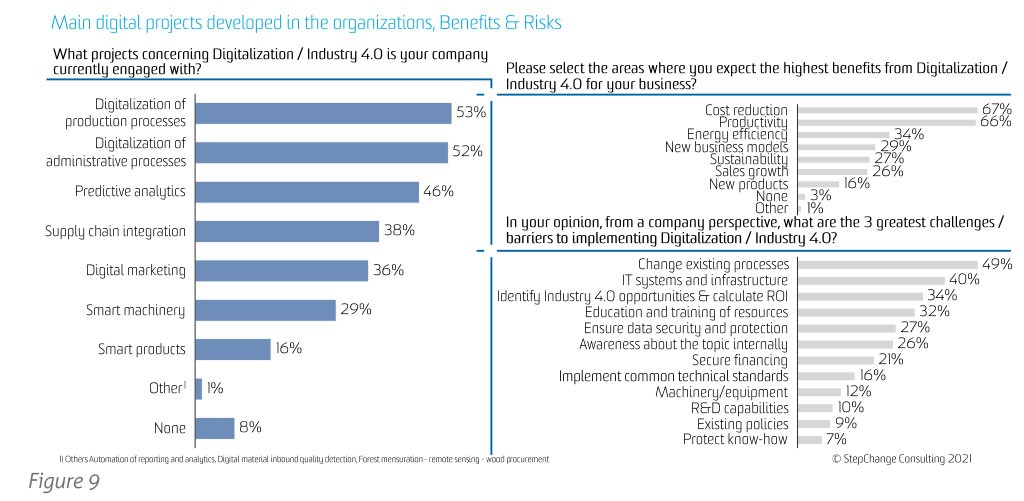 To obtain the benefits of digitalisation, companies are implementing numerous projects with digitalisation of production processes taking priority followed by predictive analytics.
Digitalisation of production processes (mentioned by 53% of respondents): an example in this area can be increased implementation of online monitoring and process control including condition monitoring including next level augmented asset assistance and documentation. Condition monitoring will further support preventive maintenance practices.
Digitalisation of administrative processes (52% of respondents): the digitalisation of the HR function is one of the examples regarding a multitude of administrative processes that can be simplified and made more efficient using a digital approach. It is possible to manage the complete employee lifecycle including performance and skill management, recruiting and onboarding and manage personnel administration while provide mobile and self-service capabilities (employee data, time management shift planning, performance feed-backs, etc.)
Predictive analytics (46% of respondents): a predictive analytics project can have many targets such as increasing ma-chine efficiencies (OEE) and process control, reducing varia-tions, raw materials consumption and paper breaks using online measurement data combined with artificial intelligence and data mining.
Naturally, there are barriers to every change effort. The three main barriers to digitalisation efforts ranked by the participants of the study are "changing the existing processes" (49%), "IT systems and infrastructure" (40%) and "identifying Industry 4.0 opportunities and calculating their ROI" (34%) – an area that is not as difficult to prove as it is often perceived.
Digitalisation will emphasise a process view as the benefits mostly stem from the interconnectivity of processes through connectivity of data. This stands in contrast to traditional functional or departmental structures of organisations. Additionally, digitalisation will require a new "digital" skillset of operational and technical personnel posing an understandable challenge to organisations. IT systems and architectures pose a challenge when outdated and not capable to handle the massive amounts of data that needs to be processed in Industry 4.0. Proving business cases may seem challenging but based on StepChange research, digitalisation can help to tap into next level productivity and cost improvements that have not been captured before totalling potential value improvements of 3-7%.
The Covid-19 crisis has been a game changer for many industries and this is also true for tissue. Those in the industry have a consensus view on an imminent future recovery, and further agree on the importance for companies to defend their profitability against numerous uncertainties related to both costs and revenues. To reach this goal, organisations are becoming more digital. Specifically for the tissue sector, a lot of progress has been made even in the past two years.
Based on the Covid pandemic, many companies have accelerated the digitalisation of their organisation to reduce costs, boost productivity and make it easier to adapt to unforeseeable changes.
While cost and productivity are still the main focus of existing digitalisation efforts, also the attractiveness of using a systematic and digital approach to grow customer insights is increasingly recognised.
As a manager from the tissue segment put it: "Identifying, uniting and using the customer information that is available in the different parts of our organisation really helps us to improve our offering to our customers and to maximise value for them and ourselves – and digitalisation finally provides a powerful opportunity to do just that".
Especially in the area of creating meaningful customer insights, processes have simply been very traditional despite leading edge technology available.
To further grow to digital maturity, it will remain crucial to follow a structured approach and identify the digitalisation potentials that generate real value. Once the best solutions are identified and prioritised according to long term value, the focus will need to be on implementation while taking employees and business partners along on the digital journey.