Latest developments at Södra's Mönsterås mill in Sweden target tissue makers favouring TCF pulp. The company talks to TWM about responding to customer demand for an equally bright but even more durable fibre
Ever since it was a pioneer of TCF (totally chlorine-free) bleaching in the 1990s, Södra Cell Mönsterås has been refining the process. TCF pulp might be quite rare, but it is still required by many tissue customers, particularly in Germany. As the company's marketing director Marcus Hellberg says: "If the customer's customer has a specific requirement, we have to do our best to meet it. And if that means an even stronger TCF pulp, that's what we will do."
A strategically-important investment at Mönsterås is aimed at providing just that: an equally bright but even stronger TCF pulp. Hellberg says: "In financial terms, the investment is relatively small but it is significant: the proportion of softwood pulp in the tissue mix is now typically smaller than it was a decade ago and so the characteristics of the remaining softwood are more important than ever."
While Mönsterås (the company's oldest mill, founded in 1958) will not see its output increase significantly during the current round of major investments, it will remain the largest of Södra's three mills in terms of capacity at 750,000tpy. A SEK 4 billion expansion will put Värö not far behind at 700,000tpy, increased from 425,000tpy, while the SEK 700 million invested at Mörrum will bring the latter up to 320,000tpy from 250,000tpy. Overall, TCF will still account for almost half of the company's pulp capacity in 2017 when the current projects have started up. Total pulp capacities will be approximately 815,000tpy for TCF and 915,000tpy for ECF (elemental chlorine-free).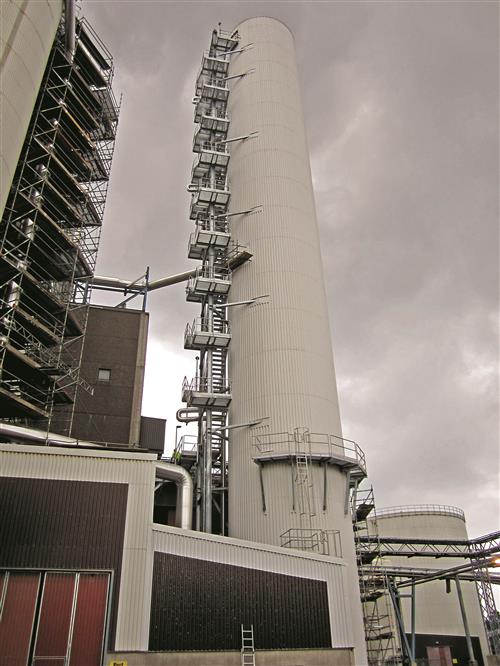 A gentler process
TCF is a more challenging process than ECF. However, Hellberg says the chlorine-free bleaching process adopted by Södra has proved to be somewhat gentler than that of its competitors. "Feedback from customers suggests that the TCF process Södra uses is less aggressive than others, so the pulp structure is less affected," he says.
In the latest development of the process, the project just completed at Mönsterås involved building an additional reactor for the PO (hydrogen peroxide) bleaching stage. This is the last brightening stage in TCF bleaching, and in this case Andritz was the supplier.
The company's Värö site also produces TCF and has managed to achieve the required brightness at a lower temperature without creating a bottleneck. Mönsterås' technical process manager Karin Dernegård says it is a very gentle, strength-preserving process, but without any process issues: "For tissue, and all paper grades, everybody wants high tear and tensile. The new reactor will improve both these critical parameters. The new PO stage, comprising an MC pump and a reactor, will also give us the opportunity to control variation even more effectively than before, and this will be good news for tissue makers."
"Feedback from customers suggests that the TCF process Södra uses is less aggressive than others, so the pulp structure is less affected"
Good for strength
Although the new PO reactor is up and running, its full potential will not be realised until a new wash press is installed by Valmet later this year, which Dernegård says will have positive implications for strength: "It will increase the reliability of the washing stage, reduce metals and allow us to get the full benefit of the bleaching improvements."
This latest investment at Mönsterås reiterates that Södra is committed to making the best quality TCF that it can through a process aimed at minimises chemical consumption, effluent load and energy and creating a high-quality bleached pulp with minimal environmental impact.
Mönsterås hopes that for the significant minority of tissue makers for whom it is important to claim a totally chlorine-free raw material, these developments will come as welcome news.