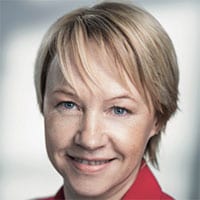 The Fray Bentos pulp mill started operations in 2007. Its annual production capacity is 1.3 million tonnes of eucalyptus pulp, which is shipped to customers mainly in Europe and Asia.
Since the launch of the mill, the product characteristics of UPM's eucalyptus pulp – UPM Euca – have been developed in close cooperation with customers. The mill's own eucalyptus laboratory analyses samples frequently and gives instant feedback on how fibres behave in the production process. UPM Euca is a very adaptable, general-purpose hardwood pulp that is easy to refine and suitable for a variety of paper grades. Its consistent quality is especially valued by tissue customers – for them UPM Euca pulp gives softness, smoothness, cleanliness and good brightness.
"Many of our tissue customers have been growing successfully while using UPM pulps. By us using a well-controlled mix of eucalyptus dunnii and grandis, UPM Euca has become an excellent choice for most of their tissue products," says Mats Backman, Director, Technical Customer Service and R&D.
"The new state-of-the-art pulp mill with the capacity to produce 2.1 million tonnes of UPM Euca pulp will enable us to supply more fibres that our customers really can trust, and what's more, to grow with both our current and new customers.
"Through this investment we can not only provide reliable deliveries and trouble-free operation but also want to work together in finding solutions for the market needs of today and tomorrow," he concludes.
This article was written for TWM by Sari Hörkkö, director, stakeholder relations, UPM Pulp.