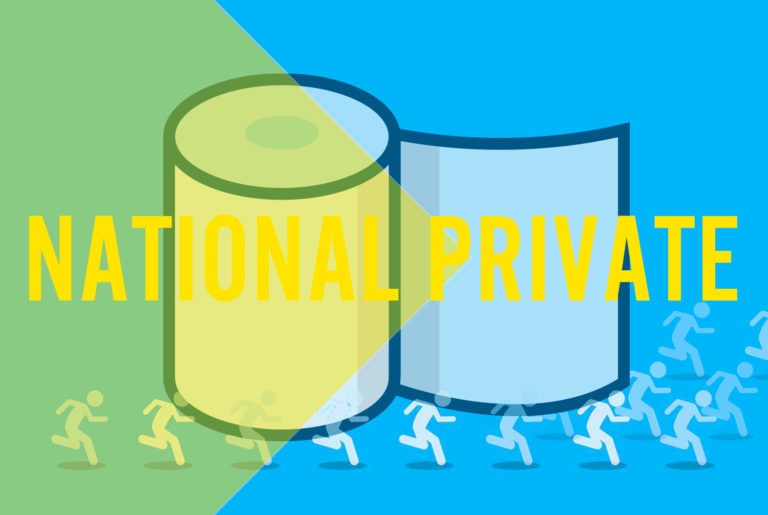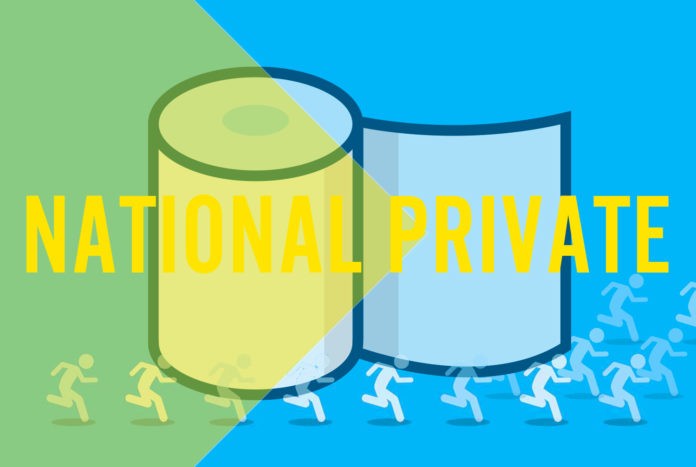 Private label tissue and discounting stores are on an apparently unstoppable rise in the US and around the world. Research conducted by the Tissue Pack Innovation Lab, North Carolina State University, USA, assesses how much hygiene plays an important part. A TWM report.
When consumers choose private label over national brands they are weighing a variety of preferences … price, marketing recognition, convenience and looks. A study has also revealed that the price consumers are prepared to pay for bath tissue and paper towels is highly correlated to how soft or absorbent the product is. Water absorbency was selected as the primary performance indicator. Overall, this feature is the main price driver for paper towels within the consumer tissue segment, the research claims. How other attributes of paper towels will influence the consumers' behaviour with the increased health issues arising from the Covid-19 pandemic is no doubt a subject for future study.
Researchers at the Tissue Pack Innovation Lab, North Carolina State University, looked at the reasons behind the rise of private label tissue products in the US. Particularly hygiene tissue products in the consumer segment, such as bath tissue and paper towels, which represent one of the articles with the highest impact on the sustained growth of private labels.
The success of private labels in consumer-packaged goods is attributed to their ability to offer the best trade-off between product performance and shelf price. Consumers perceive that private labels are reasonably priced for the performance offered, making them feel that they obtain higher value for their money.
However, the analysis questions: when national brands and private labels are compared on a performance basis in the context of hygiene tissue, which product
group truly offers the best value? Is the feeling of satisfaction experienced by consumers well-founded?
Tissue manufacturers strive to tailor their operations to maximize properties based on fibre selection, strength, chemical additives, and manufacturing technology. While structural properties are critical for the overall performance of a tissue product, consumers are prepared to pay a premium for improved absorbency or softness.
In general, national brands show a combination of high shelf prices and high performance, which is an agreement between what consumers are charged and the product they get, i.e., there is a dollar value on each gram of water absorbed.
When compared to national brands, private labels sold by retailers show inferior performance (14% lower) with a lower shelf price (23% lower). On the other hand, private labels sold by wholesale clubs behave differently to their competitors. Tissue products offered at wholesale clubs tend to be underpriced (41% less than national brands) related to the performance they offer (water absorbency only 5% below national brands).
They provide a trade-off, the research says, between performance and shelf price which aligns with the strategy of wholesale clubs where major profits come from subscriptions while they pass on the savings to subscribers. Bulk selling plays a role in pricing, which considerably decrease shelf price.
National brands are performance-driven, where high shelf prices are required to compensate for high R&D, expenses and manufacturing costs. Attributes such as brand name, promotion, distribution channel, and sales volume play a critical role in determining the final price. But at the same time the performance of private label is also increasing.
According to the research: "In the case of multinational retailers such as Walmart, which offer most of the US product portfolio, their products (store private label) need to outperform national brands directly on the shelf. In a practical sense, this means that consumers have the chance to stand in front of the shelf, stare at the whole market offering, and compare head-to-head the different products before making a final purchase decision. These circumstances force multinational retailers to have highly competitive prices and reasonable performance in order to win market share from their competitors. Otherwise, consumers will likely pick the traditional national brand."
Millennials' preferences, the growth in the number of retail stores, trade-off pricing, and bulk buying go a long way to explaining the phenomenon rise.
Research by: Franklin Zambrano, Antonio Suarez, Hasan Jameel, Richard Venditti, Ronalds Gonzalez. National Brands vs. Private Labels: An Analysis of Market Dynamics for Hygiene Tissue in the United States.
Tissue Pack Innovation Lab at North Carolina State University (www.go.ncsu.edu/tissue).
Private label: Market share facts
Hygiene tissue products such as bath tissue and paper towels have approximately 27% of the current tissue market share in the US, 55% in Europe and 35% worldwide.
Consumer-packaged goods growing at a CAGR of 2.5% since 2015 versus the 1% growth reported for national brands.
Compared to national brands, private labels sold by retailers show 14% lower performance with a 23% lower shelf price.
Private labels sold by wholesale clubs tend to be 41% lower priced compared to national brands, with water absorbency only 5% lower.
Millennials' general spending power – $600 billion each year in the US and projected to reach $1.4 trillion this year (30% of total retail sales) – is a major driver.
60% of Millennials prefer private labels – shopping carts contain 32% private labels compared to the 25% found in the average shopping cart.
They also force sales-volume mix – for example replacing napkins with paper towels as a more functional and multipurpose.
US discount grocery stores increased by 45% 2013 to 2018.
ALDI, with 2,500 stores estimated by the end of 2022, projected to become America's third largest supermarket chain behind Walmart and Kroger.