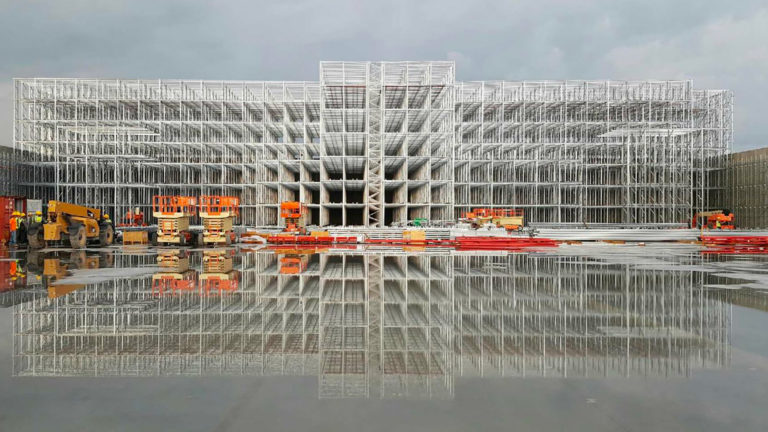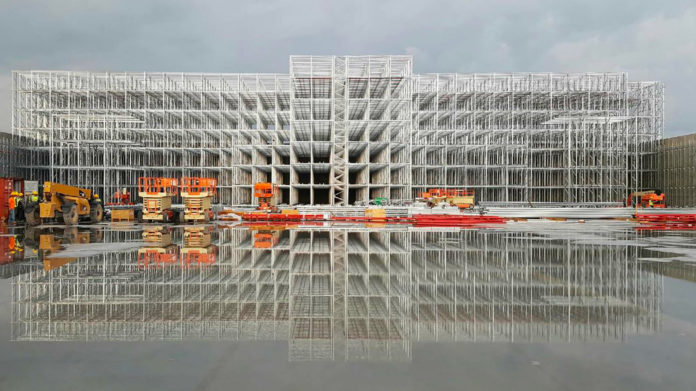 Producers and distributors face tough challenges responding to rapidly changing consumer demands in facilities and warehouses not designed to handle them. The one constant is that whatever is done today will change tomorrow. Report for TWM by William Nelson, president, Elettric80.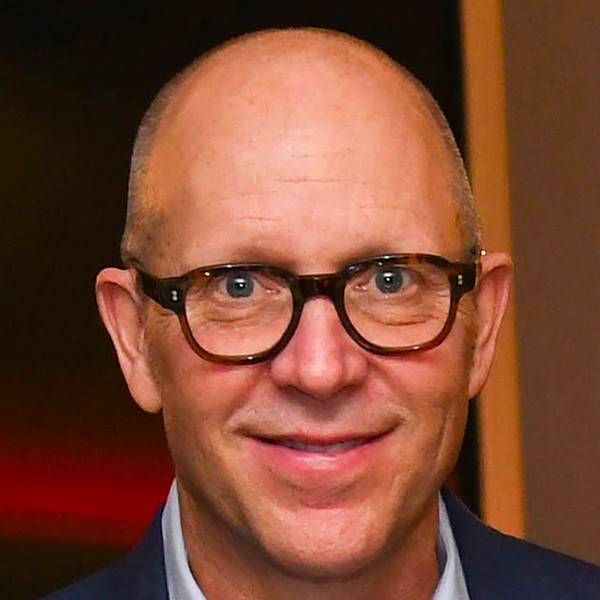 Who isn't facing daunting questions regarding the changing landscape of distribution? As economic fortunes have improved, conversely the distribution ecosystem has become ever more complex with tissue producers facing at least some of the following challenges:
Changing retail and AfH distribution channels and requirements
Increased labour costs
Scarcity of reliable entry and mid-levelemployees
Transport companies dictating who theywill serve based on a producer's "on-time" availability
Increased meteorological events causingdisruption of transport
Loss/waste due to quality and accuracydeficiencies of incoming and outgoinggoods
Product traceability requirements
Coordination of shipping needs and inventory availability
Sustainability, environmental concerns • Safety of workforce
The digital economy has added further to these challenges. We are truly living in a moment that is very rich in opportunities for companies that embrace the value created through efficient "distribution" of goods which for the purpose of this article we consider as both internal and external distribution. The premise of this article is to look at distribution through the lens of what is possible when applying integrated automation and smart software solutions.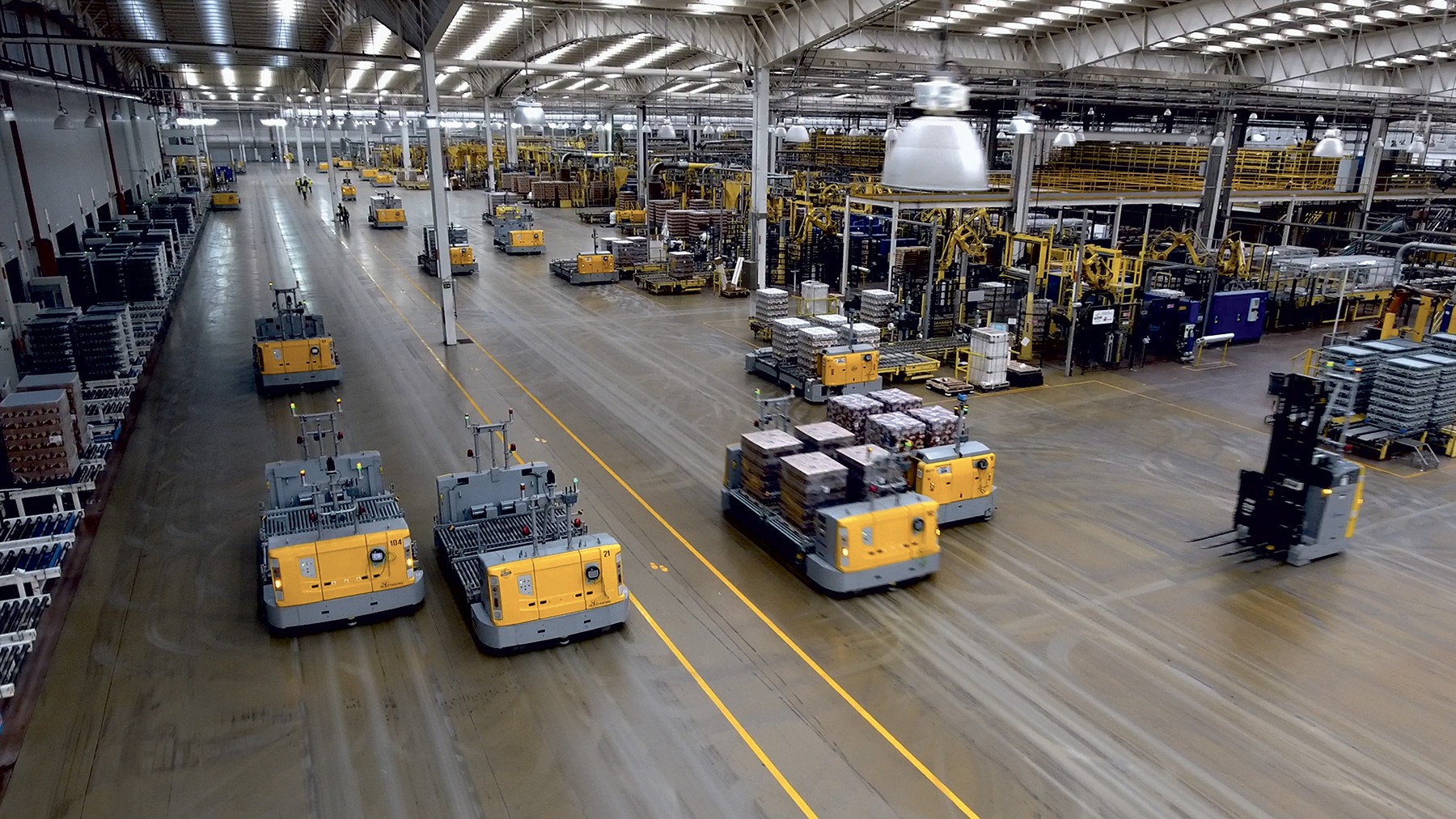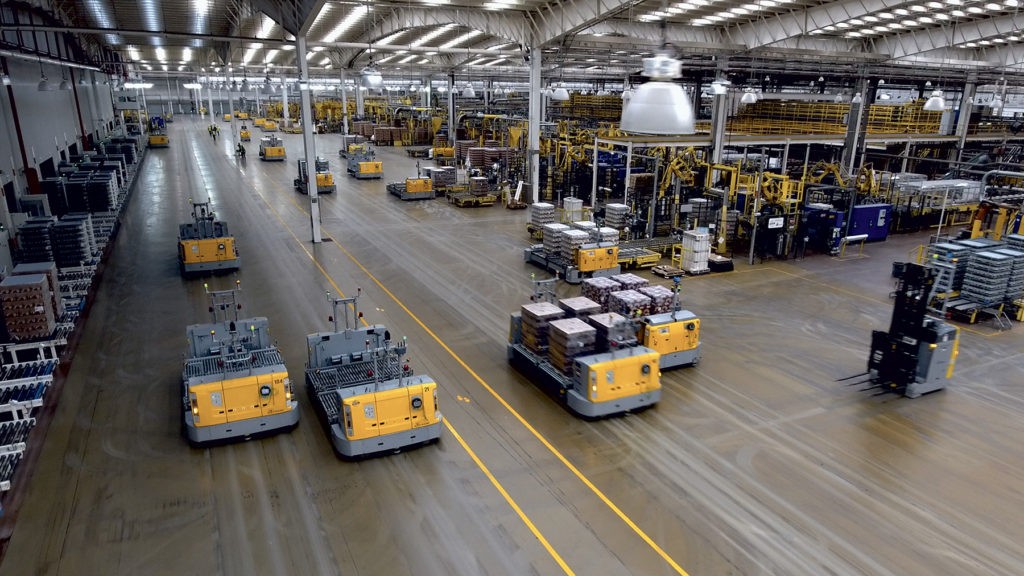 Considering opportunities in internal and external distribution
Internal distribution for our use herein is considered the movement of goods inside the four walls of your plant or goods movement from plant to plant (P-2-P), or plant to your distribution centres (DC), whereas external distribution is defined as the movement of goods from your production facility to final customer (P-2-C) or customer controlled DC (P-2-DC). Goods are defined as raw materials to make a product (parent rolls, glue totes, pulp bales, pallet stacks, KDF etc.), and finished goods produced inside your plant and shipped through a distribution network (finished pallets, unit loads, display pallets).
Internal distribution is one the most overlooked value generators as the calculus for automation normally hinges on headcount reduction which is usually limited due to the nature of the work being normally of low receptivity.
Nevertheless, the trend towards full automation of raw materials movements is providing strong returns with respect to reduction of waste and damage (example: parent roll waste reduction of ~1%-2%), production equipment uptime improvement through timely replenishment of raw materials, real-time raw material consumption and warehouse management assists in targeting waste and order points to reduce redundant inventories.
The reality today is that all functions related to raw materials movements have been automated, including unloading of raw materials from the truck trailer. Automation provides a smart feedback loop to the plant manager with respect to input materials that make the value-added products your consumers purchase.
The traditional domain of automation has been finished goods handling connected to a production site warehouse. Most of the work consisted of full pallet load shipments with relatively few SKU per truck load being shipped to a DC. Today, this world is evolving in directions that are yet to be fully understood. The one constant to consider is that whatever is done today will change tomorrow.
We are seeing the growing influence of consumers requesting more personalization of products thereby necessitating many multiple SKU trailer loads, mixed SKU on pallets, smaller formats…a literal plethora of options that production facilities and warehouses were not designed to handle.
The fall back strategy has been to ship single SKU pallets on single SKU trailers to a DC for mixing and rework. This is where things get really interesting: our work in the food and beverage industries, which usually trend ahead of tissue as far as consumer preferences is concerned, teaches us that the lines between a production site and a DC are becoming very blurry.
Add to the equation that every time a product is transferred P-2-P or plant to DC an extra layer of cost is implicated through multiple handling (costs), raw material waste due to re-packing (sustainability), product damage (customer satisfaction) and so forth. Factor in the higher labour rates and DC or 3PL and you end up with a volatile mix that is very hard to control.
Enter smart automation in the external DC environment
Whereas past paradigm stated that DC costs could not justify automation, a confluence of the factors stated above have generated a high demand for integrated automation solutions in distribution centres that include:
Automated unloading of finished goodsand raw materials from trailers
Put-away and retrieval from floor storage, racks and high-density storage systems at same site
Automated trailer loading
Layer picking systems with autoreplenishment
Case-picking for mixed pallet loads usingvoice picking software
Yard management software
Product traceability software
Transportation optimisation planningsoftware
Today, all of the functions of your typical distribution/mixing centres are orchestrated through automation. Planning and sequences of movements are made through a smart decision-making software that integrates all the operations of the DC into one virtual brain that assures timeliness, accuracy and consistency all while providing the operation's management with capabilities to manage output in real-time and forecast future demand requirements such as truck trailer arrival times.As we have seen in the food and beverage sectors, added-value generated through movement of a product mix customised to maximize the opportunity that what you produce and how you distribute it most closely matches what final customers want to buy; in other words, availability of your product in the format end-users want, where they want it and when is proving to be a winning bet.
Taking the DC to our production sites Imagine for a moment that your in-plant warehouse is managed so efficiently that you can reduce P-2-P and P-2-DC transfers. Likewise, think about all those products that get re-packed, all the materials thrown away. Both scenarios are realities we have learned to live with but neither enhance the value of your product.While most tissue producers have worked diligently to improve their production efficiency through replacement of older, more maintenance intensive, less flexible assets with newer state-of-the-art paper- making, converting and packaging,internal distribution networks have largely be exempt from any technological improvements and, in our estimation, offer the largest opportunity to improve final customer satisfaction while shaving off plenty of hidden costs that only become apparent once modernization has taken place.
Why not bring the functions of a DC inside your production warehouse? In fact, customers who have applied integrated automation and software solutions into their internal supply chains have realized benefits including:
• Improved on-time shipping
• Increased warehouse efficiency in terms of fill factor, saturation and accuracy • Decreased waste of raw materials, damages in warehouse
• Better employee engagement
• Stable, consistent material flows
• Better decision making
• Safer, less hectic work environment
Our travels around the developing world have taught us that we can do more with less. Think for a moment about regions that have gone direct from no phone to a cell phone, or from no centralised power grid to a power source in-situ. In both cases, suppliers were not subject to traditional constraints.
Neither did they pretend to blow up the existing regimes as we so often hear about our fables about "disruptors". Instead, we are talking about the application of consolidated technologies in an environment uninhibited by past conventions. The same is possible through the application of smart decision-making software and integrated into a plant hardware backbone.
Of course, there are logistics issues to consider – availability of product in a geographic location primarily – but erasing double handling, repacking and the like would certainly free up resources for a new distribution landscape where plants continue to produce efficiently high volume products that are mixed at the source with lower volume products brought from elsewhere.
Who's going to pay for this stuff?
Actually, economic benefits of the integration automation solutions vary from place to place, however it is not unusual to see returns on investments fully realised in 18-36 months based on simple savings generated through reduction of direct costs of operation.
Often times we are told that the factors cited in the paragraphs above turbocharge the economic returns, but most customers are reluctant to share the secrets as to what extent these "residual" benefits kick start overall operational efficiency and economic returns.
To a great degree, distribution is a low- hanging fruit that has been considered in a fragmented way. The production site is tasked with pumping out standard widgets at the highest rate possible while distribution is tasked with transforming what they are given into a unit of sale and getting to your customers as cheaply as possible. The question is no longer: Why is our distribution network set up this way? It's history, and maybe we don't really know for sure, unfortunately. And maybe we should not worry about it. What we do know is that once an automation culture takes hold, the positive results become the starting point for all future expectations.
ELETTRIC80 and BEMA
The tailor-made solutions developed by Elettric80 and BEMA ensure a significant improvement in factories and DC efficiency. Innovative technologies automate all material flow movements starting from inbound of packaging material all the way to automated trailer loading of finished goods.
The main systems produced by Elettric80 include palletizing robots, a wide range of automatic guided vehicles (LGVs/AGVs), high speed robotic stretch wrappers, pallet control systems, robotic labelers, layer picking and repacking solutions, and automated high-density warehouses (ASRS) with shuttles or cranes.
The entire flow is centrally managed from SM.I.LE80 software platform (Smart Integrated Logistics) which ensures a direct connection between production systems and optimizes all operations from raw material reception to warehousing and shipping. From our office in Chicago we also offer a complete range of customer service support, with 24/7 remote and on-site assistance.
As of today, Elettric80 has completed nearly 300 integrated factories in various parts of the world and installed over 2000 robotic systems and 4500 automatic laser-guided systems. This extraordinary growth can be attributed to valorization of people, investments in research and rapid adaptation to changing market needs.
This article was written for TWM by William Nelson, president, Elettric80.