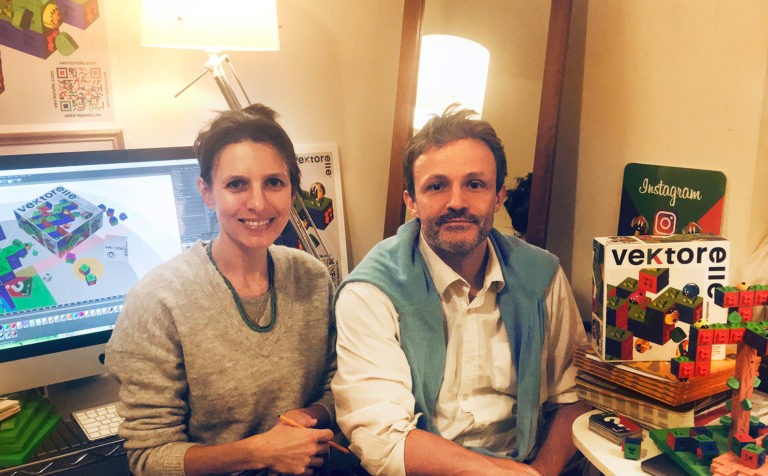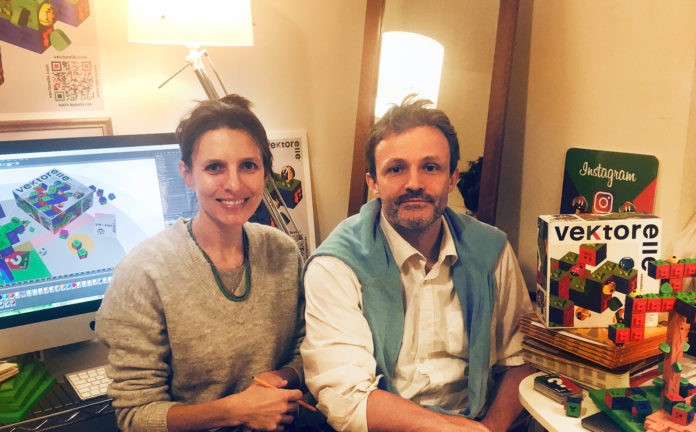 The multi-dimensional board and construction game Vektorelle® has advanced simple building blocks to new educational levels covering geometry, mathematics and Cartesian space. Here pioneering siblings Stefano and Eleonora Vuga, designer and teacher, explain their creative process.
What tissue products do you use the most in your home, work or for hobbies?
"We use kitchen-roll and tissue the most. As a designer and a teacher, we often need to use these products to sketch, draw and prototype; so, in just a little space, we have a pretty intensive and peculiar usage of tissue paper. Before our hand drawings are digitally processed they are made in graphite, black ink, watercolour, gouache, or dry chalkboards. Tissue towels become an indispensable ally in absence of reusable cloth or sponges to regulate the ink's load on the top of the pencil. Tissue allows a careful modulation of the pigment's amount. Carefully touching the tissue with the top of the wet pencil we reach just the right amount of colour needed.
"While drawing, tissue can also become a peculiar tool itself. It distributes, adjusts, augments or reduces, even creates special textures on the illustration surfaces. When we move to prototyping, tissue is a valid tool for machinery cleaning purposes, especially on the double steps of cleaning and drying the bed of the printing machine. The bed has to be extremely clean to avoid imperfection on the face of the printed object laying on the crystal surface. A first mechanical removal of residual plastics from the bed is followed by a second step of cleaning with solvents and tissue paper, and finally dried again with tissue. On the printed objects, tissue becomes useful to remove dust and small imperfections previously detached from the main volume with a scalpel, capturing all this residual material. We are talking of PLA, so a biocompatible material which allows us to collect and trowl the used tissue towels with the disposable paper. The good aspect of using tissue towels for this final object cleaning stage is that we can easily reuse the same towel for a very long time, reducing waste."
What's important for you when buying tissue products?
"Independent of whether it's a brand or private label, if we are not in a rush, we tend to look at aspects like material provenience, finished product provenience (Km related to carbon emission), or any other information on the packaging which can tell us about the actions the producer is taking in regards to the environment. It doesn't have to necessarily be something which comes with the product itself like pulp provenience, it can be an action taken in reforestation or NGOs; but we want to know that what we are buying is taking action about sustainability. For the usage, while sketching and hand drawing we tend to use generic/supermarket brand from Esselunga in Italy and El Corte Inglés in Spain. For prototyping usages on 3d printers and printed objects we use Scottex, which stays compact and maintains its shape without losing strength too quickly if wet with water or solvents. We do not stick to one brand or distribution channel. The nature of being environmentally-aware always moves our attention to the product in question. We want to constantly improve."
How do you buy the products?
"Amazon is a good recent discovery, as well as other local online-supermarkets, depending by the most convenient offer running at the moment of the purchase. Actually, this allows us to save time, especially for large consumption items as tissue paper, kitchen rolls, tissue and toilet paper are. And yes, it really helps buying in bulk online. It leaves in the past memories of complicated travels between the studio, or home, and the supermarket being overloaded with large bags. We always plan our monthly needs far in advance, so buying online came naturally."
What have you noticed about the availability of tissue products in your home country compared to when you've travelled abroad?
"We have to say that in terms of basic products, we find pretty much everything
in Europe and the USA and we have never travelled further. Naturally the largest packaging and products come from the American market, which win first prize in terms of variety of product formats and buying options. In the EU, and increasingly in Italy and Spain, we have noticed that there is an increased and consistent attention from producers and distributors regarding sustainability issues, which is great."
Do you spend more to buy higher-quality, environmentally-friendly products?
"Not only do we buy green but we think and create "green". All our work is attentive to sustainability. The paper of our books where possible is 100% FSC. For our latest project, Vektorelle, presented in the Poster Session MIT LINC 2019 Conference, we aim to go 100% FSC and probably bioplastic. We have also been invited by HP to visit its 3D Printing and Digital Manufacturing Centre of Excellence in Barcelona. We are working both on crowd-building and contacting companies interested in participating or licensing the toys. It is not easy to support the environmental sustainability of a project with such conviction. And yet it is done."