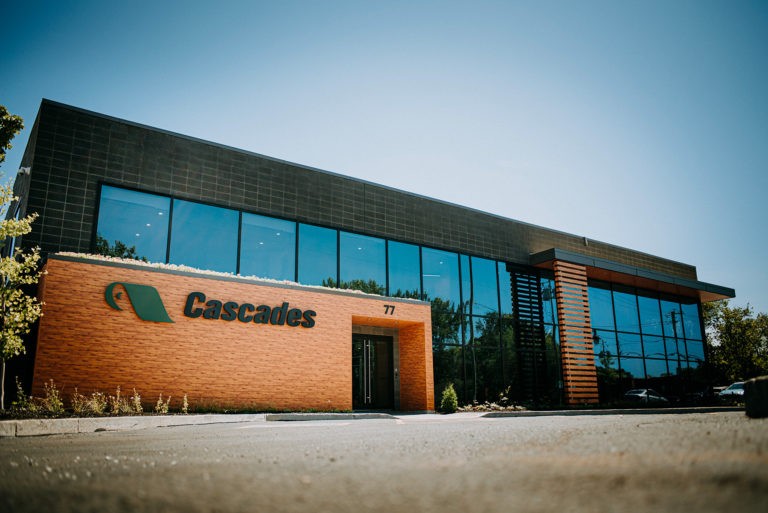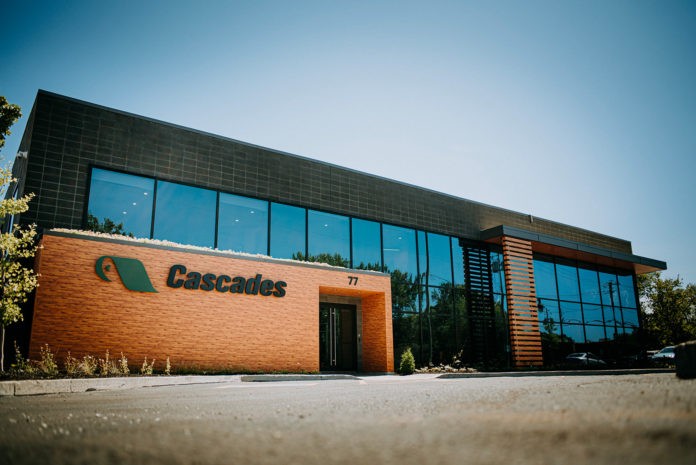 Like all tissue companies the easing of the pulp price crisis has been warmly welcomed. Like most, the Canadian green and private label leader focussed on productivity… creating a lean and efficient operation ready for the new baseline.
THE COMPANY'S MOST RECENT RESULTS AT THE TIME OF GOING TO PRINT REPORT "SOLID CONSOLIDATED THIRD QUARTER RESULTS IN 2019", ADDING THAT ITS TISSUE SEGMENT HAS DELIVERED "VERY ENCOURAGING YEAR-OVER-YEAR AND SEQUENTIAL FINANCIAL IMPROVEMENTS".
TWM first met Cascades Tissue Group in 2017 at the company's impressive Candiac site, a 15-minute drive from Montreal, Canada. At the time, it was the fifth largest tissue producer in North America and had recently undergone a substantial rebrand to evolve from a small company ethos into a new larger global tissue player. In 2018, it reported sales in Canada worth 31% of its total at CAN$419m, with 41% for branded products and 59% private label products, with 41% for the AfH market compared to 59% At-Home. In the USA, the remaining 69% of sales represented CAN$933m, with a market sector of 25% branded and 75% private label, and 51% AfH with 49% At-Home. Cascades Tissue Group also has a significant presence in the jumbo rolls open market, with CAN$150m of sales. The company's most recent results at the time of going to print report "solid consolidated third quarter results in 2019", adding that its tissue segment has delivered "very encouraging year-over-year and sequential financial improvements". The end of the decade has also seen Cascades be one of the very few North American tissue producers involved in merger and acquisition activity in the past few years. In November 2019, it acquired America's Orchids Paper Products Company for US$207m. The move significantly boosted its retail tissue offering across the region and also moved Cascades up to the fourth largest producer tissue producer in the North American tissue market. Cascades said at the time that the Orchids acquisition was a "low risk strategy to modernise Cascades' asset portfolio", as well as representing "compelling optimisation opportunities" for its tissue platform. In March 2019, Jean-David Tardif was announced as the president and chief operating officer of Cascades Tissue Group, succeeding Jean Jobin. Tardif first joined Cascades in 1997 and has worked successively for each of the company's three groups. Previously a mechanical engineer, he has also worked as vicepresident Consumer Products from 2013 to 2017. Since December 2017, he has held the position of vice-president, operations for the Cascades Containerboard Packaging division. TWM interviewed him for our Canada Country Report.
TWM/1: At the start of a new decade, what are your main plans for the year ahead?
"Our objectives during 2019 and now also in 2020 are to continue to improve our productivity. 2018 was a difficult year for all of the tissue industry and its producers. This was mainly due to the repeated increase in pulp prices. So in response to that, we will continue to focus on our productivity. We are putting ourselves in a strong position so that we can operate leanly and efficiently in the long-term, so we can continue to be the preferred choice for our customers.
"More immediately, my main plans for the role are to focus on the site's health and safety, improve efficiency of our plants and be more cost effective."


TWM/2: What changes are you seeing in terms of customer requirements for environmentally-friendly tissue products in Canada?
"We are definitely seeing the popularity of sustainable products coming back
in Canada. We had seen a decrease in sustainable products in North America
as there was a lot of extra tissue capacity coming on board.
"We are seeing more and more news about climate change, people are again becoming more conscious and wanting to buy green products for their homes. As a result, we are seeing a substantial increase in demand for these types of green products.
"We're also seeing a lot of attention on plastics, and the reduction of plastics in packaging.
"We were a pioneer in sustainable products 55 years ago. Even as recently as January 2019, Cascades Tissue Group was ranked 49th by Toronto-based Corporate Knights in its annual list of the Global 100 Most Sustainable Corporations in the World.
"We want to continue and elevate our environmental efforts even further."
TWM/3: How do you plan to grow in 2020?
"For now, our focus is on reorganising our assets in Canada and the USA. We are number one for private label in Canada, and the fourth largest overall in North America. We will continue to focus on our geographical footprint. We have 18 sites in total in North America and no current plans to expand our footprint outside of this region.
"Elsewhere, innovation has been and continues to be a big focus for us in terms of our growth strategy. In Canada, we are active in AfH and consumer products and we have refreshed our national brand and had great success with it here. We are also in the professional market which is showing lots of potential for us."
TWM/4: What's your presence in the Canadian market and do you plan to invest in new technologies?
"We have five sites in Quebec with six paper machines and a total of 30 converting lines. We also have great projects on the table. While we can't talk more about it
at this time, it is something that we have been working on and has been approved. It includes four new converting lines that will come on stream this year. They will be for private label and branded products."
TWM/5: How vital is the private label market in your growth strategy?
"We are the leaders in the private label market in Canada. Private label is more developed than it is in the USA market, but it is also under-developed in comparison to the European market, where some countries have as much as 50%-70% private label. Here it's 30-40% private label in Canada, so there is a lot of potential for us to develop it even further.
"We have a great relationship and partnership with the major retailers. We are working together to offer the consumers the right product at the right value."
TWM/6: How does the Canadian market compare to America's, and what potential do the two hold for you?
"US brands aren't very present in Canada because of the exchange rate, it's not favourable for them. However, for the Canadians in the USA, the rate is creating an opportunity for us.
"We are seeing more of a shift to ultra-premium products here, so there is a lot of opportunities for us. Sustainable products are also a small percentage of the production in Canada, but this market is growing and has a lot of opportunities. Our Canadian brand Fluff and Tuff are also very successful.
"The Canadian market is smaller compared to American opportunities. We don't see important growth for us in the mature Canadian territories, but all our Canadian based plants are making products for our US customers and we will continue to export in the future. We don't intend to grow our footprint outside of the North American market at this time."