When the Kazakhstan company first offered kitchen towels many years ago store buyers asked why they needed such wide toilet paper. It's come a long way since then. Greg Grishchenko reports.
In 1991, Kazakhstan's split from the collapsing Soviet Union held many opportunities for the country's tissue industry. With growing consumerism in one of the most steady and thriving countries in Central Asia, fully integrated tissue producer Karina Trading was quick to take advantage of the steadily emerging tissue market it found itself in.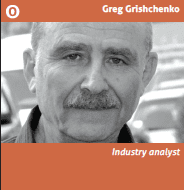 Based in Almaty, the largest city in Kazakhstan, over the past 17 years Karina Trading has provided its customers with an assorted line of tissue products that deliver an experience of modern life. The company employs 480 staff and manufactures 18,000tpy of 1 or 2-ply bathroom tissue, table napkins and paper towels under the brand names Karina, Belosnezhka, Almatynka, Narodnaya, Akva, Delfin and Abstraktsia using 100% virgin pulp and recovered fibre. The average sales growth rate for the last four years has been 11% per year.
General director Airas Gevorkyan showed TWM around the mill. Discussing how the business promotes new tissue products he says: "As you may see from retail statistics, current kitchen towel sales in Kazakhstan make about 7% of the total. However, the situation is improving and more middle class customers are getting accustomed to paper towels. I remember when we first offered kitchen towels to grocery stores many years ago, store buyers asked what the reason was for having such wide toilet paper."
Established in 1998, today Karina Trading is the leading domestic producer of tissue goods in the country with over 50% share of the retail market. It was awarded ISO 9001:2008 and ISO 14001:2005 certifications in 2012, integrating the procedures into day-to-day operation. It maintains nationwide distribution, delivering its products to any city in Kazakhstan free of charge thanks to its own fleet of tractors-trailers. It has 40 products at economy and standard price ranges, also offering low cost "coreless" toilet rolls that are produced without embossing and perforation in a natural "grey" colour. It doesn't make products for premium segments, which has a limited use for the majority of people in Kazakhstan.

 "When we first offered kitchen towels years ago, store buyers asked what the reason was for having such wide toilet paper." 

Airas Gevorkyan, Karina Trading general director
The company was founded by Karen Vardanyan and Agassi Zavaryan, investors with a vision for the emerging tissue goods market under the name "Karina", reflecting their Armenian roots. While the neighbouring Russian tissue industry was developing on the basis of a powerful and already existing papermaking industry, there was a void in the Kazakhstan tissue segment that attracted small converters turning jumbo rolls into badly labelled packs of toilet paper and table napkins.
It took three years to take Karina's finances from red to profitability. Along the way the company bought additional converting lines and began using TV and radio commercials, emphasising the importance of protecting the environment and the natural beauty of the country.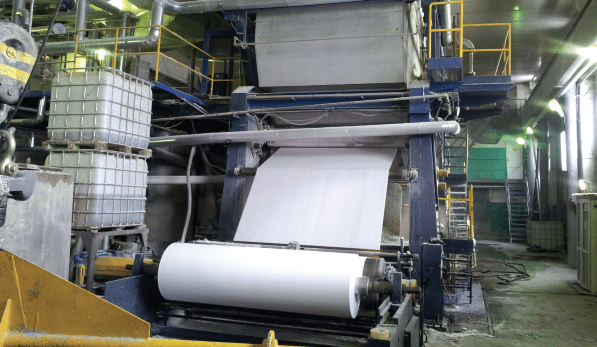 The major step in the company's development was made in 2000 with the acquisition of its own paper machine after Karina began facing difficulties procuring jumbo rolls from different sources and trying to increase productivity and improve the quality of a product. TM1 – supplied by XXXX – has a width of 1.7m and a 1.5m Yankee, which was built from parts acquired at liquidation sales from Italy to Russia. The machine still operates at 220m/min, producing 11tpd of 36-37g/m² tissue paper from recycled pulp.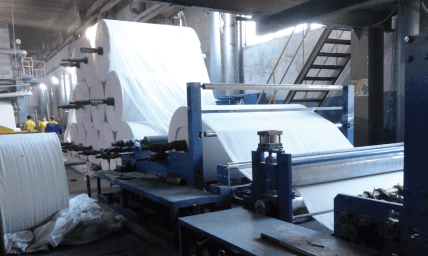 In 2004, Karina purchased a 2.3m working width former kraft paper machine of Italian origin on a loan from Alpha Bank, and used Italian contractors to refurbish its 3.6 m Yankee. The company also installed new stock preparation equipment by Czech supplier Papcel A.S. It took the record breaking time of 11 months (from stopping the running TM in Italy to start-up in Kazakhstan) to complete the TM2 project.
TM2 has been upgraded several times since 2004 with the replacement of wire, dewatering and steam box parts. After modernising the press part of the machine and introducing a new paper control system, TM2 was running at a production speed of 700m/min with up to 50tpd of 18-40g/m² white virgin or grey tissue from recycled pulp. After the latest upgrade performed in 2014 TM2 output reached to 60tpd.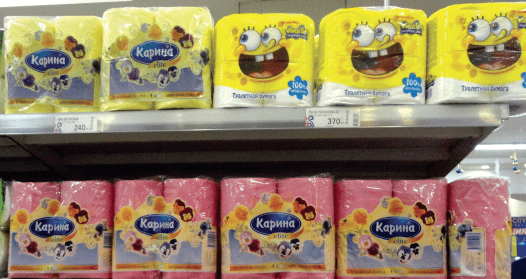 Over the past few months, Karina has increased converting capacity by upgrading existing lines or purchasing new ones. Currently it operates four modern automatic napkin lines TV-503 with multiple folding options and a three-colour printing module from Omet. Other converting lines include equipment from Casmatic, Multipack (Italy) and Baosuo Paper Machinery (China). In 2013, Karina installed an automatic packaging line by Integra (Ukraine) for its low cost coreless brands. Last year the company purchased two automating rewinding/packaging lines from Baosuo Paper Machinery for its toilet paper brands.
A competitive resources strategy means Karina is well placed for continued growth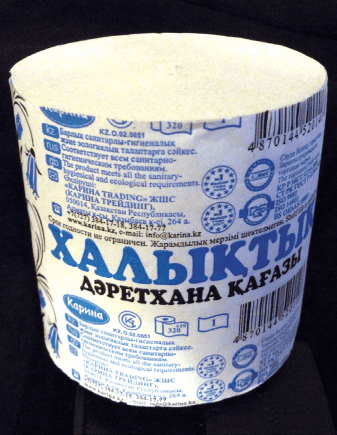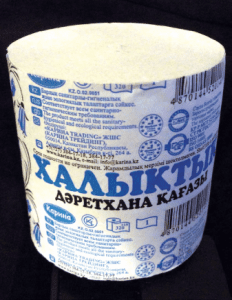 Low production costs give it a competitive advantage based on a procurement strategy assuring the lowest price pulp supply for both virgin and secondary fibre stock. Virgin pulp comes from Arkhangelsk Pulp Mill in Russia and is being purchased at the lowest possible price due to the Custom Union between Russia and Kazakhstan allowing free trade between two countries.
And waste paper supply is guaranteed by Karina's own collecting programme that includes its agreements with the country's major printing houses, company sponsored pick-up and in-house waste paper separation unit.