By Svetlana Uduslivaia, head of tissue & hygiene industry, Euromonitor International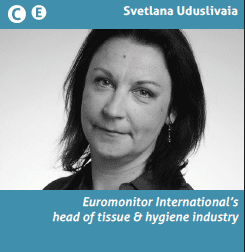 Although not as much in the spotlight as its larger neighbours Russia and China, Kazakhstan offers good opportunities for growth in consumer tissue. Generally a favourable environment to do business in and government efforts to encourage foreign investments have made the country a viable option for many international consumer tissue players. Furthermore, still falling well behind the developed markets in per capita tissue consumption, the Kazakh marketplace is far from saturated and provides ample opportunities for further market penetration and revenue growth.
In 2014, Kazakhstan saw healthy increases in retail and AfH tissue sales, with 4% rise in retail tissue volume and 5% rise in AfH volume. Rapid growth of the middle class, nearly universal household penetration of modern sanitation facilities in urban and rural areas and widening assortment of products facilitate consumer tissue adoption in homes. At the same time, dynamic business environment, evolving public and government facilities, and growth of horeca (hotels, restaurants and catering) provide a solid foundation for AfH tissue. Moreover, in both retail and AfH the demand is no longer limited to basic economy products. Kazakh consumers and businesses increasingly look for higher quality tissue, thereby adding to the industry's current and future revenue growth.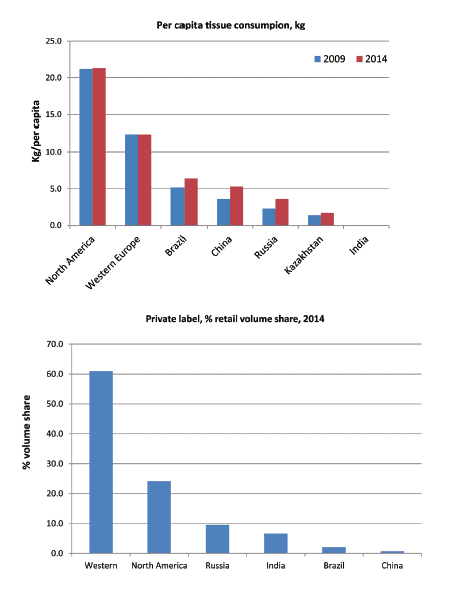 Evolving retail tissue
Toilet paper continues to dominate retail tissue in Kazakhstan, accounting for 86% of retail volume sales and 83% of retail value sales (US$, constant value, 2014 fixed exchange rate) in 2014. The category recorded retail volume growth of 3%, in the same year. Consumer adoption of toilet paper continues to rise across all consumer income segments. At the same time, kitchen towels, facial tissue and paper tableware remain significantly smaller, with demand still coming mainly from urban middle and upper income households. However, the three categories outpaced toilet paper in terms of value and volume growth in 2014.
Supporting the dynamic retail marketplace is the expanding assortment of brands and products available to Kazakh consumers, ranging from economy to premium. The former are typically offered by domestic and Russian manufacturers like Karina Trading or Bumazhnyj Zavod. In toilet paper, economy products are usually single-ply and are sold in individual rolls or 2-roll packs. Premium brands, however, are gaining popularity in urban areas. Premium toilet paper typically touts ultra-soft qualities, attractive designs and packaging. It is also available in scented varieties, such as chamomile or apricot. Premium toilet paper in Kazakhstan is represented by international brands like Zewa and Kleenex.
More sophisticated facial tissue products, such as scented pocket handkerchiefs, also see increase in popularity, opening up wider opportunities for value-added product marketing. Typical consumers of such tissues are women from middle and upper income groups, who appreciate the convenience of these products and can afford to pay for it.
Found mainly at modern urban retailers, kitchen towels nonetheless recorded 17% growth in volume in 2014. Kitchen towels are used by Kazakh consumers to wipe kitchen utensils, dry hands, clean up spills or to dry fruit and vegetables. In addition, they are used in bathrooms for cleaning purposes and during outdoor activities as a napkin or food wrap. However, many consumers continue to perceive kitchen towels as discretionary luxury, and traditional fabric alternatives are still widely preferred, especially in low income households and rural areas.
Napkins enjoy growing popularity among Kazakh consumers. They are used during celebrations at home and outdoor activities. Napkins are usually available in a 24x24cm square format and come in various colours. Seasonal napkins for Christmas, birthdays and other occasions, with different prints, are also gaining in popularity. However, similarly to kitchen towels and facial tissue, middle and higher income consumers still account for the majority of paper napkin purchases.
Dynamic AfH segment
Increasing disposable incomes and general stability in the country buoyed business activity and encouraged more AfH spending by Kazakh consumers. Additionally, the country has seen a steady influx of tourists, with 2014 recording 8% increase in inbound tourist arrivals. Burgeoning business infrastructure and tourism translate into more demand for AfH tissue, which saw a 5% increase in volume of sales in 2014.
Similarly to retail, toilet paper is the largest AfH category. In 2014, the category recorded volume growth of 5%, accounting for 86% of total AfH tissue volume. As the status of toilet paper is being increasingly elevated to an essential hygiene item, it is also being increasingly adopted by businesses and public facilities in cities and rural areas.
AfH paper towels accounted for 9% of volume sales within AfH tissue in 2014. Aside from growing adoption of kitchen towels as a convenient alternative to cloth towels, the category is also supported by the changing regulations. Thus, for instance, the legislation requires that medical institutions use only paper towels, instead of cloth or air-dry systems.
AfH paper tableware accounted for 6% of the overall AfH volume sales in 2014, with napkins accounting for most demand in this area. Steady rise in the number of foodservice outlets, especially modern chains, in Kazakhstan ensures widening customer base for paper tableware.
In Kazakhstan's AfH market international players often have an edge over domestic manufacturers, due to quality of tissue products. Modern urban trade and business centres, restaurants and hotels seek to offer the highest standards of quality and prefer to work with international companies such as Kimberly-Clark and Turkuaz Horeca Services.
Good prospects ahead for retail and AfH segments
With only 1.7 kg per capita in tissue consumption in 2014 compared to average 12.4 kg per capita in Western Europe and 21.3 kg in North America, Kazakhstan's consumer tissue market presents strong opportunities for further growth. Over 2014-2019, retail tissue sales in the country are projected to see an increase of 4% CAGR in volume terms, while AfH tissue volume is expected to grow by 5% CAGR.
Value growth is expected to see positive trend as well, as both consumers and AFH customers increasingly choose higher quality products. However, this is not to say that economy products will lose their relevance in the coming years. While Kazakhstan has seen a significant rise of the middle class, there remains a large proportion of the population in a lower income segment which is price sensitive. Developing a wide range of more affordable quality products should certainly remain on the industry agenda, especially for categories whose consumption is still limited to urban middle and upper income households, such as facial tissue and kitchen towels.
Advancing modern retail can also provide a platform for private label development, which can satisfy the need for inexpensive good quality products and stimulate household tissue consumption. Compared to North America and Western Europe and even BRIC countries, private label retail tissue remains negligible in Kazakhstan. This situation can open up a window of opportunity for domestic manufacturers with already solid presence in economy and standard tissue segments.
A number of local players are likely to increase their operations over the coming years in the country. However, to successfully compete with international players, domestic tissue makers require further investments into production facilities to improve quality of tissue supplied to retail and AfH markets.