Insight + Action founder Susan Cornish expands on her keynote speech at the TW Bangkok conference earlier this year to reveal the background to a surge in interest in sustainability impacting global paper packaging markets.
Paper Packaging: Design for sustainability
In 2022, the key trends affecting packaging can be summarised as follows:
Impacts of the pandemic and the rapid growth of e-commerce
Changing brand owner attitudes toward sustainability in packaging
Changing consumer attitudes toward sustainability.
Pandemic impacts on packaging
Changes up and down the supply chain have included:
Consumers avoided stores and shopped online. In a 2020 survey, two thirds agreed they "try to spend as little time in-store as possible".
Importance of the hygienic aspect of packaging increased.
'Connected packaging' emerged, where consumers learn about the product through digital sources, so there is no need to touch the product even if they go into a store to buy it.
Labour shortages and social distancing led to more automation in plants and warehousing.
In the USA: 'curbside pick-up' exploded and retailers added 'ship to store' delivery, which led to demand for smaller shipping boxes, and smaller packaging equipment to fit in store back rooms.
With more boxes to ship, e-commerce retailers focused on reducing empty space in the box and improving efficiency.
Supply chain problems grew exponentially, and are still with us.
Brand owners are committing to sustainable packaging
The industry is seeing more and more brand owners committing to sustainability. All of the 25 largest Consumer Packaged Goods (CPG) companies have goals to increase recycled content, minimise packaging, and develop reusable packaging. A full 80% are working toward fully recyclable packaging for all products by 2030.
Among the top five CPG companies*: Nestlé has targeted using 100% recyclable or reusable packaging and reducing its use of virgin plastics by 33% by 2025. Procter & Gamble aims to use 100% recyclable or reusable packaging and reduce virgin plastic in packaging by 50% by 2030. PepsiCo, Inc. says it will use 100% recyclable, compostable or biodegradable packaging and reduce use of virgin plastic for beverages by 35% by 2025. Unilever has said 100% of plastic packaging will be fully reusable, recyclable or compostable and the company will also increase its recycled content in plastic to 25% by 2025. Anheuser-Busch, InBev indicates that by 2025, 100% of products will be in packaging that is returnable or made from majority recycled content.
*Source: Consumer Brands Association, 2022.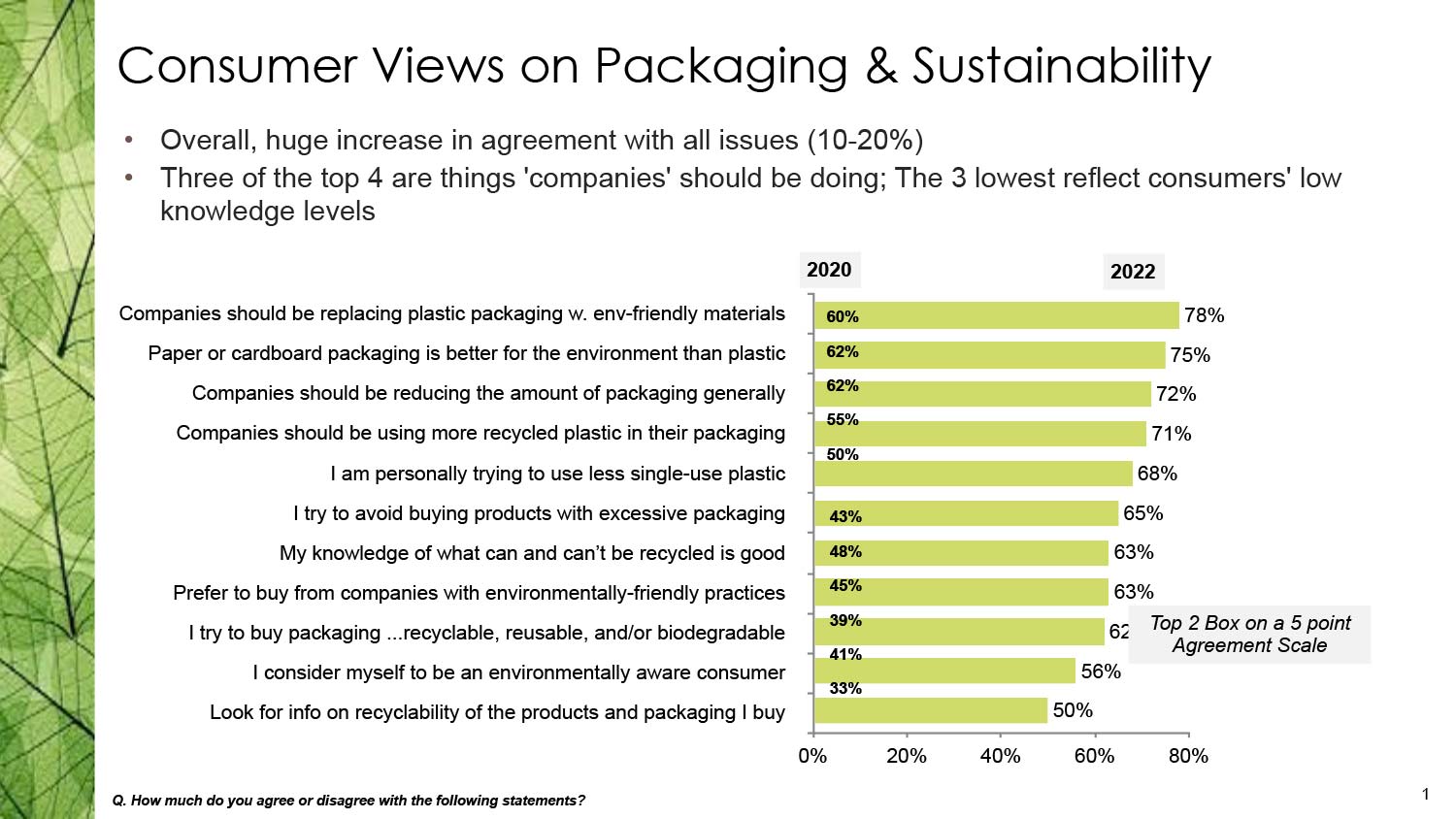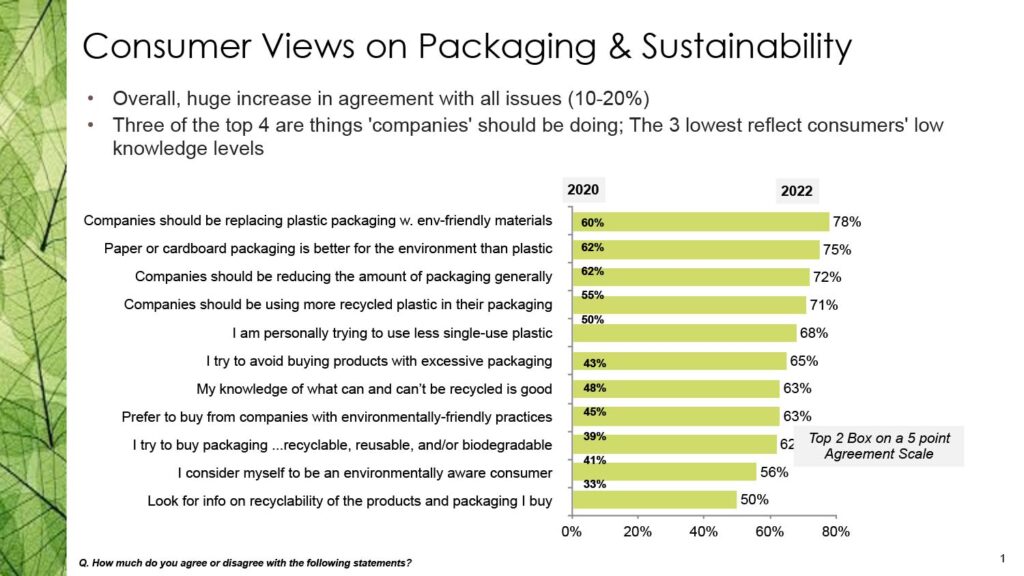 Consumer views on packaging and sustainability
In a 2022 survey done by Insight + Action, consumers' level of agreement with 11 sustainability attributes increased significantly (by 10-20%). Three of the top four attributes are things consumers expect 'companies' to be doing. The three attributes with the lowest agreement levels reflect consumers' low level of knowledge about recycling and the environment.
In Asia, consumers are even more concerned that packaging should be sustainable, and, crucially, they are willing to pay for sustainable packaging. There is also general agreement across countries on what is not sustainable, i.e. packaging that combines materials and aluminium foil wraps. Paper, glass, and plastic film made from renewable, compostable materials are considered the most sustainable types of packaging by most countries.
Consumer attitudes vs. behaviour: Does sustainability drive purchasing behaviour?
A 2022 survey by the International Food Information Council found that price is a more significant driver of food and beverage purchasing decisions than sustainability. For 68% global consumers, price is a key driver while for 39% sustainability is important.
Choosing between three products, from the most expensive to the most eco-friendly, 15% said they would purchase the most sustainable option; 46% would pick the mid-priced, somewhat eco-friendly option; 39% would select the lowest-priced, not very sustainable product. While consumers may 'talk the talk' when asked about attitudes toward sustainability, price, value, and product benefits such as taste (for food and beverage) still drive purchases.
With growing inflation, a key issue here is whether the market will see a slowdown or decline in the recent growth of interest in purchasing sustainable products and packaging.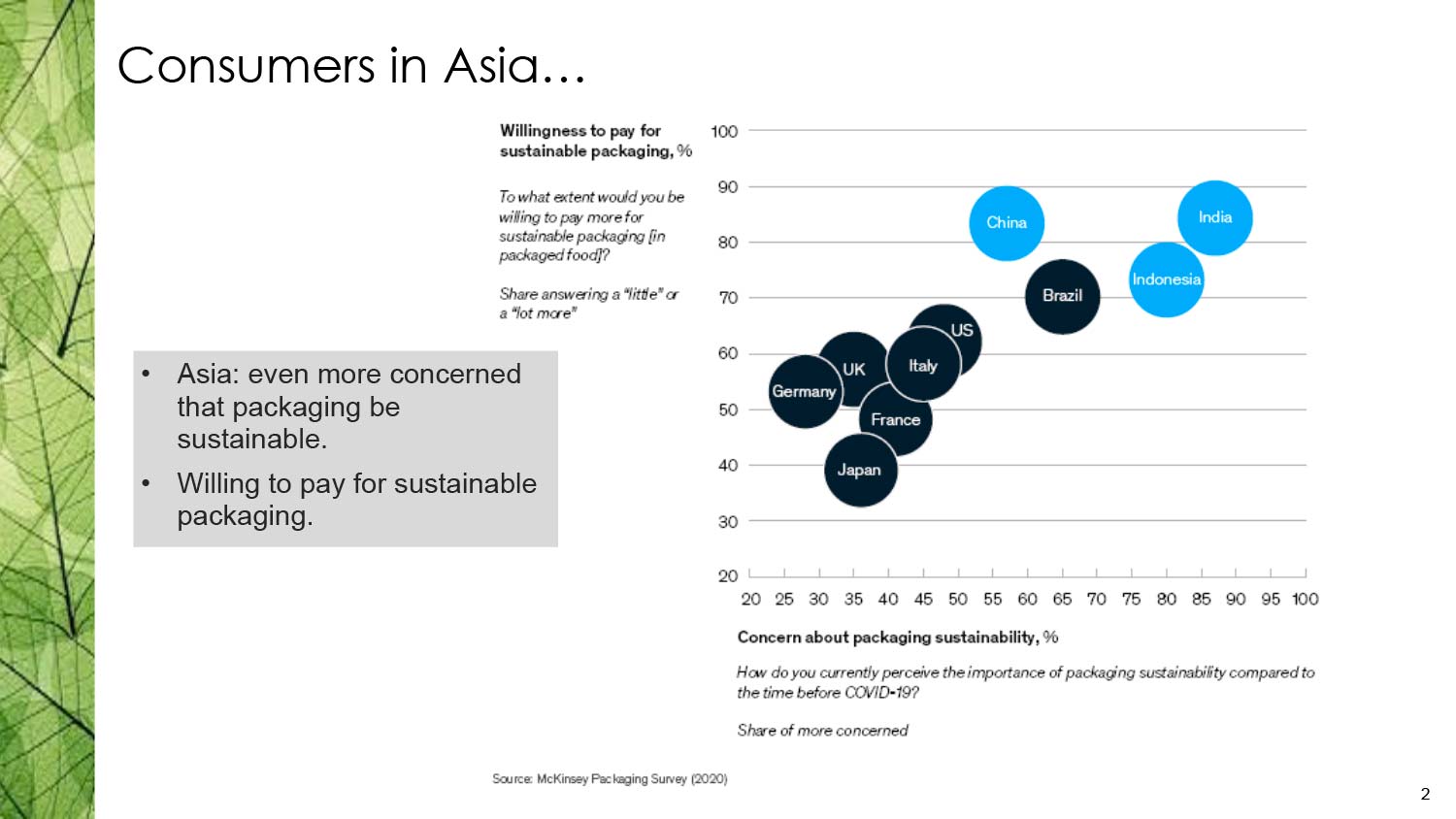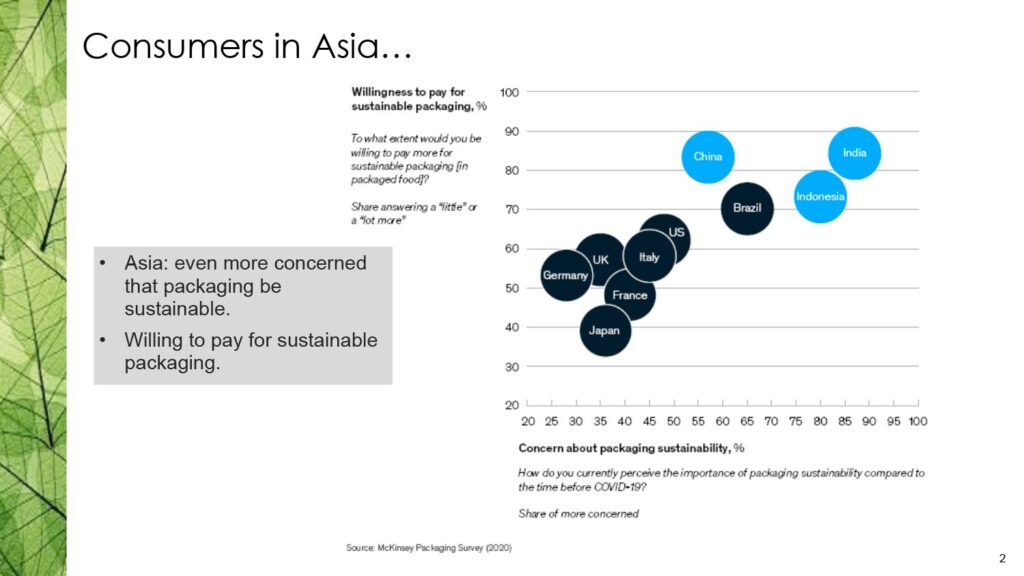 Industry implications of more paper packaging
Fisher International expects that virgin and recycled paperboard demand will increase significantly over the next five years as paper replaces plastic for food-grade packaging. Their estimate is that if 10% of plastic beverage cups were replaced with paper cups globally, this would require 588,000 tons (all tons here are US short tons) of cup stock, a 20% increase over the 2021 global capacity of 2.9m tons.
If 5% of plastic packaging was replaced with paper, this would consume 1.5m tons of paper. Paperboard capacity increases of 12m tons are expected globally over the next four years, but most of this (10 million tons) is outside of North America and Europe.
Key questions regarding a shift from plastic to paper packaging include:
How quickly will consumers shift to demand renewable packaging materials?
Is there sufficient fibre from sustainably-managed forests to support growth in pulp and paperboard?
Will alternative fibres like bamboo, bagasse, wheat straw contribute significantly to fibre supply?
If pulp demand increases, would pulp pricing increase so much that plastic replacement with fibre becomes cost-prohibitive?
Replacing plastic with paper: Product examples
Carlsberg is testing a fibre bottle for beer across eight countries in Europe. The packaging consists of a wood fibre outer shell and a plant-based, recyclable PEF (polyethylene furanoate), polymer liner. PEF has superior barrier properties and higher mechanical strength than conventional plastics.
A tequila produced in Mexico and being launched in Sweden, Buen Vato, has a container is 94% recycled paperboard and is lined with a metalised PET pouch. The label is printed on the paperboard so no additional labels needed. The primary motivation for the new bottle is to reduce weight and the carbon footprint of shipping across the Atlantic, and distributing across Europe.
In May 2022, Kraft Heinz announced the company is partnering to develop a paper-based, renewable, and recyclable bottle for its ketchup. While some paper bottle technologies use a plastic liner for barrierbottle is sprayed on the inside with a proprietary food-grade coating, customized to handle either oil- or aqueous-based products. The bottle is expected to be curbside-recyclable.
Conagra introduced several new brands of frozen dinners in 2020 that use plant-based fibre instead of plastic for the bowls. Its carbon footprint from manufacture of the bowls is reduced by 50% to 70% across select product lines and the expansion will help to decrease Conagra's carbon footprint by 34,117 metric tons.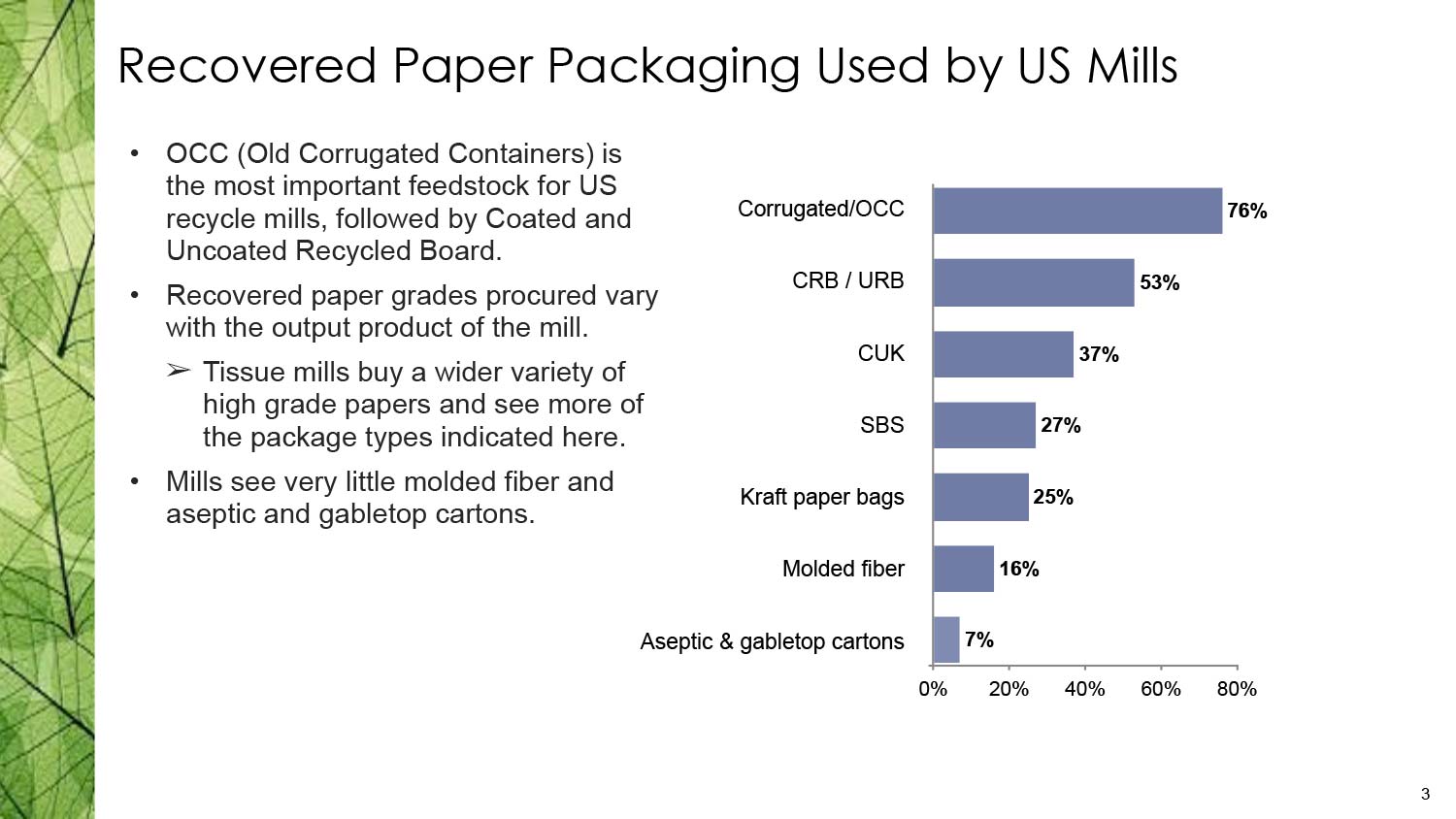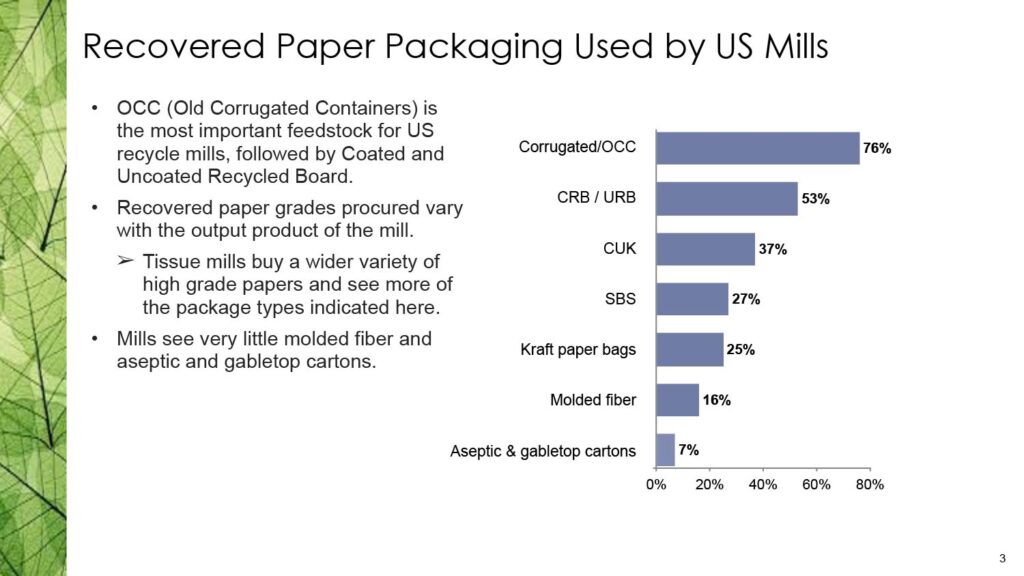 In 2022, Bumblebee launched new recyclable paperboard packaging for its multipack tuna cans to replace shrink wrap. The paperboard is made of 100% recycled material with at least 35% post-consumer content and is FSC-certified.
Molson Coors will invest $85m to eliminate plastic rings from Coors Light, switching to cardboard-wrap carriers instead. The switch will be extended to its entire North American portfolio by the end of 2025 and is expected to save 1.7m pounds of plastic waste annually.
In January 2021, Nestlé announced that its Smarties chocolate candy is moving to recyclable paper packaging, worldwide. For the package in Canada, a 'tough' paper grade is used, then overlaquered on the outside and with a water-based dispersion coating. Considerable testing was required in real world conditions, during transportation, on pallets in distribution centres, and on store shelves with consumers, to ensure the packaging would perform.
In Hong Kong, Nestlé is moving Kit Kat stick ice cream packaging from plastic to paper that will be 100% pure pulp, FSC-certified. This will reduce plastic consumption and boost recyclability and supports Nestlé's goal to achieve 100% recyclable or reusable product packaging by 2025 and reducing the use of virgin plastic by one-third.
Four of Procter & Gamble's (P&G) shampoo brands will offer shampoo and conditioner bars in a size equivalent to 500ml liquid bottles. This will contribute to P&G's goal of reducing virgin plastic use, and will remove the equivalent of 300 million plastic bottles on an annual basis. Ariel laundry detergent, a European Procter & Gamble brand, will offer its All-in-1 Pods in a recyclable cardboard-based box. If all Ariel users in Europe switched to the new box, up to 6,500 tons of plastic would be saved per year.
In 2018 Proctor & Gamble developed the Tide Eco-Box to replace the large plastic bottle which frequently was damaged in e-commerce transit. It contains 60% less plastic than the traditional rigid container. It has a plastic liner like a wine box, but is lighter and smaller, saving space in delivery trucks, lowering shipping costs, and improving sustainability.
US E-Commerce vs. Total Retail Sales Growth
In the US, e-commerce grew by 31.8% in 2020. A Google survey showed that in 2021, over 40m new internet users in South East Asia.
How does e-commerce affect packaging used in shipping? In the early days of e-commerce, brands would send products to the online retailer's warehouse in the same primary packaging the consumer would find at the store.
Packaging that was designed to catch the shopper's eye in-store would often not survive the warehouse and/or shipping. Traditional retail has five-six touchpoints between manufacturer and consumer, while e-commerce has 20-30 touchpoints which greatly increases the number of times the product will be dropped or crushed against other packages.
Consumers frequently 'bracket', which means they order five-six items knowing that one will be right and they can return the rest. 20-30% return rates are typical for e-commerce in comparison to 8-9% for in-store 'bricks and mortar' purchases
Shipping damage is a major issue and 20% percent of e-commerce product returns are due to shipping damage. A damaged product can result in loss of a customer and is why shippers 'over-box' on secondary packaging, to ensure the product is not damaged en route.
Strategies shippers use to optimise secondary packaging include:
Lightweighting – Focus on using lighter, thinner, stronger versions of all types of packaging for the product, primary, and secondary packaging.
Rightsizing – Of shipping box relative to the product, to reduce wasted space and dunnage.
Fit-to-Product Technology – Produces secondary packaging customized to exact size of product.
SIOC (ship-in-own-container) – Brands redesign product packaging so it can survive shipping without secondary packaging. Used first for large products.
For example, in North America and Europe, Amazon reduced outbound shipments in corrugated boxes from 73% to 36% of all items shipped from 2016 to 2022 (half year). Between 2016 and 2019 Amazon used 1.4 million fewer boxes, reduced packaging waste by 27%, and increased use of mailers from 27% to 47% of items shipped.
More paper, less plastic: is the paper packaging recyclable?
Old corrugated containers (OCC) is the most important feedstock for US recycle mills, followed by Coated and Uncoated Recycled Board. Recovered paper grades procured vary with the output product of the mill. Tissue mills buy a wider of high grade paper and use more different types of paper packaging. Mills see very little molded fibre or aseptic and refrigerated food and beverage gabletop cartons.
The desirability of each type of paper packaging is up for debate. From the mill's perspective, the least desirable packages are cartons, anything with food residue, and paper ice cream tubs. Most mills can handle frozen food boxes and cups to some degree, provided the volume is not too large.
A recent paperboard packaging council study found that 70% of frozen food cartons in North America are recyclable grades of uncoated board without coatings, wet strength, and other additives. Molded fibre protective/dunnage is acceptable to most mills.
US mills are split on their approach to change and increase tolerance of package types. Some say outright no, nothing really will change their perceptions. Others point out that while packaging with coatings, wet strength, etc. can be handled to a degree, doing so increases cost, slows production. Some mills/mill companies are more open to new package types. For some, new pulpers, and upgraded cleaning and screening systems are on the way and will help handle an increase in 'strong fibre' consumption, packaging that takes more time to break down.
A strategy to make Mixed Paper more palatable is to load it in with OCC (called a 'hard pack' mix) which makes new package types such as foodservice material easier to blend in.
Technological change at US recycle mills is more incremental than breakthrough. Many old stock preparation systems in Asia and North America could be upgraded. Europe has more continuously improved mill equipment, while the US has many batch pulpers with old style detrashing that could be upgraded to continuous systems.
There is increasing ability to process Mixed Paper, with better stock preparation systems in the US. There are many recent mill retrofits in the US, and most new mill projects will have stock prep systems that can handle Mixed Paper, with capability of handling a wider range of fibre-based packaging
There are still many opportunities for yield improvement and energy savings. More sophisticated quality measurement systems for recovered paper such as those being developed in Europe would be beneficial.
What brand owners should do: How to make paper packaging more recyclable
Based on recent survey research with mills:
Do not combine fibre-based packaging with other materials such as poly-coated, metals, and plastics of any types.
Avoid films, shrink wraps, coating, embossing, and wax.
Use a single layer, not multi-layer. Use paper labels on paper packaging.
---
Consumer research conducted by Insight + Action in in 2020 and 2022 assessed the importance of sustainable product attributes in the bath tissue category. The study determined that:
Overall, sustainable product attributes are not very important in the bath tissue category.
Only a small segment of consumers indicate that attributes such as "made from unbleached fibre", "made from sustainably managed forests", "made from recycled fibre", "packaged in paper not plastic", and "no core/tube is used" are important to them when they purchase bath tissue.
Good value, soft, and strong are still the product attributes that drive the category.
However, trial of recycled brands increased from 2020 to 2022 as did the percentage of consumers who are willing to try tissue made from alternative fibres such as bamboo, wheat straw, eucalyptus, or bagasse.
Based on the significant increase in bath tissue buyers' agreement with broader sustainability attitudes from 2020 to 2022, we expect the 'green' segment in this category to continue to grow.
---