Italian tissue giant Sofidel has officially opened its $400m, 280-acre plant in Circleville, Ohio… one of the most technologically and environmentally-advanced paper plants in the world and Sofidel's largest worldwide to-date. Sofidel CEO Luigi Lazzareschi (pictured below) and Simone Capuano, project manager of Circleville, talked to TWM senior editor Helen Morris.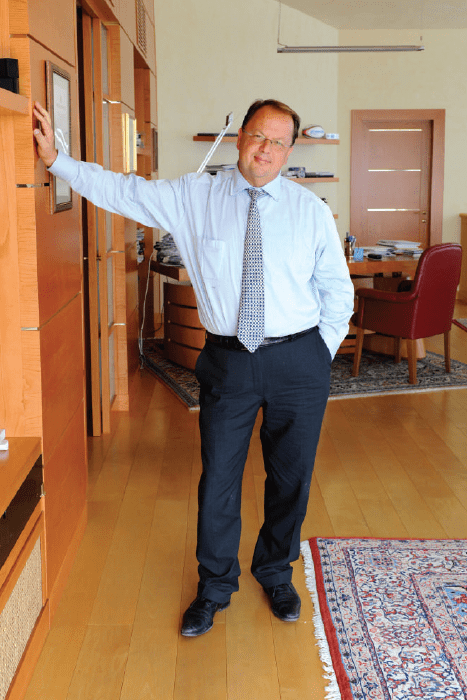 Circleville's TM1 started up in June 2018. How do you win US business with a new plant, can you explain about the pricing needed to win new business?
Lazzareschi: "In general, our customers are buying from us because of the quality and price of our products. Today, our plants and assets in the USA are more technologically advanced than those available in the US tissue sector. All the machinery we house here at this site is newer and bigger than average.
"If you have new equipment, new assets, you have two things: state-of-the-art quality, and a lower operating cost. It affords us to be big in terms of dimension, as well as having the best technology."
Circleville's second NTT machine (TM2) will start up here in November … there's also plenty of space for additional machines?
Lazzareschi: "Eventually there's space for three more machines here in Circleville. At the moment, there are other priorities … during 2018 we have ramped-up the two TMs here, a TM in Spain, and a new TM in Poland was also started-up at the end of 2017.
"There are a couple of other areas in the USA where we have room for growth, and relatively soon the group will need to invest in a TAD machine. That may very well be here.
"We also plan to make a similar investment at our new site in Inola, Oklahoma, only the output will  be a little bit lower. The total capacity here will be 140,000 tonnes and in Inola 120,000 tonnes. The layout of the buildings will be very similar, the square footage will also be 1.8 million sq ft."
What will the split be for Afh and retail consumer products production here at Circleville in a year's time? 
Lazzareschi: "AfH will still represent the majority of our sales. It is growing, but the growth in private label retail and consumer product is growing faster, so theoretically on a long-term basis we should be more balanced and be arriving at a point where the production for AfH represents about 30-35% while the rest is for retail."
You'll eventually have 700 staff in Circleville, how many staff had paper industry experience?
Capuano: "Most of the people here are coming from industrial jobs. A couple of companies here closed recently, so we have been quite lucky.
"It can be difficult to train people but we have found people already within the paper industry. This is also an area that already has some paper producers, not necessarily tissue but in other paper grades.
"Also it's very important that there is a good university – Miami University – so we have hired students coming in their engineering department from there. Out of the six plants we have in the USA today, we are very satisfied with the people we've found here in Circleville. They have good potential to grow, not just here but elsewhere at our other plants."
Lazzareschi: "We were looking for a site in America that could eventually
accommodate 700 people. In the USA, you have to be big, you can't have a small operation like you can in Europe. In the USA, you also have just a few –  but very big – customers.
"Private label will become more and more important and you can't produce a lot of private label in a small plant.
"If you want to produce private label and serve all of the country's customer with their private label needs, you would be better to have just one plant with many machines. That way you can be very efficient because you can have a dedicated machine for each customer.
"So it's a compromise: operational cost and logistics. We believe at least today that between eight and 10 large operations in the USA would be sufficient, while in Europe we have 27.  In Europe, each country has a different customer structure, different products."
Will this plant ship products anywhere in the USA, or are you focused locally?
Lazzareschi: "Among our competitors, we are currently one of only a few who can cover almost all of the USA's private label market needs. The only area in which we are having some logistical problems is the North West. That area has seen some tissue mill closures, three or so large plants there which have closed down.
"That area was almost empty, and now it's emptier, so a lot of products will be coming from east of The Rockies to that part of the USA.
"At the same time, an important aspect is that that part of the USA was served by China and Asia, so I imagine some of the closures there in the recent past have been due to imports from that region.
"Now with the import tax duties, I imagine that some who have made closures may think of remaining there because with an import tax duty of 25%, I doubt a lot of Chinese will come to the West and face that.
"And that's in addition to the depreciation in the Chinese currency, which has significantly devalued. The Chinese players still have to buy pulp, and pulp is bought in dollars. So while they may have some advantages in the cost of their labour or in their energy, and probably in transportation, the main cost – pulp – is still nominated in dollars. So I don't believe we will see much paper in the USA coming from China.
"This will help investments like Circleville. I believe 300,000 tonnes of tissue paper is coming into the USA from China today. That's five/six machines, so three plants like this Circleville one. I believe this will help the American tissue industry's economical situation.
"Pulp prices have increases of up to 60%. The industry has not been able to recover that sort of price increase, so I imagine if there is going to be a bit of shortage, or a decrease in the supply of tissue products on the market, it will be easier for the sector and the industry to succeed in their request for price rises."
Will pulp prices start to drop in 2019? 
Lazzareschi: "I have the impression that pulp prices will stay high the next couple of years. Even though I imagine most of the pulp producers understand that they have already pushed a lot, even too much … so at the same time they are afraid that the price may drop. This high price of pulp is pushing pulp  producers to increase production, so the bottle-necking … if they can do it, they are going to do it.
"There are so many projects today for pulp production, but there is going to be newer huge pulp capacity that will come in the market, but probably not for three years yet. We will see the larger volumes of new pulp capacity come on stream in 2021, 2020."
Are European producers shipping into the USA, driven by these high pulp prices?
Lazzareschi: "Anything can happen, even in a short period of time. For example, China forbids imports of recycled paper. That has been a very strong change. And it affects pulp prices too because those there that were producing with very bad quality in China they are producing with better recycled paper, and those who were producing better recycled paper are now producing with pulp.
"So the demand of pulp in China has also increased because of that ban. Recycled paper prices generally have also dropped. But what if China decides to start importing recycled paper again?
"We're going to see a big increase in the price of recycled paper, and maybe that will affect the price of pulp. Probably it won't decrease, but it might be difficult if China is going to start to buy recycled paper, pulp prices could continue to increase again. Anything could happen."
Is TM1 at capacity?
Lazzareschi:  "The ramp up has been very good."
In Europe, tissue mills such as P&G and GP have left the market in the past few years. What does the future hold for Sofidel in terms of your growth in America and Europe?
Lazzareschi: "P&G didn't have much success in Europe, they didn't succeed with TAD products. In Europe TAD isn't appreciated as much as it is here. For GP, I wouldn't want to speculate on their reasons for leaving.
"For Sofidel, here in the USA it will be double digit growth whilst in Europe it will be single digit. In general, still in the USA we have to look for new sites for the medium to long-term… it's not about making it happen tomorrow morning. We need to look for new sites and eventually an acquisition. In Europe, no more. We are already covering Europe well, so the strategy there is just to increase capacity where we already have a presence. So no new greenfield plants or acquisition in Europe. Although – never say never."
Would any potential acquisition by Sofidel in America be private label?
Lazzareschi: "Yes. The group is quite large, but we are not large enough to launch our own brand, or even to make an acquisition of a brand. There are some brands for sale but the brands here for sale are very big so you can't consider a potential acquisition of a good brand.
"So the strategy for Sofidel is to remain in the PL sector for many years here before developing a brand. We have to have much better coverage of the USA before that. If you launch a brand in Florida, you have to be able to cover the whole nation. And today we still have some empty spots."
Is purchasing Orchids a possibility?
Lazzareschi: "No, because we already have a site located close to there. So today it wouldn't make sense to acquire in Oklahoma."
With the NTT machines you have here, how do they compared with the TAD lines run by other tissue manufacturers in America? 
Lazzareschi: "With the NTT technology we are producing products that are something in-between conventional tissue and TAD. The big difference is the energy cost is much closer to conventional tissue than to TAD.
"In theory, you have a similar product, but produced at a much lower cost and with greater energy efficiencies than with TAD."
And less material costs?
Lazzareschi: "It's a possibility. Structured paper can eventually save fibres. Chemical costs will be higher in NTT than a conventional paper machine."
For converting, you currently have 10 converting lines planned for this site?
Lazzareschi: "They're for rolled products, but we also have a folding machine, one for folded towel, and another line for producing facial tissue. Soon we will also have a napkin machine. We will be producing all possible quality range of tissue products."
Do you expect other European tissue mills to come into the USA? 
Lazzareschi: "There are several medium-sized producers that are looking carefully in this market. One has already  installed an office in Chicago. I believe they are looking at the opportunities here.
"It also depends which customers will grow because some European customers have big plans to grow in the USA, and the European producers often then follow them. So they may join the expansion of the customer into the USA. There are also some smaller producers looking at niche products, for example facial tissue.
"Usually our competitors – especially the European ones – closely follow what Sofidel does. So they are studying and looking … if Sofidel did it, they are then asking why. Our competitors are speaking a lot about our investment and
I believe an investment like Circleville will really change the way tissue mills are producing in the USA.
"The market has been very concentrated and in the hands of just a few big tissue players producing branded products, and so there hasn't been much investment in new technology in the USA because they dominated the market.
"However, now the American private label market is growing very, very quickly, and it is very competitive. I believe there will soon be a big push by the tissue manufacturers to renew their assets. So our investment here has made a fortune for the machinery producers… probably not for us, but for them at least!"