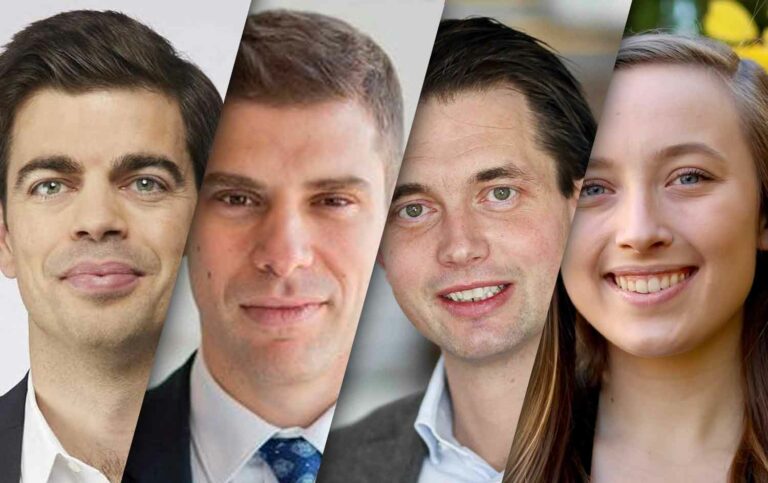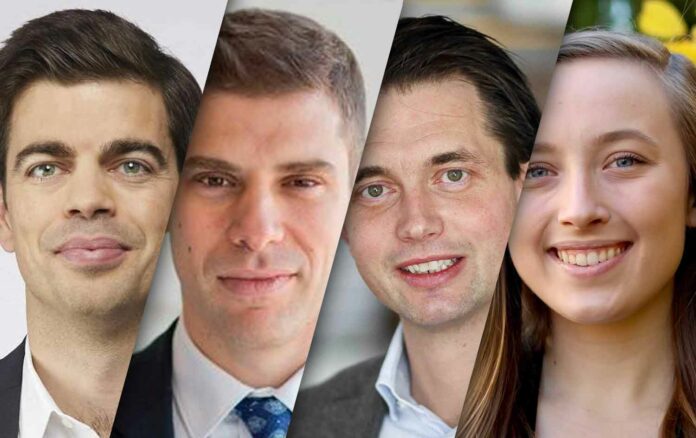 As we start to emerge from Covid-19, many aspects of people's lives are being transformed. McKinsey & Company's Oskar Lingqvist, Gregory Vainberg, Daniel Nordigarden and Emily Roeper discuss how ways to serve customers are changing fundamentally, and what this means for tissue companies in the post-pandemic world.
Covid-19 resulted in a shock to consumer demand that sets it apart from past downturns because of the speed and scale of the decline. The pandemic has had a dramatic impact on global consumer behaviour across many areas of life that goes beyond the well-documented switch to remote work, virtual learning, telemedicine, and the associated significant reduction in travel. We are seeing a real shift in purchasing behaviours in the context of digital engagement and brand loyalty:
• Step-change increase in online shopping. In the US, online spending has seen unprecedent growth with a 35% year-on-year rise over the 12 months to January 2021 (via credit and debit card spend). In particular, online shopping for groceries has increased more than 40%, driving strong acceleration of e-commerce shipments. This trend is the same in all major countries.
• Shift from brand loyalty to value. Three quarters of Americans claim to have changed their shopping behaviour since Covid-19 began; of these, around 40% say they have switched brands. A similar pattern has been recorded in Europe with 27% of consumers having tried new brands since the onset of the pandemic and with over 80% intending to stick with the change. In both regions, value is the main driver for switching.
These far-reaching changes have taken place at a never-before-seen speed equivalent to a "decade of change in days". Moreover, these behavioural shifts have been reflected in tissue demand and increased volatility with a dramatic shift from AfH to At-Home consumption, along with intensified price sensitivity and an expansion in online shopping for both AfH and consumer tissue. The question now becomes: what behavioural changes will stick and how should tissue players seek to accommodate consumer needs in the post-pandemic period?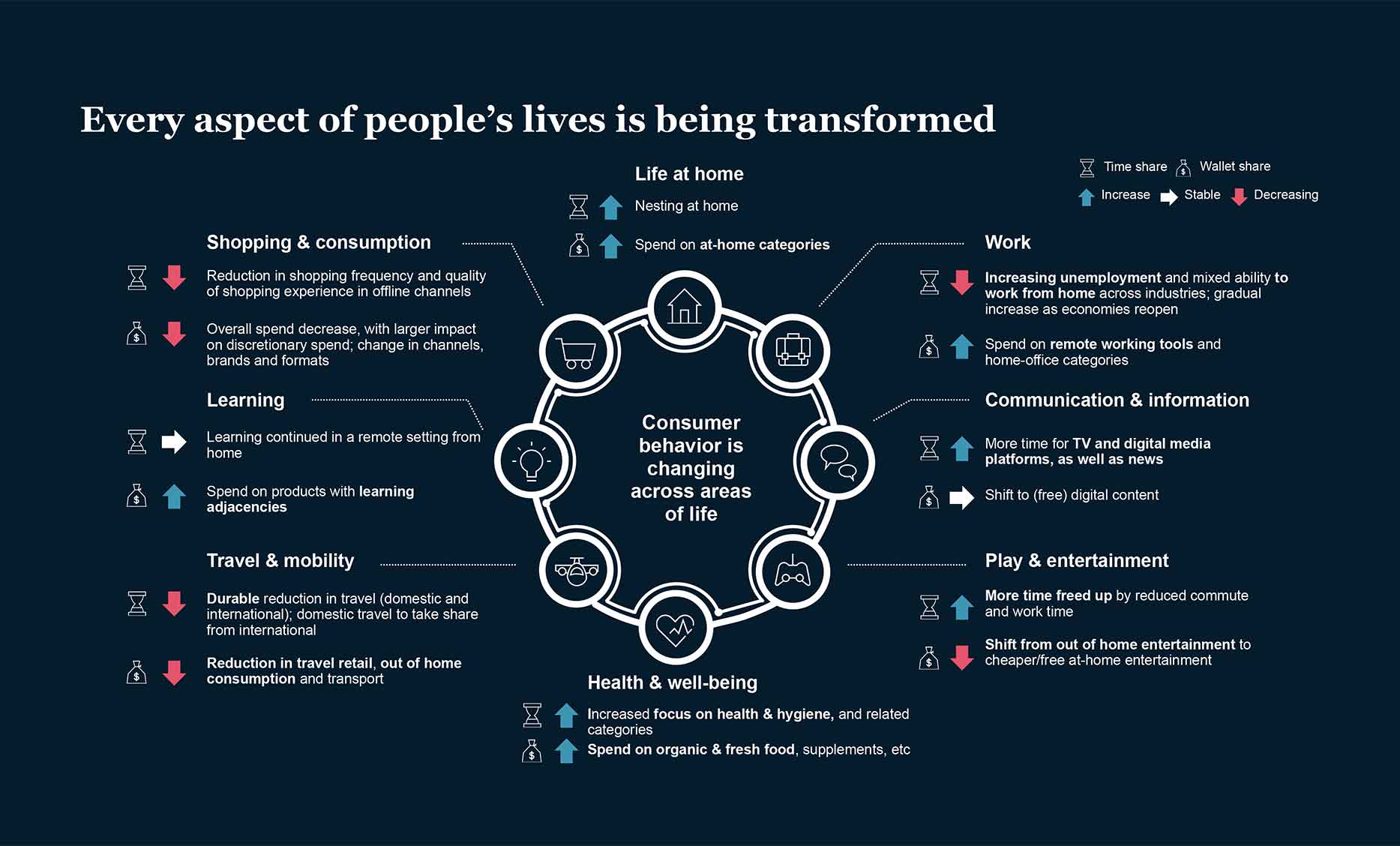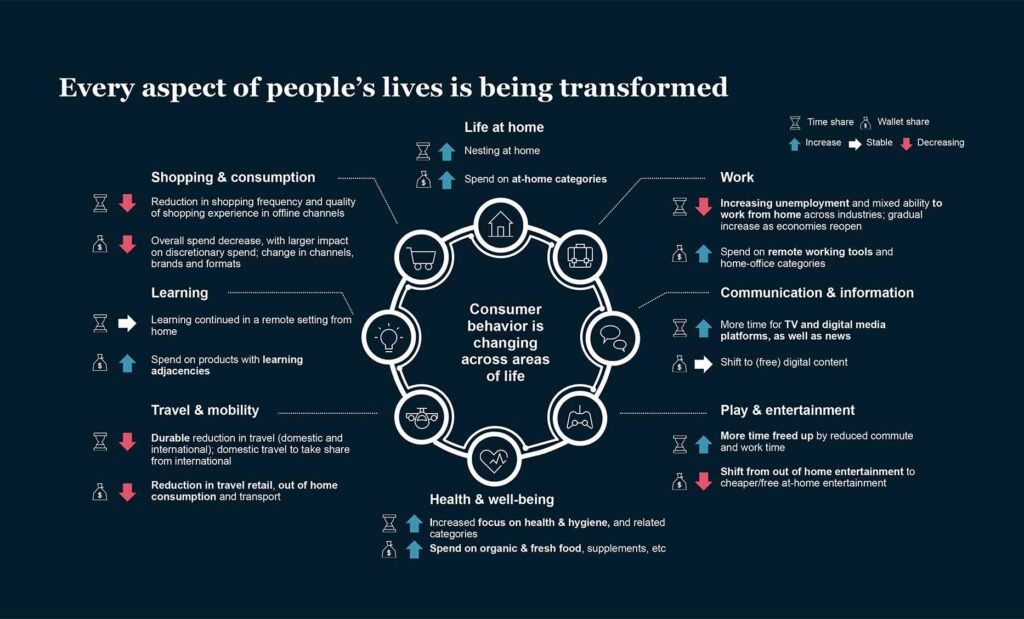 Changing consumer behaviour in a post-pandemic world
As we begin to emerge from the pandemic, with a recovery in spend spurred by increased consumer optimism, we are seeing behaviour trends that first appeared during lockdown combine with the acceleration of some pre-existing trends—especially when it comes to digital "stickiness" (Exhibit 1 – above).
Three significant trends in consumer behaviour are likely to be most significant for the global tissue industry:
• Online shopping shift with a value focus. The pandemic has accelerated the adoption of online shopping across segments, notably in groceries. This behaviour is expected to retain a high degree of "stickiness" post-pandemic. The consequences of this behaviour shift mean there will be fewer opportunities for in-person engagement as fewer purchases are made in-store and reduced "touch and feel". We do expect the increased shopping-basket spend (that is, spend on each shopping occasion) to decline compared with the Covid-19 period. Additionally, consumer behaviour typified by trading down to lower-priced brands and a reduction in overall discretionary spend is likely to persist in the post-pandemic world. The value focus of consumer is expected to further fuel private label tissue demand and need for lower cost products. Online will impact pack sizes but also areas such as making sure the tissue products can be shipped directly in its own packaging with no need of secondary packaging (i.e., ship-ready packaging).
• Health and well-being growing in importance. Consumer health and conscious-living trends are real, and likely to accelerate beyond the pandemic, with two implications that could have a direct impact on tissue consumption and type of products demanded. First, an increased focus on food safety and hygiene is driving general higher consumption of tissue products (e.g., higher demand for bath and towel tissue). Second, consumers are increasingly concerned about the environmental impact, and also have expectations regarding the circularity of the products they buy, including tissue products. In particular, Gen Z and millennial consumers cite "purpose" and increasing preference for quality and organic products as key reasons to change their shopping behaviour.
• Life at home versus travel and mobility. As the pandemic led many consumers to home-based remote working or distance learning, a new phenomenon emerged recasting the home as the new coffee shop, restaurant, and entertainment venue. This trend saw consumers spending more on home improvements plus a surge in all things digital: for example, online shopping, streaming movies versus visiting the cinema, and purchasing fitness apps instead of going to the gym. For the tissue sector, the direct consequence is of course the strong shift from AfH consumption to At-Home consumption during lockdown. As the market readjusts to a more normal state with a return to leisure travel, in-person dining, and education, some of this disruption will fade. Nevertheless, the new trend of home nesting is likely to stick, continuing to bolster At-Home demand. That said, how persistent this trend will be remains to be seen, and it will be influenced by employer policies. The question is whether 'Away-from-Home' will ever return to pre-pandemic levels.
Implications for tissue companies
To successfully manage through an immediate future characterized by changing consumer behaviour, we see implications for the tissue industry across four areas:
• Focus on cost reduction and value. Tissue players need to further enhance productivity; the Next Normal will require tissue companies to be even fitter, flatter, and faster. This is in order to make sure their organisations are more flexible, responsive and entrepreneurial. Core capabilities should include the ability to manage agile sprints, in order to accelerate innovation, to develop next-generation design, to use data and analytics to improve operating performance, and to build intelligent, resilient supply chains. These skills and processes will be required to safeguard value in relation to pricing and inflation adjustments.
• Drive for sustainability. Consumers are demanding that retailers and brand owners become more focused on creating and supporting sustainable products. As a consequence, tissue players will need to think about their entire footprint, including supply chain, production with usage of recycled materials, and packaging.
• Look to strengthen customer relationships to maintain shelf space. With new consumer groups changing brands based on their personal values, it will be important to anchor tissue brand-building activity around being relevance-led, while ensuring that the operating model is geared towards being close to local customers. Doing so by taking a data-driven marketing approach and working closely with key customers will help to drive further awareness within current and future markets.
• Develop new partnerships. With the emergence of e-commerce and changing customer preferences it will be vital for tissue players to address what partners they need—in particular, how to work with the large e-commerce retailers as consumers move online and how to balance this demand with potential direct-to-consumer sales and marketing.
Three strategic questions
To get started and be prepared for the Next Normal of consumer behaviour, we suggest three strategic questions that tissue players need to ask:
1. How will we address market growth opportunities post-Covid-19? With high stickiness of online shopping behaviour among consumers, it will be important for tissue companies to address this key trend and adapt their product offering accordingly (for example, with optimised pack sizes and ship-ready packaging). Other growth areas will also be available given the health and wellness trend, brand-changing behaviour, and consumer focus on sustainability. At the same time, companies should consider how to pursue higher-growth markets in developing regions.
2. What channel/go-to-market changes do we need in order to succeed? Will the importance of retail decline and will e-commerce become the new norm, or should a true omnichannel go-to-market model be considered? Here, it is important to think through all aspects of how to reach the market (including direct-to-consumer) and how to partner with retailers and emerging e-retailers to meet their ambitions for private-label tissue sales.
3. What changes are needed to our organisation and capabilities in order to capture growth and value? To pursue growth and value-creating opportunities in market, tissue manufacturers will need to be much faster and more agile with product innovation and their supply-chain setup. This could also include a different go-to-market setup typically structured along geographies and/or large retail customers.
Tissue companies have the possibility both to capture new growth and create value in the Next Normal, given changes in the consumer-goods model. However, to succeed they will need a proactive attitude to addressing changing consumer behaviour, combined with the right strategic approach toward customers.
This article was written for TWM by McKinsey & Company's Oskar Lingqvist, a senior partner in Stockholm, Gregory Vainberg, a senior partner in Montreal, Daniel Nordigården, a partner in Detroit, and Emily Roeper, an Analyst in Waltham.