By Tissue World magazine editor Helen Morris
After closures and a sharp market re-focus, global coloured tissue leader Duni's SEK110m investment has brought its 5% mature market growth target into sight. Helen Morris journeys passed elk, lakes and forests to Skåpafors, Sweden.
Rexcell Tissue & Airlaid's managing director Stefan Åbom uses the words "fun" and "work" in the same sentence at least three times during our interview at the Skåpafors, Sweden-base site. He greets TWM warmly and proceeds to elaborate on just how the business has got to a stage where it can now combine the two. His comments aren't to be taken lightly. Rexcell, a wholly-owned subsidiary of Duni and a leading global manufacturer of professional and consumer table top products, is now solely focused on the manufacture of tissue and airlaid material, and is only just starting to reap the benefits of a series of structural changes and business realignments. The last few years have seen it re-focus its market strategy with research into consumer habits, and coupled with changing economic conditions it has meant that Rexcell has changed substantially in recent years. Located in the Bengtsfors Municipality in Västra Götaland county, the remote location is set amongst beautiful lakes popular amongst tourists and locals alike. The 30-minute drive from the nearest local train station takes TWM past mile after mile of elk and stunning forest to get to the site, which was originally established as a pulp and paper mill in 1874. It is as historic as it is modern; a SEK110m investment in TissueLev technology was made in 2016 to upgrade its two tissue machines, resulting in new and innovative tissue product launches that are on the cards.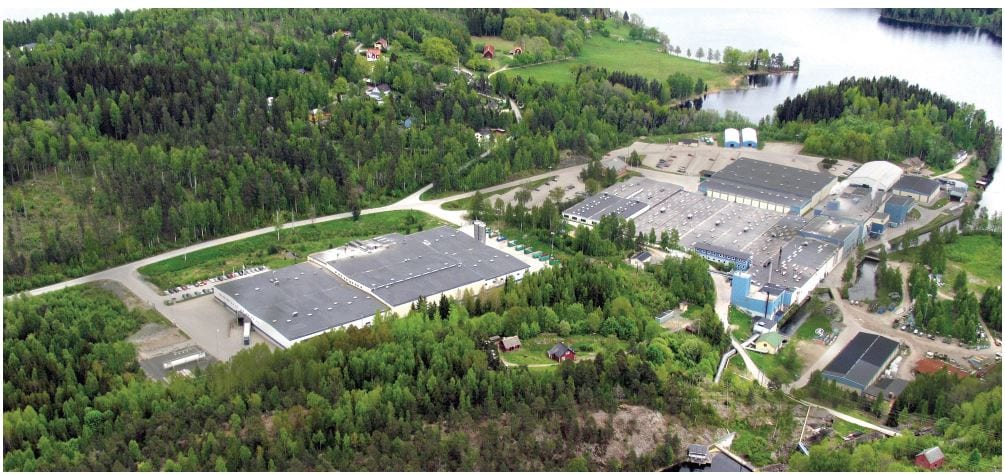 The move increased the site's tissue capacity to 52,000tpy. "We needed to increase capacity to set a new base for further development and have new platforms for products, and in order to realign our business model," Åbom says. Some 99.5% of the site's brightly coloured and white paper products are then exported to its sister converting sites in the thriving neighbouring markets of Germany and Poland. The mill is also home to a paper machine which produces 12,000tpy of airlaid products – Abom says Duni was the first company in Europe to commercialise airlaid technology within table top and napkins. "It's a benchmark for table top,"  he adds. "And then for tissue, we haveover 100 years of experience. So while we're a niche player for tissue, we're a benchmark for coloured tissue grades." Åbom was brought in as managing director in 2012 and has overseen the recent investment. In his office (which boasts an equally modern "standingup" desk), we're joined on Skype by Thomas Lööb, corporate development director and chairman of the Rexcell board, and also part of the management team at Duni. Lööb says the investment was a vital one: "It not only enabled the site to re-focus on a niche market, but also increased its tissue capacity by 15%. Rexcell saw the possibility of developing a new quality standard for tissue napkins. We needed to invest in higher efficiency and upgraded materials and we closely followed the changing market demands so that our business decisions were closely aligned with consumer patterns. The investment also enabled us to launch new products." As early as 2013, Duni had announced its decision to close the production of hygiene materials at Rexcell and concentrate all remaining production at the facility in Skåpafors. In October 2015, it closed its neighbouring Dals Långed mill, re-focusing its efforts on tissue and airlaid production at its Skåpafors plant since demand for Duni's premium products were increasing, leading to larger future capacity needs. Duni today is a global market leader in the production of coloured tissue for napkins, supplying innovative table top concepts, creative packaging and take-away to hoteliers, restaurants and caterers as well as consumers. It has products in over 40 markets and 2,200 staff in 19 countries. With its headquarters in Malmö, Sweden, there are production units in Sweden, Germany, Poland and – most recently – in Thailand. In August 2016, Duni finalised the acquisition of a 60% share in disposable products converter Terinex Siam. Lööb says that Duni continues to prioritise growth in Asia: "We know that tissue is not used in exactly the same way in that part of the world when compared with Europe and America. Terinex Siam was the consequence of the 2012 acquisition by Duni of Singapore-based Song Seng, which created a foothold in the market. Terinex Siam is a leading converter and exporter of disposable  products, predominantly paper napkins, and as with Duni, it specialises in the professional segment in Southeast Asia. So Duni now has a presence reaching as far and varied as Singapore, Thailand, New Zealand and Australia." Lööb adds that while Europe is still Duni's primary focus, South East Asia  and Oceania are certainly interesting. "Demand for Duni's premium products is increasing in Europe despite fluctuating economic conditions. People are dining out more and they want higher quality products for events. Our sales follow a seasonal cycle; we're very busy during summer, Christmas and Easter."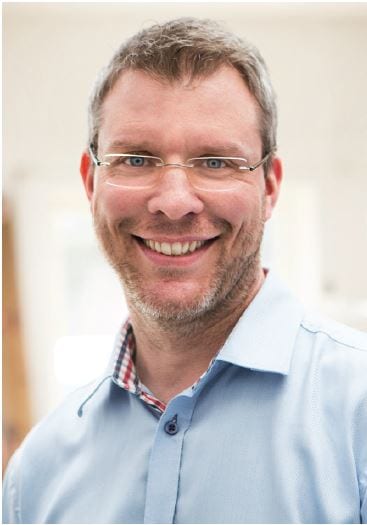 Åbom adds that the new set up means they will not need to stop and start seasonally: "We're a market-orientated company, we need to be quick with market changes, we need to be flexible. The main challenges are related to producing numerous colours and with premium quality.. it is paramount to produce high quality products in a flexible yet energy efficient manner." Duni has a lower market share in southern Europe, a current focus region for the company. However, growth won't necessarily be through investment. Lööb says: "It's about how we invest in the market generally. We're definitely looking to grow in southern Europe and Asia and we're also looking to export into new regions." Following the acquisition of Paper + Design in Wolkenstein, the business is also now exporting high quality printed napkins to countries such as New Zealand, Canada and the United States. "And a lot of the time these are personalised products for a dinner party rather than for a restaurant," he adds. "Our core business includes the development of new materials, enabling us to keep our leading position." Lööb says the markets they are in are very fast paced: "It wasn't always the case, but now we go into these markets and are market orientated and we have to be flexible. We would like to have solutions to offer our customers and even be one step ahead of the market changes. Our business now is to understand market needs and our strength is development." "We're seeing tissue growth of 3-4% in northern Europe. At the Duni Group,  our growth target is 5%. That's a tough target in a mature market." Åbom adds: "We are one of the most modern tissue mills. We have a lot of knowledge despite being out in the countryside and gain extensive market and customer knowledge due to our integration with the sites in Poland and Germany." "The last few years have been a tough process of consolidation," he concludes. "We had four factories, but we have chosen to focus 100% on the table top sector. This implied tough reductions, but we are now more effective and improving quality continuously. The journey has been challenging, but now we're beginning to harvest the benefits of our hard work."