South Korean retail tissue registered resilient volume year-on-year rise of 4% in 2022. Longer term growth likely through product launches targeting unmet per capita consumption. Report by Chloe Bang, Research Analyst, Euromonitor International
High inflation rates as manifested in various increased costs encompassing logistics, labour, oil, and energy, as well as the weakened Korean Won currency to its lowest over 13 years against the US dollar in the latter half of 2022, have led to price increases around tissue products by major tissue companies at least once in 2022 by as little as 7%. This is supporting a healthy 5.2% nominal value growth (including inflation effect) in South Korea's retail tissue in 2022.
Despite the inflation pressure, retail tissue's volume consumption remained resilient due in large to shoppers' bulk purchases in 2022 in fear of further escalation of inflation and future pricing uncertainty. As such, retail tissue registered a resilient volume year-on-year growth of 4% in 2022. Bulk-sized tissue products in particular have increased in sales lately, benefitting from consumers seeking value and their often-associated discounts and promotions. Indeed, sales of bulk-packaged toilet paper products under Yuhan Kimberly Co.'s Kleenex brand grew about 50% in 2022 compared to the same period last year, according to an Asia Economy Daily article published in October 2022.
In the longer term, retail tissue demand is expected to normalise to near-pandemic patterns despite mid-term lingering inflation pressure, continuing to grow with a nominal and fixed rate CAGR of 3.46%, as consumers and businesses increasingly recognise the importance of health and hygiene.
Ample unmet per capita consumption is also expected to lend retail tissue favour in South Korea. South Koreans use on average around 5.04kg of retail tissue volume per person a year, which is significantly less than some other countries in Asia with similar lifestyle and GDP per capita such as Japan and Taiwan, China, suggesting further momentum to grow according to Euromonitor International.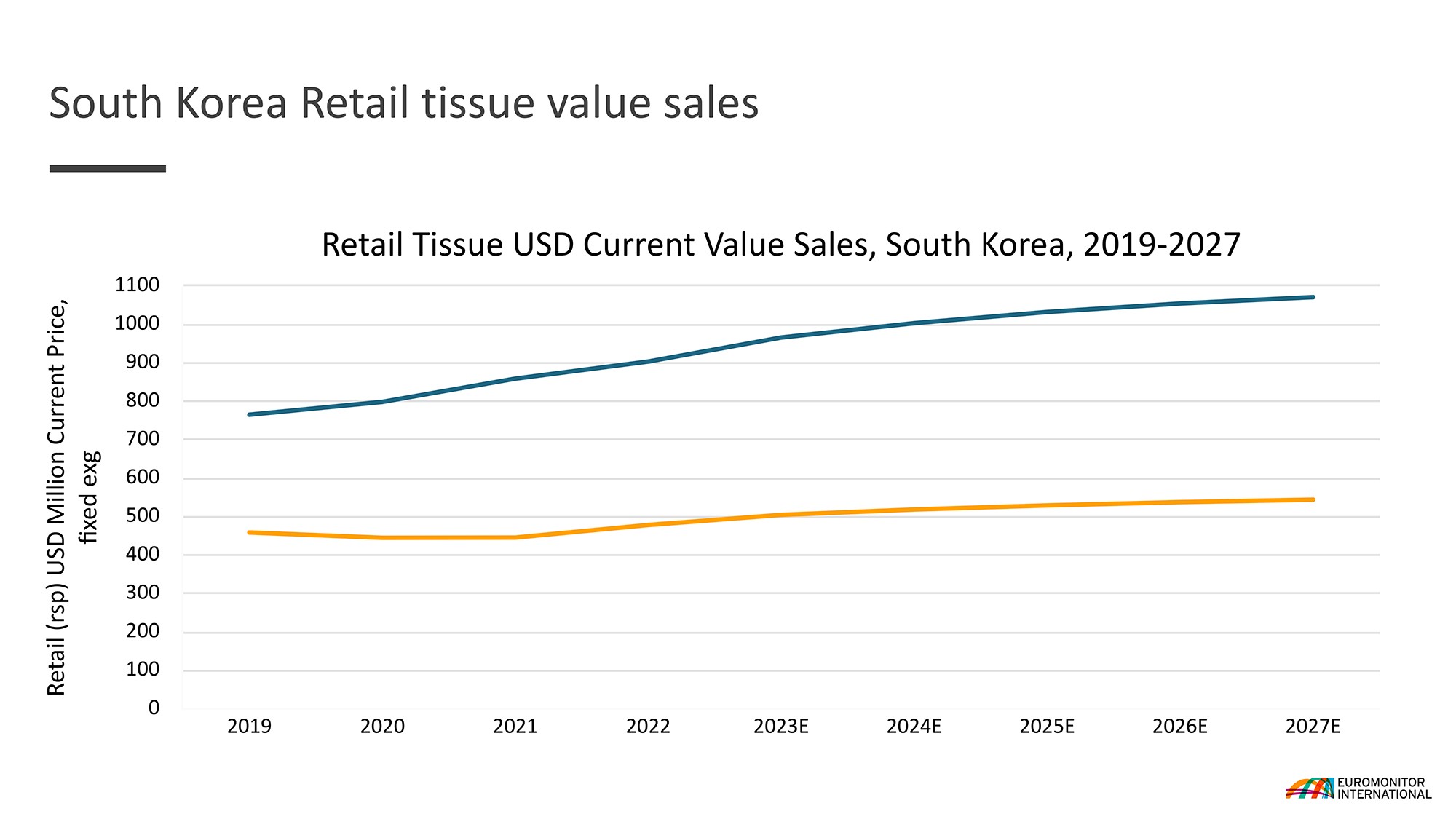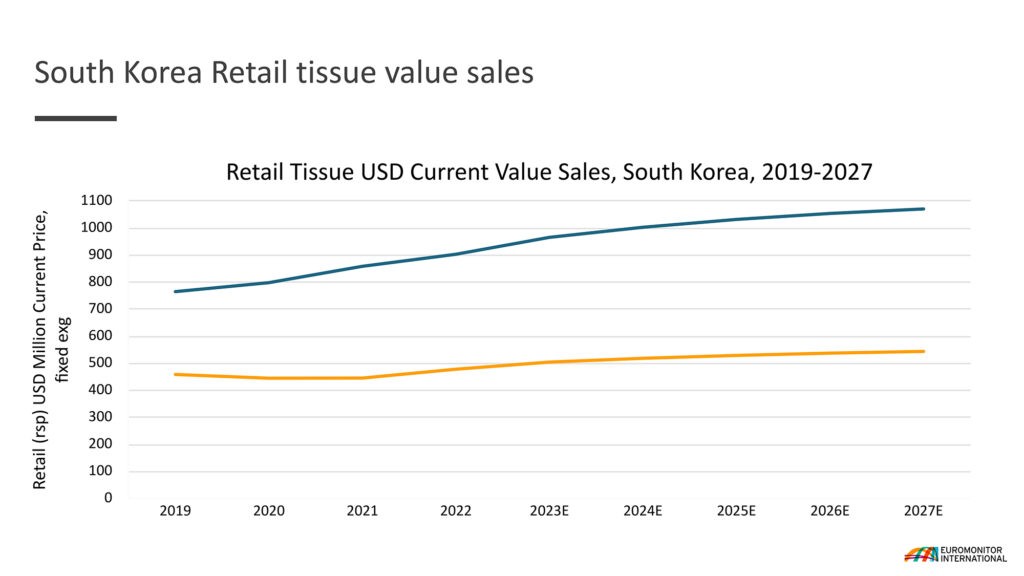 Meanwhile, businesses-led product launches catering to various consumer needs and lifestyles is also expected to support retail tissue category's long-term growth. For example, Mirae Well Life Co.'s slim fit version of its "Well Thriving Home" toilet paper comes in a small volume and slim packaging, including 15 rolls at a reasonable price to target the increased single and two-person households in South Korea. CU, one of the main convenience stores in South Korea, launched its private label toilet tissues named 'Lucky Bargain' in June 2022, extending its private label line beyond food to daily necessities and featuring tissue products at a better price than many branded peers by minimising the marketing and promotion costs.
E-commerce's strength contributes to category growth
E-commerce has been a key contributor to retail tissue's – particularly toilet paper's – growth in South Korea due to its convenience and cost advantage. In 2022, the e-commerce channel accounted for 23% of total retail tissue sales in South Korea, with toilet paper and paper towels combined online sales representing 25% of the overall sales.
Besides convenience and cost benefits, South Korea's tissue gifting culture has been another notable driver of e-commerce's growth momentum in the country. For example, when people move from one place to another, toilet paper often embodies the wish that their lives would "roll out" well at the new place as easily as the toilet paper unravels from the roll. KakaoTalk, the biggest messenger application in South Korea, has a shopping function featuring a dedicated category for housewarming gifts, with tissues making up the bulk of listed gifts.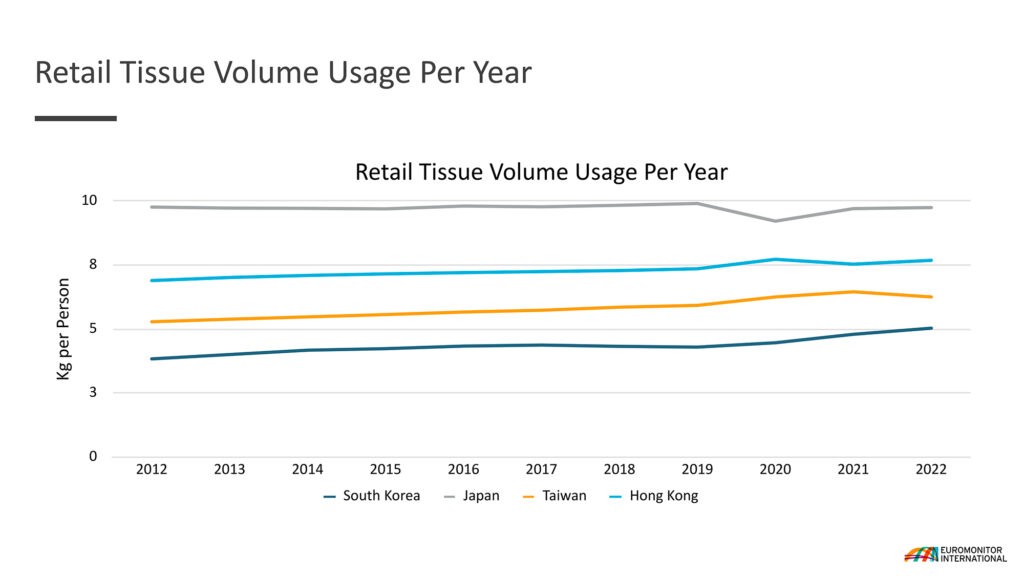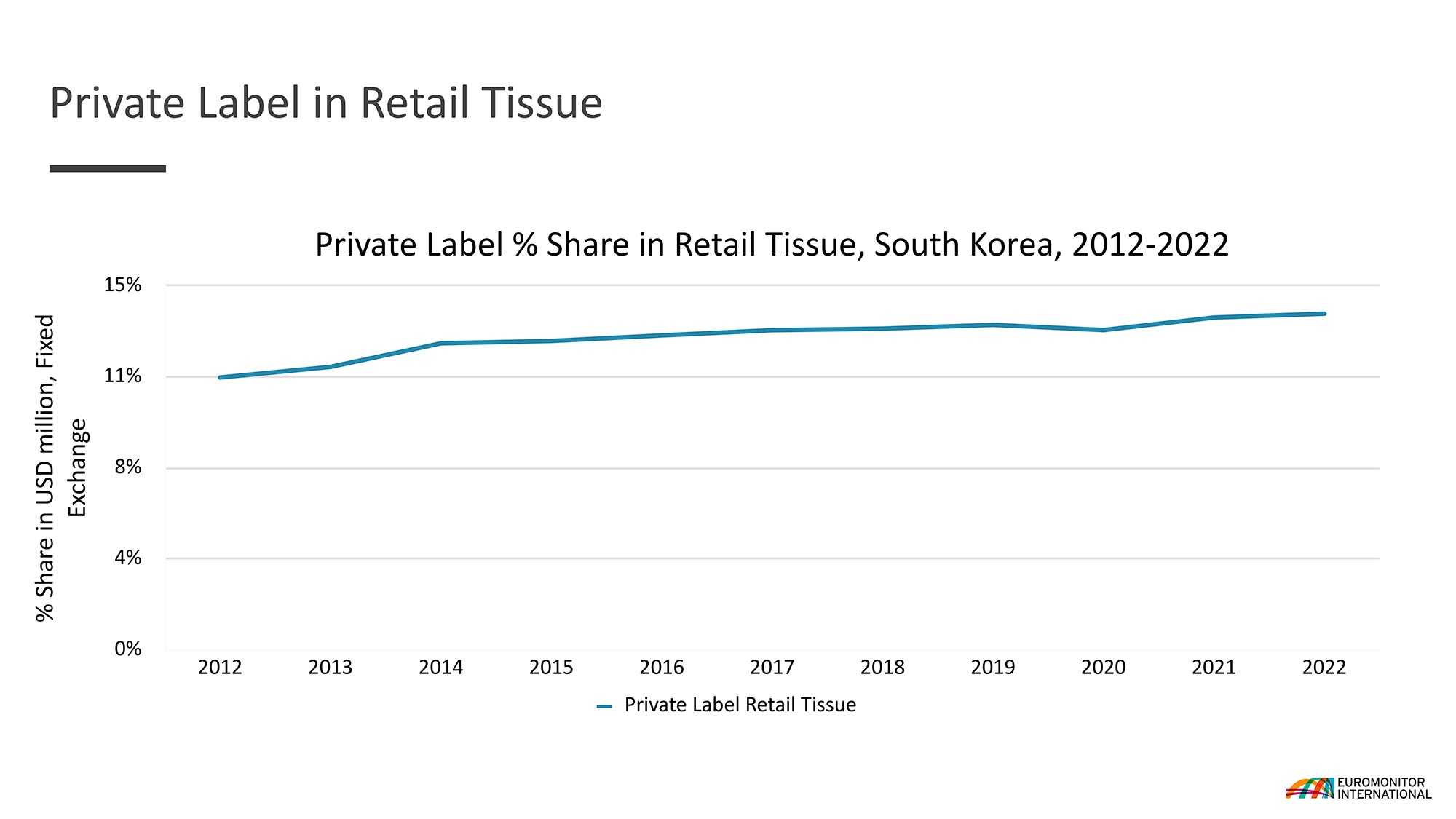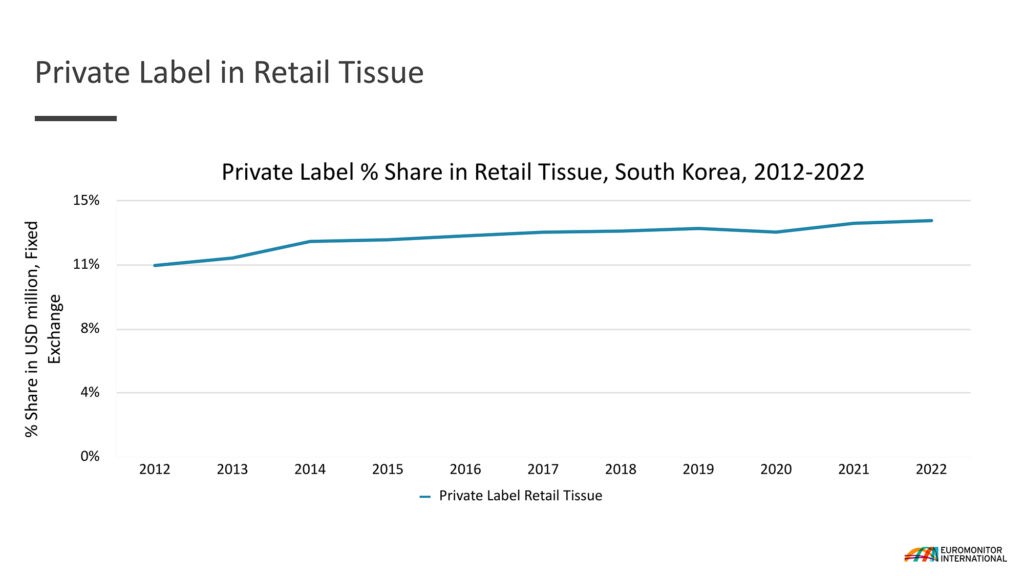 Private label to further gain market foothold with targeted product launch and pricing strategy
With high inflation rates and the pressure of increasing living costs, consumers have started to look for more affordable options when it comes to daily necessities. Private label retail tissue products have been gaining traction over the last few years for their reliable quality and cheaper price than brands. It is expected that private label players will take more proactive measures to expand their shares in retail tissue.
Retail giants such as E-Mart, Homeplus, and Coupang, are widening their private label lines from food to daily necessities such as tissue products. Their shares in retail tissue have been gradually increasing since their launch. Convenience stores have also started to launch their own private label lines in retail tissue, targeting single- and two-person households, which have been increasing in number in South Korea.
GS25, one of the main convenience stores in South Korea, launched its private label line Real Price that includes paper towels, boxed facial tissues and toilet paper. It collaborates with small manufacturers to reduce the unit price and sell products at a cheaper rate. It also plans to expand its private label lines and collaborate with its supermarkets channel, GS The Fresh, to expand its channels. Private label will be one of the players that challenges brands, consolidating its positive performance in the category.
Eco-friendly products to become a main driver of long-term growth
Sustainability is not a priority for South Korean consumers when purchasing tissues like many other products, but its importance is gaining recognition especially among the younger generation who are more eco-conscious and value environmentally-friendly purchases.
As such, manufacturers and brands are making consistent efforts to produce more sustainable production, packaging, and marketing. Yuhan Kimberly Co Ltd, a leading player with more than 30% of the retail tissue market share, announced that it will achieve 95% of its sales from sustainable products by 2030 through different measure like using sustainable raw materials like FSC-certified natural pulp, reduction of toilet paper pipes and packaging usage as well as applying alternative plastic packaging for vinyl products.
Ingredient sourcing remains a key sustainability angle. For instance, Kleannara Co launched a "kitchen clean tissue," an upcycled product that uses lemon peels from Jeju Island farms as raw materials and the cap made with 50% of recycled plastic. Paper and pulp product company Samjung Pulp Co. recently launched its "Eco Foret" toilet paper product that is FSC-certified and uses cardboard as its main material without cutting down trees. It plans to recycle 950 tons of cardboard each year as a raw material for tissues.
With research and development actively carried out by both large and small players, more tissue products made from recycled materials are likely to be seen in the forecast period.