By Pöyry Management Consulting's director Soile Kilpi
Tissue papers are considered a consumer staple and are sold throughout major retail channels. This category has been evolving along with changes in consumer preferences and buying behaviour, and packaging has been directly impacted by these changes.
Changes in buying behaviour
At the beginning of the 2008 recession, consumers were buying private label products to cut costs. By 2013, approximately 70% of consumers in North America were buying private label products out of preference. Private label tissue products were also part of this change and demand for these products grew at a healthy rate of 8% during the same period. It is noticeable that large retailers, such as Costco and Walmart, continue to invest in their own tissue store brands increasing their own shelf space at the expense of national brands. Improved product quality, enhanced packaging design and different pack size options are considered key enablers for the success of private label tissue products.
Concurrently as consumers migrate towards more private label tissue products, they are also searching for the right solutions for their specific needs. Tissue manufacturers have expanded pack choices to fulfill consumer needs, and today we have over 15 different choices for bath tissue pack size, from one roll up to 56 rolls per pack. While four and 16 rolls per pack are still the majority of the retail bath tissue volume, larger sizes are gaining share (30 and 50 rolls presented double digit growth in the last five years).
Increased focus on efficiencies and package reduction
As part of continued efforts to improve efficiencies and meet sustainability goals, tissue companies are taking actions that directly impact packaging. Increased penetration of larger packs enables changes in packaging configuration. Tissue manufacturers are constantly looking for ways to enhance bath and towel tissue rolls stackability, and optimise shipping and shelf space at the retailer stores. Large tissue packs are also shipped directly on a shrink wrapped pallet, reducing the need of corrugated boxes.
Leading bath and towel tissue manufacturers have cut the number of sheets per roll ("desheeting") and also trimmed the size of each sheet in the last years enabling savings in packaging costs.
The recent national release of Scott Naturals® coreless bath tissue is another good example of packaging reduction. Kimberly Clark claims that the simple step of skipping the centre tube in its Scott Naturals bath tissue could have a positive impact in the environment, eliminating a large chunk of 17 billion such tubes thrown away each year.
Also worth noting is the move by tissue producers towards more compressed facial and napkins packs, and tighter bath and towel rolls. This move allows manufacturers to take the air out of packs and consequently reduce the amount of packaging material and also favourably impact freight costs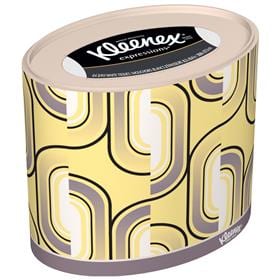 Standing out from the clutter
Tissue brand owners are constantly looking for product differentiation to maintain consumer interest in spending more on their products, the same way other consumer product manufacturers have been able to. Product differentiation in the tissue category can go from package colour, change in packaging substrates to customised packaging.
Kimberly Clark's Kleenex® Expressions® line, for example, offers an oval-shaped facial tissue box, with prints and colours inspired by worldwide trends to be also used as room accessory. With this line, the company looks to burnish its credential as a trendsetter in home décor. Kimberly Clark, that offered fruit inspired wedges tissue boxes in the past, has also a website where it's oval facial tissue box can be customised with customers' choices of colours, images and messages.
Another bold move in product differentiation was Procter and Gamble's new Puffs® SoftPack facial tissue, positioned as a more convenient alternative to the traditional square tissue boxes. Glow in the dark tissue boxes and bright neon colour bath, towels and facial packs are also adopted by tissue makers as an effort to differentiate products on the shelf.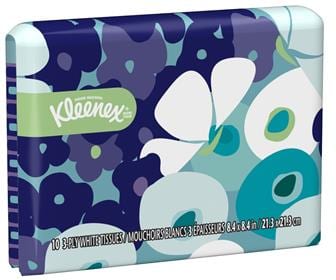 Implications / key takeaways
Although the North American tissue market is mature and per capita consumption is high (25 kg per person per year), there is movement in the product category. Packaging is driven by buying behaviour, role of tissue products in retailing, producers' technology choices and increased efficiencies and focus on sustainability.
With presence in over 50 countries, Pöyry is a leading advisor to the world's capital resource intensive industries. Pöyry's Management Consulting practice specialises in the pulp, paper, packaging, hygiene and bioenergy industries and provides services that focus on driving real value through an integrated approach to improving business strategy and operations.