At Tissue World Miami in March, Resolute Forest Products' Calhoun mill was awarded the Most Energy-Aware Mill Award. Here, Patrice Minguez, president, Tissue Group, describes what the company did to achieve the award. A TWM report.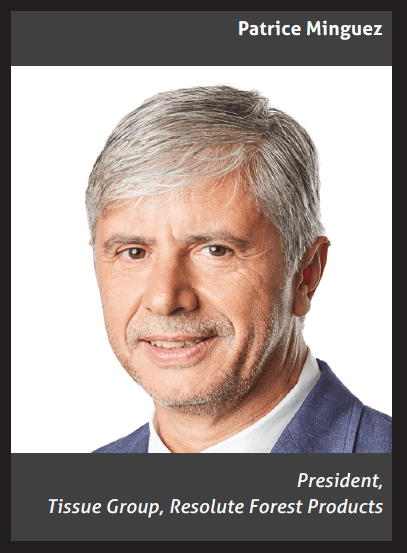 "Improving energy efficiency, reducing our carbon footprint and increasing the use of lower carbon fuels is vital to us as we seek new opportunities to invest in energy projects that will ultimately benefit our
bottom line.
"Our tissue segment, Resolute Tissue, is one of the most integrated tissue businesses in North America and we are striving to make it one of the most competitive. Our bath tissue and towel products are manufactured from 100% recycled pulp or from virgin fibre across the company's internal market pulp network.
"This allows us to control the production process – from material input to final product – ensuring precise control, cost-competitiveness and consistent quality, while offering the flexibility and customisation our customers demand.
"Our three tissue mills have a combined annual production capacity of 128,000 short tonnes (116,000 metric tonnes) across four tissue machines and 14 converting lines.
"Product lines include the Green Heritage brand, a premium choice for the retail market made from 100% recycled pulp, as well as a full range of products under our Harmony brand of virgin tissue grades – namely, Harmony Pro and Harmony Pro Ultra for the AfH market.
"In 2015, as part of our business strategy to integrate our pulp into valueadded, quality tissue, we announced investments of over $100m at our Calhoun (Tennessee) facility to install a modern continuous pulp digester and wood chip processing equipment, which replaced eight older batch digesters.
"The next year, we followed up with a $300m investment to build a state-ofthe- art tissue facility.
"A year later, the first parent roll at our Calhoun tissue mill was produced on February 28, 2017. The mill has an annual production capacity of 66,000 short tonnes of premium private label tissue, including bath and towel, primarily aimed at the retail market.
"Major capital investments in our tissue operations allowed us to align our business objectives with our commitment to environmental stewardship, reinforcing our vision that profitability and sustainability drive our future.
"In March, Tissue World recognised these efforts by naming our Calhoun tissue mill the 'Most Energy-Aware Mill'. The annual award is given to mills whose energy reduction efforts and overall sustainability initiatives are exceptional.
"In 2016, our Hialeah tissue mill – one of two Resolute Tissue operations in Florida – was also named 'most energy aware mill' by Tissue World.
"The installation of the continuous pulp digester at our Calhoun tissue mill has resulted in significant energy improvements and efficiencies at the pulp and paper facilities as well as at the tissue manufacturing operation and converting facility.
"We have achieved gains in energy efficiency due to lower installed horsepower and reduced steam usage overall, in addition to advanced heat and chemical recovery processes in the new digester.
"The thermal energy intensity of our production decreased by 10% in 2017 compared to the same time period in 2013, which represents savings of nearly 1,350,000 gigajoule of energy – equivalent to the electricity used by 42,000 homes over the course of an entire year.
"The Calhoun operation has also completed a permanent conversion of its four on-site boilers from coal to natural gas – a lower emission fuel option.
"The switch to lower carbon fuels, along with the enhanced energy efficiency, has considerably reduced the operation's greenhouse gas (GHG) emissions.
"The Calhoun mill also generates green energy from our on-site co-generation facility, which has a total installed capacity of 64 MWh, allowing us to extract more energy from biomass by producing both thermal and electrical energy.
"This, in turn, reduces the amount of GHGs released into the atmosphere.
"In 2017, the Calhoun operation met 68% of its energy requirements using self-generated or owned renewable power, including biomass fuel in on-site boilers (80% of the total) and electricity from cogeneration (29% of the total).
"Now operating coal-free, Calhoun has reduced its direct and indirect GHG emissions as follows:
• Direct emissions (scope 1) from 485,982 metric tonnes in 2000 to 177,437 metric tonnes in 2017 – a 63% emission reduction;
• Indirect emissions (scope 2) from 1.18 million metric tonnes in 2000 to 331,241 metric tonnes in 2017 – a 72% emission reduction.
"The investments at our Calhoun operation contributed significantly to the company's global goal of reducing absolute (scope 1 and 2) GHG emissions to 65% below year 2000 levels by 2015.
"In 2017, we exceeded this commitment with an impressive 76% reduction company-wide.
"In recognition of our industry-leading sustainability, environmental and safety performance, Resolute has won over 20 regional, North American and international awards and distinctions in the past year alone.
"Calhoun also won the first-ever Carbon Reduction/Leadership Circle Award from the Tennessee Valley Authority (TVA) in 2017 for achieving the lowest carbon emission rates during the year.
"Resolute's environmental leadership is also driven by the innovative products we take to market, such as our new Green Heritage line of premium 100% recycled bath tissue for the At-Home market.
"The top pick at StoreBrands' 2017 Editors' Picks Awards, winning gold in the paper products category, Green Heritage is environmentally friendly, dye-free, fragrance-free and septic-safe.
"Proudly produced in the United States, this premium tissue carries the Green Seal-certification, is manufactured from 100% recycled fibre, and doesn't require chlorine bleach or any ozone-depleting chemicals in the manufacturing process."