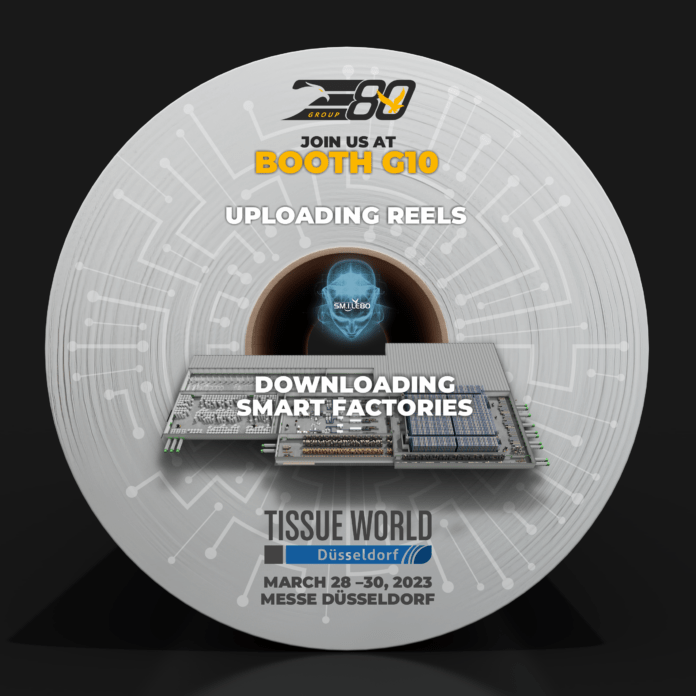 Thanks to continuous innovation, the present is witnessing the factory of the future, providing new opportunities for digitalization and sustainability.
E80 Group has a long history in developing cutting-edge technologies that integrate the processes in tissue factories and distribution centers. The Italian multinational's expertise lies in connecting intralogistics flows, from the handling of incoming materials to the palletizing, wrapping and labeling of finished products thanks to robotic systems, transporting and storing products inside high-density automated warehouses, all the way up to shipping and automatic truck loading. This is possible thanks to laser-guided vehicles, E80's core business, which ensure the safe and efficient handling of all operations. On top of that, E80 Group's software platform, SM.I.LE80, coordinates and supervises all intralogistics flows in real-time, communicating simultaneously with the customer's ERP. "This means that we can combine and manage all the functions under a software umbrella that employes single automated vehicles to perform multiple tasks in an orchestrated flow. That allows a combination of disparate vehicle types to work collaboratively within a single area, while still ensuring the safest of all work environment" declares William Nelson, President at E80 Group Inc.
HOW TO GUARANTEE SAFETY AND SUSTAINABILITY WITH LASER-GUIDED VEHICLES?
E80 Group's automated laser-guided vehicles are constantly updated to be efficient, flexible, and reliable, avoiding bottlenecks and downtime within the plant, increasing safety and sustainability. One of the latest innovation, being currently developed by the Italy-based multinational, is the Unicorn LGV, which offers significant operational improvements for tissue facilities. "It is designed to handle parent reels without causing any damage or stress to them, ensuring total integrity of the paper" explains Massimo Bertuccio, E80 Group Sales Director for the tissue and robotic division. Unicorn is bound to offer tangible results, including a significant reduction in waste and a 7% optimization of warehouse space, allowing customers to use their existing footprint more efficiently.
Another crucial point is the increased safety within the facility: E80's entire range of LGVs/AGVs, including Unicorn, has been equipped with safety devices that exceed international standards. All these vehicles are powered with the latest-generation lithium-ion batteries designed to maximize factory efficiency and reduce battery wear and charging times. In particular, Flash Battery batteries boast an energy efficiency of more than 96% and guarantee balancing speeds 20 times faster than other lithium batteries on the market. E80 Group's high-density warehouses and storage solutions are fully automated through LGVs. This results into increased flexibility and reliability, while reducing the energy consumption.
HOW TO INTEGRATE TISSUE CONVERTING SOLUTIONS?
E80 Group's end-to-end solutions connect all processes within a tissue plant. To further enhance production activities and efficiency, the company has collaborated with Gambini, an Italian leader in the design and development of converting lines for hygiene and personal care tissue products, to supply a fully automated converting line. This system will bring the parent reel to the rewinder and retrieve the spent core when the operation is finished, streamlining the loading and unloading of jumbo rolls and eliminating any hanging paper reels: this marks a leap forward of safety standards within a tissue plant.
HOW TO LEVEL UP YOUR PICKING OPERATIONS?
One of the most ambitious goals in logistics has to do with automating picking operations; E80 Group's investment in Research & Development has led to the launch of EAGLE T.R.A.Y.S – Tridimensional Robotic Assortment Yard System. It automates and integrates layer and case picking operations through scalable and flexible solutions, capable of adapting to strong variability of demand in terms of volume and products. This innovative technology includes AGVs and robotic systems that, through universal grippers, vision systems, and SM.I.LE80 software, depalletize pallet of products and palletize non homogenous items, satisfying even more specific and variable market needs. This solution brings countless benefits: innovative stimulus to the mechatronics supply chain, high productivity and sustainability within plants.
All these developments will be highlighted and discussed at Tissue World 2023, where E80 Group's team will be present to share insights on the latest innovation and challenges of the market. Key issues such as sustainability, integration and digitalization will be tackled during the tradeshow.
William Nelson, President at E80 Group Inc. will present "Supply Chain and Other Risks" on Wednesday 29 March – 10:15 – 10:35 (Panel Discussion Session 3 – Conference Theatre). Massimo Bertuccio, Sales Director of Tissue and Robotics Division at E80 Group will tackle "The Smart Evolution: Beyond 4.0" on Thursday 30 March 2023 – 9:20 – 9:40 (Tech Session 3 – Conference Theatre).
Are you really considering not to upgrade your plant?  

This article is sponsored content.