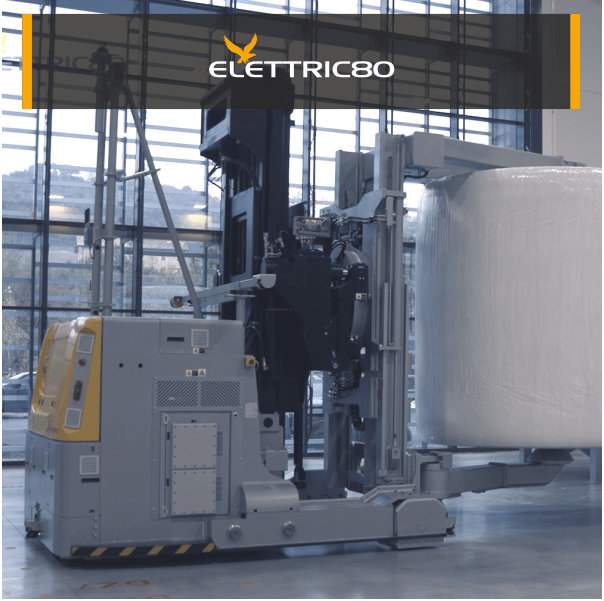 State-of-the art technologies for producers plus the latest release designed for the tissue paper industry
Written by Elettric80
Automated guided vehicles, laser-guided vehicles, and self-driven forklifts represent the most flexible, reliable, and advanced technology to integrate all the supply chain operations.
Today, Robotics and Automation are an absolute necessity. We know that producers must continuously increase the throughputs of their factories and address new channels of distribution. They also face an ever-increasing demand for more SKUs, smaller production batches, and mixed orders, so an efficient intralogistics solution is vital to address these challenges adequately.
Improving end-to-end solutions with advanced technology and automated systems is the only proven way to achieve the most highly efficient, safe, and reliable factories and distribution centers. Automation safely meets all of today's intralogistics needs without delays, risks, waste, or damage to products. That's why Elettric80's solutions have become increasingly relevant to North American and indeed all of its customers worldwide. By customizing state-of-the-art end-to-end integrated systems with the highest level of innovation, Elettric80 is leading the Industry 4.0 transformation while benchmarking the future.
How?
SOFTWARE: Proprietary software custom designed specifically for the unique needs of each customer manages all AGVs and LGVs movements within the factory. Electtric80's SM.I.LE80 software platform coordinates intralogistics flows and hardware systems, as well as manual and robotic activities. It allows dialog with the customer's ERP and guarantees real-time remote supervision of the entire system.

3D MAPPING: Enables Elettric80 to optimize AGV and LGV trajectories within running plants and distribution centers, without interrupting operations or production there-by minimizing costs and timing. Layout development and optimization is critical to achieving the most innovative plant layout design, and 3D Mapping allows our layout experts and our customers to envision the movements of AGVs from the very first designing phase.

SAFETY: Elettric80's AGVs and LGVs are equipped with additional technological protection systems, far more than those established by international standards, making them the safest on the market. Thanks to the built-in and reinforced Proximity Laser Scanner (PLS) devices, these vehicles can detect the presence of obstacles or people within a 360° radius of their operating environment, rendering the work area completely safe. Moreover, Elettric80's R&D department developed a brand-new system based on UWB technology to eliminate residual risks. That is particularly relevant, especially in mixed traffic environments where people or manual forklifts operate in the same area in which the AGVs/LGVs move.

LITHIUM BATTERIES TECHNOLOGY BY FLASH BATTERY. All Elettric80's AGVs and LGVs are powered with the latest-generation lithium batteries with induction charging, a technology designed to maximize factory efficiency and reduce battery wear and charging times. Using lithium batteries by flash Battery on our AGVs and LGVs brings considerable advantages and having vehicles with this technology allows industries to increase plant efficiency. Among the benefits, it takes far less time for these batteries to recharge than lead batteries, and working cycles are independent of battery charging times. Moreover, lithium batteries reduce all the management costs that would instead result from lead-acid batteries. The charging process is flexible, and during the entire lifetime, all operations of the LGVs fleet are daily and automatically remote monitored through the "Flash Data Center" software.

TAILOR MADE SOLUTIONS: Finally, we project each solution according to customers' goals and business purposes. Elettric80 customizes its systems according to the customer's specific requirements, designing AGVs and LGVs that can be used in various industrial sectors: predominantly tissue, beverage, and food, as well as ceramics, plastics, pharmaceuticals, home, personal care, and many others. And since AGV and LGV solutions are flexible and scalable, they can manage each phase of the flow, from inbound raw materials to the end-of-line area, into warehouses, picking areas, and truck loading the shipments.
Elettric80's latest new product release
In its never-ending quest to offer state-of-the art technologies for producers, Elettric80 recently unveiled the Unicorn LGV. Designed specifically for the tissue paper industry, the Unicorn improves automated warehouse management and the movements of parent reels formerly handled by the Model Elephant (Clamp) LGV. The Unicorn however picks up tissue reels from the core's interior, meaning zero surface contact, zero surface deterioration and ZERO broke! Thanks to the elimination of the clamps, the Unicorn safely moves the reels while ensuring absolutely no reel deformation or any of the related consequent interruptions in the downstream converting process. By eliminating the clamps, the new Unicorn can also increase reel storage capacity by approximately 6-7%, as improve reel position control for "back-to-back", "side-to-side" and "core-over-core" placement of the reels.
Other advantages include:
100%-reel placement flexibility which provides for desired unwinding directions
Completely automates the parent reel life cycle, from the reel's pick-up at the paper machine to the return of the spent core or partial rolls since there's no minimum diameter limitation
In summary, the Elettric80 AGV and LGV fleet is wide, comprehensive and guarantees several benefits:
Accuracy and speed of movements
Customization of the solutions according to the needs and goals of each customer
Complete system's real-time remote supervision thanks to the unique management software that coordinates fleet movements and intralogistics flows, dialoguing with the customer's ERP.
Thanks to 3D Mapping technology, innovative plant layout design enables the optimization of AGVs and LGVs trajectories within plants and distribution centers, even when space is limited.
Top-notch safety level within factories and distribution centers because our AGVs/LGVs are built with additional safety devices, well exceeding international standards & regulations
Increased plant performance and efficiency thanks to the latest generation lithium batteries by Flash Battery
100% safe operations thanks to induction technology and wireless charging that results in no contact and no risk of electric arcs/discharges.
ABOUT ELETTRIC80 GROUP
Elettric80's tailormade solutions ensure a significant improvement in factories and DC efficiency. Innovative technologies automate all material flow movements from inbound packaging material to automated trailer loading of finished goods. The main systems produced by Elettric80 include palletizing robots, a wide range of automatic guided vehicles (LGVs/AGVs), high-speed robotic stretch wrappers, pallet control systems, robotic labelers, layer picking and repacking solutions, storage systems with LGVs/AGVs, and automated high-density warehouses with shuttles, or cranes (AS/RS). A unique software platform manages the entire flow, ensuring a direct connection between production systems and optimizing all operations from raw material reception to warehousing and shipping. Elettric80 also offers a complete range of customer service support from its office in Chicago, with 24/7 remote and on-site assistance.
All solutions are flexible and scalable. That's why the investment size changes consistently, depending on the purposes and needs of each project.
So far, Elettric80 has completed nearly 300 integrated factories in various parts of the world and installed over 2000 robotic systems and 5000 automatic laser-guided systems. The company has also provided 35 high-density warehouses since 2016. This extraordinary growth can relate to people's valorization, investments in research, and rapid adaptation to fast-changing market needs.