A return to gradual growth as Europe emerges from a prolonged economic struggle and the focus of tissue business shifting from west to east. TWM summarises the expert insights from the three day conference
Tissue World bids a vibrant… but sad farewell to the brilliant Barcelona
The figures speak for themselves… Tissue World Barcelona 2015 attracted no less than 2,589 participants to the industry's most prestigious tradeshow. That number included 1,561 visitors who were drawn from 89 countries from across all continents.
TW Barcelona hosted more than 180 international and regional companies with 712 staff exhibiting the latest technical and innovative developments – making TW the leading showcase for a vibrant industry continually searching to expand its reach and improve its products.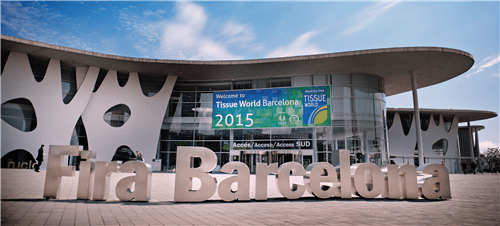 As intensive deal-making went on throughout the three days, some 45 leading industry speakers shared their expertise from the latest research and insights from across the whole supply chain.
Topics included – a recovery in sight for the Eurozone; the gradual return to tissue sales growth; European tissue business focus moving from western to eastern parts of the continent; The European Tissue Symposium's focus on hygiene as a key driver; fibre integration – is it increasing and is it possible to optimise fibre mix and maintain quality; the dramatic increase in dryer chatter marks during creping; how green products will change the behaviour of consumers … and many others.
SCA, Stratfor and Hawkins Wright kicked off day one's conference sessions while Forum for the Future, American Hygienics Corp and Södra Cell launched day two.
Operational efficiency came under the spotlight with Solenis' Frank Pakinkis, Voith Paper's Marcus Schwier, Canfor Pulp's Paul Watson and Valmet Tissue Mills Business Unit's Johan Björn.
Tissue World Barcelona also marked the launch of the new and complimentary live broadcast via online streaming … those who couldn't attend the event could log on to view live the start of the conference sessions on day one.
The fantastic city of Barcelona graced the industry with its beauty and impeccable services providing the best possible platform to conduct business in style.
Tissue World's opening night gala dinner marked our sad "Thank you… but farewell." Now, the event expands its reach again with a move to Milan for Tissue World 2017 … the city-of-choice favoured amongst industry players in TW's survey.
Tissue World Milan 2017 will be held from 28 – 30 March 2017 at MiCo – Milano Congressi.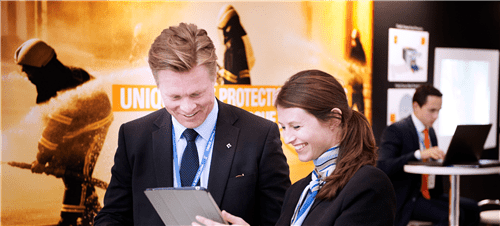 Challenges and opportunities in the European tissue industry
Markus Stojan, vice president market and business development for AfH, SCA Hygiene Products, Germany
How the stability of the tissue market is impacted on one side by factors such as additional paper capacity, fluctuating input costs, retail and distributor consolidation; and on the other side by the increasing importance of innovation and brand building which stimulate healthy growth.
European Tissue Producers 2015 Q1
Total installed capacity in Europe is 10,1 million tpy. The top five manufacturers now control 55% of total capacity (SCA, Sofidel, Kimberly-Clark, WEPA and Metsa Group).
Opportunities for the tissue industry: Cost efficiency, improvements, innovation and branding, channel mix.
Challenges for the tissue industry: Economic climate and category growth, raw material cost, exchange rate volatility, increasing tissue capacity and retailer concentration.
Western European Tissue market suffers from gloomy economic prospects. Southern European and Euro problems have stopped growth, recovery delayed but there is hope for some improvement in 2015-2016.
Eastern European markets have recovered well but political tension threatens growth. The conflict between Russia and the Ukraine also shadowing tissue market expansion.
The strong supply demand balance for pulp has enabled a decoupling of the correlation of the €$ exchange rate and the market price of pulp.
The European tissue industry has experienced several years of tough but relatively stable market conditions: Short term, fluctuating input cost and continued; Retail consolidation is increasing pressure on the industry; It's necessary and possible to increase the attractiveness of the tissue category through strong brands and innovation.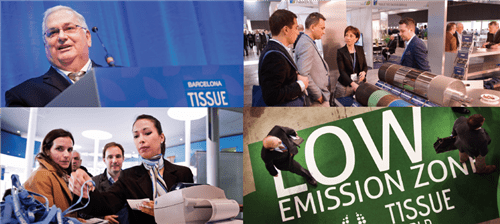 A strategic outlook for the European economy: "Recovery or continuing stagnation?
Andrea Boltho, emeritus fellow, Magdalen College, University of Oxford, UK
Stressed the huge uncertainties surrounding the European economy. On one hand, Europe is in deflation, austerity continues and the Euro could be under threat. On the other, the fall in oil prices is boosting real incomes while currency depreciation is encouraging exports.
How will the events unfold?
The last few years have been tough, especially for the Eurozone, but a recovery is in sight (even in the Eurozone). Why? Lower oil prices, the European Central Bank's quantitative easing (QE), the Euro's decline and less fiscal austerity.
What could go wrong?
Deflation and debt, increasing tensions in Ukraine, a return to higher oil prices, Grexit (the possibility of Greece leaving the Eurozone) and the Euro collapse … or the Euro strengthening?
Effect of falling oil prices – there are gainers and losers. Governments of oil producing countries and shareholders of oil producing companies lose, conversely, citizens of oil consuming countries and oil using companies gain.
Gains and losses offset each other and there is no change in total world income.
But there is a change in world expenditure. At the margin, most oil producing countries spend less than oil consuming countries. Hence the growth rates of world demand and output are higher than they otherwise would have been. Rough estimates suggest a gain of as much as 0.5% of world GDP in 2015-16 if the oil price remains at around $50/$60 a barrel.
Why deflation is (very) dangerous
Purchases are postponed in expectation of lower prices. Since nominal interest rates can hardly fall below zero, real interest rates will not only be positive but could reach high levels. The real burden of debt increases, leading to defaults and bankruptcies.
Could Greece leave the Eurozone? It needs debt relief and austerity. If it leaves, what happens to the Eurozone? In 2012 there was a high risk that if one southern European country left the others would be forced to do the same. The risk of contagion is now smaller, thanks in part to QE. No southern country wants to leave and no northern country would wish Italy, Spain or Portugal to leave. The costs for everyone would be huge. But even just Grexit could be costly.
Geopolitical assessment of Europe and forecast for 2015
Adriano Bosoni, Europe analyst, Stratfor, USA
The European crisis has long ceased to be a financial crisis to become primarily an unemployment crisis. In part because of unemployment and other factors such as nationalism, there has been a rise in Euroscepticism, and this has changed the political behaviour in Europe.
In 2015, elections in key countries including the United Kingdom and Spain will severely weaken the traditional ruling elites. Low growth rates and high unemployment are the new normal, especially in the Eurozone.
Southern Europe in particular is trapped in a vicious circle where governments don't spend, households and companies don't borrow and banks don't lend. One of the first elements of the EU that will face erosion will probably be the free movement of people. The constant arrival of immigrants is making countries question the Schengen agreement which allows ease of cross-border movement between EU countries.
The EU in a political crisis
Sovereignty v integration.
Currency union without fiscal union.
Germany has two conflicting goals – preserve the Eurozone and protect its national wealth – and is struggling to achieve both simultaneously.
Trends in the Eurozone
In 2015 the Eurozone will have to deal with four major problems: economic stagnation, high unemployment, low inflation and high debt.
The debate between countries pushing for more stimulus and countries insisting on further economic reforms will continue. The Eurozone is sleepwalking into a new financial crisis (Italy, Greece, Spain).
Euroscepticism is on the rise, and nationalist, protest and anti-EU parties have evolved to a point where they could enter governments.
EU members including the UK, Spain, Portugal, Finland, Poland and Denmark will hold general elections in 2015.
The EU and Russia
The EU will remain reactive to events in Ukraine and to the standoff with Russia. Even as Germany will maintain firm demands on Russia, both sides will prioritise keeping their communication channels open.
Key area to watch: Intermarium or federal link between countries between the Baltic and Black seas.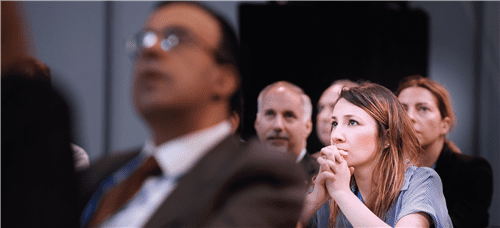 Rapid shift of tissue business from West to Central and Eastern European countries (CCEE)
Esko Uutela, principal – tissue, RISI, Germany
Covered developments in tissue consumption, expected growth by main country or sub-region, news on the supply side with new projects, demand/supply balance and a number of other topics in the European industry.
Conclusions:
The Western European tissue business has suffered because of economic problems in southern Europe. Recently, there has been practically no growth but improvement is expected in the next two years, albeit only gradual.
Eastern Europe offers the main growth potential for business expansion and there are several projects in the pipeline. Until recently, Russia was in a strong move but too many investments at the same time have overheated the market which now also suffers from the conflict with the West and the free fall of oil price.
But despite temporary problems, the focus of the European tissue business is clearly moving from the western to the eastern part of the continent, as the recovery in southern Europe will be slow and past growth rates not any more repeated.
Eastern Europe seems not to have learned anything from the past, again too many expansion plans have emerged, in Eastern Europe in particular but also in Western Europe. Europe's outlook is shadowed by ongoing political tension. There are too many additional investment plans, so there is no hope for improving demand/supply balance in the next few years.
International market pulp demand and supply balance to 2020 and implications for the furnish trends of the global tissue sector
Oliver Lansdell, director – Pulp and Paper, Hawkins Wright, UK
Provided an overview of the general state of the global paper and board market and looked at fibre consumption trends. The presentation examined the evolution of global market pulp demand and explained how a wave of new market pulp capacity may facilitate a change in furnish trends in the tissue industry away from recovered fibre content tissue to virgin fibre content.
Recognising prospects for tissue products on the basis of their superior hygiene
Roberto Berardi, chairman, European Tissue Symposium, Italy
The presentation highlighted The European Tissue Symposium's focus on hygiene as a key driver for tissue products growth. It also emphasised hands hygiene as an imperative in the washroom: outcome of the most recent ETS study about aerosolisation while drying hands.
Can European tissue market become immune to low cost competition?
Pirkko Petäjä, principal, Pöyry Management Consulting, Finland
Outlined how fibre is the single most important cost item in tissue – tissue costs are low when the fibre costs are low. Pulp integration contributes to low fibre costs – but tissue production is not typically fibre integrated. Is the integration increasing? Can tissue from low fibre cost areas compete in Europe or are the transport costs too high? There are other important attributes that are as relevant in the tissue market place as the costs.
Reduction in Chatter marks by combining vibration monitoring system with Yankee coating optimisation
Ed Bondoc, CMC business development manager, SKF, USA,
Keith Barker, industry technical consultant – tissue and towel grades, Nalco an Ecolab company – EMEA, UK
Incidents of dryer chatter marks occurring during the tissue creping unit operation have increased dramatically over the past ten years. Details were provided for monitoring equipment and coating chemistry that were implemented on a machine experiencing severe chatter mark problems for the prior eight years.
Improving tissue-machine performance with new fabric, felt and roll cover technology
Bill Butterfield – executive VP and chief technology officer, Xerium, USA
Highlighted advancing design and development methods into a "virtual" world, quality and efficiency starts on the former. System engineering of felts, rolls covers, and venting design for high pressing efficiency.
The ABC for achieving significant energy savings with optimal drying system parameters and settings, automatically and continuously
Giordano Fragiacomo, product sales manager, Direct Sales Air Systems Tissue Business Line, Valmet, Italy
Showcased advantages of the ABC system, namely that it maintains – continuously and automatically and that it gives a permanent optimal balance of hood flows.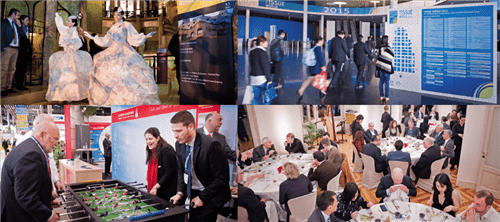 Condensate systems – an overlooked optimisation opportunity
Gary Marzullo, technical director, Msquared, USA
From the day your Yankee starts-up, your Yankee condensate system begins to wear out. The faster the machine, the lighter the grade, then the more important it is to have your condensate system running at a high efficiency and uniformity. How to better understand if a condensate system has problems? On-the-run profiling and high speed infrared, when measured in tandem and under both condensing and non-condensing loads, will provide the precise measure of the condensate system's health.
Steel Yankee Dryer TT SYD: Take care of it!
Riccardo Pierini, customer care – Yankee Dryer service engineer, Toscotec, Italy
Highlighted advantages of Steel Yankee Dryer developed by the organisation based on practical cases of installation and gave information about procedures and implementations carried out for the start-up and for the running of the Steel Yankee.
New Technology Solves Challenging Yankee Deposit problems that can push you over the edge
Barry Bartles, Platform Launch and Applications Manager, Tissue & Towel, EMEA, Solenis, UK
SUSTAINABILITY AND ENERGY SAVINGS:
On the Horizon: Three game-changers for sustainable business
Sally Uren, chief executive, Forum for the Future, UK
Outlined findings from Forum for the Future's research into the key themes which should inform strategic decision-making in forward thinking businesses; focusing on the three game-changers which could pose the biggest opportunity.
SCA – global hygiene and forest products company – as a leader in terms of sustainability
Olli Härkönen, director energy savings and technology, SCA Hygiene Products, Finland
Outlined how sustainability can and should be an integral part of the strategy and decision making of any manufacturing company.
Tree free paper products – a global green solution and future market trends
Paul Chandrachur, VP, Projects, American Hygienics Corp, China
Looked at which and how green products will change the behaviour of consumers, and the subsequent positive impact on society and environment. Outlined new technology, branding and significance of these products in the European context and also focussed on paper products like tissue, diapers, sanitary pads and copy paper.
Sustainability in practice: The Södra Example
Marcus Hellberg, head of marketing, Support and Business Development, Södra Cell International, Sweden
Illustrated the Södra model, why and how it works. Focused on the broader picture on how Sodra transmits sustainable forestry throughout the chain: Södra is currently undertaking a complete review of its sustainability and CSR policy to ensure full integration into its strategy. Why should the end-user care about sustainable sourcing and how can he use it to best advantage? Labels, choice and transparency were explained.
Sustainable supply of wood raw material for pulp
Bengt Brunberg, manager sustainability, BillerudKorsnäs Gävle, Sweden
Outlined sustainability for BillerudKorsnäs in the value chain, why FSC and other sustainability credentials are important. Looked into what characterises sustainable wood sourcing, what added value is there from certified forest management, and how sustainable wood supply evolves today.
Life cycle assessment based tissue products and project design
Jordi Gomà-Camps Travé, production manager, Gomà-Camps SAU, Spain
Outlined the importance of tools like life cycle assessment to determine the real carbon footprint of a tissue product. The importance of the secondary recovered fibre was discussed. The methodology might be the ultimate tool to compare companies or mills amongst them, taking into account the whole environmental burden of its production from raw materials to finish goods, enabling decision makers to decide on a more defined basis comparable throughout the sector.
Utilising enzymes to reduce fibre costs and energy consumption
Frank Pakinkis, senior applications specialist, Tissue & Towel, Solenis, UK
Enzymes are bio catalysts and offer a particularly cost effective route to dry strength development and the associated benefits of trading strength away to deliver significant cost savings. Results achieved include reduced refining, improved drainage, and increased use of cheaper bulkier fibres, reduced basis weight and ultimately improved machine efficiency. Compared and contrasted different mechanisms adopted by polymeric and enzymatic dry strength additives from a paper making perspective, and highlighted, through the use of numerous case studies, the added value that dry-strength enzymes can bring to the tissue making.
Join the future – the most energy saving tissue production line in the world
Marcus Schwier, VP sales tissue EMEA business line projects, Voith Paper GmbH& Co. KG Heidenheim/N.N, Germany
The paper industry is forced to focus more and more on reliable and sustainable processes by increasing competition, costs and market demands. Outlined how the use of Intensa Pulper and the Pluralis Refiner concept will result in a significant reduction of specific electrical consumption in the stock preparation. Demonstrated how it is possible to optimise the fibre mix maintaining the quality of the finished product.
Making a strong, soft and bulky premium tissue cost effectively, using high quality NBSK
Paul Watson, director of research and innovation, Canfor Pulp, Canada
Fibre is a large cost element for tissue producers, reducing the cost of the furnish is a priority. Using the highest quality NBSK is conductive to achieve this objective. In practice, pulp preparation of the long fibre pulp is often not optimal. The front end of the tissue making operation typically does not receive the same level of attention as the PM operation, even though
the quality of the furnish delivered at the head box has a large effect on tissue quality and on production efficiencies. Examined fibre properties and pulp preparation, to benefit the tissue producer.
Innovations in deposit control for tissue machines
James Atkinson, sales manager and PFA launch manager EMEA, Kemira, UK,Rob Mcleod, process engineer, Northwood Tissue (Disley), UK and Carles Cabrera, senior application specialist deposit control, Kemira (Paper), Spain
Following the successful launch of a new breakthrough technology treatment for enhancing felt performance and MB control on tissue machines, Kemira has seen outstanding programme success throughout tissue machines in Europe and Asia. In addition to outstanding microbiological control, extra benefits in felt performance have been observed that were not previously reported with other oxidizing-biocide programmes. Case study explained successfully enhancing felt life performance while maintaining a well-managed microbiologically controlled process which has enhanced environmental sustainability.
Creping excellence: Quality and productivity without compromise
Florent Bougerolle, tissue service project manager, BTG Eclepens S.A., Switzerland
Presentation outlined advantages of Creping ExcellenceTM, its hidden value/savings of controlled bulk enhancement, the five inevitable critical success factors to master creping, practical understanding of crepe interactions: The crepe Model illustrated two case studies on actions and tips from a whole machine bulk approach and the air concept: new game changer to increase bulk?
Economy associated to Yankee hood ''Cascading" vs "Parallel" operating mode
Jean Desharnais, president, Enerquin Air, Canada
The economics of switching from the more conventional ''Parallel'' mode to the ''Cascading'' mode is not so clear and easy to predict as the process air thermodynamics and air balance for both the wet end and dry end hoods will change when switching modes. Presentation compared both modes of operation for a given production, explained energy savings calculations and application limitations.
Case Study: Tissue makers' experiences of improved performance with advantage ViscoNip Press
Johan Björn, sales director South America, Valmet, Sweden
Outlined tissue makers' experiences of improved performance with Advantage ViscoNip press. The most effective way to reduce energy consumption is to improve press dryness and thereby reduce the amount of water to evaporate. With the Advantage ViscoNip press tissue makers can increase post-press dryness significantly and at the same time improve product quality, save fibres and reduce energy consumption.
CoGeneration System – efficient energy utilisation with a gas turbine in tissue manufacturing
Klaus Gissing, vice president tissue machines and air systems, Andritz
Highlighted CoGeneration System as an efficient method of providing all the required energy from a single source. The energy source for co-generation is natural gas, which is burnt in the turbine and via a directly connected generator produces the required electrical power – the amount is dependent on the turbine size, but should typically be enough for the entire process. The utilisation of the energy source can be maximised and the corresponding energy efficiency of tissue production increased significantly.
TAD – the influence of grammage, formation and pulp type on non-uniform drying and air flow
Aron Tysén, senior research Associate/MSc., Innventia AB, Sweden
The removal of water is an integral part of tissue production. TAD is used for premium tissue grade products. Improved product properties are obtained at the price of high energy demand. A better understanding of the TAD process may lower energy demand. The objective of the work in this thesis was to investigate the influence of formation, grammage, and pulp type on drying and air flow through sheets. A method was developed, based on infrared thermography, to determine local drying time oflaboratory sheets on a sub mm-scale, while monitoring air flow and pressure drop of the TAD process.
Operational optimisation based on online vibration monitoring
Xabier Echeberria, managing director, Lantier, Spain
Tissue Machines are continuously being pushed towards their design limits to achieve higher levels of productivity and quality. The search for these improvements is constrained by all kinds of factors, among them the presence of self-excited vibrations or chatter. Cases of chatter in tissue machines have increased dramatically in recent years because of the race to achieve greater productivities. To fight this serious problem, LANTIER designed an "intelligent" Crepe Doctor (iCrepe®) with integrated sensors and software that make it possible to monitor the crepe process 24/7 and detect chatter while the machine is running.
Centre-drive unwind architecture and forward acting control technology
Joe Gotshall, business development director, MTorres, USA
Outlined Mtorres' technology that offers self-loading, self-chucking unwind stands for safer, simpler operation. Centre-drive unwinding is ideal for structured substrates, (TAD, ATMOS), as it is a non-contact unwinding technology. Forward Acting Control Technology, (FACT), a patented MTorres control architecture, reduces web losses by correcting tension defects in real time.
Enhancing tissue manufacturing efficiency and performance using new measurement tools
Xuejun Zou, research manager, Paper, Packaging & Consumer Products, FPInnovations, Canada
To support the tissue and towel producers to improve manufacturing efficiency and product performance, advanced measurement tools have been adopted and new methods developed to quantify key tissue and towel properties and their variation. Presented case studies to show how these tools can be used for product benchmarking and diagnostic analysis of product quality problems.

Optimising efficiency through integration and automation
Stefano Fornasini, key account manager, Elettric 80, Italy
Outlined the cost savings and sustainability opportunities derived by maximising integration and automation into the design of tissue production facilities. Showed results in value chain, optimised processes, product quality, and ROI's.
Technological advances in adhesive dispensing for increased efficiency and reduced manufacturing costs
Rod Blanton, sales/applications engineer, Valco Melton, USA
Demonstrated how technological advances in adhesive dispensing are helping meet the requirements for increased efficiency and reduced manufacturing costs across the converting industries. Provided opportunity to learn about the latest innovations in adhesive dispensing and gain a better understanding of its potential for improving operational efficiencies.
State-of-the-art conditions for dewatering at the suction pressure roll
Laslo Monte, director sales tissue EMEA, Voith Paper GmbH& Co. KG, Austria
The highest performance in a tissue machine is achieved only when the best conditions for an efficient nip dewatering are reached. Showcased three products which when combined can bring big savings and boost the machine performance: 1) HydroSeal, the new technology on Suction Press Roll. This new patented Voith technology uses sealing strip with integrated lubrication. 2) SolarSoft, pioneer Voith technology on PU cover for tissue machines. With the biggest number of application worldwide, the SolarSoft has been proven on several applications. 3) Evolution, new technology on felt for tissue.
Optimisation of boiler steam conditioning for scale control
Fernando Dantas, tissue technology manager, Buckman EMEA, Belgium
Demonstrated how to optimise boiler steam conditioning for scale control and to improve a Yankee condensate removal operation to prevent the formation of deposition into the internals of the Yankee dryer and, therefore, to guarantee a maximum efficiency of the coating film applied on the outer layer surface. By looking inside the Yankee dryer cylinder and identifying the origins of the problems and its severe consequences, the presentation tried to put into perspective the importance of a simple chemical monitoring system and treatment of the steam and condensates, which impacts on the operational efficiency of the tissue mill asset and consequently preventing profit loss.
Best-practice of technologies that Increase productivity and paper quality, and reduce manufacturing cost
Waheed AL Qannas, site operations manager, NUQUL Tissue, Egypt
Outlined NUQUL's two projects on eucalyptus consumption and co-generation details to demonstrate that an environmentally friendly approach can also have a positive impact on business performance. Pulp typically forms almost 70% of variable manufacturing costs. Showcased technology required to produce high quality tissue products using 100% eucalyptus fibre with 0% softwood content, a 14 MW gas turbine providing electricity for the site, and turbine exhaust gases in the tissue machine hood to displace the fuel which would normally have been used. Produces 85% efficiency versus 58% normal efficiency in cost efficient way of tissue production.