Istanbul and São Paulo shows to serve key emerging regions
The worldwide search for potential lucrative new markets in emerging regions was a dominant central theme of the recent and successful Tissue World Americas 2014 trade show.
And where the industry's leading companies go, so too goes Tissue World.
Based on the feedback from a vast array of industry players, on systematic market research and on the analysis of prospective growth of the tissue business, Tissue World is to launch two new strategic events in order to augment the reach of its global portfolio.
They are Tissue World Istanbul to be held on 25-26 September in 2014, and Tissue World São Paulo on 20-22 May in 2015.
TW ISTANBUL 2014
TW Istanbul 2014 will be a summit to discuss local and international topics during a two days conference in a pivotal city for a vast region spreading from east Europe and the Middle East to Russia and the CIS countries.
An area that is intrinsically multi-faceted and diverse but united by a strong growth in the respective tissue markets.
In the past eight years, the capacity in Turkey has more than doubled and the trend appears to be continuing.
Turkey's key tissue players are consistently present at Tissue World trade shows around the world and the past few years have seen them expand aggressively within Turkey and neighbouring countries.
For example Hayat Kimya, which TW magazine visited in 2012 for that issue's Country Report, has broken world speed records (a Metso-supplied machine that ran at 2,210m/ min continuously for a 24-hour period), and has since been busy with start up projects in Iran, Russia and Turkey.
Turkey is in a key geographical location that is seeing substantial growth.
TISSUE WORLD SÃO PAULO 2015
Tissue World São Paulo 2015 will focus on Brazil and South America, a fast growing market which hasn't previously had a dedicated tissue show.
Brazil is an immense and unique country with a set of strict rules and regulations that operators must abide by while other neighbouring countries equally show great potential, in particular Colombia, Peru and Chile.
Hot related topics will be discussed extensively during the conference and on the trade show floor with local and international exhibitors.
Comparing the relative shares of population versus tissue consumption in Latin America and North America gives an idea of just how much potential the area has: while North America has a population share of 37% it has a mighty 70% of the whole area's tissue consumption.
Latin America on the other hand has a 63% population share and just 30% of the tissue consumption.
All of the Latin America tissue market has shown strong expansion in the past few years and has an average growth trend of 4.7% per annum, with Brazil undoubtedly continuing to be the leading force.
A changing geographical landscape has presented further opportunities: an increasing middle class with rising disposable income levels alongside an increasingly ageing population … all add up to a market that is continuously and boldly evolving.
This has attracted global companies to invest heavily in new capacity: Kimberly-Clark, SEPAC, CVG, Dama-Pel, Nobrecel, VIPASA, CMPC Melhoramentos, VIPASA, OL Papéis.
All this investment shows that manufacturers are clearly expecting continued growth in South America.
In the next few years, all the emerging projects in these parts of the world will drastically change the outlook of the tissue industry.
For TW, Istanbul and São Paulo will ultimately create additional solid bridges for exhibitors and visitors from the regions and beyond to interconnect in fast growing vital markets for the industry.
An exciting challenge that Tissue World is determined to meet.
QUICK LOOK: TURKEY AND BRAZIL
TURKEY T&T PRODUCTION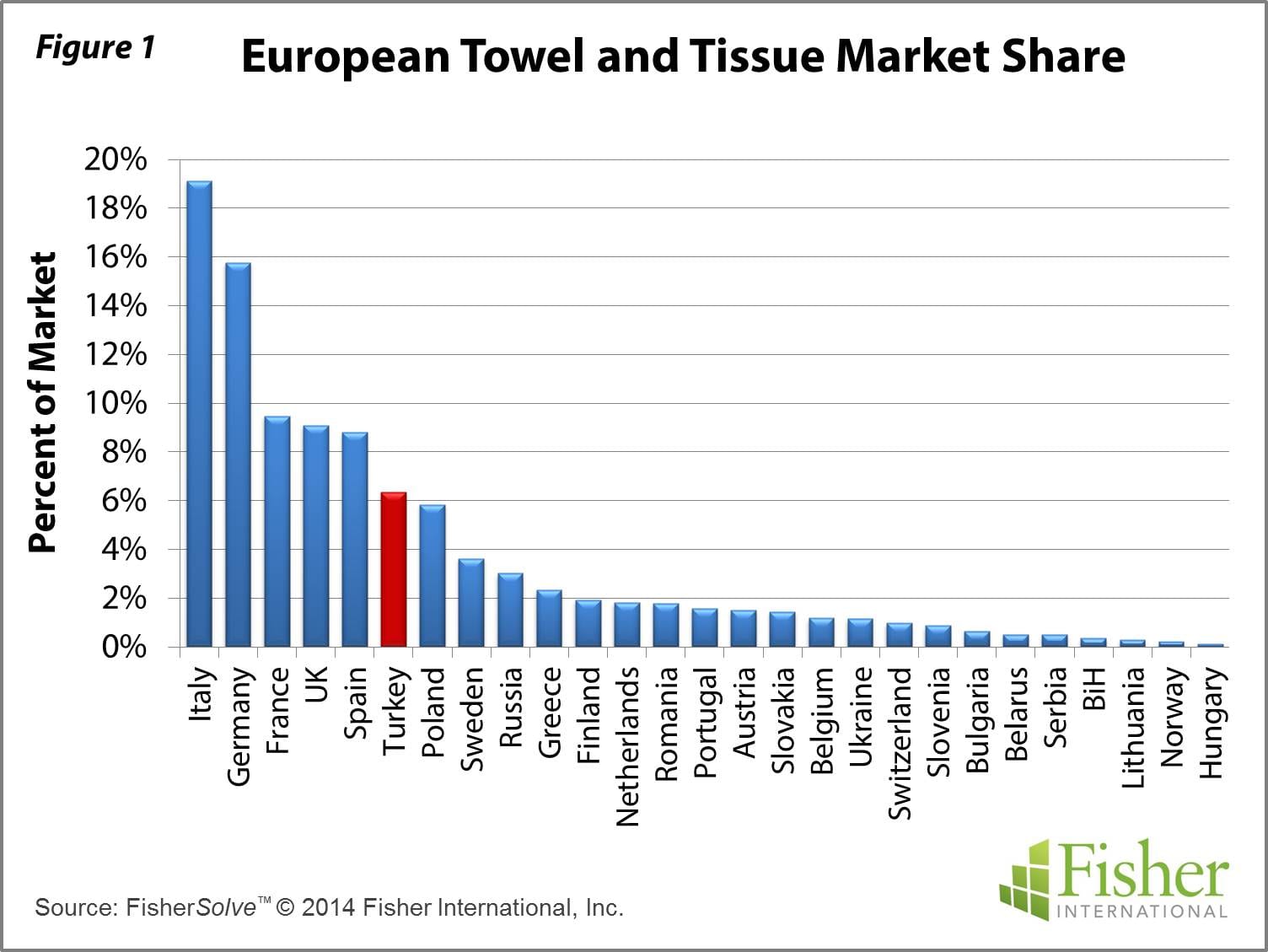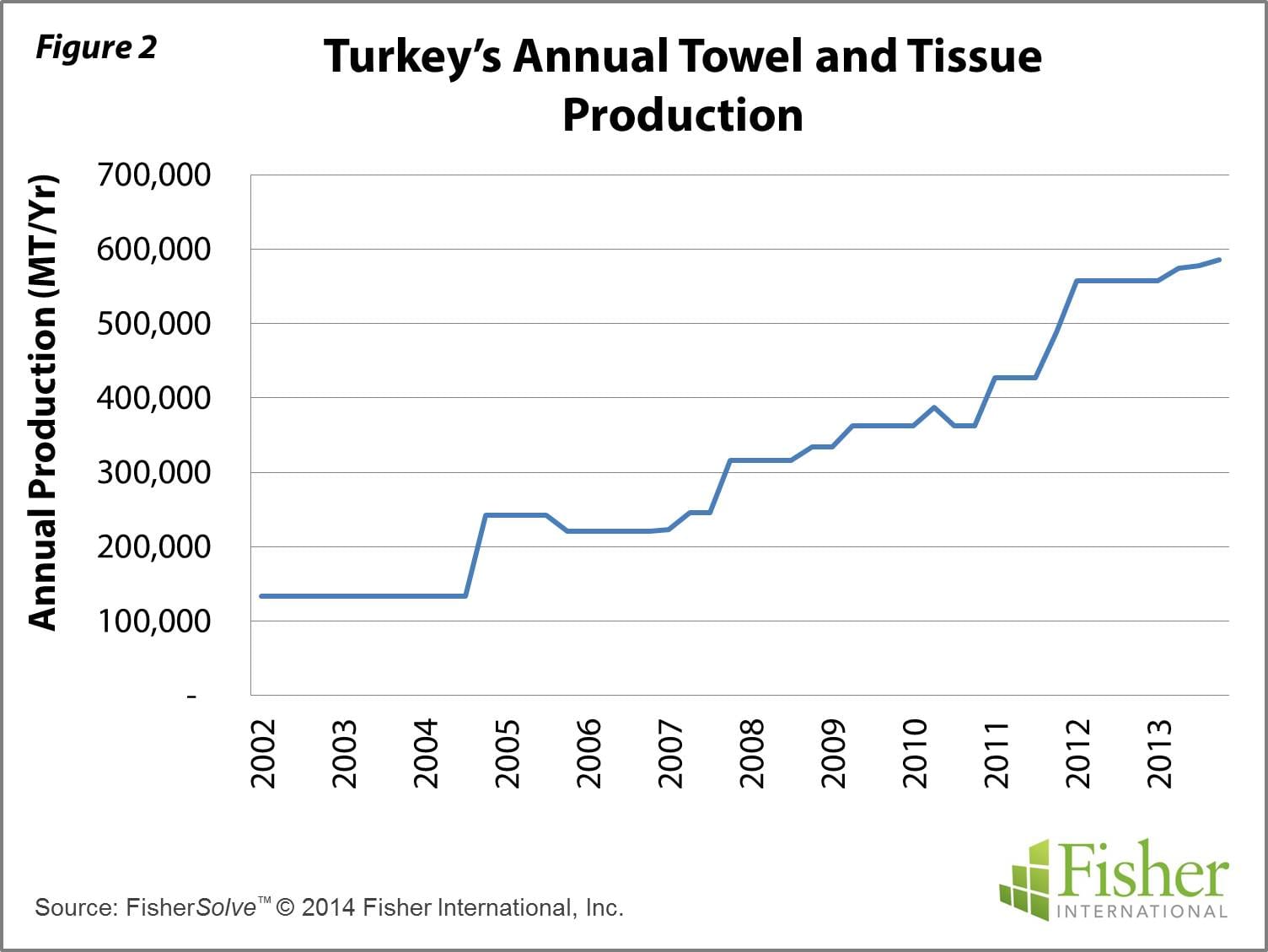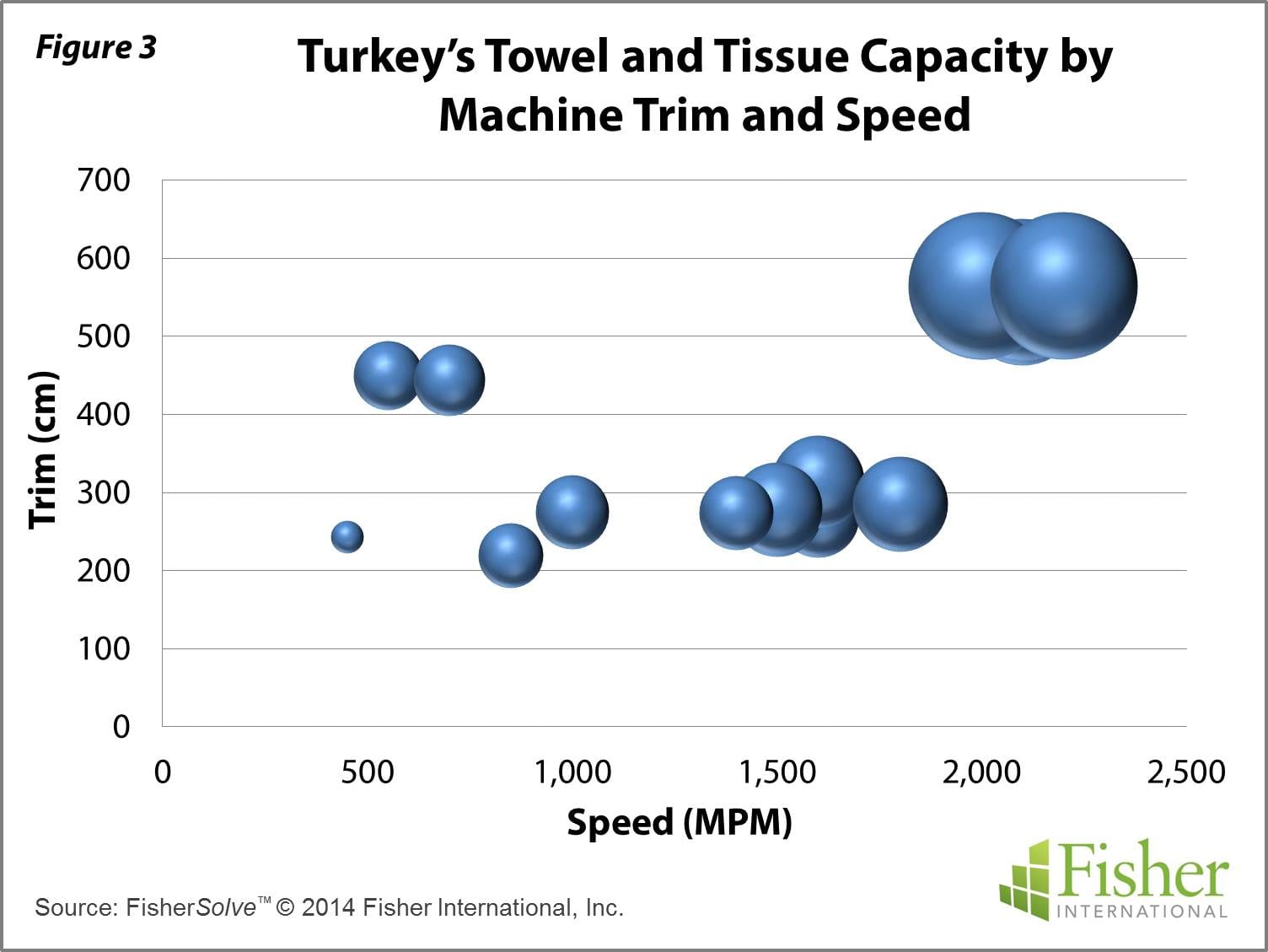 Turkey is the sixth largest Towel and Tissue (T&T) producer in the European Region. At 586,000 metric tonnes, Turkey produces significantly less than market leaders Italy and Germany (1.76 and 1.45 million metric tonnes respectively, Figure 1). This market position is a result of a sustained period of growth beginning back in 2005 (Figure 2). In the past eight years, the capacity in Turkey has more than doubled and the trend appears to be continuing.
There are 17 T&T machines located across 11 mills operating in Turkey. The capacity of these machines ranges from a low of 3M metric tonnes to a high of 70M metric tonnes. Speeds of these machines vary from the slowest at 450 MPM to the fastest at 2,200 MPM. Machine trims vary from the narrowest of 220 cm to the widest of 565 cm (Figure 3). Average technical age of these machines is 15 years, but this is somewhat misrepresentative of the asset fleet because eleven of the 17 machines are newer than the average, as the growth trend suggests.
The fibre distribution for Turkey's T&T mills is heavily biased toward virgin pulp. Recycled fibre is present in five mills, but is the predominant fibre in only three of these. Where present, the recycled fibre source is a combination of MP, SOP and OCC. Virgin fibre is a mix if Northern and Southern hardwoods and softwoods with some eucyluptus.
BRAZILIAN T&T PRODUCTION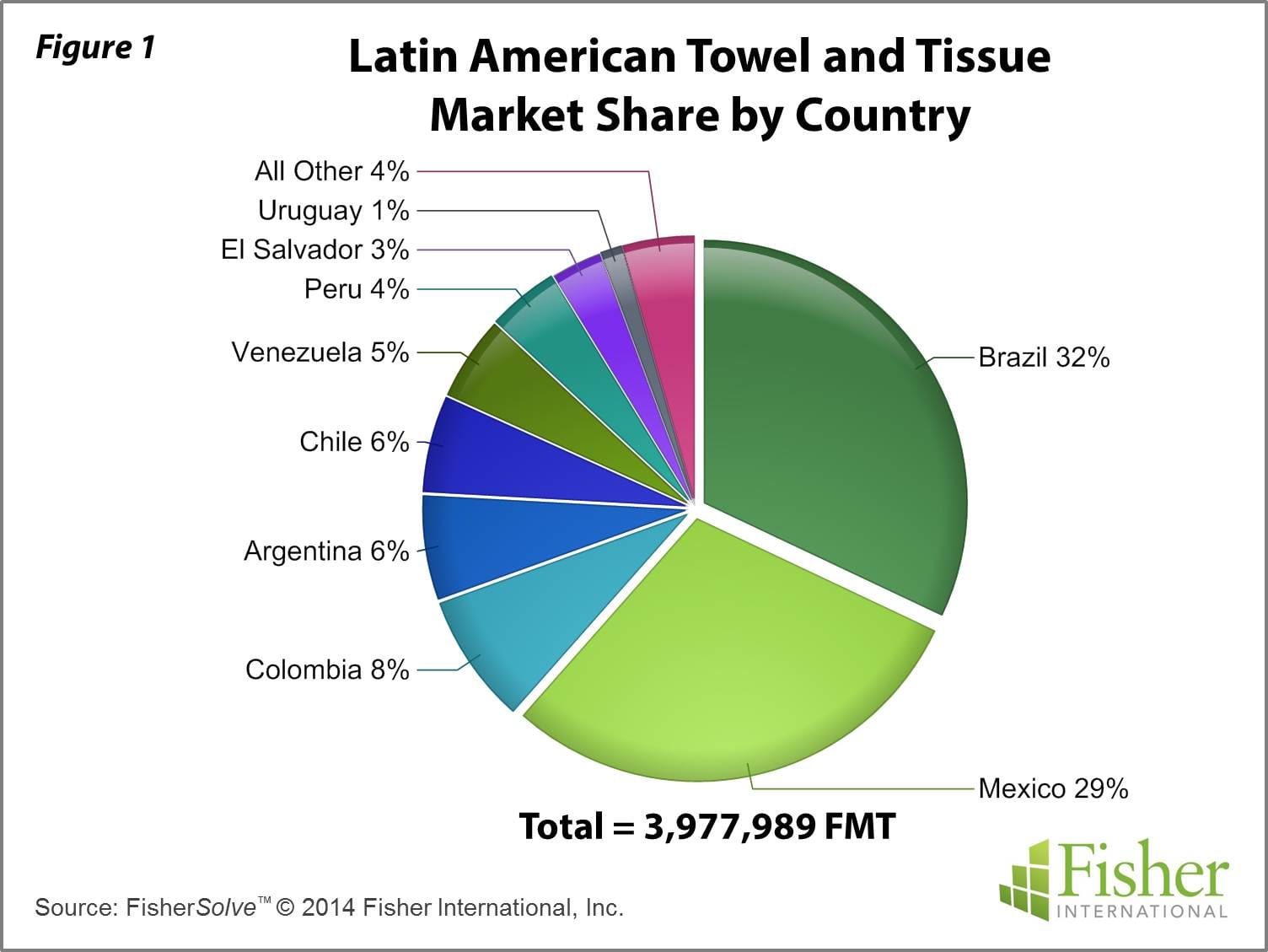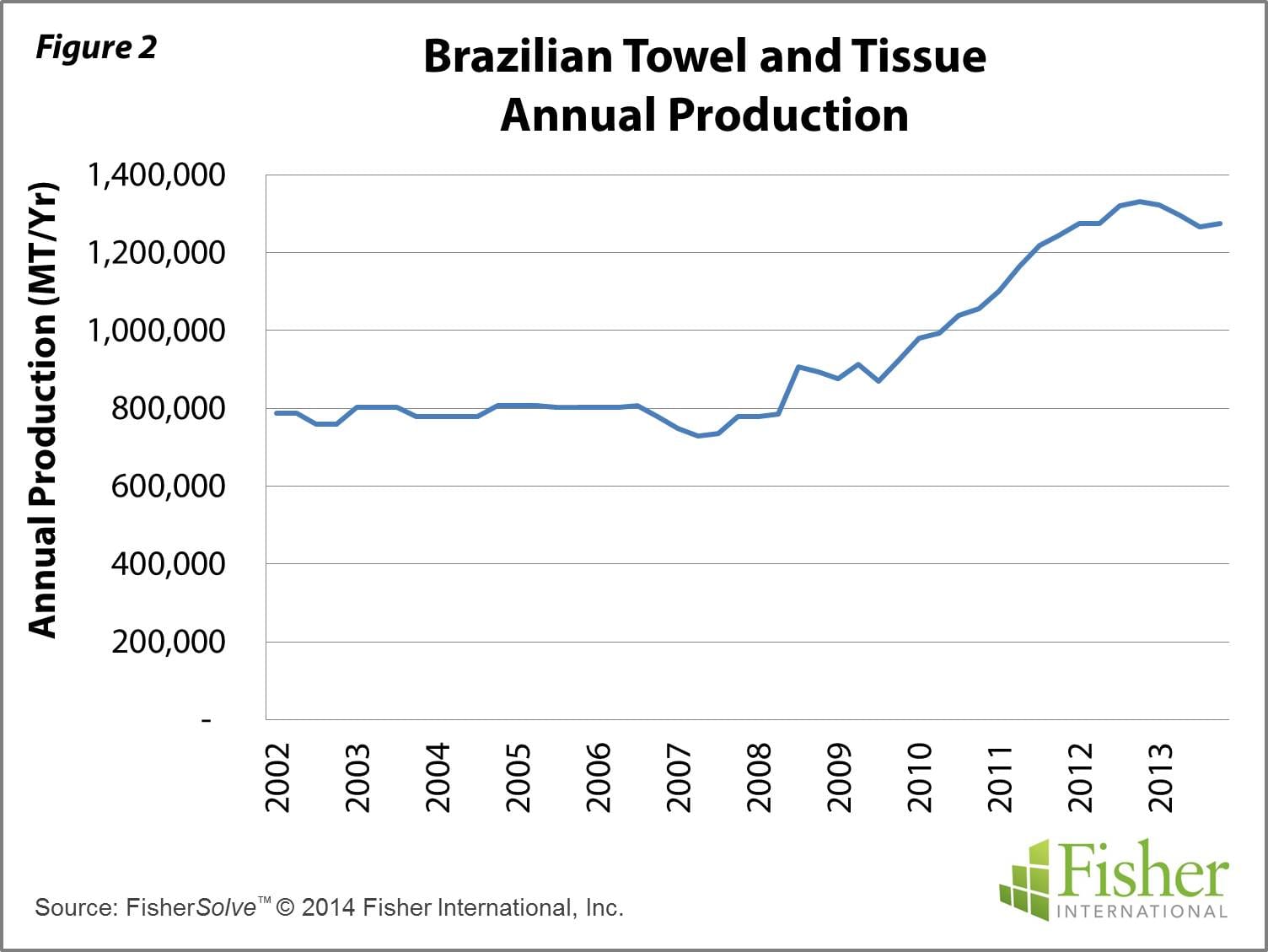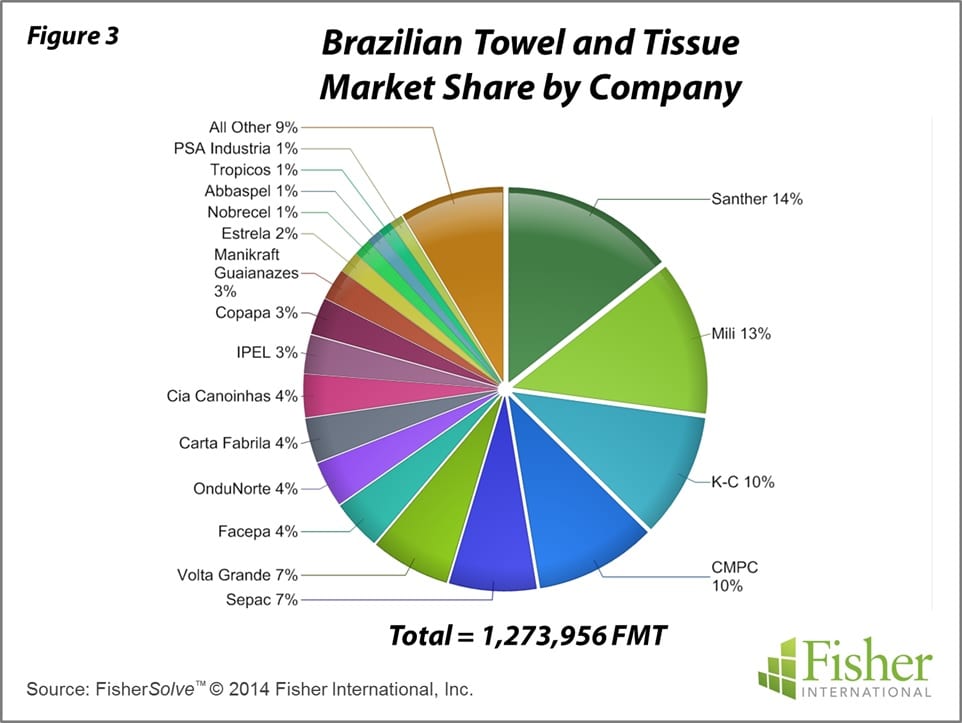 Brazil is the largest T&T producing country in Latin America, making up 32% (1.274 million metric tonnes) of the 3.978 million metric tonne Latin American market. Together with Mexico's 29% share, over half of Latin American T&T production comes from these two countries (Figure 1). Brazil experienced a significant spike in growth starting late 2007 to early 2008, and continued to grow even with global recessionary headwinds. But this growth trend appears to be levelling out over the past year (Figure 2).
There are 38 operating T&T mills in Brazil. Ownership is almost exclusively local, with only four mills being owned by companies outside of Brazil (two by CMPC, Chile and two by KC, United States). The remaining 34 mills are owned by 27 companies with headquarters in Brazil. Santher and Mili are the two largest companies operating four and two mills respectively. These two companies account for 27% of the market (Figure 3). The two foreignowned companies hold another 20% of the market resulting in four companies commanding nearly 50% of the market.
The fibre base for Brazilian T&T comprises an almost equal split of recycled and chemical pulp, which stands true overall and mill to mill. There are 13 mills that use recycled pulp exclusively or almost exclusively (>90%) and 14 mills that use only chemical pulp. The remaining mills use a mix of recycled and chemical pulp, with one mill integrating a significant amount of mechanical pulp. The predominant chemical pulp is Eucalyptus and the predominant recycled material is a broad spectrum from pulp substitutes to OCC.