By LARS HALEN, Senior Manager, FOEX Indexes and TIMO TERAS, Managing Director, FOEX Indexes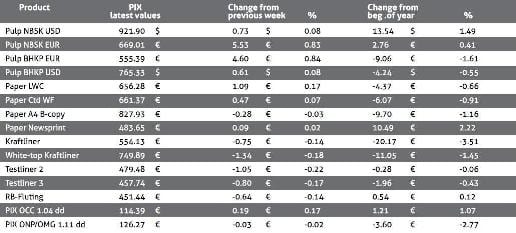 Paper industry
More statistics are gradually coming out over the pulp and paper industry performance in 2013. As we have reported earlier, the printing and writing paper demand in the world has been estimated (by PPPC) to have fallen by 0.6%. The total consumption of printing and writing papers is 91-92 million tonnes. Corrugated board is the largest of the various paper and board industry sector grades. The consumption approached 150 million tonnes in 2013 and will move above that benchmark this year. In 2013, the world demand of corrugated board, most of it recovered paper based, is estimated to have grown by over 4 million tonnes, or by nearly 3%. With some growth seen also in bleached paperboards and some other industrial grades as well as in tissue paper, the total paper and paperboard consumption grew in 2013 by about 5 million tonnes or maybe even a bit more.
The key numbers over February 2014 performance weren't ready at the time of writing. But with weather related disturbances in production and delivery logistics, the numbers are expected to be relatively weak. Utipulp's market pulp consumption numbers support this view. The February 2014 marketpulp consumption by the European paper and board makers fell by 3% against the February 2013 volumes. Also the news received over the development of paper industry order books suggests relatively modest paper demand volumes in February. As the paper price negotiations went on in many cases through February, the order book levels don't necessarily give a reliable picture of the true paper demand development.
NBSK pulp Europe
The softwood pulp market remains firm, even if the first data available over the European pulp market development in February is relatively weak. Consumer stocks of market pulp came down by one day's worth of consumption, or by 3.8% against February 2013. Port stocks of pulp, reported by Europulp, were up by 2.1%, or 20 000 tonnes from January and up by almost 80 000 tonnes, or by 8.2%, against February 2013. The producer stock levels are awaited with keen interest. Euro weakened this time against the US dollar by 0.7%. Our PIX NBSK index advanced by 73 cents, or by 0.08%, to 921.90 USD/tonne. When converting this dollar-value into euro, the benchmark went up by 5.53 euro, or by 0.83%, and the PIX NBSK index in euro closed at 669.01 EUR/tonne.
BHK pulp Europe
In hardwood, consumers' hardwood pulp stocks were virtually unchanged from last year. Market balance remains in hardwood weaker than in softwood although the wood supply problems and production curtailments in Indonesia and weather-related logistics interruptions in North America are balancing the effects of the anticipated volumes of pulp from the new projects, reaching the markets at some point in Q2/Q3.
Euro weakened by 0.7% against the dollar from the previous week. The PIX BHKP index value in Euro increased by 4.60 euro, or by 0.84%, closing at 555.39 EUR/tonne. The PIX BHKP index value in dollars gained 61 cents, or 0.08%, and settled at 765.33 USD/ton.
[box type="bio"]
FOEX
FOEX Indexes Ltd produces audited and trademarked registered PIX price indices for certain pulp, paper, tissue, packaging board, recovered paper and wood based bioenergy/biomass grades. The PIX price indices function as independent market reference prices and show the price trend of the products in question. FOEX sells the right to use the PIX indices for commercial purposes as well as weekly or monthly newsletters, a monthly market review and the PIX index histories.
Providing PIX pulp price indices to the tissue industry gives the paper producer and buyer insight in the price trends with a weekly frequency. This way companies have better tools to budget their cost or income structure and profitability, and may concentrate on their core businesses with less time spent on price negotiations.
Any commercial use requires permission with terms of use from FOEX Indexes Ltd. (www.foex.fi)
Note
PIX values, $ or € / metric tonne
[/box]