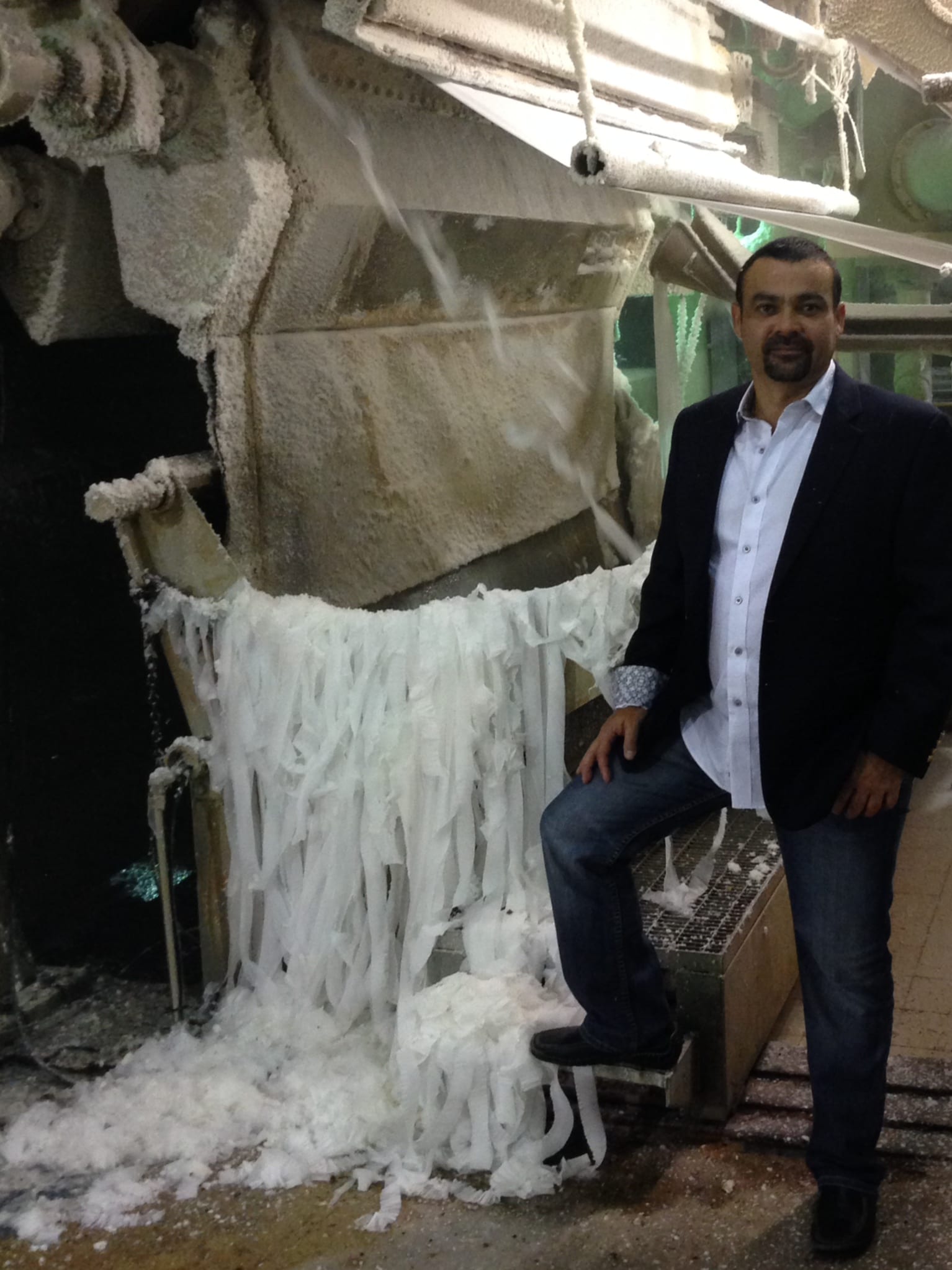 Enrique Todd is the executive vice president of Roses Paper, a Sanford, Florida-based independent tissue manufacturer that originated in Mexico. Here, he explains his working day to TW.
"I start my day by getting up at 5:30am, having a cup of espresso and a protein shake, and then I go out for a 30 mile bike ride.
Immediately after I shower while catching my breath and then review the morning's flash report from the mill, which details energy figures, raw materials consumption and any issue that will need immediate follow up with the production plan staff and our engineering department.
"My drive to the mill from my home is a short 15 minutes and I use it to become mentally prepared for the day ahead and the tasks waiting on my desk.
"My morning bicycle ride releases any stress and I remind myself how blessed I am to live and work in a great part of this country. I keep that in the back of my mind at all times so that no matter what challenges are ahead, this mentality enables me to endure any challenges that running a 24/7 operation making high quality paper grades and converted product brings on a daily basis.
"My main objective is to make sure we use our resources as efficiently and practically as possible to support each division. Converting and the mill both bring different challenges so prioritising resources in a small plant of 120 employees is the most important operation task of my day and this will help the teams in each division reach and achieve their goals and objectives. I also remind the staff of the bigger picture so they can make the necessary decisions during the course of the day.
"I typically walk the floor before getting in to my desk and I like to shake hands and ask our team members about their families; this is also how we remind our team members they are also part of the Roses Family. We chat briefly and discuss how we are doing, if we are making good quality products on a consistent basis while maintaining our productivity goals. I hope they feel recognised while having this level of discussion at all levels of employees.
"After my walk I get to my desk and review my schedule and reply to e-mails. I review our short and medium term plans and objectives and leave the long terms for a bi-weekly meeting. While all of this is happening, I typically get many calls from suppliers that want to discuss opportunities and also entertain customer's needs.
"When I look at the watch it is probably because it's time for lunch. We make an effort to step out and go for lunch to clear our head from all the overload of information and we try to go in groups and use the lunch venue to bounce ideas off each other.
"Back at the mill I typically have my last espresso of the day and continue with the task in front of my desk. I sign checks, approve expenses, and continue reviewing projects process. Where I get the most gratification is when I get to analyse all the data and bounce it off our projections. This keeps me engaged and it's like a bad habit you can't stop. "Being a small company it feels as if we are a small spec in the vast ocean when compared to the rest of the industry, so we recognise our limited resources for R&D and make sure we partner with leading technology companies that can give us technical support and expertise in their fields. The experts enjoy coming to our plant and sharing their expertise with our engineering group. They don't get the treatment that the giants give them when visiting larger operation where they are told what they want. Here at Roses, they feel they have an opportunity to contribute and make suggestions and they get to see them, rather than being told what to do.
"I have many colleagues and friends in the industry, Andritz, Voith, Recard, Fomat, Metso to name a few, and some from other mills. When I find myself unsure of something I can pick up the phone and ask for advice. While most mills have tall walls to keep their privacy, behind those walls there is a unique breadth of professionals that are willing to share their knowledge if it helps someone out of a problem. It is similar to a brotherhood despite the colours of the uniform and we are always willing to share experiences. We used Tissue World exhibition to meet and share experiences with products and technology. We can't wait till March in Miami!
'My daily challenges continue to be to find new ways to increase efficiencies that can translate to productivity while reducing our cost.'
"My daily challenges continue to be to find new ways to increase efficiencies that can translate to productivity while reducing our cost. We try to see this as hand-in-hand with our sustainability objectives. We continue to work to make sure our practices are ethical and responsible for our environment. We want to leave a healthy company for the next generation to carry on with our founder's vision.
"The second biggest challenge for me is to work with my family on a daily basis for the last 20 years. At times when I need to confront them when we disagree on some subjects it's not an easy task. It's difficult to have a great relationship with your in-laws and brother-in-law, but much more difficult while working with them and keeping expectations.
"Our new plant located in Albuquerque, a beautiful area of land located in the Southwest of New Mexico, also known as "The Land of Enchantment", is a much larger facility but currently only has converting facilities. I can't wait to expand and integrate that plant. This is one of my long term goals.
"We use a lot of napkins at home and when customers visit our mill we typically take them to one of our many customers' restaurant outfits in the area to enjoy our lunch; supporting our customers is a great excuses to go out to lunch."