The great metropolis is also "a great waste paper basket," says Soundview Paper Company chief executive Karl Meyers who has targeted recycled and virgin fibre T&T. The key issue is still "how do we get chosen first?" Helen Morris, TWM editor, reports from New York.
Driving underneath the towering skyscrapers that make up Manhattan's iconic skyline, past bustling Madison Square, the Empire State building and through Lincoln Tunnel where the Hudson River meets the Atlantic Ocean, TWM emerges into one of the five densely populated boroughs providing just some of the demand for Soundview Paper Company.
The Elmwood Park, New Jersey-based plant is hard to miss. A large, lit-up red sign with the "Marcal" tissue brand, established by founder Nicholas Marcalus in 1932, is proudly displayed above the mill, giving passers-by a hint of the site's historic past and modern present.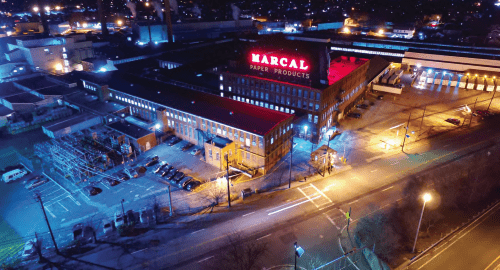 TWM is cheerfully greeted by Soundview's chief executive Karl Meyers, vice president of operations Ben Wenberg, executive vice president of sales and marketing John Glaze, and president Rob Baron. The sum of the knowledge and experience within the room is impressive – over 150 years in tissue and recycled fibre-based business. Meyers worked from 1997 – 2008 as vice president manufacturing for Georgia-Pacific; Wenberg from 1993 – 2013 in operations leadership, logistics, and finance roles at Kimberly-Clark.
The site previously operated as paper recycler and manufacturer Marcal Paper Mills until the struggling business was acquired in 2012 by Atlas Holdings. The Greenwich, Connecticut-based Atlas, with a long history of successful operations within the pulp and paper industry, then established Soundview Paper to take over and transform the mill into a manufacturer of recycled and virgin fibre towel and tissue products for the local At-Home and AfH markets. Meyers was named chief executive in September of 2014 and is one of the original industry leaders who started Soundview Paper. "We took a distressed business and made it profitable," he says. "The two PMs which were previously idled due to demand are now running full time. We almost grew too quickly but we're growing in alignment now and in places where we expect to win."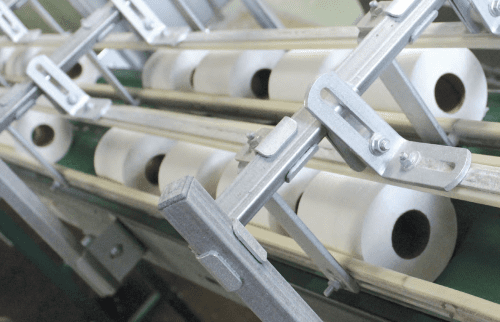 The flagship operation is located 12 miles northwest of New York City. Walking around the site you catch glimpses of its history: the corner stone on the mill's entrance dates back to 1932, the building's walls are its original walls, and once in the reception area there's a wall full of Marcal's advertising campaigns spanning over 80 years – including a picture of Elizabeth Taylor with a box of Marcal Hankies in the background.
The site now encompasses more than one million square feet of manufacturing and storage facilities on a 30-acre site, boasting fully integrated deinking, towel, tissue, napkin and facial production, 23 converting assets (nine bath winders, three towel lines, two facial, and nine napkin lines), as well as separate storage facilities for housing finished goods and parent rolls. It manufactures the Marcal brand of tissue products for AfH, office, private label and retail customers, using recycled paper collected from the densely populated metropolis on its doorstep. Annual tissue capacity is 120,000 tonnes, the site's deinking lines match paper machine capacity, and the 23 converting lines convert 120,000 tpy.
PM10 was installed in 1978 and is the site's "work horse, our heavyweight", while PM11 is "the crown jewel, matching efficiency with speed." Both PMs run virgin or 100% recycled paper and at very high speeds.
Over six decades ago, Marcal developed and implemented technology for recycling waste paper into pulp, making it one of the earliest companies in the paper products industry to go green. Today, Soundview offers a broad line of 100% recycled bath tissue, paper towels, napkins and facial tissue for both home and commercial use, all manufactured without chlorine bleaching, fragrances or dyes. Some 200,000tpy of recyclable paper are used in the manufacturing process. "We have a great green story," Wenberg says.
The company has "a great opportunity right here on our doorstep", according to Meyers. Statistics in 2013 reported 1.62m people on Manhattan Island, while 8.40m people are based in the whole of the Big Apple. While growth in the region isn't large, Meyers says it's stable at around 2% and is continuing to grow. "In terms of the demographics, we have more than enough growth here to sustain our facility. We're also in a great waste paper basket and close to the north east pulp market. We have great assets here, having a well associated brand and being located 12 miles from a heavily and densely populated area such as NYC."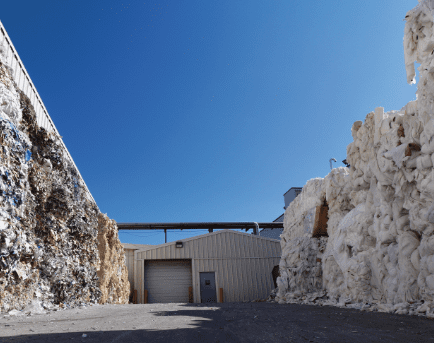 With the younger generations nearby, Meyers adds the company is seeing a change in how they consume: "They want tissue products delivered to their door rather than having to carry packs on the subway. More and more they're using online to have their groceries, tissue products, etc, delivered." In response, the Marcal brand has been one of the first to have its brands offered through major e-tailing sites, and its products offered for bulk deliveries to homes and office. "The key issue is still how do we get chosen first? That's key. Digital marketing is a big growth market for us. Online retailers are now making four-hour deliveries. What helps us is that the Marcal brand is so strong and well-established. Even when retail purchase habits are changing so quickly, kids remember their mom or dad bringing the Marcal brand home."
While America is a brand-driven culture, changing demographics, less brand loyal Millenials and the influx from immigration means many people today don't have the same brand-driven focus. "We're looking to increase our overall volume, so while we're seeing AfH and At-Home growing, there's also opportunities for private label growth," Meyers says. "While it's not like it is in Europe, private label is growing more and more."
He adds that for the At Home retail sector, quality, service and price are the main deciders – and the main opportunities for the business. "Being diversified, our strategy into the marketplace is that we're sheltered. When you're not the big 800 pound gorilla company, you can be flexible and pick what suits you. One of our strengths is that we're small enough to be nimble, but we also have the unique advantage of being part of Atlas Holdings. Their experience in successfully growing and strengthening pulp and paper businesses gives us yet another competitive advantage."
Energy remains one of the key challenges and the site works tirelessly to reduce its natural gas and electricity usage. Some 73% of its energy now isn't generated by coal. "We are fanatically focused on reducing our cost of production. And during winter it gets restrained, mild winters are our friend." Its At-Home segment serves the local region only: "We have to stay close because of the freight costs. For AfH, that's slightly less the case."
In 2013, Soundview acquired Putney Paper, a Vermont-based towel and paper products manufacturer. The purchase allowed the company to diversify its AfH product offering to produce a broader range of commercial towel manufacturing capability into its finished paper products offering of tissue, towel and napkin products to retailers, distributors and other customers. Meyers says that future growth for the business is more likely to be organic growth rather than another Putney Paper sort of acquisition: "We wouldn't necessarily reject an opportunity out of hand, but it's not part of our immediate business strategy. The growth is here; we're in these markets and we will continue to grow in them."
"We have the paper-making capacity to grow the market," he adds. "We have a strong brand and we've taken that and added to AfH, diversified our product offering with the Putney purchase, added At-Home, Home and Office (online) and Private label. While we have the capabilities to have a national brand, it's not the history of this mill. To grow our products, we opened up new markets. The more we grow, the better we seem to get. We are extremely excited for the future of this business."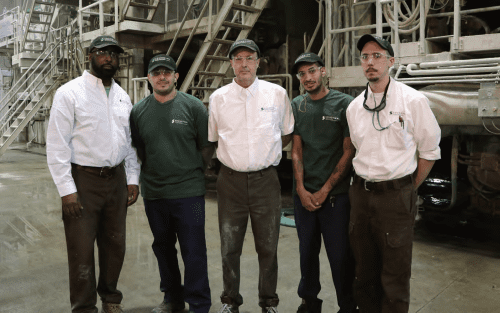 FACTFILE
Location: Soundview in Elmwood Park, New Jersey; Putney Papers in Vermont.
Founded: Soundview Paper was established in 2012; the Marcal Paper mill was founded in 1932 by Nicholas Marcalus.
Staff: 485 staff in Elmwood Park, 110 in Putney.
Products – AfH: bath tissue, paper towels, napkins and facial tissue for healthcare, hospitality, manufacturing, and foodservice to retail and office sectors. Marcal Pro® 100% recycled towel, bath, napkin and facial tissue products, including several certified by Green Seal™; At-Home; Marcal® brand, Marcal® Pride™; private label customers; parent rolls in virgin and recycled grades.