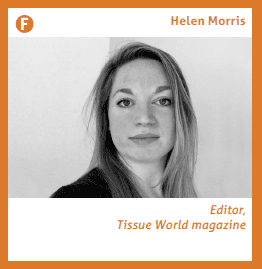 TWM, and hopefully all who read our Regional Report in this edition will join us, has enjoyed the privilege of touring the world's leading tissue market North America – ranked third in terms of global T&T with 22% of overall capacity.
New York and the Northeast US have another level of energy above and beyond most of the regions TWM has had the privilege to be invited to tour. That appetite for the best that modern living has to offer has embraced the best that tissue has to offer for decades.
It's the world's most advanced, most fought over, and most mature market. Huge amounts of money and brainpower go into chiselling out narrow percentage advantages through ingenious, and also sometimes copycat and dubious – as our MarketIssues report makes clear – advantages. So is that market getting tired, a very un-American thing? TWM's reports reveal a flat but steady demand, albeit one that struggles with costs, and only 'modest interest' in modernising tissue machinery.
At the same time, Chinese-owned St Croix Tissue, in Baileyville, Washington County Maine, is investing heavily and increasing capacity and efficiency with new manufacturing technology. Upgrading, across many of the older manufacturing and service sectors of the country, is something which the homeland is not doing well. It is struggling, like every pre-eminently successful nation eventually has to, to respond to the shifting tectonic plates of world economics.
Of its ageing transport systems the American Society of Civil Engineers' last report in 2013 (another is due next year) ranked performance in the various sectors: aviation D; bridges C+; inland waterways D-; ports C; rail C+; roads D; mass transit D. The infrastructure renewal deficit, it suggested, will be $3.6 trillion by 2020.
The nation's various 'rust belts' attest to the decline in old industries. So what of tissue manufacturing?
TWM's US Northeast edition reveals a flat value and volume growth rate since 2007; only a 'modest interest' in modernising machinery; a dated asset base with a high number of machines installed in the 1950 to 1980s; and almost as many machines installed pre-1950.
Of 13 TAD machines operating in the Northeast, eight are very early vintage installed on machines dating back to the 1950s, 60s and 70s.
Competition is fierce to gain the slightest gain in market share – in marketing, social media, retail, bulk buying, online shopping, discounting, loss leading, cunning not to say deceptive advertising.
The latest, quickest, most efficient and cost effective machinery will swing the game, hence the predictions of more and more insiders that significant structural changes to tissue in the US lie ahead. No successful industry can stand still.
Tissue World New Orleans concludes successfully; attracts attendees from 56 countries
Tissue World offers a big "Thank you" to the 1,588 attendees from 56 different countries who helped to make the New Orleans exhibition and conference such a success.
The full exhibition hall featured 155 leading vendors from across the tissue value chain, and the four-day conference successfully dissected important tissue industry topics … including sustainability issues, strategic market insights, Yankee operations and technological innovation.
For those of you who unaccountably could not make it, and for those who would like to relive the whole event, a report on key issues begins on page 8.
We return to Miami in 2018. We look forward to seeing you there.