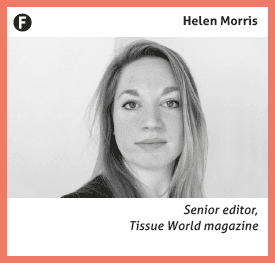 HMI, the Human Machine Interface, might stand as a symbol of TWM's Technical Theme on packaging, wrapping and logistics in this edition… as for the tissue industry across the board. Four top companies report on the cutting-edge direction of their research, but I have to say in one case, that of Optima Packaging, thank goodness for the acronym.
It is PEBeMA, the altogether more manageable short form for what I'm sure is a concise and accurate description of the work in progress… Phasenübergreifende Entwicklung von Benutzerschnittstellen im Maschinen – und Anlagenbau.
The reports begin to answer the question – how best to apply brilliant technology, in that particular case of smartphones and tablets, to big and noisy tissue machines? It may not always be ideal for every instance in the tissue industry. Will it be rugged enough? Other devices promise even greater potential. So we  hear about "cross-phase developments" and the intriguing specific symbolic language… it's called Scribbles.
Edson Packaging details its leading-edge diagnostics system IO-Link, a point-to-point communication protocol for sensors and actuators that can enhance the flexibility, capabilities and productivity of packaging machines.
PCMC details its Meridian laser cleaning technology. Reduce labour and materials by harnessing the power of laser energy to safely and effectively maintain pristine tooling inventory. Dramatic advances for printers and converters.
This is tissue technology at the HMI. It is already sophisticated, and as TWM's reports make clear, the drive to improve the bottom line is never ending.
190m people. So why are they not buying more tissue?
TWM's tantalising look at Nigeria is a classic case of 'if only' for tissue companies. Population 190m. Oil rich. Good primary infrastructure springing from that oil wealth. Africa's economic powerhouse. Commercially minded. Did I mention the population of 190m?
And yet. Our Country Report highlights, grudgingly, a certain 'stubborn resistance' to buying T&T, but also features two dynamic companies investing heavily to be there when that changes.
The country is slowly recovering from a 2016 recession – the first in two decades – and retail tissue sales have retained their upward trajectory, recording an increase in volume of 1% in 2016. Sales are expected to see healthy growth over the next five years, at a 5% CAGR through 2021, to add 14,000 tonnes in incremental sales. However, culturally not all Nigerians are tissue users, and there is a traditional multi-purpose use of toilet paper… 95% of retail volume sales, so many of the other practicalities which tissue has to offer and not being bought.
However, positive population trends and habit formation will carry forward what momentum there is, targeted on more affordable products to meet the demand of the vast low-income consumer base.
At Banrut Rolls, chief operating officer Bola Ataiyero-Adefila is certainly not short of ambition: "We are aiming to be the number one player in Nigeria as well as a formidable force in West Africa," she says as she searches for partners for an export drive into West Africa for a whole range of tissue products she aims to sell. Top of her wish list? Stable political and economic systems, and oil prices maintained and increasing on international markets. Nigeria's economy is hugely dependent on oil to earn foreign exchange.
Dynamic Turkish company Hayat Kimya sees huge opportunity. An aggressive expander, it has 14 production sites around the world, some in North Africa, and its launch of a $100m diaper and tissue plant in Agbara is its first in sub-Saharan Africa. The vice president of the Federal Republic of Nigeria, Yemi Osinbajo, attended to cut the tape. A central belief in Hayat's strategy is that increasing sanitary education and income levels will help convert more consumers to tissue products. Watch this space.