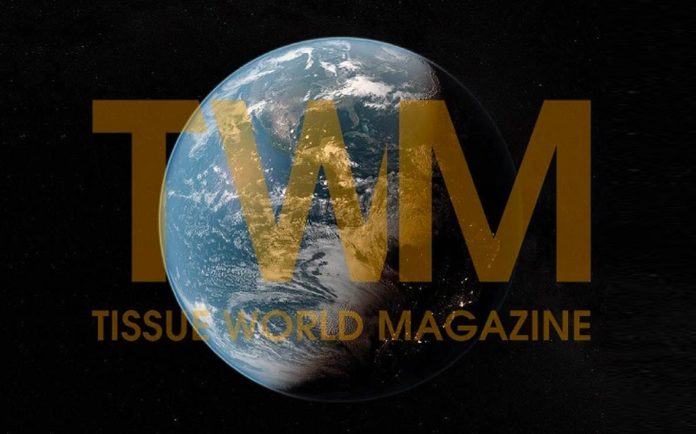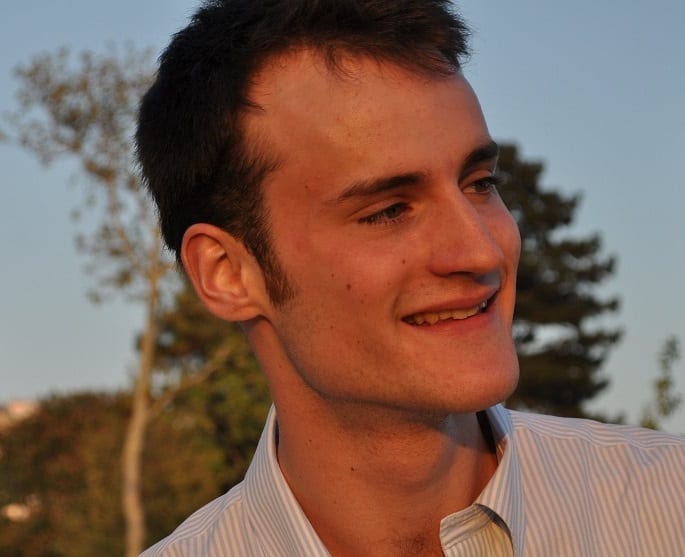 Last year's subdued capacity growth – the first net contraction since 2014 – to be accelerated by so-far confirmed projects, before the market slows again. Report by Pierre Bach, Research Analyst at Hawkins Wright.
The global bleached chemical market pulp capacity reached 68Mtpy in 2020, comprised of 29Mtpy of BSKP capacity and 39Mtpy of BHKP (plus 0.3Mt/y of sulphite pulp). The growth in capacity last year was equal to just 0.4Mt (+0.5%), which compares with average growth of 3.1% pa during the prior five-year period. Global BCP capacity has increased by 14Mt over the past decade, averaging +2.4% p.a., with BSKP capacity expanding by 4Mt (+1.6% p.a.) and BHKP by 11Mt (+3.2% p.a.). Offsetting some of this growth has been a 0.7Mt decline in sulphite capacity (-10.4% p.a.)
Last year's subdued capacity growth is mostly attributable to a 0.3Mt decline in annual BSKP capacity – the first net contraction since 2014. This owed to a combination of shuts and conversions, planned or precipitated by the prolonged market downturn, offsetting the ramp-up of the Svetlogorsk mill in Belarus, and some modest growth elsewhere (e.g. Metsa Aanekoski, SCA Ostrand, Ilim Ust-Ilimsk, Rayonier Jesup and Resolute Calhoun).
Paper Excellence's decision to shut two of its Canadian mills (Pictou and MacKenzie) during H1 slashed NBSK capacity by an estimated 0.4Mt this year, while the swing to BEKP and subsequent conversion to dissolving pulp at Arauco's Valdivia mill has reduced radiata pine capacity by a similar amount. Other conversions at Enocell (to DWP) and at Fibre Excellence Tarascon (to UKP) conspired to reduce bleached softwood capacity by an additional 0.15Mt.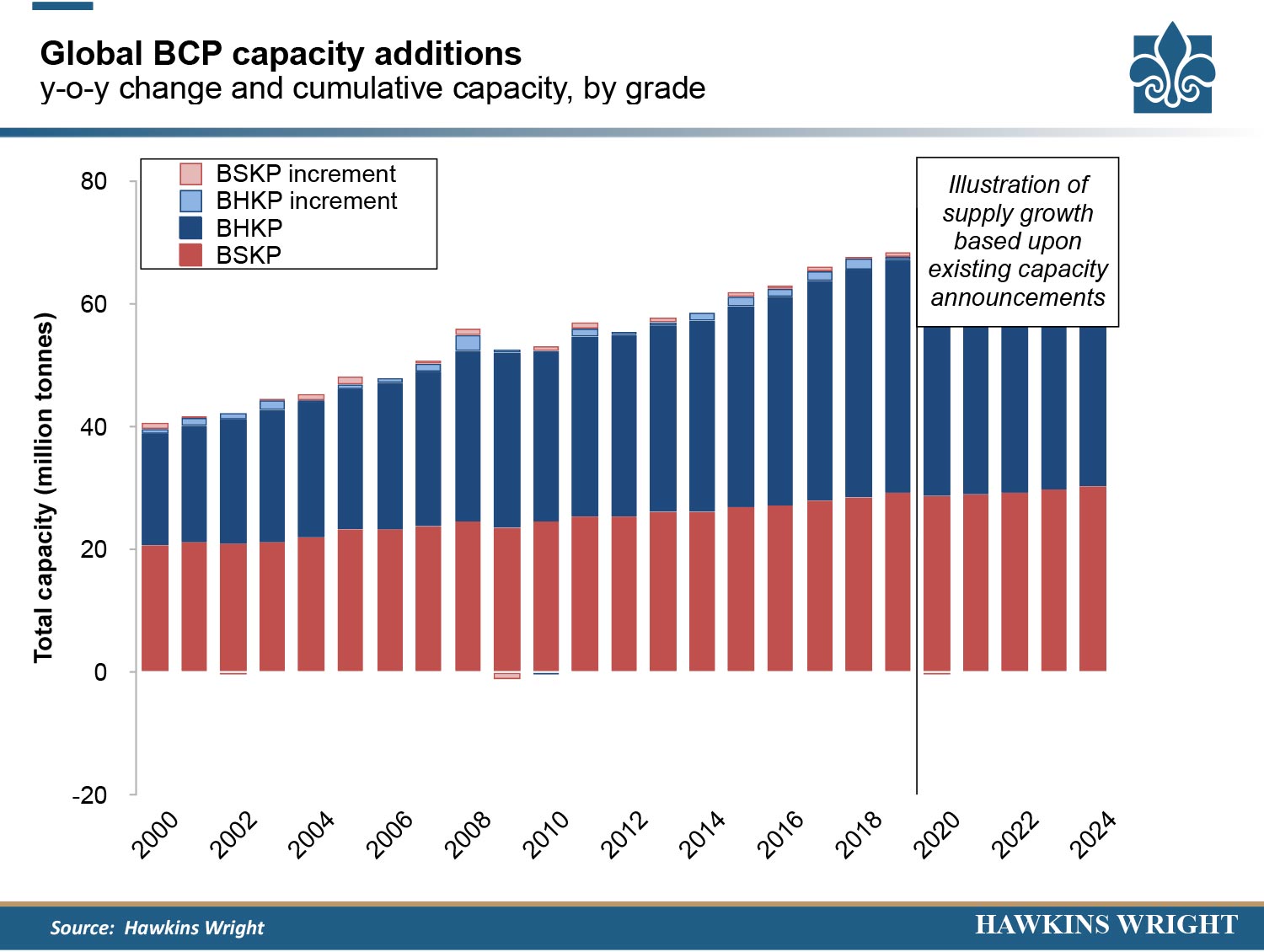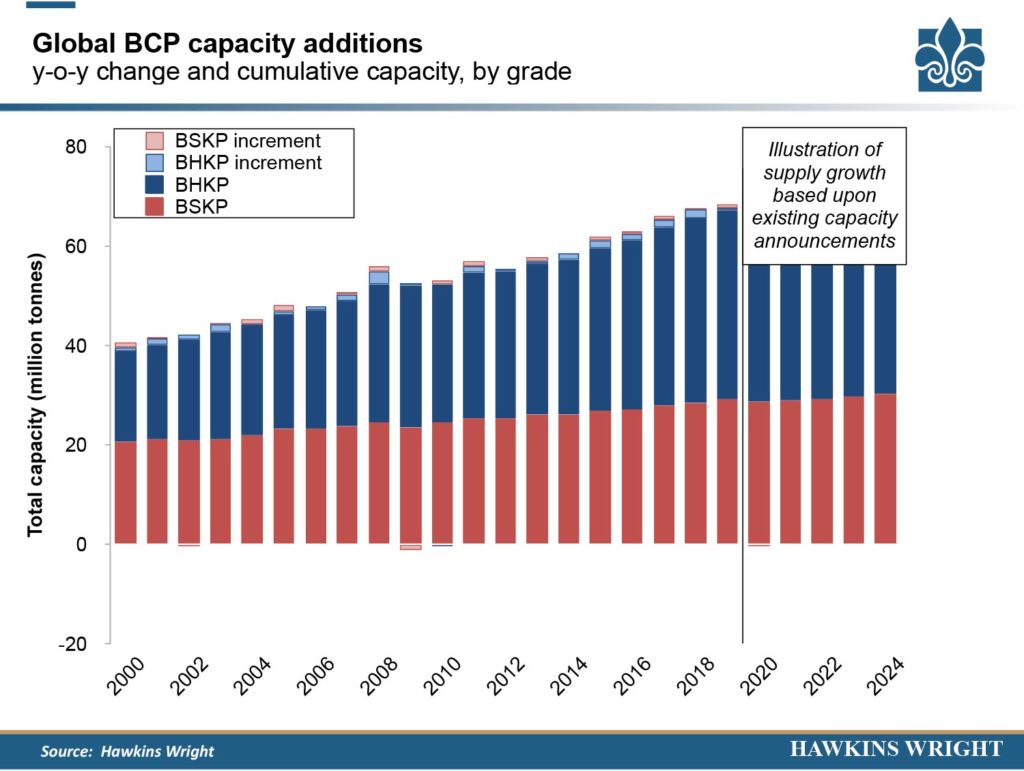 Meanwhile, total BHKP capacity increased by 0.7Mt, driven by growth in Indonesia at APP OKI and APRIL Riau mills (+0.3Mt) and by Arauco's temporary swing towards BEKP production at Valdivia. Some growth elsewhere (Klabin Puma, Phoenix Paper Wickliffe, ENCE Navia, Mondi Ruzomberok) makes up the rest, offset by the swing to BSKP at Resolute Calhoun and a 50,000tpy decline at Sappi Somerset.
Looking at the forecast period to 2024 as a whole, some 6.4Mtpy of extra capacity is due to come online, at an average rate of +1.3Mtpy (+1.8% p.a.). Projections for 2021 look even weaker than 2020, with just 0.24Mt of net capacity growth, featuring the first full year of operation at Nordic Kraft Quevillon, the completion of Svetlogorsk's ramp-up, integration at New-Indy Catawba and the conversion of a UWF paper machine to market pulp at Domtar Ashdown, which will temporarily boost BHKP supply during 2021 before ultimately increasing BSKP and fluff capacity at the mill.
Following this two-year hiatus in capacity growth, some 5.8Mt of additional supply is due to hit the market, of which 2.3Mt and 2.7Mt in 2022 and 2023 respectively, will hail the start of the next investment cycle. Confirmed projects thus far imply that capacity growth will then slow to +0.8Mt in 2024 – although there are many thus far unconfirmed projects, notably in Brazil and in China (mostly integrated) which could be given the greenlight in the months ahead.
Of the 5.8Mt of additional capacity due to come online during the 2022-24 period, some 4.3Mt will be attributable to BHKP, comprised almost exclusively of BEKP. The main contributors will be Arauco MAPA in Chile, Bracell's Lençois Paulista project in Brazil and UPM's greenfield mill in Paso de los Toros, central Uruguay. We also include some debottlenecking work across several mills (e.g. Klabin PUMA, Metsa Aanekoski), as well as a reduction in southern mixed hardwood supply when Domtar completes its aforementioned conversion and swings to BSKP at Ashdown.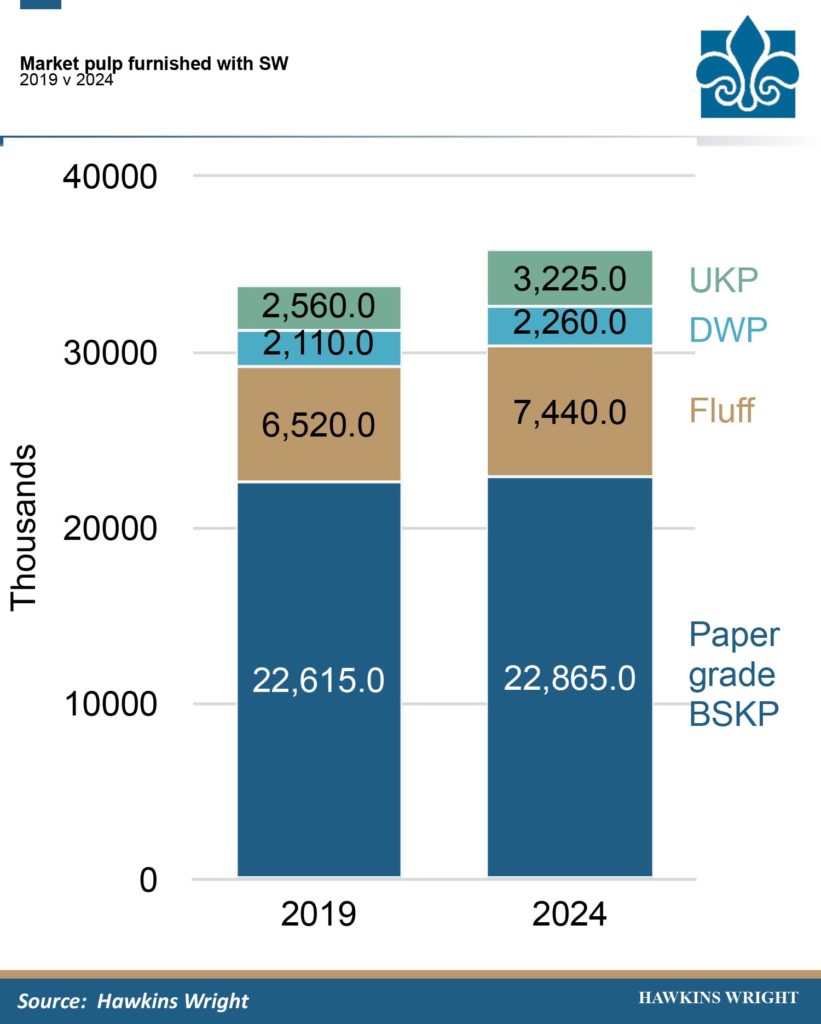 Meanwhile, BSKP capacity is set to increase by a more modest 1.4Mt during 2022-24, owing almost entirely to NBSK additions thanks to Metsa Fibre's rebuild of the Kemi mill in Finland, to Södra's debottlenecking work at Värö, and to increased BSKP output at Domtar Ashdown.
That being said, even if overall BSKP capacity is set to increase, conversions to UKP, fluff or DWP production implies that the capacity dedicated to paper grade production will remain relatively unchanged (+0.3Mt) through the forecast period (see chart). Swing mills situated in the US south are expected to gradually increase their bias towards fluff production to keep up with demand growth.
About half of the expected growth in UKP capacity (from 2.6Mt to 3.2Mt) is attributable to conversions of BSKP capacity, for example at Tarascon, Old Town, and Tasman. Swings to dissolving include mills like Valdivia, Enocell and Foley.
Although these numbers are based solely on confirmed projects that are in the public domain, capacity forecasts always feature some inherent risks – perhaps more than ever today given the fact that actual supply has behaved very differently to capacity growth in recent years.
Increased consolidation and scale of modern mills has meant that certain suppliers' production schedules have had an outsized bearing on the industry's overall run-rate, just as any unforeseeable mechanical outage can quickly tighten markets that would appear otherwise balanced or even oversupplied.
The previous investment cycle may have led to record capacity growth, but actual supply has only really hit its potential last year.
At the same time, although it may be tempting to tally up capacity projections with demand forecasts to draw conclusions on market balance, in reality there are a variety of factors impacting supply at any given time, including seasonality, price differentials (for swing mills) and scheduled maintenance.
The latter proved particularly heavy during H2 2020, with many producers forced to postpone shuts normally scheduled for Q2 into Q3 or even Q4 due to Covid-19 restrictions. Although our capacity numbers show little growth in 2021, the year will be relatively light on maintenance shuts, particularly for those mills on a fifteen or even eighteen-month cycle – most obviously in Latin America.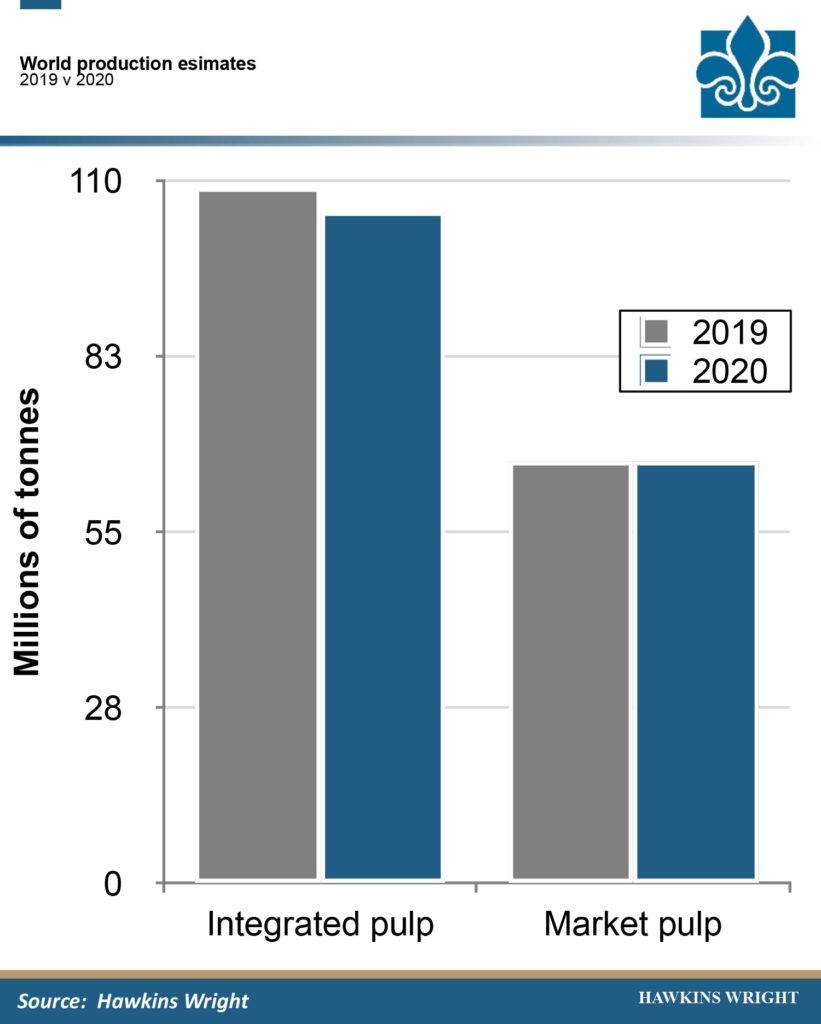 And finally, we also need to take into account the impact of integrated pulp supply. During the market downturn in 2020, we estimate that globally, some 4Mt of integrated supply was cut in reaction to the low market pulp pricing environment which made it uneconomical for many to produce their own pulp.
This simultaneously reduced integrated supply and increased appetite for market pulp from buyers who do not typically turn to the market for their furnish – and partly explains how market pulp shipments expanded by an estimated 1.3Mt in 2020 despite global P&B production falling by about 9Mt. Conversely, any significant recovery in market pulp prices will likely stimulate additional integrated supply, thereby stifling market pulp demand and, in turn, market pulp supply.