Tissue consumption growth remains at 15% in the United Arab Emirates despite an economy hit by a fall in oil prices. Sajid Hussain, general manager of Gulf Manufacturing Company, explains why.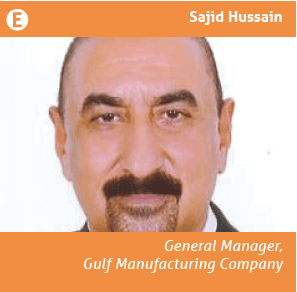 The United Arab Emirates (UAE) has three paper mills that have a collective production of 135,000mt annually. The per capita consumption of tissue paper in UAE in 2014-15 is estimated at 13.80kg, compared with 24kg in the USA, 18kg in Western Europe and 4.5kg in China.
In the Middle East, excluding Turkey and Egypt, the UAE is fifth in terms of T&T producing countries with 14% of the capacity share, after Iran and Saudi Arabia.
An adequate proportion of the UAE's tissue paper consumption is for facial tissue and the market overall is still growing in terms of consumption at 15% annually. There is a lot of potential for the tissue market here.
More growth is expected here as we see an increase in tourism as well as new manpower arriving in the country. In particular, the hotel and restaurants segment is constantly growing at a very stable pace. With more shopping malls and institutions, the tissue industry is overwhelmed with new paper convertors in line to enter the local market. Today, there are roughly 64 tissue paper convertors in the country.
During 2015-2016, the UAE tissue industry witnessed some tough market trends due to the fall in oil prices. This showed how affected the country is from its banking system. The banks were being very cautious and were reluctant to finance new projects. Additionally, Crown Paper Mills was sold out to another paper group and a few paper convertors are facing financial difficulties.
At the same time friendly business policies and the diversified policy of UAE helped the business community retain its confidence and with the influx of more workers and go-green policies, the level of growth has been maintained. Consumer confidence is also coming back as chain stores are offering better deals. The price of raw materials has also lowered which has improved the situation for everyone.
There is substantial competition between the leading convertors to introduce something new to the marketplace and enhance their sales as well as their customer base.
In response to this, Gulf Manufacturing has purchased a large area in Emirates Industrial City to add more converting lines in addition to our existing lines. We have already started negotiations with major European manufacturers to help us enable this.
Additionally, the vision of Aljabor group managing director H.E. Sheikh Nawaf Bin Jabor Al-Thani will see another converting project started-up in Doha-Qatar in 2018.
This indicates the confidence in the tissue industry as well the entire UAE region.
Sajid Hussain is the general manager of Gulf Manufacturing Company, a Sharjah, United Arab Emirates-based tissue manufacturer.