Management commitment to sustainability, employee engagement, enhanced public image, competitive advantage and financial benefits… that's what taking control of natural resources has delivered for a MENA leader. Waheed Al-Qannas, operation manager for the Nuqul Group's Egyptian tissue mills, tells TWM about the site's environmental journey over the last decade.
As the leader in the Middle East and North Africa (MENA) region's field of tissue manufacturing, Nuqul Tissue now has a total tissue capacity double that of its closest rival. It operates the largest tissue machines in the region and is driven by an aspiration to become the first choice supplier of tissue jumbo rolls, as well as supplying first class facial tissue products, toilet paper, napkin paper, kitchen towel and wet strength paper to more than 30 countries worldwide.

Environmental strategy has been a key business incentive across its four tissue mills, none more so than at its Al-Sindian tissue mill based in Egypt. The technical and environmental development of the site's PM1 and PM3 has been a major step towards the growth of Nuqul Tissue and its parent company, Jordan's leading industrial conglomerate Nuqul Group.
Al-Sindian PM1 started production in March 1991, with an annual production capacity of 18,000 tonnes of first quality tissue paper. The paper machine is supplied by Valmet and has a twin wire c-former with a paper width of 2.25m. Rolls are produced ranging from 17cm to 220cm width and stock preparation contains equipment for running and sorting the waste paper, which is 100% virgin pulp.
Al-Sindian PM3, also supplied by Valmet, was initiated in January 2005 as the largest and most modern paper machine in the region, providing integrated services to Nuqul Group and producing high quality tissue as well as developing high market shares and enlarging the company's export volume. PM3 is a Crescent Former machine with a width of 5.4m, a GSM range from 12 to 25 and capacity of 54,000tpy. It produces jumbo rolls, exporting 80% to Europe and the MENA region.
Al-Sindian was designed with the highest technology in compliance with international environmental and health standards
The site is certified for FSC and this is supported by a process of continuous risk assessment for all controlled wood as needed, this guarantees continuous compliance with the FSC regulations regarding the use of controlled wood.
Waheed Al-Qannas, operation manager for the Nuqul Group's Egyptian tissue mills, told TWM that Al-Sindian started its environmental journey from the very beginning: "It was designed to generate its power from a cogeneration unit with a 12.5 MW gas turbine to reduce the gas emission and save energy and water, with utilisation of heat from gas turbine to dry the sheet in the paper machine," he says. "The site has also established effluent treatment units to reduce water and fibre-consumption through the re-use of water and fibres generated during the manufacturing processes after treatment."
During the start up in 2005, Al-Sindian implemented its environmental management system and in 2006 it became ISO 14001 certified. The move assured its management, staff, as well as external stakeholders, that following the environmental management system in all activities meant that the site's environmental impact was being well measured and improved. Al-Qannas said: "It also ensured that we were meeting the legal requirements and improving the organisation's environmental performance and achieving management commitment, employee engagement and gained a competitive advantage and financial benefits through taking control of natural resources. It also meant that we reflected on our public image."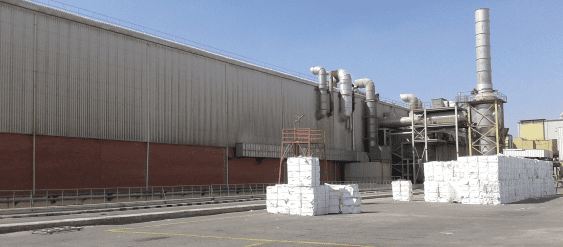 In the same direction, Al-Sindian became FSC certified in 2008 to ensure that all used pulp in its production came from well-managed forests. Al-Qannas adds that it also ensured that the company "would not be directly or indirectly involved in unacceptable activities like illegal logging: nor the trade of illegal wood or forest products; violation of traditional and human rights in forestry operations; destruction of high conservation values in forestry operations; significant conversion of forests to plantations or non-forest use; the introduction of genetically modified organisms in forestry operations or violation of any of the ILO Core Conventions, as defined in the ILO Declaration on Fundamental Principles and Rights at Work, 1998".
Since 2009, Al-Sindian has used six sigma methodologies in implementing projects to reduce consumption of natural resources such as water and fibres, reduce core consumption and electrical and thermal energy consumption which achieve great sustainability results.
In particular:
In 2012, Al-Sindian has continued in using energy efficiently to save money as well as helping to conserve resources and tackle climate change
The site has developed a policy for more efficient use of energy, fixed targets and objectives to meet the policy, used data to better understand and make decisions about energy use, measure the results, review how well the policy works, and continually improve energy management system and become the first company in the MENA region to become ISO 50001 certified. It has also implemented many saving projects in the energy field as well as installing the latest energy management software to perform the related activities in structured and organised ways.
In 2013, Al-Sindian succeeded in changing its tissue structure from the conventional composition of 60% eucalyptus short fibres and 40% softwood long fibres to 100% eucalyptus fibres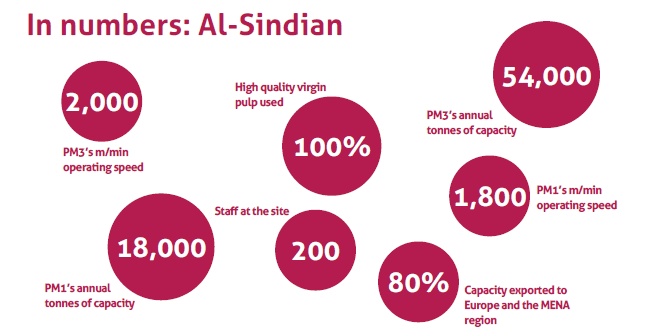 Al-Qannas says this was an innovation that opened up new paths towards sustainability as eucalyptus comes from trees that are grown on upland landscapes, and so they reduce demand on environmentally sensitive areas. He adds it is widely available globally and also produces 10 tonne of pulp per hectare/per annum compared with 1.4 tonne per hectare/per annum for softwood.
"It lends itself to agro-forestry, whereby annual crops such as corn, wheat, watermelon and sunflower are grown in conjunction with the eucalyptus," he adds. "Due to the fast growth of eucalyptus plantations trees, the trees also remove carbon dioxide from the atmosphere and store carbon in plant material and soil. Eucalyptus trees also have a higher biomass than softwood trees, and this means higher CO2 emissions are removed. Most eucalyptus plantations are also accredited by the FSC."
At Tissue World São Paulo in May, Al-Qannas gave a talk on the development of reducing environmental impact while also maintaining high quality products, reducing manufacturing costs and improving business performance. Entitled "100% eucalyptus and cogeneration are the best practices to reduce operation cost", the talk discussed how the main and primary raw material in the tissue industry is pulp, which typically constitutes over 65% of the company's manufacturing cost, so the types of pulp used and the pulp recipe have a large effect on its variable cost.
Al-Sindian's project studied the possibility of modifying the tissue structure design by focusing on using 100% eucalyptus pulp instead of the regular composition percentage of the furnish (softwood, hardwood and eucalyptus).
The main scope was to reduce the softwood fibres consumption by replacing it with 100% eucalyptus fibre to achieve sustainable tissue product design which ensures a continuous improvement in business through measurable improvement in its manufacturing costs, customers and environment.
It found that:
The project changed the tissue structure from conventional composition of long and short fibres to 100% eucalyptus fibres, which is innovating paths towards sustainability.
More eucalyptus:
Gives an opportunity to reduce manufacturing costs
Excellent fibre for tissue paper manufacture
Reduces energy consumption in the tissue mill
Gives greater flexibility in fibre selection
Improves tissue quality
Lowers pulp inventory requirements
Main problem identification: how to improve tissue sheet quality via softness, formation, structure, and also to improve and reduce pulp costs and the amount of energy using 100% eucalyptus in furnish without negatively affecting other specifications such as:
Dust levels increase
Tensile strength reduction
Caliper and elongation reduction
Machine efficiency reduction
The result of many successful brainstorming sessions resulted in:
Production of sellable standard facial and toilet tissues with 100% eucalyptus
Al Sindian succeeded in having an alternative of softwood pulp
Improvement in tissue formation
Improvement in tissue softness
Reduction in dust level.
Benefits:
Quality: Better formation, higher softness levels, more closed sheet structure
Business: Improved market share, improved full supply chain cycle and contracts, lower pull cost, enhanced customer satisfaction
Environmental: Better land utilisation, lower energy consumption, highly maintained sustainability.