NBSK pulp Europe
The softwood pulp market remains firm. The volumes from Tofte are disappearing from the market and of course being replaced mainly by other Södra-tonnage. This lessens the pressure to sell BSKP from Europe to overseas destinations that have become less interesting over the past few weeks with the European currencies strengthening against the USD.
UTIPULP reported softwood pulp consumption in Europe down by 4% against August 2012. Inventories at the consuming mills were virtually flat from July but down by 25,000 tonnes, or by 10% compared to August 2012 stocks. Port stocks (all grades here)
were up by 117,000 tonnes from end July but when comparing against August 2012, a drop of nearly 70,000 tonnes or just over 5% was recorded by Europulp. Some producers have announced price increases from 1 October, typically by 20 USD/tonne.
The Euro strengthened again, this time by 1.6% against the USD. FOEX's PIX NBSK pulp index moved up by 89 cents or by 0.10% and closed at 870.82 USD/tonne.
When converting this dollar-value into euro, the strengthening of the currency against the USD sent the benchmark down by 9.95 euro, or by 1.52%, with the PIX NBSKP index closing at 644.38 EUR/tonne.
BHK pulp Europe
Hardwood pulp market remains weaker than the softwood pulp market with lower capacity use and shipmentto- capacity ratios. In Europe, BHKP consumption was down in August by 23,000 tonnes (5%) against August 2012.
Consumer stocks, which were down in softwood, were up in BHKP by 10,000 tonnes, or just under 3%, compared to August 2012. In terms of the number of days of consumption, hardwood and softwood pulp stocks at consumers are both at 19 days.
The published delay of the Montes del Plata project and rumours of delays also in the other market BHKP projects will help the supply/demand balance in Q4 2013 and in Q1 2014. At least one Brazilian producer has announced a price increase to 800 USD/tonne for BEKP.
The Euro strengthened by 1.6% against the dollar from the previous week. Penalized by the euro strengthening, the PIX BHKP index value in euro retreated by 11.64 EUR, or by 1.99%, and closed at 572.97 EUR/tonne.
The PIX BHKP index value in USD retreated by 2.93 dollars/tonne, or by 0.38%, and settled at 774.31 USD/ tonne with the price gap between NBSKP and BHKP (eucalyptus and birch) already exceeding 95 USD/tonne.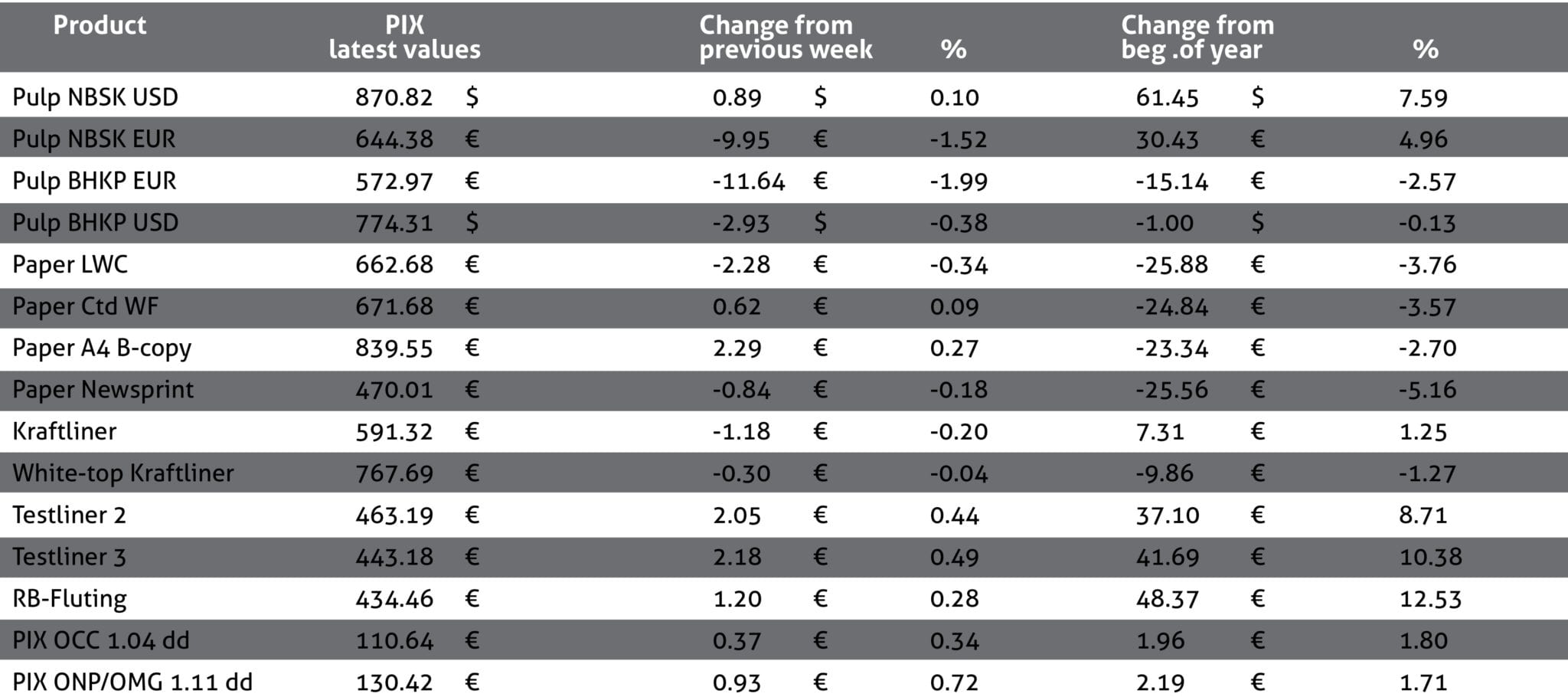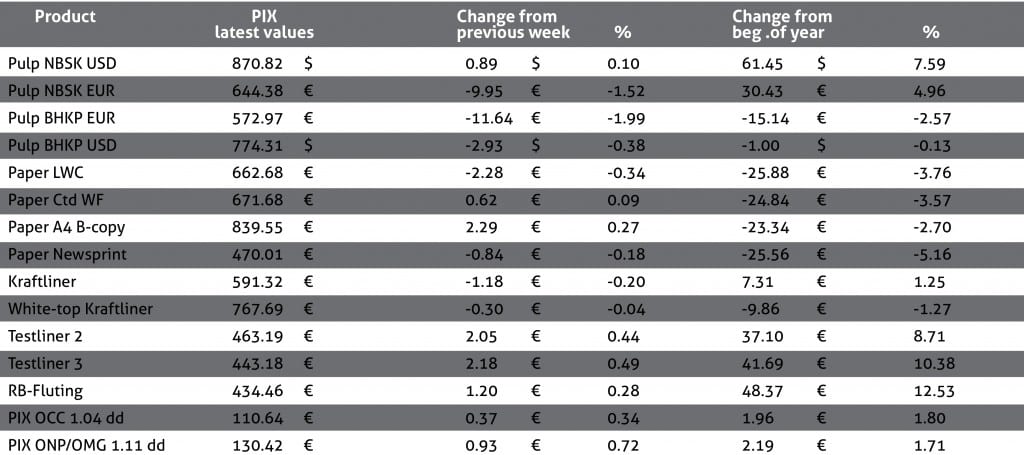 [box] 
FOEX
FOEX Indexes Ltd produces audited and trademarked registered PIX price indices for certain pulp, paper, tissue, packaging board, recovered paper and wood based bioenergy/biomass grades. The PIX price indices function as independent market reference prices and show the price trend of the products in question. FOEX sells the right to use the PIX indices for commercial purposes as well as weekly or monthly newsletters, a monthly market review and the PIX index histories.
Providing PIX pulp price indices to the tissue industry gives the paper producer and buyer insight in the price trends with a weekly frequency. This way companies have better tools to budget their cost or income structure and profitability, and may concentrate on their core businesses with less time spent on price negotiations.
Any commercial use requires permission with terms of use from FOEX Indexes Ltd. (www.foex.fi)
Note
PIX values, $ or € / metric tonne
[/box]