By Geraldo Ferreira, partner, Huntsfield Brasil Consultancy, Brazil 
The region's tissue market has three alternatives to respond to an ever-increasing import wave: entrench, adapt or transform yourself. Huntsfield Brasil Consultancy's Geraldo Ferreira talks to TWM about the benefits of a commercial vision.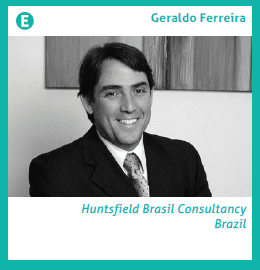 Over the last five years, at least, we have all witnessed an unstoppable investments wave in new tissue machines in the whole of Asia, lead by China.
Such a move, no different from any other industry but especially in our pulp and paper industry, is the sign of the typical race of who moves faster to discourage others to follow.
Such strategy is largely applied in the pulp sector and was also the case in coated paper and paperboard, but this does not seem to have brought the expected results for the companies making such moves: food for thought for the tissue industry.
As result of that, today we see the world – and China in particular – with an overcapacity of coated paper, paperboard and tissue.
Tissue paper is the newcomer to the "Obese" market club. Statistics show that China's tissue production capacity exceeds its present consumption by 30% and its operation rates are already in the low 70's%, which is critical to say the least.
Considering the projections of new capacities in the next five years, the situation will not be any easier despite the per capita consumption growth.
Being part of the "Obese" Club they have to find ways to lose weight and that will be through merger and acquisition activity, shutting down inefficient plants (government support), and finally searching for new export markets while increasing the share of the ones they already have a presence in.
Such inevitable moves might scare most of the world's tissue manufactured outside of China, particularly the Western world and especially the South American market, lead by Brazil, and where 10 years ago large-scale tissue export was unthinkable. Southern America has never previously felt under threat from overseas suppliers and crucially, Brazil has the world's second largest import duty for paper imports (15%), behind only India.
Now the game is at another level and the production scale in China has reached a level where its cash cost against Brazil and Southern American suppliers is substantially lower. In addition, logistical costs in China are less than half of what Brazilians and its neighbouring countries faces, it is inevitable to have Chinese tissue manufactures focusing on this part of the world for their export, simply because it is one the few areas in the world with great consumption growth potential for the next decade at least.
Taking the above into consideration, the huge import duty protection will not be enough to stop China entering South America, and I doubt any country would dare to enter into a dumping threat dispute with China given its influence on the economies of all South American countries.
As I have been saying for almost 10 years; to face the Chinese development wave you have three alternatives; entrench, adapt or transform yourself.
The only option I highly don't recommend is the first one. Saying that, why not find opportunities in adversities?
The opportunities I see for the South American tissue industry is to engage in the world's pulp and paper production chain.
China is already the destination of more than one third of all pulp produce in South America, while the Asian country is the largest single overseas supplier of writing and printing paper to the region that supplies them pulp. Thus, for writing and printing papers, to a certain extend, both regions are engaged in the world production chain already.
Such interaction can also happen with Brazil, for example, a country that is responsible for 60% of South American's tissue market, by having its tissue producers develop commercial partnerships with Chinese suppliers to sell their overcapacities through their main assets, which are the market's experience, expertise and knowledge, distribution infrastructures and credit facilities. That is a competitive advantage that is incomparable to any other alternative that Chinese producers could ever have.
On the other hand Brazilian producers could develop locally and create new markets with high value-added products that are not currently available, as well as enlarge their present ones of high commodities.
That will save them from a substantial initial investment in new machines, the headaches of the new equipment learning curves and price erosion due to a sudden new volume trying to find a marketplace.
Considering that such overcapacity in China may balance by the early 2020s, and since the Brazilian pulp and paper association (BRACELPA) has an excellent relationship with the central government, it could present a project to temporarily reduce the import duty for tissue, enabling local producers to create and develop markets for later on to install new machines, phase out the imports, and avoiding disruption of the market price.
It is definitely a challenge but it is feasible, as long as our tissue manufactures switch their mind set to a commercially driven mentality rather than to a production-only view.
Driving forces for future demand in South America
Economic growth: constant up and downs, strong growth periods followed by financial difficulties.
Population growth – Latin America continues to grow but at a lower rate, around 1%pq.
Product penetration level – this will be the main demand driver by increasing the number of users and expanding the present users to consume a wider range of tissue products.
Development in tissue quality and product specification – main trend from single to double ply.
China market is less concentrated than developed regions:
China shows lower concentration of tissue supply as top five players take up 44% of total capacity.
Whereas the share in North America and Europe are up to 73% and 56%. Consolidation will take place in the future.
In 2013, the globe consumed 32m tonnes of household paper, of which China accounted for 19%.
In 2008-2013, global consumption of household paper surged by 4.21m tonnes, of which 45% was contributed by China.
Creating market for high end tissue products.
Head to the high end and added value product – Chicken and Egg factor.
Industry still production minded when it should be more commercial minded
Main assets of the Brazilian mills:
Market knowledge
Distribution
Brand
Customer knowledge
Credit know how and knowledge
Being part of the world production chain
Importation of regular toilet tissue to create and open market for a new machine.
Imports to increase mix products adding high end added value products to your range.
Explore the good government relationship the Brazilian pulp and paper association has to implement a programme of import duty free before a new machine is installed.
China will not invest in tissue production in Brazil. The focus is their local market.
*(Statistics taken from Geraldo Ferreira's talk at Tissue World São Paulo).