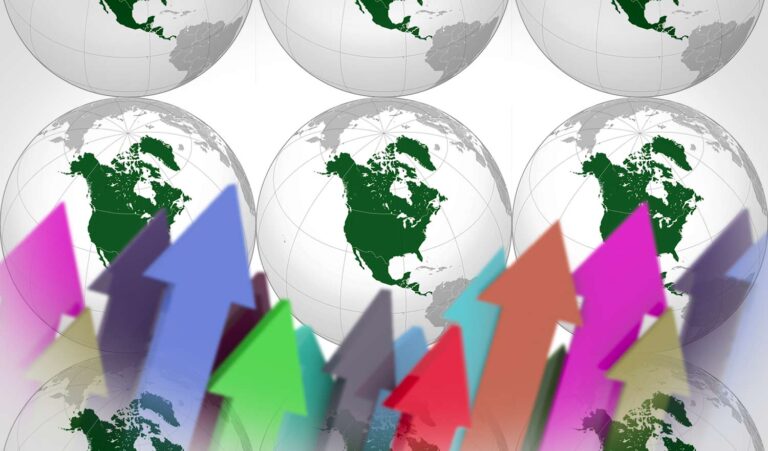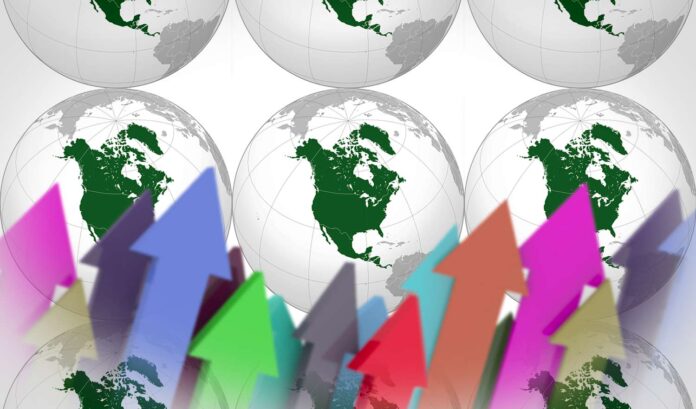 With four of the top 10 largest global tissue manufacturers in China, future North American investments are set to target advances in scale and technology, and over 80% of the new capacity is believed to target the private label market. Market trends report by Sanna Sosa, Senior Principal, AFRY USA.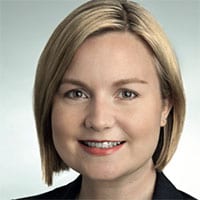 Investments in new large-scale state-of the-art tissue manufacturing assets continue to be active in North America, although in terms of the global tissue investment context, Asian and European tissue producers have surpassed North American producers in the race for capacity growth. The private label segment is expected to continue to grow in North America, which includes the US, Canada and Mexico. Many new machinery investments are targeting the sector, especially with ultra-premium quality technologies.
The long term financial performance of the tissue sector is healthy, typically at or above 15% EBITDA, but impacted by the cyclicality of market pulp prices. Although pulp is the key cost driver for tissue companies, pulp integration remains rare.
Investment: new large scale tissue machines continue to be built in North America
Over the past three decades, the global tissue sector has gone through a strong period of growth, capacity build and consolidation. If we take a quick peek down memory lane and think how the global top 10 players' landscape looked like in the 1990s (Figure 1), we only see North American and European companies. In fact, the six largest tissue companies in the world were all North American companies.
In the late Nineties we saw Asian – back in the day mainly Japanese – companies entre the top 10 list, and at the same time industry consolidation started to take place and was the driving investment force in the early 2000s. But it wasn't until the beginning of the 2010s when we saw the Asian companies starting to grow significantly and reshuffling the global leading players' landscape.
Currently, four of the top 10 largest global tissue manufacturers are from China. Fittingly, China has become the largest tissue machine capacity base in the world at close to 17 million tonnes of installed capacity, according to AFRY's global tissue asset database. In comparison, here in North America we are estimating the installed tissue manufacturing capacity at close to 10 million tonnes.
As a results of the aggressive growth and investments in the tissue sector in emerging markets, the North American tissue assets have become old (23 years on average on technical age) in comparison to what is found in other regions (the average tissue machine technical age globally is at 15 years; while only eight years in China), although the North American tissue machines are still on average larger (on average at about 56,000tpy) than in other regions (global average tissue machine size at 37,000tpy) (FIGURE 2).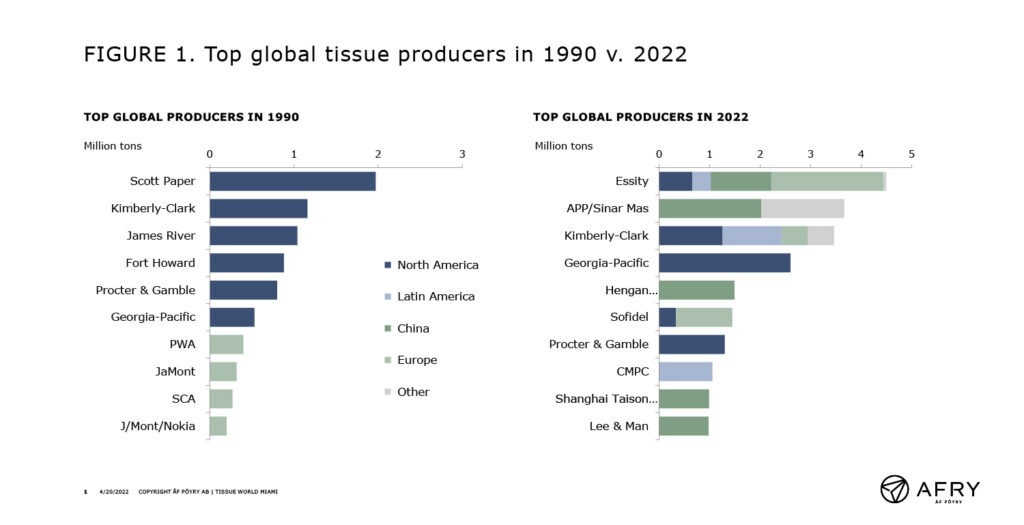 If we focus on North America, the leading North American tissue manufacturers have been consolidating and renewing their asset base, while the medium size players have been growing their market share. Currently the top three producers of tissue account for 55% of the installed capacity in the market, which is down 5%-points from just six years ago. Both Georgia-Pacific and Kimberly-Clark have idled tissue machines at Augusta (two machines in 2018), Crossett (one machine in 2019) and Fullerton (two PMs in 2020), while bringing in new capacity online, but with overall minor increase or decrease in the company tissue capacity. At the same time, producers like First Quality Tissue, Sofidel, Kruger, Irving, Clearwater have been growing their tissue capacity footprint. And the same trend is set to continue.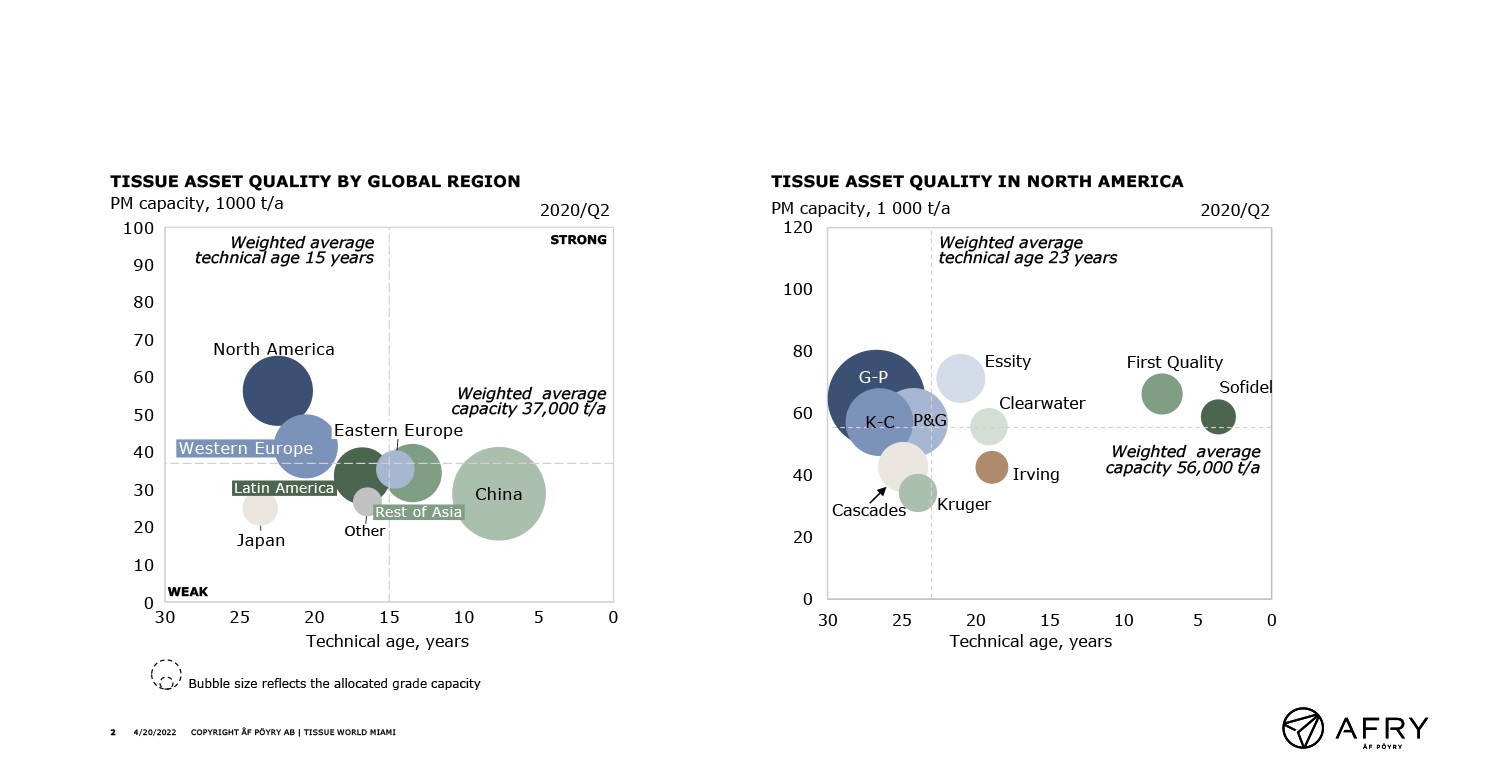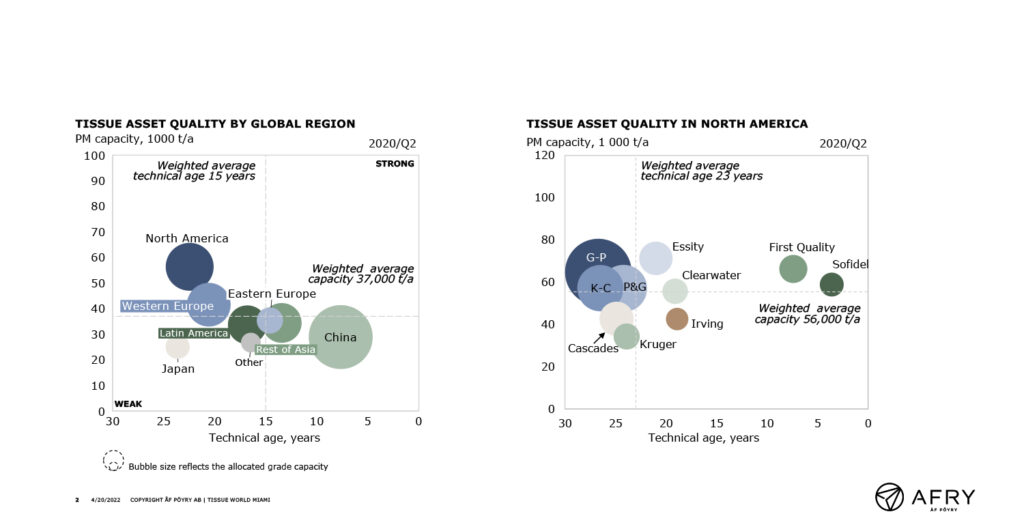 There are seven new tissue machines with a total capacity of about 450,000tpy announced to enter the market over the next three years (FIGURE 3). Six of those are by the medium size or newer entrants to the North American tissue market.
Over 80% of the new capacity additions are believed to mainly target the retail private label market. There is only one dedicated AfH tissue project announced by ST Paper, reflecting the continued challenges in the AfH markets that is slowly starting to recover from Covid-19, and how the pandemic has permanently changed people's preferences when it comes to working from home, and perhaps even business travel, as well as the sector's struggle with availability of high-quality recycled fibre raw material.
Technology – growth in high quality TAD technology capacity
The North American tissue landscape is changing from tissue manufacturing scale and technology perspective, but less so in terms of what comes to fibre (pulp) integration (or lack thereof).
In the pulp and paper industry, capacity is added in big increments. We have typically, on average, seen two new tissue machines being built per year in North America. The new state-of-the-art tissue machines are close to 70,000tpy per machine in a market that is growing on the retail tissue side under 100,000tpy, hence impacting the supply/demand balance. The new state-of-the-art manufacturing capacity also moves the yardstick for manufacturing efficiencies and cost competitiveness.
Supply/demand management has also in the tissue sector fallen on the shoulders of the biggest industry players. We have seen that dynamic to play out as well in the other sectors of the broader pulp and paper industry, for example in uncoated freesheet and containerboard. For consumers, the new technology investments and innovations translate into better products, new product qualities or features, for example in the packaging of products.
Four of the new tissue machines on our new capacity additions map are TAD machines. In capacity terms we are estimating 62% of the new upcoming tissue capacity will be TAD technology and will increase the share of high-quality TAD tissue products especially in the private label segment.
Compared to product qualities and production technologies the branded retail tissue market, the private label segment still has catching up to do when it comes to the share of TAD technology and products. Based on estimates in AFRY's tissue database, TAD and other structured higher quality tissue manufacturing technologies represent 56% of the branded retail tissue production, while the share of TAD and other structured higher quality tissue manufacturing technologies at the private label sector is still under 40%.
None of the new tissue machine projects are pulp integrated (on-site). However, Irving's goal is to supply its Macon tissue mill partially from its pulp mill in St. John, NB. Overall, in North America only six tissue mills are backward integrated to virgin pulp (on-site), which is less than 10% of the total 74 tissue mills in the market.
However, it is important to remember that pulp integration in the tissue sector is low not only in North America but globally. In China, there is fibre integration at tissue mills, but mostly to nonwood pulp e.g. bamboo.
We know that pulp represents two-thirds of tissue (jumbo roll) manufacturing costs, hence let's explore how tissue companies' financial performance has been affected by market pulp price cycles.
Profitability – attractive at 15-20%, but sensitive on market pulp cycles
Overall tissue company margins have been attractive at 15-20%, but sensitive to market pulp prices. In periods of high pulp prices, the EBITDA performance of North American tissue companies tends to suffer anywhere from 5-8%-points on average. Not surprisingly, considering that pulp represents as much as 2/3 of jumbo roll tissue manufacturing costs and high pulp prices can drive close to $200/t increase into manufacturing costs.
Pulp integrated tissue mills have lower, and more stable, manufacturing costs compared to the tissue mills dependent on market pulp. The cost difference between the pulp integrated tissue manufacturing operations vs mills using market pulp is estimated at above $300/t, based on AFRY's tissue manufacturing cost benchmarking tools (of course highly depending on the market pulp price cycle).
Aside from raw material costs, the large At-Home, brand-oriented tissue companies still have a clear margin advantage to their smaller, private label-oriented competitors. Likely driven by branded retail tissue products' continued ability to command a premium price. However, the growth of medium-size companies will challenge the incumbents with their modern manufacturing assets and focus on the continuously expanding private label market. Hence, focus on asset footprint rationalisation and restructuring programmes to improve EBITDA performance from the cost side is likely to continue.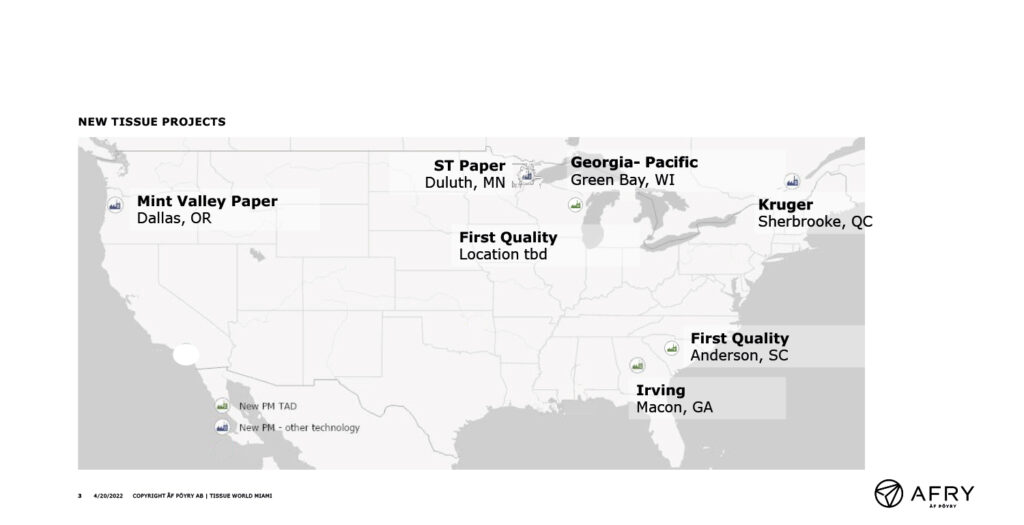 State of the industry
The essential industry's financial performance is strong, although market pulp price cycles continue to challenge the consistency of the financial performance. Retail tissue companies had a record year in sales growth and margins in 2020, thanks to tissue product panic buying during the pandemic and low market pulp prices. The escalation of market pulp prices and deflated demand pressed down margin performance in 2021 for tissue companies.
Tissue manufacturing asset investments in North America continue active.Overall the tissue machine scale is increasing via investments in state-of-the-art large scale assets, and as small tissue machines are closed. The trend towards TAD technology machines continues, targeting the retail private label market. The capacity growth is likely to create at least short-term supply/demand pressures, until the companies with largest asset and capacity footprints are likely to remove high-cost capacity. For their margin's sake.