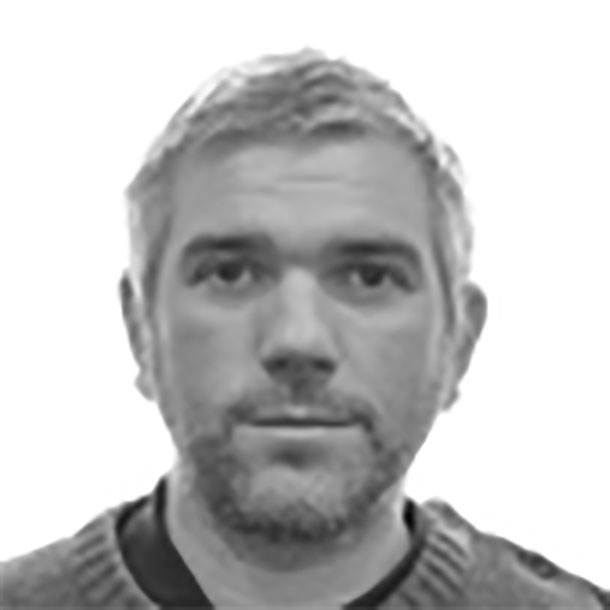 Although Brazil remains the epicentre of the Latin American tissue market, replacing Mexico as the largest contributor to regional volume sales back in 2007, the comparison belies the stronger tissue culture that exists in Mexico. Population and income levels are critical factors, Mexico with 129 million inhabitants (almost 100 million fewer than Brazil) has a mean household disposable income of close to $20,000 in 2021, compared to roughly half that figure in Brazil.
This Mexican market accounted for 25% of Latin American regional volume sales in 2021, a figure that has crept downwards over the last decade as other markets have seen tissue uptake expand through a combination of availability and income increases. The battle over share of regional value is potentially a more interesting story, relatively more stable Mexico taking a 23% share in (USD MSP value sales) and was once again the region's largest value contributor as economics, relatively more stable Mexico, continued to underpin changing consumer lifestyles, in which tissue products play an important role, which was especially the case during this pandemic period.
International comparisons
By a more international comparison, the tissue market (retail tissue in this comparison) in per household expenditure terms is positive with USD49 is well ahead of the global average ($40) and respectable when compared to developed markets such as Japan ($67). The Mexican tissue market, like others, faces uncertain and changing times, the spectre of price inflation likely hampering "real" premiumisation, but there is still much to be positive about the market with annual volume growth of 2% forecast over the medium term.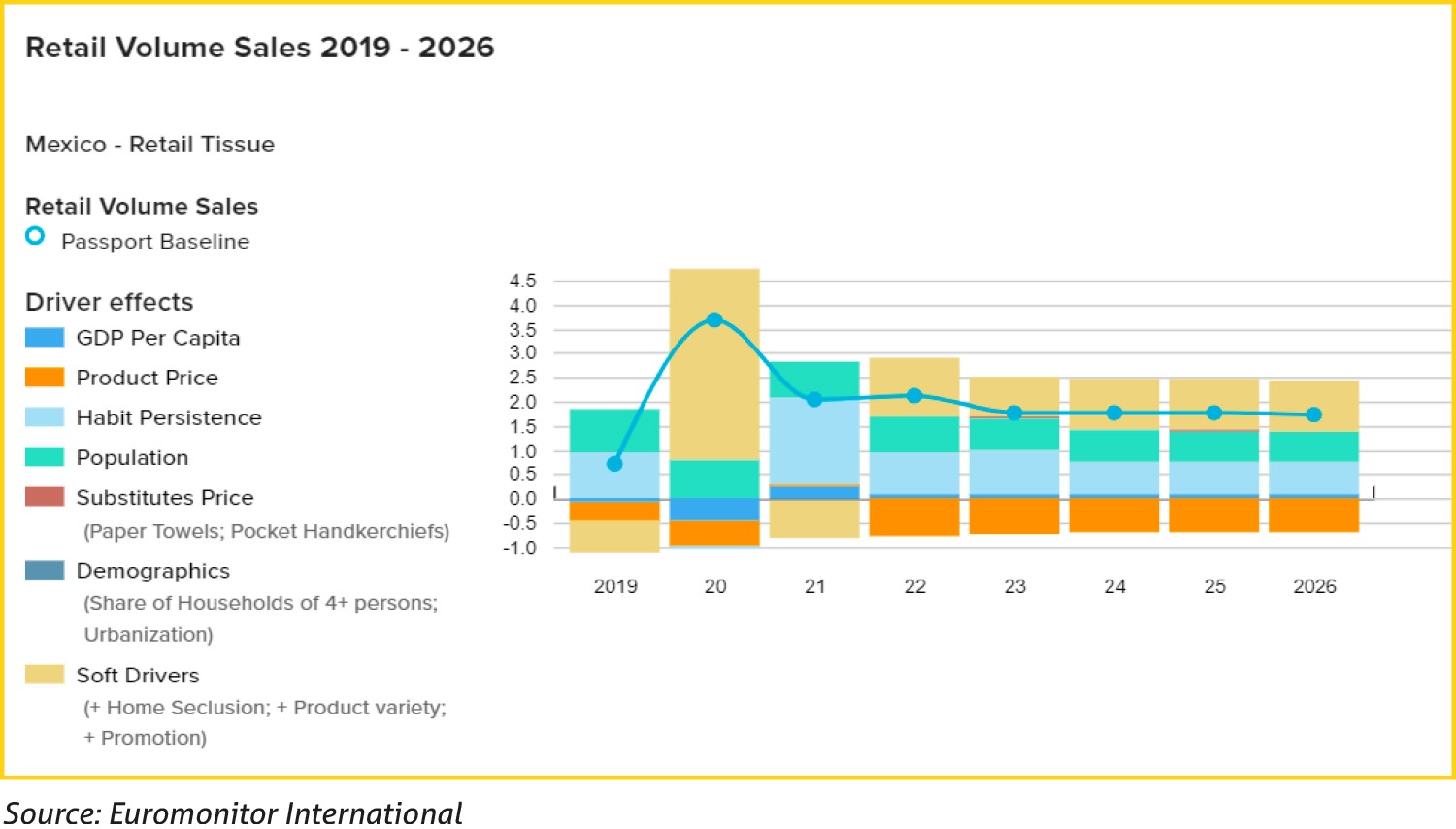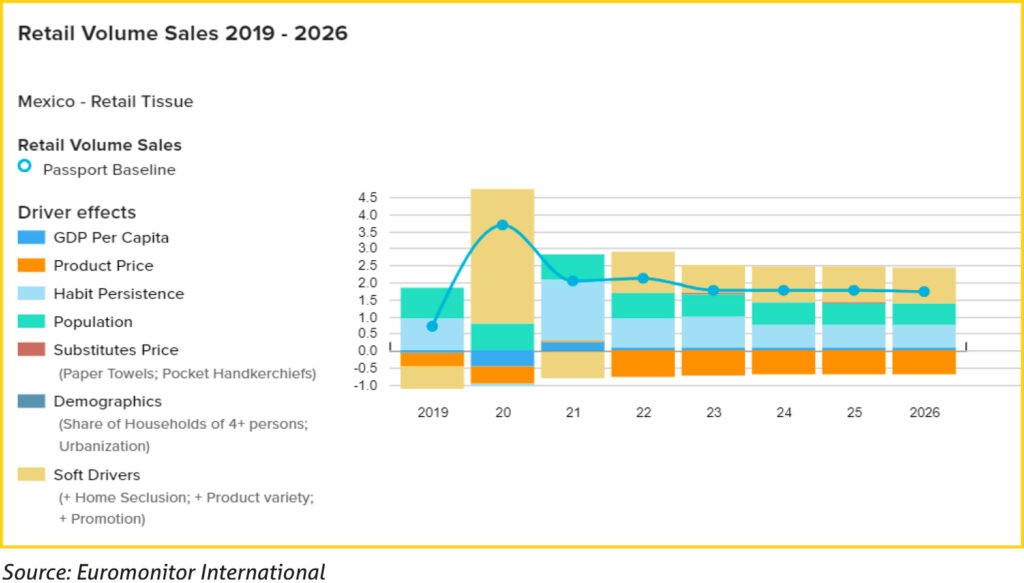 Habit persistence remains a key element of future growth, meaning that once consumers are engaged with tissue, there is an overwhelming tendency to continue purchasing without significant counterforce. This is the area where the influence of the pandemic presents an opportunity beyond the windfall growth reported in 2020 and 2021 which must be balanced against the disruptive influence of inflation.
Financial insecurity
As financial insecurity grows, price remains key for the purchasing decision as retail tissue is a highly competitive category in Mexico and will have to continue to be so to continue to win loyalty. In addition to price inflation for tissue products, specifically set against a more general cost of living background, the stickiness of pandemic lifestyle change is something to keep an eye on, not least the ranks of white-collar workers now more commonly at home.
With the success of home working in Mexico, some workplaces have suggested ongoing flexible working, announcing new work schemes where workers continue to work from home for a few days a week. This would continue to benefit retail tissue over the medium term.
The battle for tissue will inevitably be around the balance of opportunity (need) and pricing, while a further virus wave should not also be ruled out. As such, the price was a key factor in the purchasing decision of retail tissues throughout 2021. Leading player Kimberly-Clark has a large portfolio of brands, while private label maintained its significant presence throughout the year.
Hypermarkets and supermarkets, such as Walmart, Soriana and H-E-B, as well as warehouse clubs, such as Costco, have their own private label brands of toilet paper, offering consumers good-quality products at very accessible prices.
This resulted in brand loyalty for retail tissue products becoming more limited than in other areas of tissue and hygiene, especially when it came to products that are used frequently, such as toilet roll.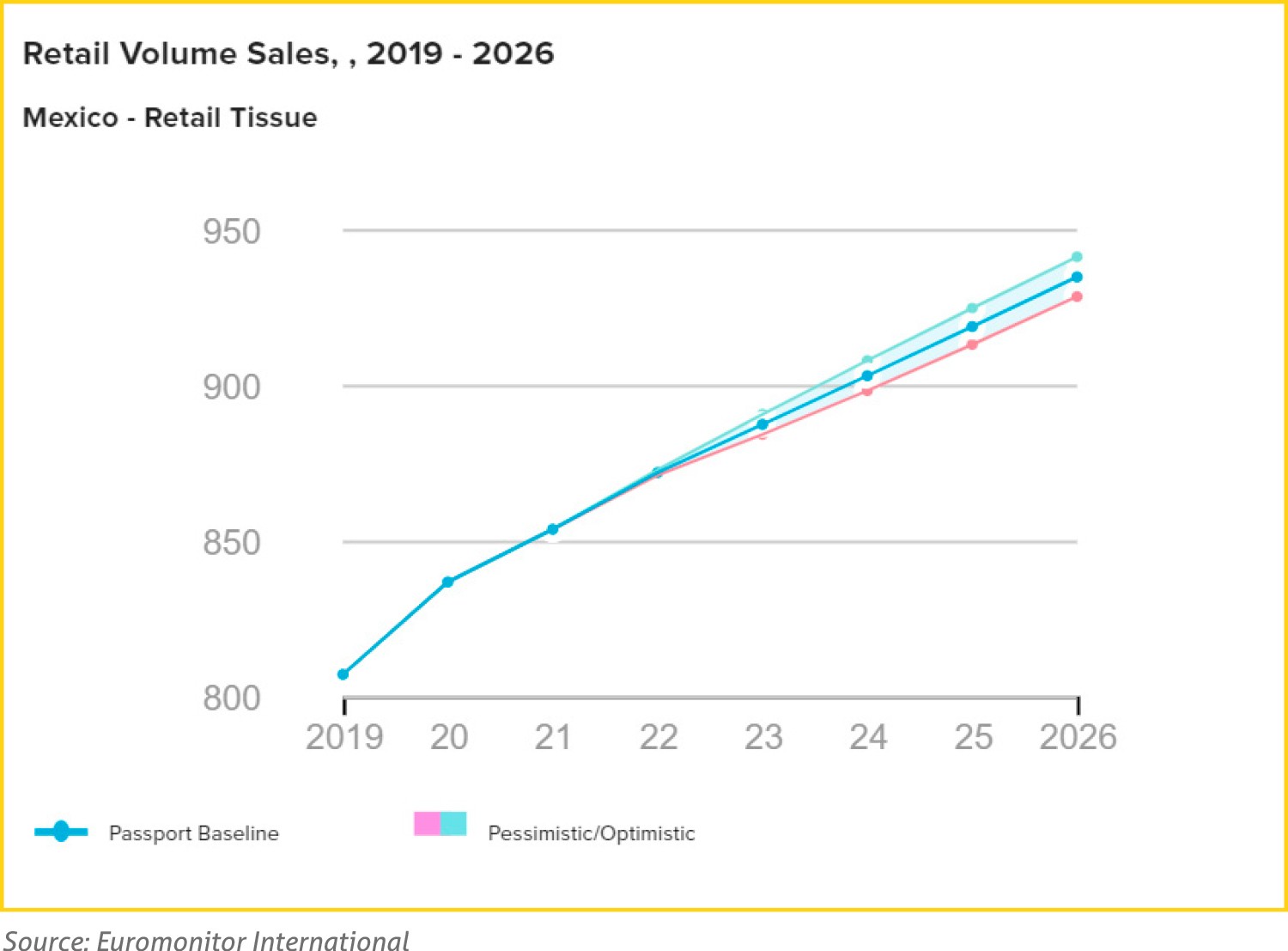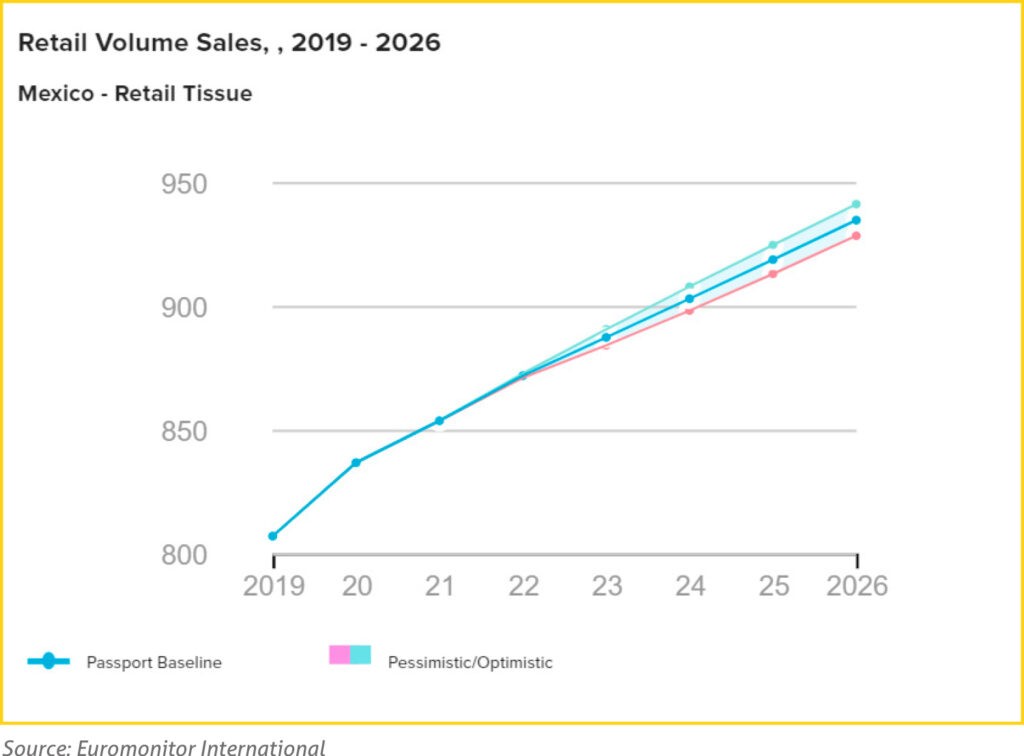 Trading down
In previous years, premium-positioned products such as two-ply toilet paper had increased their mainstream reach, as they were becoming accessible beyond higher-income households. However, with the impending economic crisis seeing many consumers facing tough expenditure choices, even purchasing basic household goods, such as toilet paper will face new scrutiny. Trading down was already seen as a driver in 2021 as government pandemic financial support receded, meaning that lower-income consumers especially will rely on one-ply toilet paper due to affordability.
Lower-income consumers usually also lack space at home to store large pack sizes, making the option of buying in quantity to get better deals harder. As a result, manufacturers will have to position themselves effectively and work with pack sizes that make them affordable to a broader base of consumers.
With this in mind, private label is therefore expected to rise, attracting consumers with low prices. The increase in private label's shelf space and brands will also aid the growth of private label, with consumers looking for products with better prices and value product perception, easily able to source these from stores. In response, larger players will continue to differentiate themselves through added-value propositions, offering innovation through more absorbent products, natural materials, and attractive designs to be more competitive.
Hygiene as a driver but not of New Product Development
Ongoing hygiene concerns and working from home boosting growth will continue to be a positive influence on sales in 2022, with hygiene concerns continuing to persist, leading consumers to clean surfaces more regularly, heightening sales of products such as paper towels, while facial tissues are being used to cover the face, and limit touching of the face. While consumers continue to highlight hygiene-related behaviour changes around tissue products, it is interesting to point out that product innovation has followed a discernibly different path.
Product innovations focus on convenience, scents and eco-friendly concepts. The leading players will continue to innovate across the forecast period to stand out in the marketplace, especially against the heightened competition from private label options. Manufacturers are expected to focus on elements such as natural ingredients, softer materials and the use of different scents. In Mexico, scents are an important way to differentiate products in what is an incredibly competitive category. In toilet paper, aromas including vanilla, almond, aloe vera, cocoa, orchid and cotton are very popular, with players expected to add additional scents over the coming years.
In facial tissues, scents including fruit (for example, strawberry, coconut, pineapple and apple), floral and fresh aromas using menthol are popular. These features tend not to be found in private label products, making scent an important way for brands to differentiate their offer. Different product packaging with more attractive designs and slogans is also expected to be seen, with products advertising themselves as softer and luxurious, focusing on the experience of using the product. Another innovation expected to be seen is the use of special packaging, including special seasonal designs for Christmas and festive periods, as well as packaging focused on ease and convenience, such as pouch bags for on-the-go use.
Channel shifts
Despite overall distribution shares remaining largely unchanged in 2021, growth did vary across channels, and some factors helped to shift these dynamics. E-commerce, despite accounting for a low share of sales, nearly doubled its size and grew 10 times faster than the average in retail tissue. Thanks to large internet retailers, such as Magazine Luiza, online retail tissue sales grew dramatically, and it became an important channel among more wealthy consumers.
Meanwhile, supermarkets, hypermarkets and traditional grocery retailers grew aligned with the category average and remained the main distribution channels for retail tissue, especially when consumers stockpiled. However, convenience stores, albeit accounting for a low share of value sales, also saw important growth in 2021, as their location in residential neighbourhoods was essential in terms of offering consumers convenience.
The growth of this channel, which has outlets with less space and is used for smaller purchases, will require manufacturers to adapt to offer smaller pack sizes.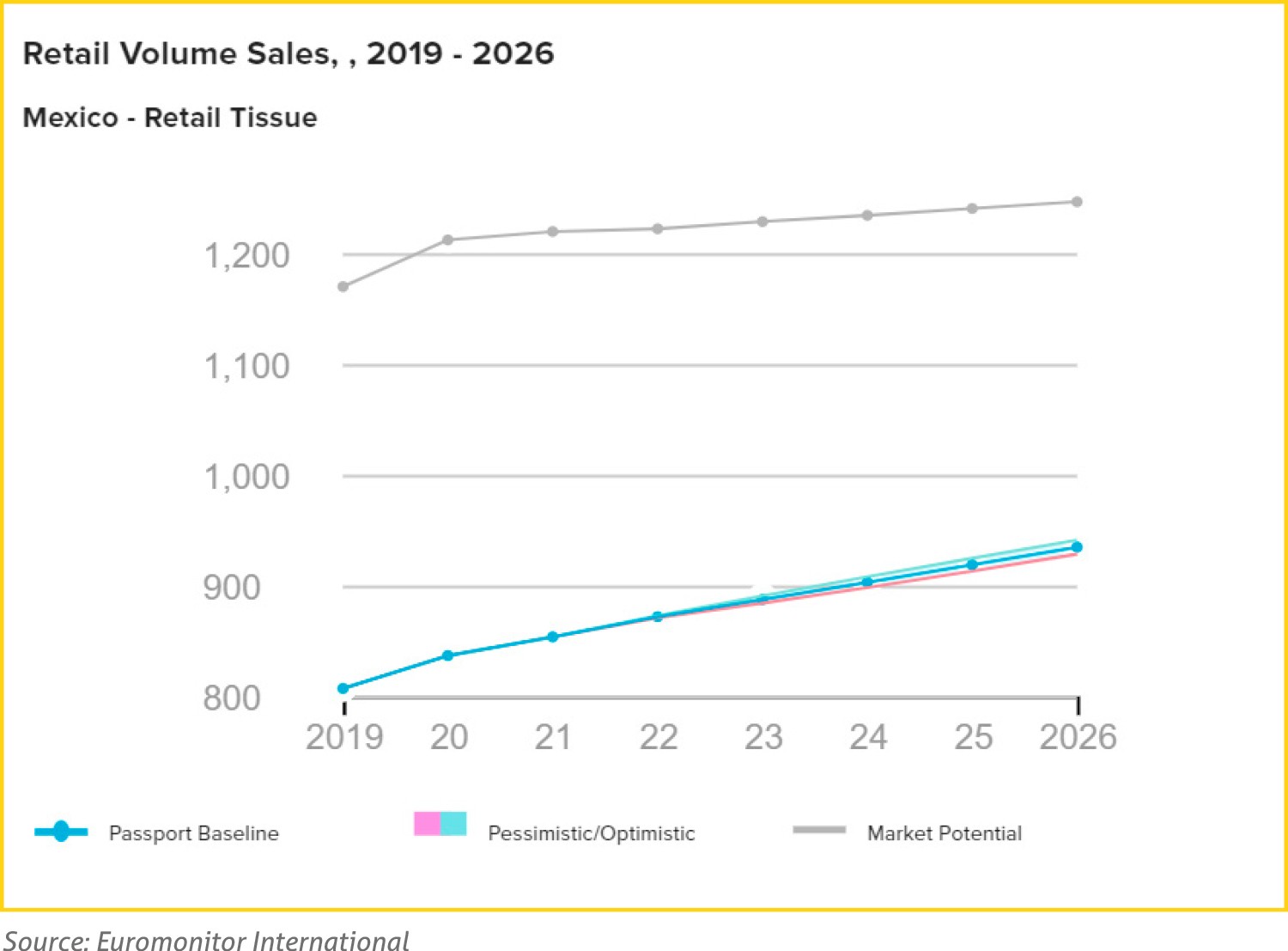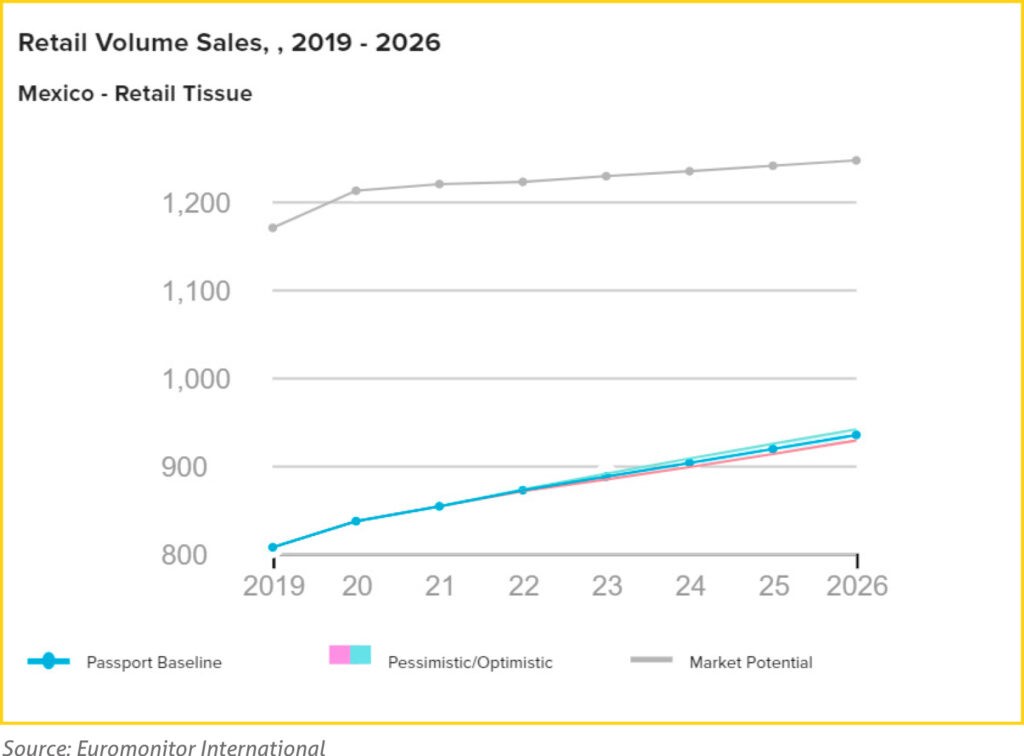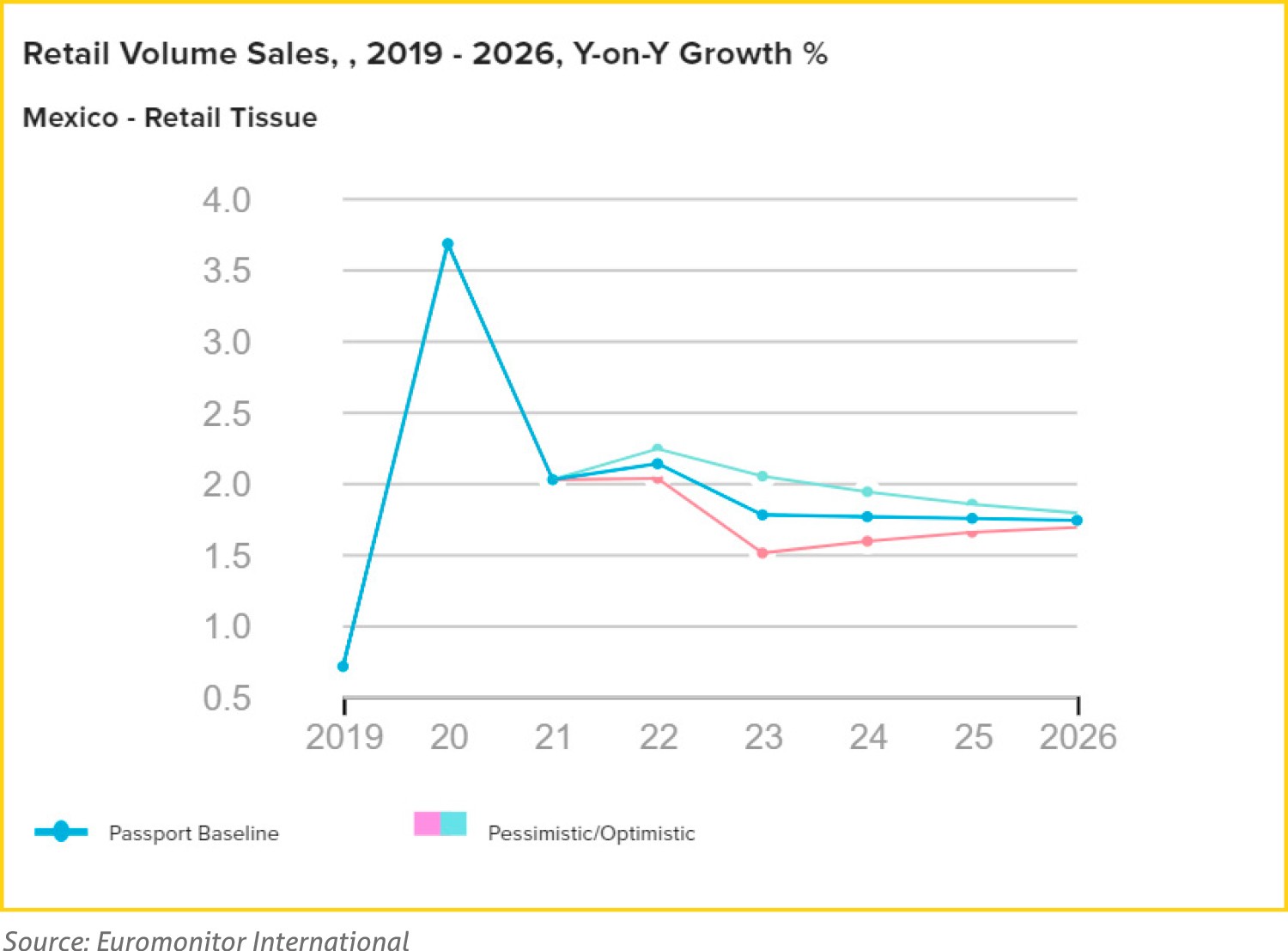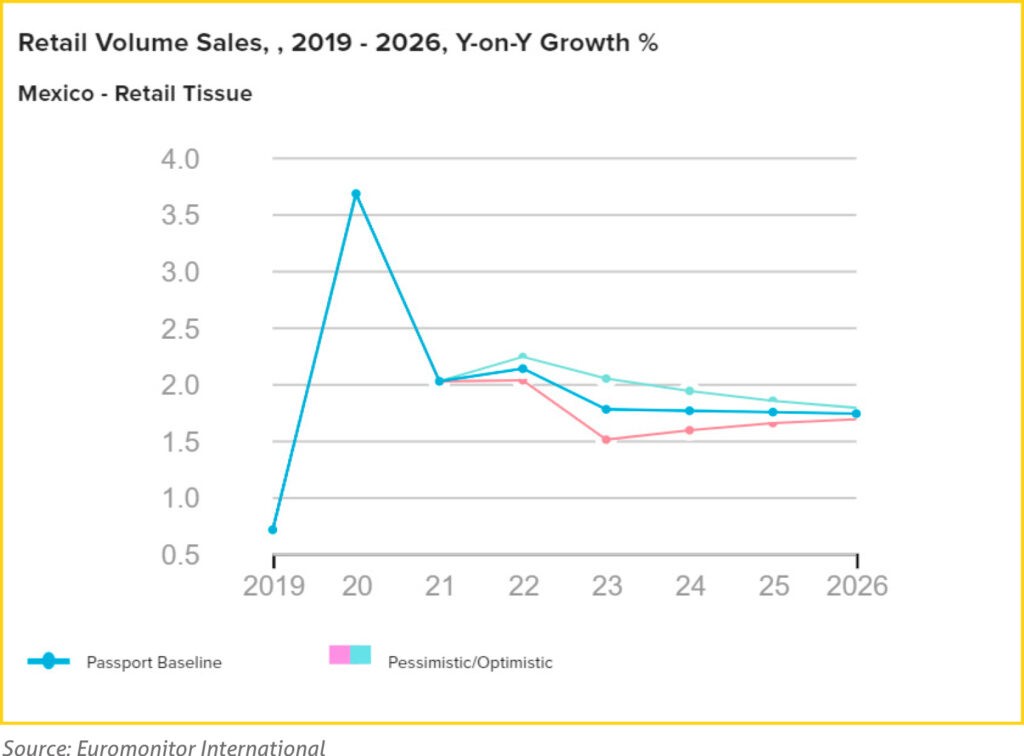 The shape of things to come
Although Mexico's experience during the height of the pandemic and in this latest phase is far from unique, the tissue market does emerge as an overall beneficiary of lifestyle changes.
The big question for the industry remains, as it often does – can the economy support consumers' changed relationship with tissue and reinvigorate categories that were left behind. Given the scale of economic disruption coming, it is increasingly difficult to discern if this particular glass is half full or half empty, and our forecast model concurs with this observation.