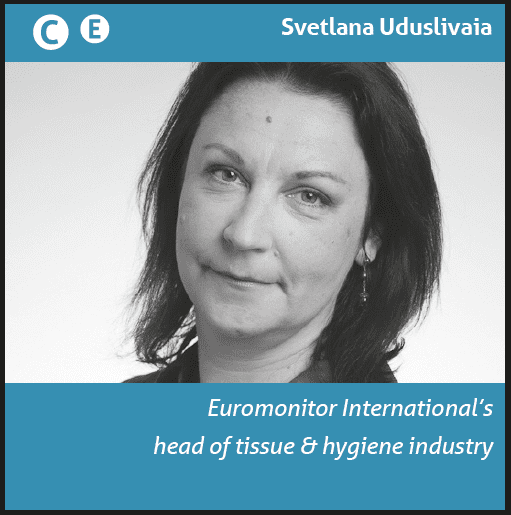 Mexico – the second largest economy in Latin America – has grown slower than most other large Latin American countries for more than a decade and continues to grow at a modest pace. Growth of private consumption has slowed down, and fears of a disorderly renegotiation of NAFTA weigh on the growth outlook. Disposable income per capita in Mexico amounted to USD6,211 in 2016, with projected increase by a cumulative value of 43.8% in real terms over 2017-2030 at an average annual rate of 2.8%. According to the latest statistics, poverty in Mexico has risen to 46.2%, mainly in urban areas.
Mexico's population growth is decelerating over time, while Mexican society is ageing. The number of those over 65 is expected to reach 15.4 million by 2030, or 11% of the total population, up from 6% in 2011. Mexican fertility presently stands at 2.2 births per female and is expected to fall to 1.9 births by 2030. The decline began with the introduction of family planning in the 1980s but demographers argue that the real reason for the fall is a change in family values. Emigration is also an important determinant of demographic structure in the country with its long history of emigration. According to the US Census Bureau, Mexicans account for around one-third of the foreign-born population in the USA.
With GDP and population being the top two drivers of consumer tissue growth in the country, threats to economic growth, including the potential impact of Trump policies, and slowing population growth are a cause for concern over future growth and industry revenues. To balance off the impact of these fundamental drivers of growth and in the conditions of still low per capita consumption compared to developed regions, the industry is seeking to innovate and expand product ranges to cater to both lower income and higher income segments of the consumer in the country.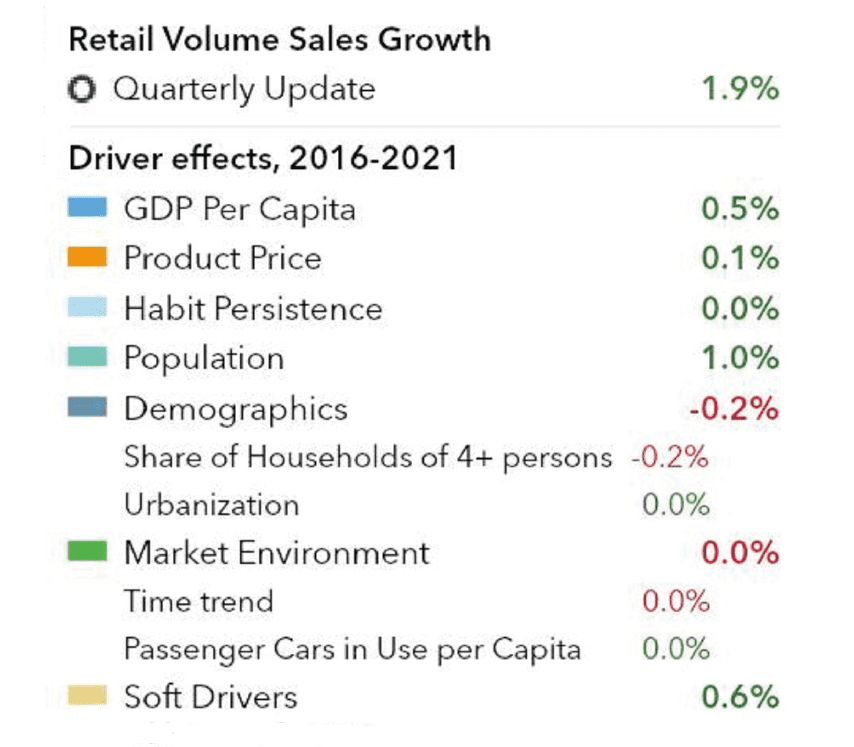 Economy and price vs opportunities in premium value-added products
In 2016 retail tissue started feeling the increasing pressure of the devaluation of the Mexican peso against the US dollar. By mid-November 2016 it had hit its historic lowest value, following the results of the presidential elections in the US. The highest impact was on the price of cellulose and imported fibres. One of the chronic problems of the Mexican paper industry is the lack of virgin fibre, which makes the industry heavily reliant on recycled fibre and as a result, on imports. The depreciation of the local currency throughout 2016 put manufacturers under strain, forcing them to implement different strategies to cope with increasing manufacturing costs in an already highly competitive environment.
Annual per capita consumption of retail tissue in Mexico stands at a little over 4kg in 2016, well below the per capita consumption of developed markets. Although low per capita consumption still offers significant room for growth, retail tissue is becoming a commoditised category in Mexico, with many consumers' purchasing decisions often driven by price rather than by quality or brand loyalty; a trend further exacerbated by economic uncertainties. Toilet paper remains the biggest category within retail tissue, representing 79% of overall value sales in Mexico. It has seen prices decline and quality and availability improve. The category is highly competitive, with regular discounts and promotions offered throughout the year, as well as the wide availability of multipacks to offer value for money.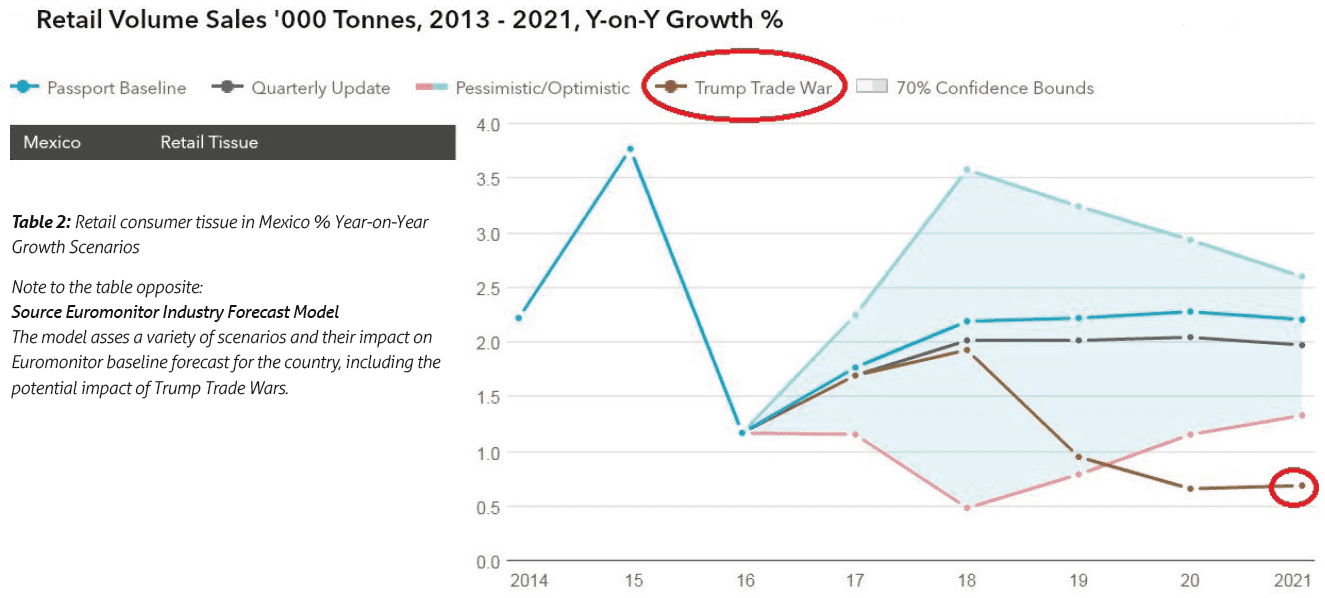 Economy toilet paper remains popular with lower-income consumers, and such products are also widely accessible at the large number of informal establishments and street stalls available across the country. At the same time, the Mexican market has seen quite a bit of development in higher quality and premium toilet paper. Key trends see brands seeking to leverage softness, delicate textures, moisturising ingredients (such as essential oils, macadamia cream and vitamin E), and special fragrances from natural ingredients such as chamomile and coconut, amongst others. Recent years saw a number of launches positioned in premium toilet paper, such as Kimberly-Clark's Kleenex Cottonelle Prestige, featuring Nordic cotton and natural silk for softness. The primary consumer base for premium toilet paper is consumers in the middle – and high-income segments. Other developments include toilet paper products positioned as more eco-friendly, such as Essity's (formerly SCA's) Opción Verde line and Kimberly-Clark's Kleenex Cottonelle Bio Compact toilet paper. These brands are presented as manufactured using environmentally-friendly processes.
Kimberly-Clark was the first company to enter moist toilet wipes, with its Cottonelle Fresh brand. Although a small number of competitors and private label ranges have since entered the category, the limited number of products available on shelves reflects how the category is encountering difficulties in being accepted by Mexican consumers; mostly because of high pricing and lack of habit. The only innovation observed in the category concerned Cottonelle Fresh, and was the launch of a pouch presentation featuring a cap, aimed at providing more comfort during use. Kimberly- Clark is trying to position its product as complementary to its Kleenex Cottonelle Unique dry toilet paper, presenting them in advertising as "La Pareja Perfecta" (the perfect couple).
In other categories, paper napkins saw healthy growth in retail volume, with growth supported by wide distribution through modern retail as well as thousands of informal stalls and taquerias across the country.  Facial tissue saw a more modest increase and continues to appeal mainly to middle – and highincome consumers. Innovation in the category focuses on natural ingredients, scents, modern designs (especially for boxed facial tissues) as well as characters from well-known cartoons, such as Looney Tunes. At the same time, in paper towels consumers tend to select products based on price rather than value-added special features.
In the next few years through to 2021, retail consumer tissue in Mexico is expected to post a CAGR of 2% in volume terms. As the level of household penetration continues to rise, and private label has been improving its standing with consumers, retail tissue will come under further pricing pressures. Threats to growth are mainly linked to the economic growth being below expectations, increasing inflationary pressures due to the strong volatility of the Mexican peso against the US dollar, which erodes consumers' purchasing power, and concerns over trade policies of the new US administration.
As in many other markets and consumer product categories under competitive and pricing pressures, cost efficiencies will become an important consideration to ensure a good balance of price and innovation to drive growth and build consumer brand loyalty.