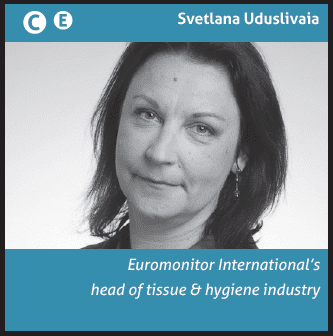 India remains one of Asia's fastest growing economies. Real GDP is expected to increase by 7.3% in 2016, while unemployment in the country is expected to come down from 5.1% in 2015 to 4.8% in 2016. Per capita disposable incomes have been on the rise. During the 2015-2030 period, total disposable income in India will increase by a cumulative value of 158% in real terms, growing at an average annual rate of 6.5%. Furthermore, the country's current population is close to 1.3 billion, and is expected to overtake China as the world's most populous country in less
than 20 years.
At the same time, India still faces significant challenges, such as income inequality. Some 46% of the population still lives below the poverty line (US$3.10 a day), compared to 18% in China, for example. Moreover, average disposable incomes of middle-class households are about half those in China. Adult literacy rates, while on the rise, still fall behind a number of other developing markets in the Asia Pacific region.
India's economic progress, increases in disposable incomes and favourable demographic trends certainly create a platform for consumer tissue growth. However, high levels of poverty and price sensitivity, coupled with traditional preferences for water cleansing, continue to pose challenges for the industry and require further investments in product development, pricing, distribution and marketing to increase awareness and secure further increases in per capita consumption and industry revenues.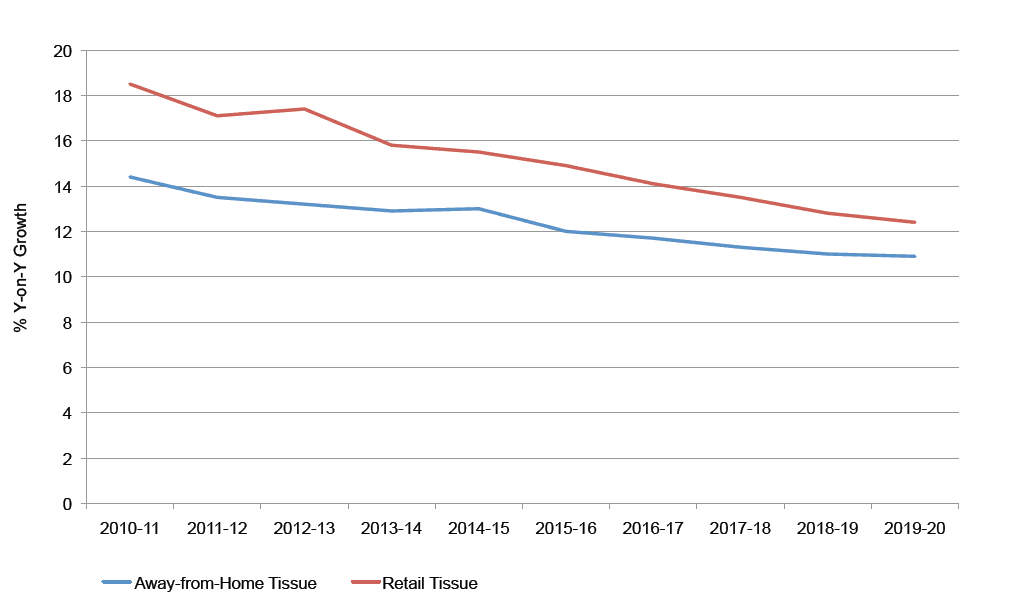 From AfH to At-Home use
The Indian tissue market continues to demonstrate a remarkable imbalance in the away-from-home versus the retail channels compared to other markets globally. In 2015, the country's away-from-home tissue sales accounted for over 60% of the total tissue volume purchased in the country by consumers and away-from-home channels. Away-from- home tissue also continued to see strong double-digit volume growth in 2015, with further growth expected through 2020.
Greater exposure to tissue products in AfH channels through work and leisure activities, such as dining out and entertainment, also encourages consumers to seek out tissue products in retail. In 2015, retail tissue volume in India, while still smaller than away-from-home in absolute value and volume, saw a stronger pace of growth, gaining 16% in sales over 2014.
Urban areas continue to drive tissue demand in the country, and toilet paper and facial tissues remain the major categories purchased by consumers. In 2015, these two categories accounted
for 42% and 43% of retail volume sales, respectively.
On the other hand, pocket handkerchiefs, paper tableware and kitchen towels remain small, as most households continue to use traditional cloths, which are reusable and therefore more cost effective. In addition, the limited availability of these products in retail, along with comparatively high unit prices, is also the reason behind the lower consumer awareness and sales. The main demand for these products comes from urban areas in northern and western parts of the country, where consumers appear more likely to buy aesthetically appealing products.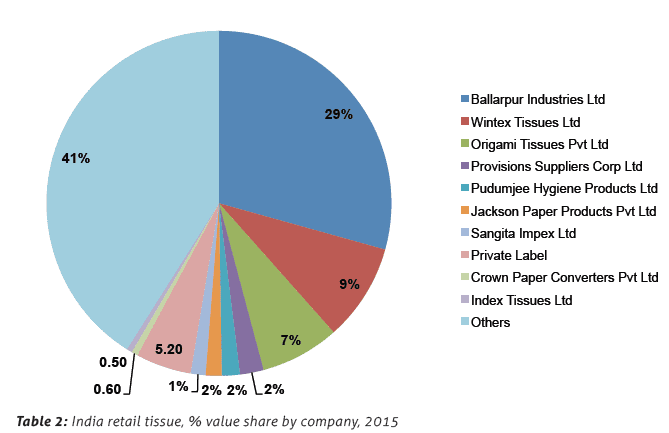 Key growth comes from economy tissue, with limited opportunities in premium products
With high levels of poverty, India's retail market for consumer tissue shows a significant tendency towards economy products and lower prices. The marketplace remains highly fragmented, and local small manufacturers supplying unbranded economy tissue products account for a significant portion of retail tissue sales.
The strong presence of value products poses a challenge for the leading manufacturers when it comes to the development and marketing of higher quality and higher-priced products.
In fact, local and unbranded tissue products retail at a 40-50% lower price point than the branded products on the market. Small independent shops are among the key distribution channels for the lower-priced consumer tissue.
Adding to price pressure is the evolving private label tissue presence on India. For instance, retailers like Pantaloon Retail and Max Hypermarket India feature private label tissue products sold at lower price points compared to the leading brands. Moreover, they also aim at attracting the attention of more affluent households in key metropolitan areas with the launch of eco-friendly positioned tissue.
To remain price competitive and attract new customers, many leading branded tissue manufacturers have been focusing on small pack sizes and value multipacks also promoted through modern grocery retailers such as supermarkets and hypermarkets, where many urban consumers shop for monthly grocery items. To increase brand awareness, tissue manufacturers have been focusing mainly on in-store promotions and in-store displays.
Significant unmet potential but price sensitivity will remain a challenge for the industry
Overall, India has significant unmet potential in retail tissue, estimated at more than 4.5 million tonnes in volume and over US$12 billion in value. This should certainly place India on the agenda as one of the key markets of future tissue growth. However, in the short-to-medium term, the industry will continue to grapple with significant
pressures that stem from low income levels, high levels of poverty, as well as lower consumer awareness and access to products in rural areas.
Euromonitor International expects retail  tissue sales in India to increase at a 14% CAGR in volume through 2020. However, a strong continuing focus on economy priced products is expected to affect value, with a projected increase below that of volume, at 8% CAGR in constant terms (US$ at fixed 2015 prices) over the same period of time. Low prices and discounts will remain the main factors in the consumer's selection of retail tissue products, which will continue to define the manufacturers' strategies in the short and medium terms.